With the U.S. digital lead generation market projected to reach over $3.2 billion by the end of 2023, the need for the best lead management software has never been greater. As organizations face increasingly complex markets and shifting consumer behaviors, the ability to generate leads has become a vital component of success.
However, simply acquiring leads is not sufficient; businesses must also manage and track them effectively to maximize their potential. With heightened competition in virtually every industry, it is essential to implement a lead management system to optimize your business strategies. 
With sophisticated lead management tools that leverage advanced analytics and automation, you can gain powerful insights into customer behavior and preferences, enabling your business to nurture leads more effectively and ultimately increase conversions.
In this article, we will discuss the benefits of lead management software and the best lead tracking tools to help you streamline your lead generation process and boost your bottom line. 
What Is Lead Management Software? 
Lead management software helps businesses manage and organize their potential customer database, known as a sales lead. It makes tracking and nurturing leads more efficient, allowing your sales team to focus on converting prospects into actual customers and increasing revenue.
This comprehensive lead management solution involves capturing leads from various sources, such as social media, email, website forms, and more. It also enables marketing and sales teams to manage and analyze all the customer data related to their leads, from initial contact to conversion or sale. 
With this information, teams can prioritize leads and focus on the most likely to convert. Additionally, sales lead management software makes it easier to automate various processes related to sales leads, such as assigning leads to specific sales reps, sending follow-up emails, and tracking the overall sales pipeline. This results in better collaboration and more streamlined processes between sales and marketing teams.
Did you know that marketing emails have an average open rate of 21.5% overall? That means that only a fraction of the people who receive marketing emails are even opening them, let alone converting them into actual customers. This is where lead management software comes in, helping your business increase the likelihood of converting potential customers into actual ones.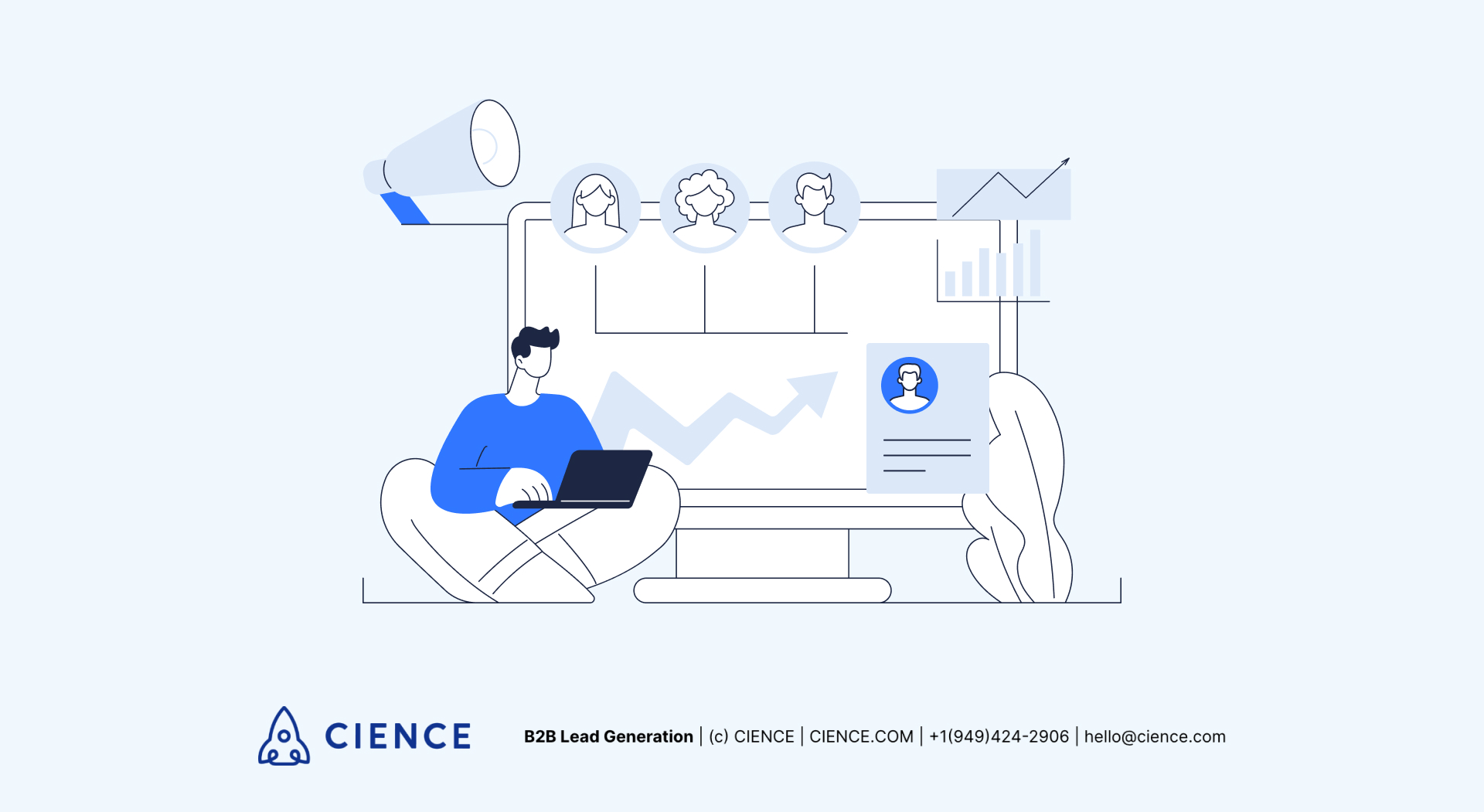 Differences Between Lead Management Software and CRM
Many businesses rely on two primary options when managing sales leads: lead tracking software and customer relationship management (CRM) tools. While both platforms enhance productivity and provide helpful insights for optimizing sales and marketing strategies, there are a few key differences that set them apart: 
Lead management software
Lead management software helps you capture, track, and nurture potential customers, making sure no lead slips through the cracks. These tools are specifically designed to streamline the lead gen process in these ways:
Lead management software provides businesses with a centralized platform to capture, track, and manage leads efficiently. 
A lead management system allows you to manage leads from various sources, including social media, email, and web forms.
Lead tracking tools give you real-time visibility into lead activity and

engagement

, enabling you to identify potential opportunities and respond to them quickly.
Customer relationship management 
Customer relationship management tools help you oversee the entire customer journey, ensuring strong connections are maintained even after the sale is made. CRM tools optimize the process in these ways:
CRM software enables businesses to manage the entire customer lifecycle. 
These tools help you to develop and maintain

stronger

customer relationships

by

centralizing customer data

, interactions, and preferences.
CRM tools provide

important

 insights and analytics on customer behavior, buying patterns, and sales pipeline.
By leveraging both tools, you can seamlessly transition leads from initial contact to long-term customers, ensuring that no opportunity is missed along the way. 
What Are the Key Features of Lead Tracking Software?
When managing leads effectively, having a robust lead management system can make all the difference. Here are five key features to look for when considering a lead management solution:
1.  Lead tracking
Lead tracking is a key component that makes your entire lead management process run like a well-oiled machine. The software enables you to monitor and track your leads' activities and interactions across various touchpoints. You can see which pages they visit on your website, which emails they open, and which links they click. This essential data helps you understand your leads' interests, preferences, and readiness to make a purchase.
2. Lead scoring
Lead scoring lets you prioritize which leads to focus on first and which ones may need more nurturing before they're ready to convert. With lead scoring, you can assign values to certain actions or characteristics that indicate a lead's level of interest or engagement. For example, if a lead downloads multiple resources or interacts with your website frequently, they may be assigned a higher score than a lead who only opens one email. 
3. Automated lead nurturing
With the help of this feature, you can automate the nurturing process for your leads, ensuring that you're providing them with the correct information at the right time. Through personalized and automated email sequences, drip campaigns, and targeted messaging, you can keep your brand top-of-mind, build relationships, and guide your leads through the sales funnel.
4. Analytics and reporting
Analytics and reporting features provide you with detailed insights into lead generation. You can measure key metrics, such as lead conversion rates, campaign performance, and return on investment (ROI). These data-driven insights help you evaluate the effectiveness of your strategies, identify areas for improvement, and make informed decisions to optimize your lead management processes.
5.  Integrations
Lead management software understands the importance of working effortlessly with other tools you use. It offers integrations with popular customer relationship management systems, marketing automation platforms, and other business applications. This integration ensures a unified view of your leads and customers across multiple systems, saving you time and effort. 
Plus, having all your data in one centralized location in a lead management system can give you a complete picture of your leads and help you make more informed decisions.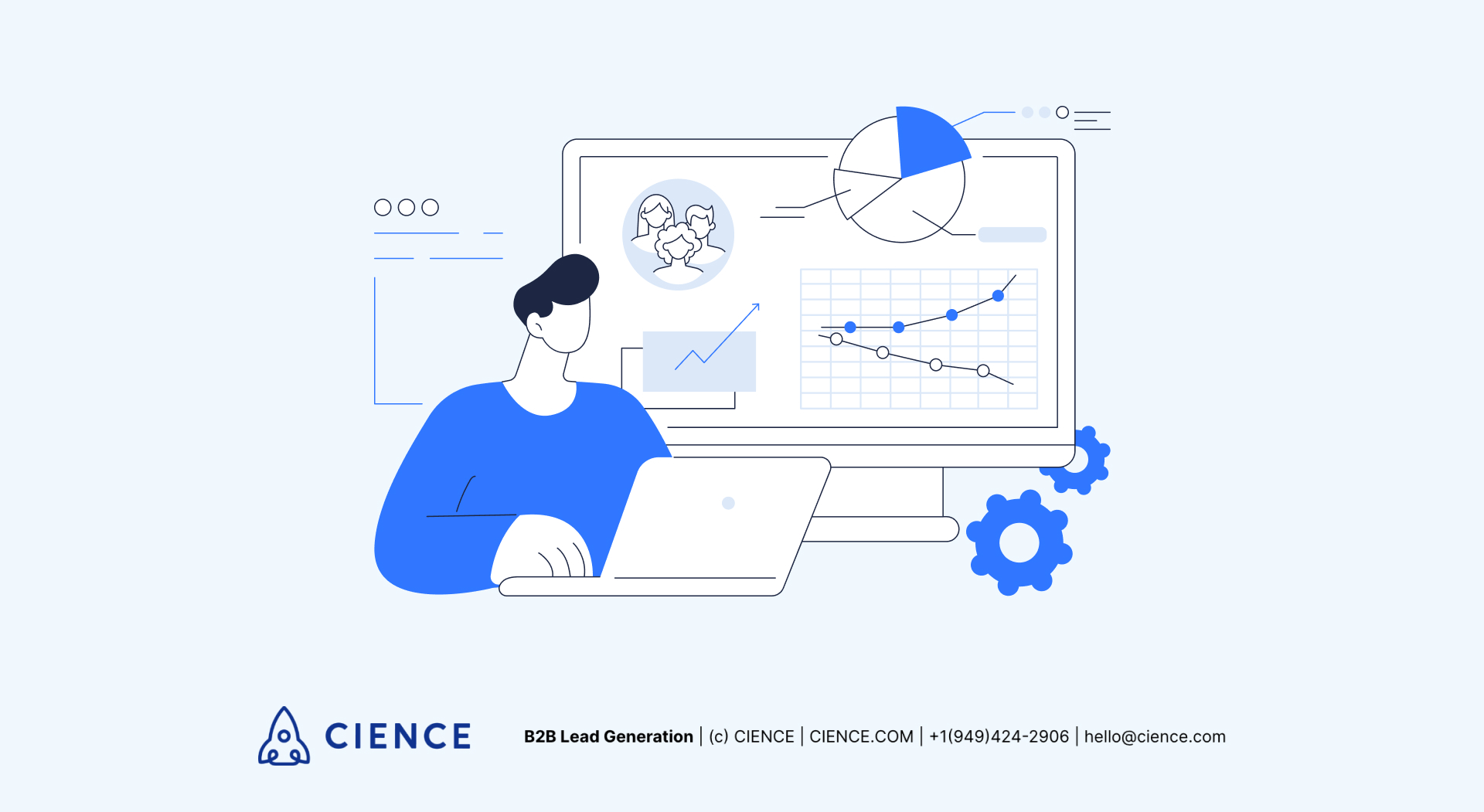 What Are the Benefits of Lead Management Tools?
Lead management software offers several key benefits that can significantly impact a business's lead generation and conversion rates. Here are five reasons to use lead management tools:
1. Improved efficiency
With a centralized platform to track all your leads, you'll spend less time shuffling through spreadsheets or wasting time on manual efforts. Instead, you can focus on nurturing and converting those leads into sales. With improved efficiency, you'll be able to work smarter, not just harder.
2. Higher quality leads
Using lead management software allows you to monitor and analyze leads much more effectively. By defining specific criteria and tracking lead behavior, you can identify and prioritize high-quality leads with a higher probability of conversion. This means you'll increase your chances of selling by focusing on the most promising prospects. 
3. Better collaboration
Lead management tools facilitate collaboration among different teams involved in the lead generation and conversion processes, such as sales, marketing, and customer support. Teams can access and update lead information, share insights, and communicate effectively. This results in better coordination and a cohesive approach toward nurturing leads and closing deals. 
4. Increased ROI
Lead management software provides detailed metrics for lead generation activities, conversion rates, and campaign performance. By analyzing sales data, you can identify successful strategies, optimize marketing campaigns, and allocate resources more effectively. With a clear understanding of what works and what doesn't, you can optimize your lead management strategy and achieve a higher ROI.
5. Enhanced customer experience
By streamlining your sales processes, you can provide faster and more personalized customer service. It also allows you to track customer engagement better and anticipate their needs. Plus, with access to detailed customer data, your sales team can tailor their interactions and follow-ups to meet each customer's needs. Ultimately, this makes happier customers more likely to return for repeat business.
15 Top Lead Management Software for 2023
Discover the best lead management software for 2023 that can help your business improve its sales process and increase customer engagement.
1. CIENCE GO Platform
CIENCE GO Platform is an all-in-one sales automation platform with powerful lead management tools to help sales and marketing teams optimize their lead generation strategies. This comprehensive platform offers a variety of lead management solutions for business:
GO Data

: This

sales intelligence platform

organizes, filters, and grants access to over 300 million records of real-life validated leads from all industries that match preconfigured ideal customer profile (

ICP

) criteria for use in your lead generation efforts.

GO Show

: This lead management tool helps businesses capture and manage leads from website visitors, offering real-time tracking, lead scoring, and lead nurturing features.

GO Digital

: This demand-side platform (

DSP

) helps you manage ad campaigns and generate high-quality leads from targeted audiences, offering custom ad campaigns, real-time performance tracking, and advanced targeting capabilities.
Features: 
Lead scoring and nurturing
Real-time website visitor tracking
Advanced targeting capabilities
Real-time performance tracking
Custom ad campaigns
Pricing: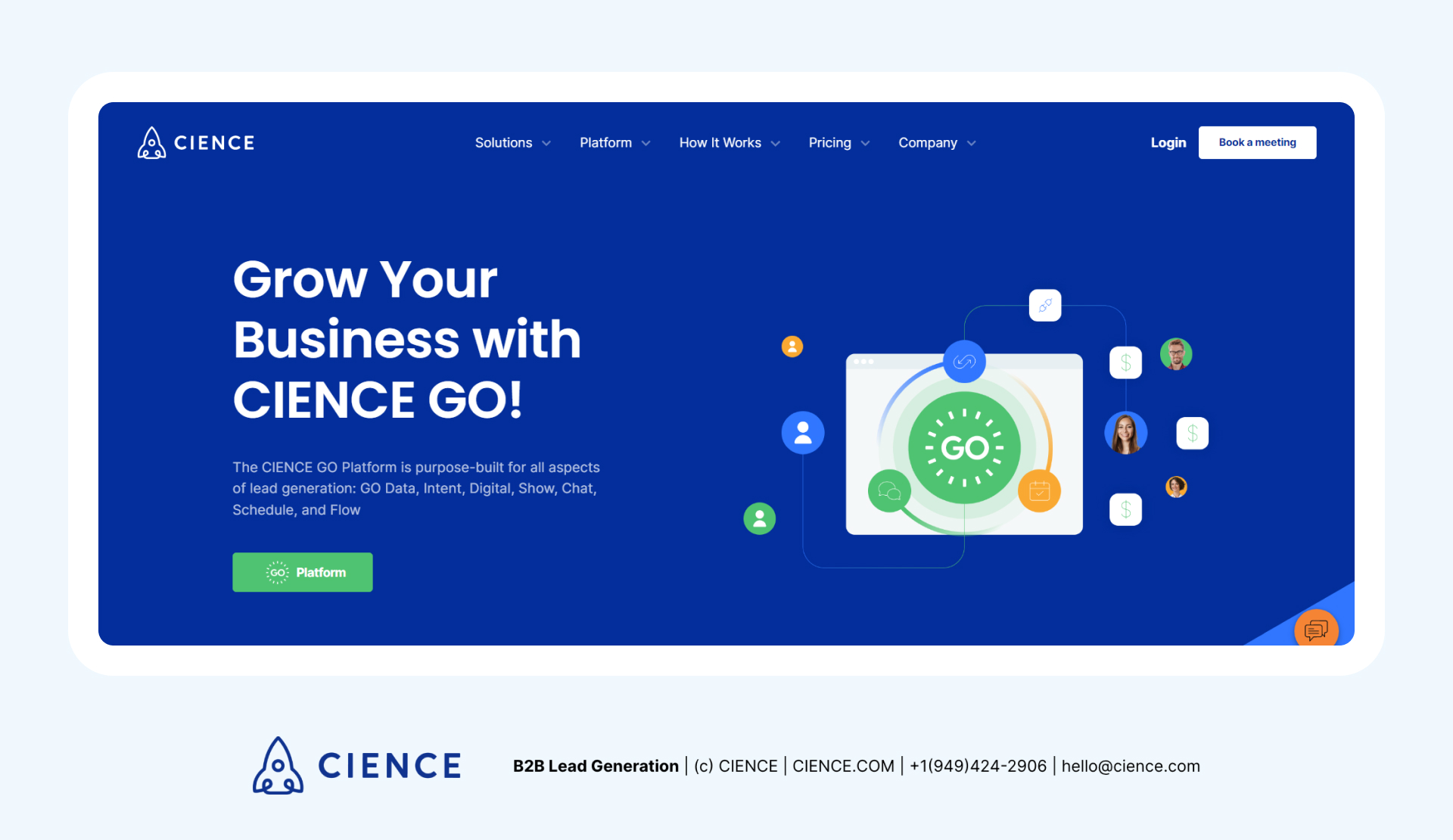 2.  Zoho CRM
Zoho CRM is a cloud-based solution that helps businesses streamline their sales and marketing efforts by managing leads from multiple sources, automating lead nurturing, and providing reporting and analytics. It enables organizations to improve sales performance, manage leads effectively, and drive growth.
Features: 
Lead capture
Lead scoring and prioritization
Automated lead nurturing
Sales forecasting
Integrations
Pricing: 
Standard: $14/month
Professional: $23/month
Enterprise: $40/month
Ultimate: $52/month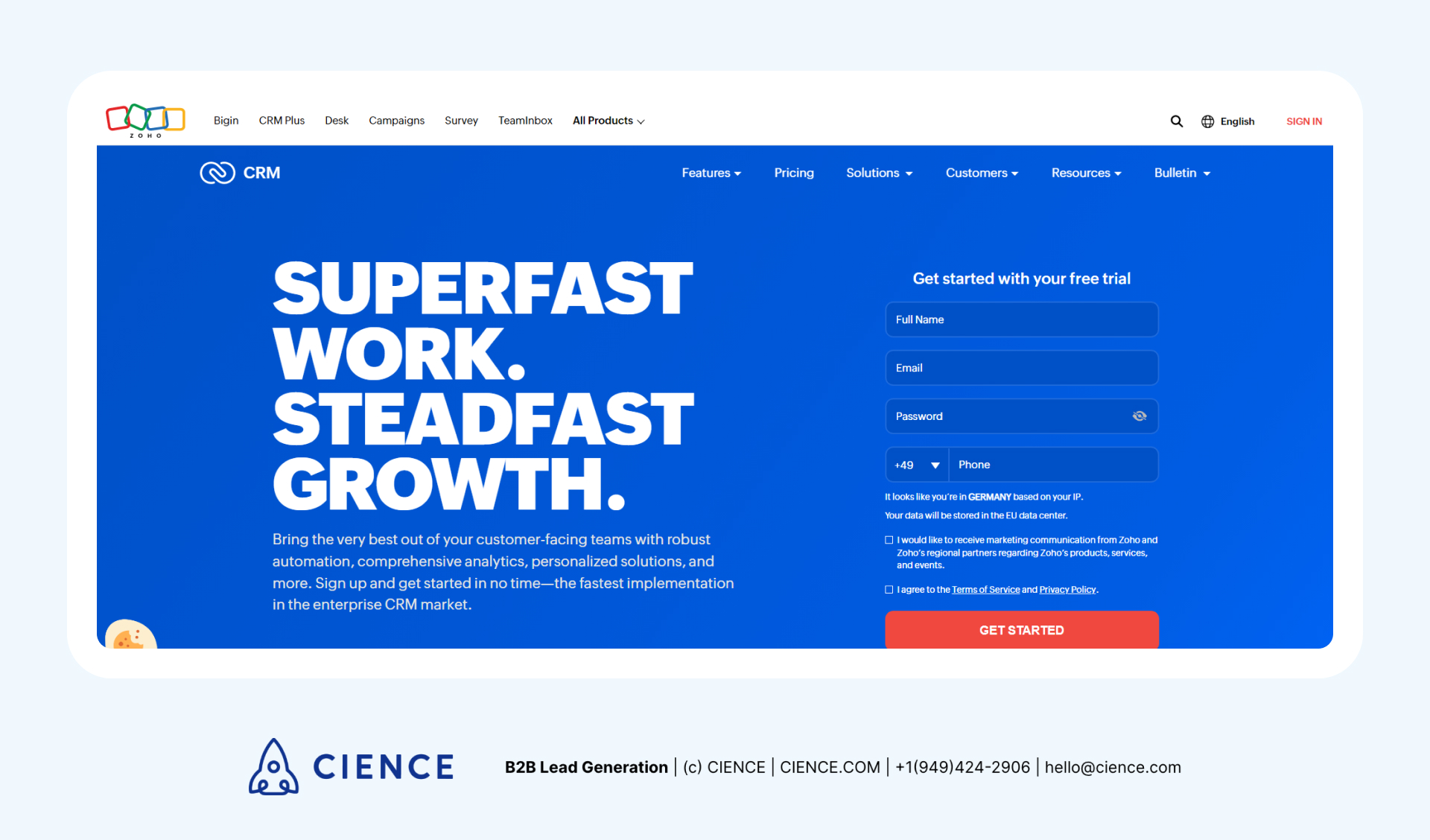 3. HubSpot Sales
The HubSpot Sales platform provides feature-rich tools that help businesses manage their leads and close more deals. It allows tracking leads from multiple sources, automating lead nurturing efforts, and providing advanced reporting and analytics. The platform also seamlessly integrates with HubSpot's marketing and CRM tools, enabling you to create a complete lead management and customer acquisition ecosystem.
Features: 
Lead capture and tracking
Lead nurturing automation
Sales pipeline management
Sales analytics and reporting
Integrations
Pricing: 
Starter: $45/month
Professional: $800/month
Enterprise: $8,370/month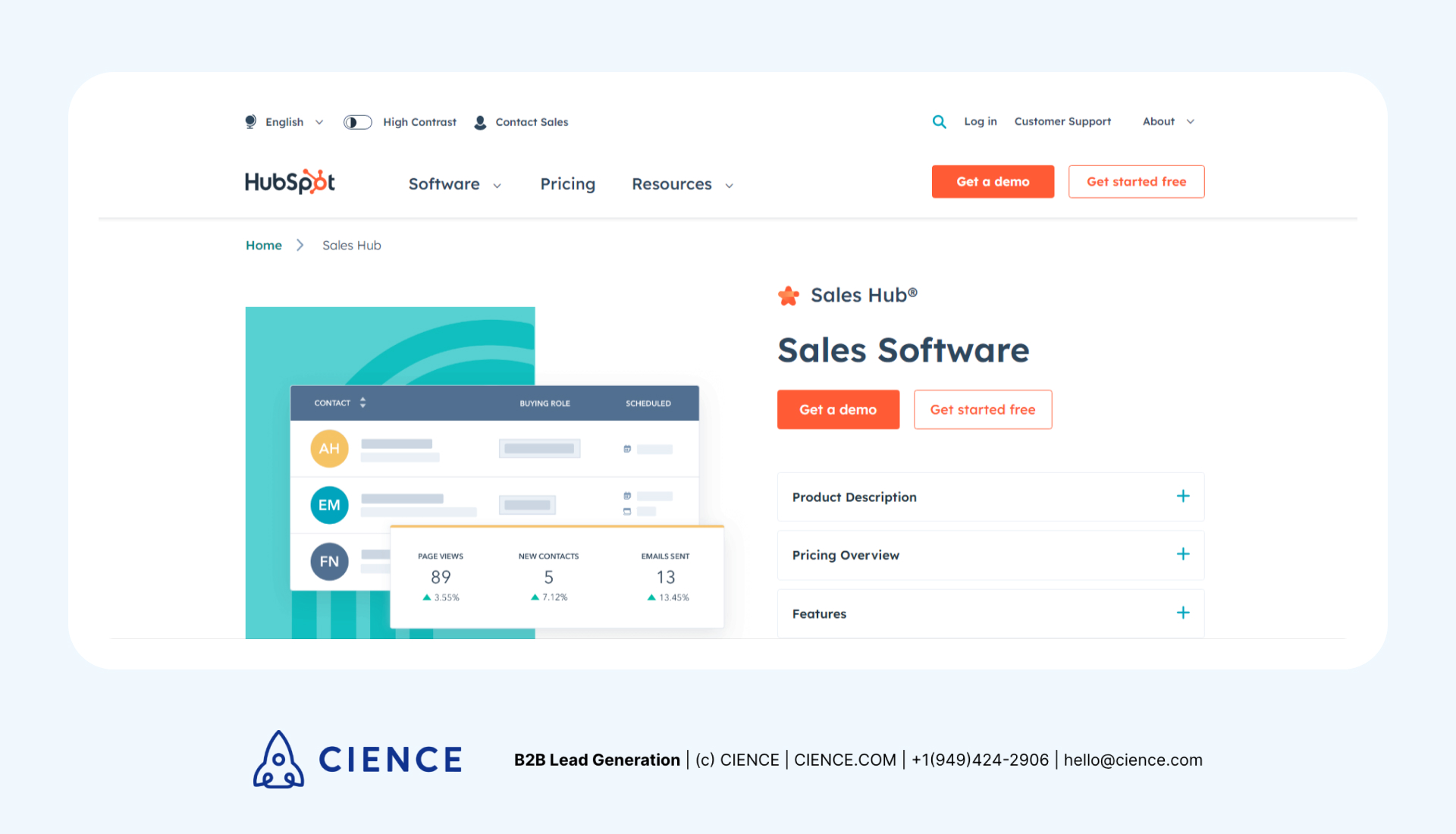 4. Pipedrive
Pipedrive is a user-friendly lead management software with features such as lead tracking from multiple sources, prioritization of opportunities, and automated lead nurturing. It integrates seamlessly with third-party apps and tools, enabling businesses to create a complete lead management system.
Features: 
Customizable sales pipeline
Lead management automation
Analytics and reporting
Mobile app
Integrations
Pricing: 
Essential: $14.90/month
Advanced: $27.90/month
Professional: $49.90/month
Power: 64.90/month
Enterprise: $99/month
5. Monday.com
Monday.com is a customizable platform with sales lead tracking software, automation, and analytics features that allow businesses to manage leads efficiently and get insights into their sales performance. The platform provides advanced reporting and analytics capabilities to track lead conversion rates and sales performance metrics.
Features: 
Customizable workflows
Lead tracking
Automation
Analytics
Integrations
Pricing: 
Free plan available
Basic: $8/month
Standard: $10/month
Pro: $16/month
Enterprise: Available by request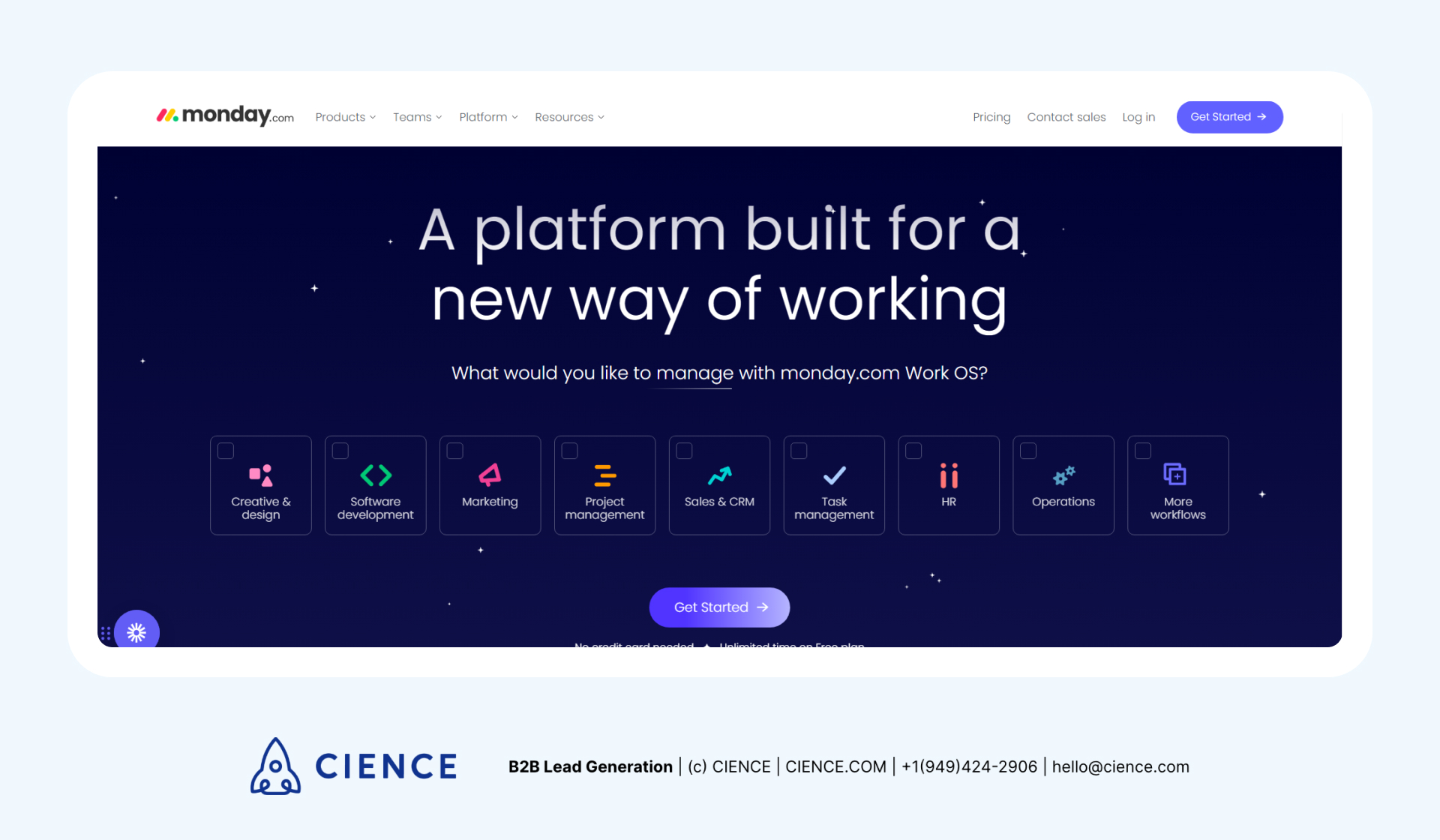 6. noCRM.io
NoCRM.io is a straightforward lead management software that streamlines the lead management process. Its simple interface allows businesses to quickly manage leads, track progress, and close deals. The platform is easy to use and offers features such as lead capture, lead tracking, collaboration tools, and a mobile lead management app.
Features: 
Simple interface
Lead capture
Lead tracking software
Collaboration tools
Mobile app
Pricing: 
Starter Kit: $12/month
Sales Experts: $20/month
Dream Team: $32/month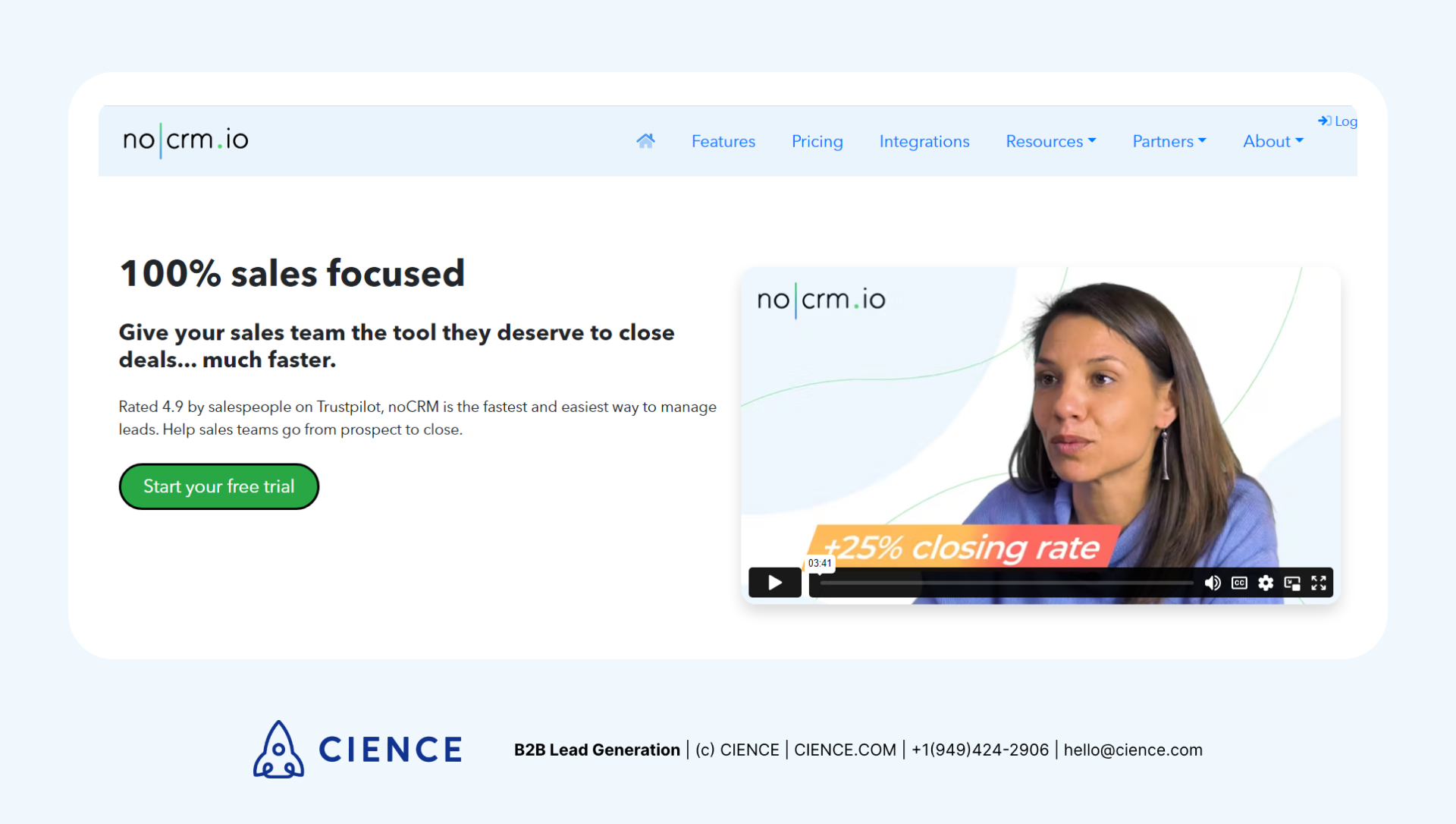 7. Freshworks
Freshworks is a CRM platform that provides various tools and customizable features to manage and track leads more effectively. Users can automate lead scoring, prioritize leads based on engagement level, and create custom pipelines to manage leads more efficiently. Additionally, Freshworks also provides in-depth analytics and reports, which can help sales teams identify areas for improvement to drive more sales.
Features: 
Customizable lead scoring
AI-based lead scoring
Contact management
Sales activity tracking
Lead capture
Pricing: 
Starter: $19/month
Growth: $49/month
Pro: $95/month
Enterprise: $119/month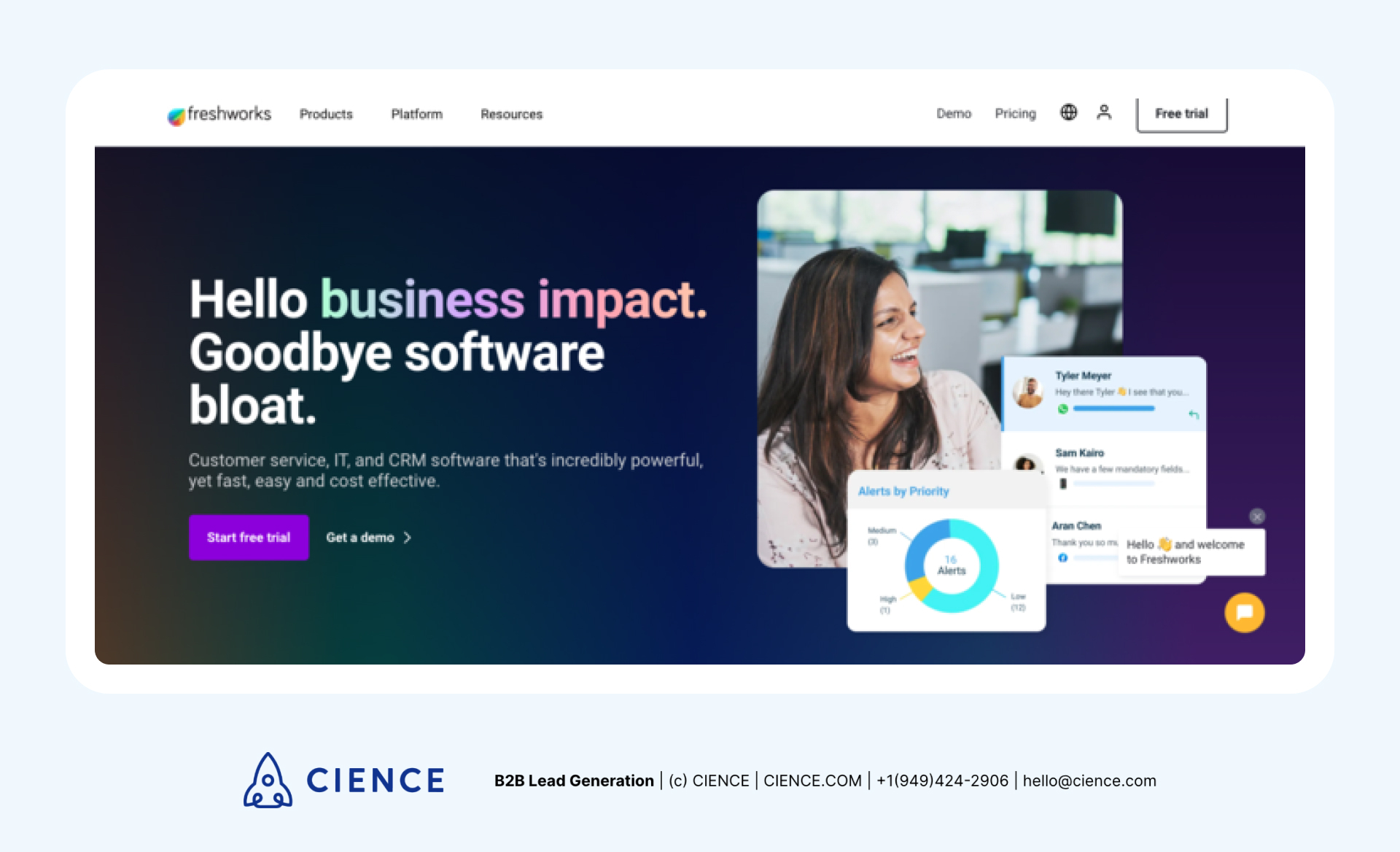 8. ActiveCampaign
ActiveCampaign is a customer experience automation platform that enables businesses to automate their sales, marketing, and customer support processes. The platform provides an intuitive interface for managing leads and customers, allowing you to track and manage your interactions with prospects efficiently. It also features lead scoring, automated email campaigns, and real-time sales alerts to follow leads and engage with customers.
Features: 
Advanced segmentation
Lead scoring
Sales automation
CRM integration
Analytics and reporting
Pricing: 
Plus: $49/month
Professional: $149/month
Enterprise: Available by request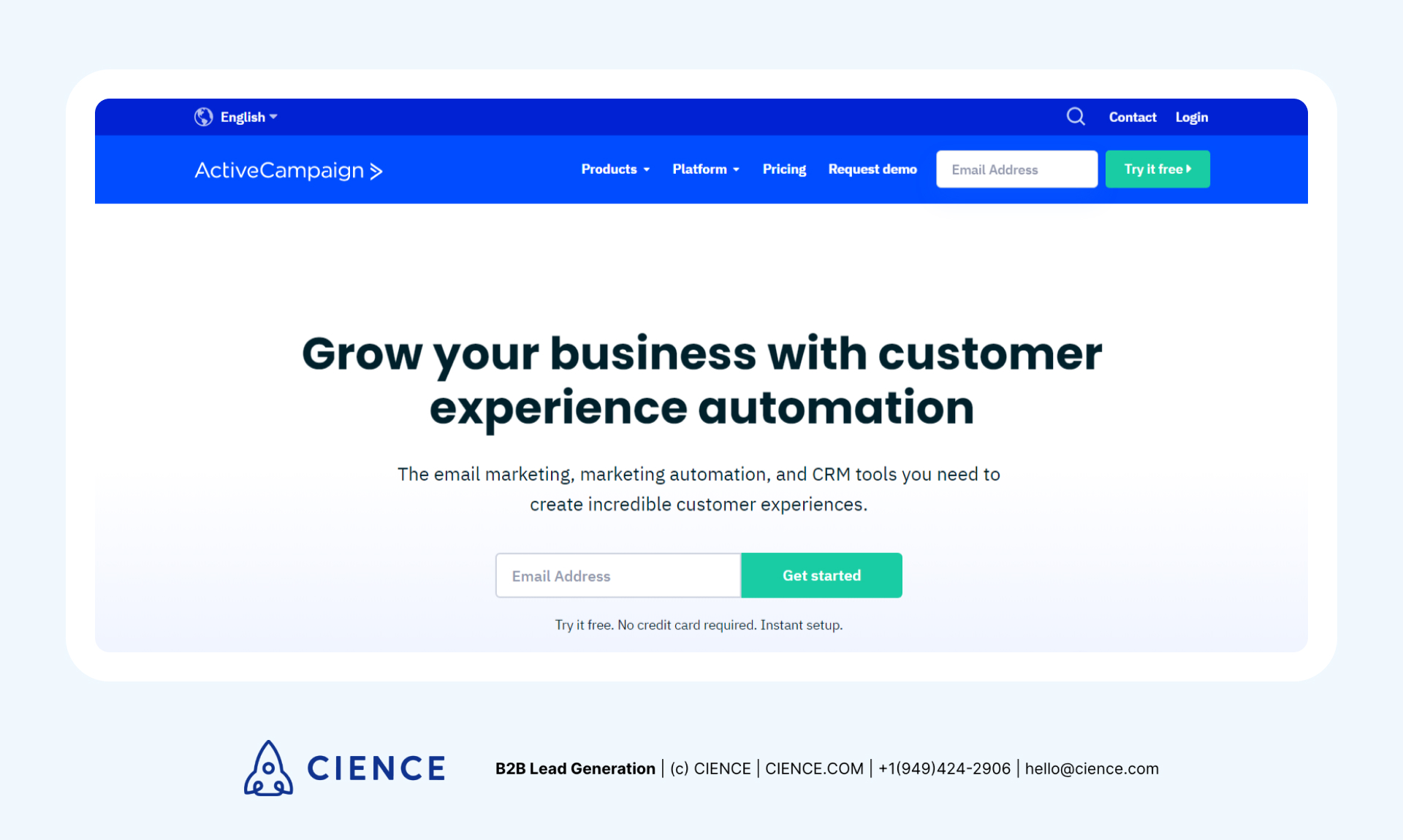 9. Bonsai
Bonsai is a lead management software that helps businesses streamline their sales processes in one centralized location. Users can easily track the progress of each lead and assign tasks to team members, ensuring that everything runs smoothly. Additionally, Bonsai offers features like automated lead scoring and customized email campaigns to help businesses prioritize their efforts and engage with potential customers more effectively.
Features: 
Invoicing
Contract management
Time tracking
Proposal creation
Payment processing
Pricing: 
Starter: $17/month
Professional: $32/month
Business: $52/month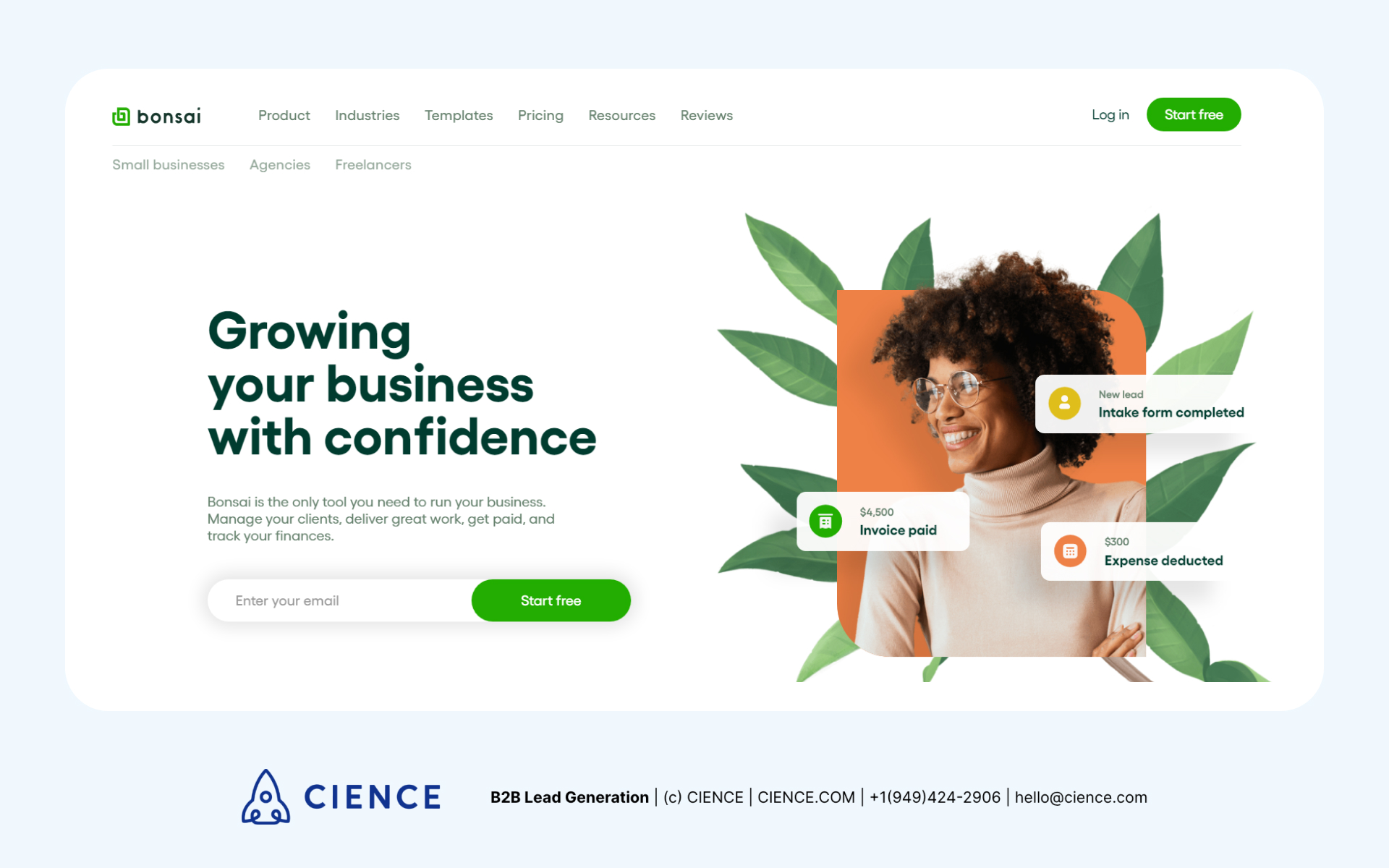 10. Zendesk
Zendesk is a comprehensive lead management software that helps businesses manage their sales pipeline. With features like lead and contact management, deal tracking, email automation, and reporting, Zendesk helps sales teams stay organized and focused. It allows companies to prioritize leads and opportunities to improve their sales performance.
Features: 
Customizable lead scoring
Automated lead capturing
Pipeline tracking and reporting
Integration with third-party tools
Mobile app
Pricing: 
Sell Team: $19/month
SEll Growth: $49/month
Sell Professional: $99/month
11. LeadSquared
LeadSquared is a lead management tool that helps businesses manage their sales leads effectively. This platform allows users to automate lead capturing, nurturing, scoring, and distribution tasks. With LeadSquared, sales teams can manage their pipeline, track customer interactions, and analyze performance metrics. The software also provides customizable reports and dashboards, allowing users to gather insights into their sales processes and make data-driven decisions.
Features: 
Lead capture and tracking
Marketing automation
Sales automation
Reporting and analytics
Mobile app
Pricing: 
Lite: $25/month
Pro: $50/month
Super: $100/month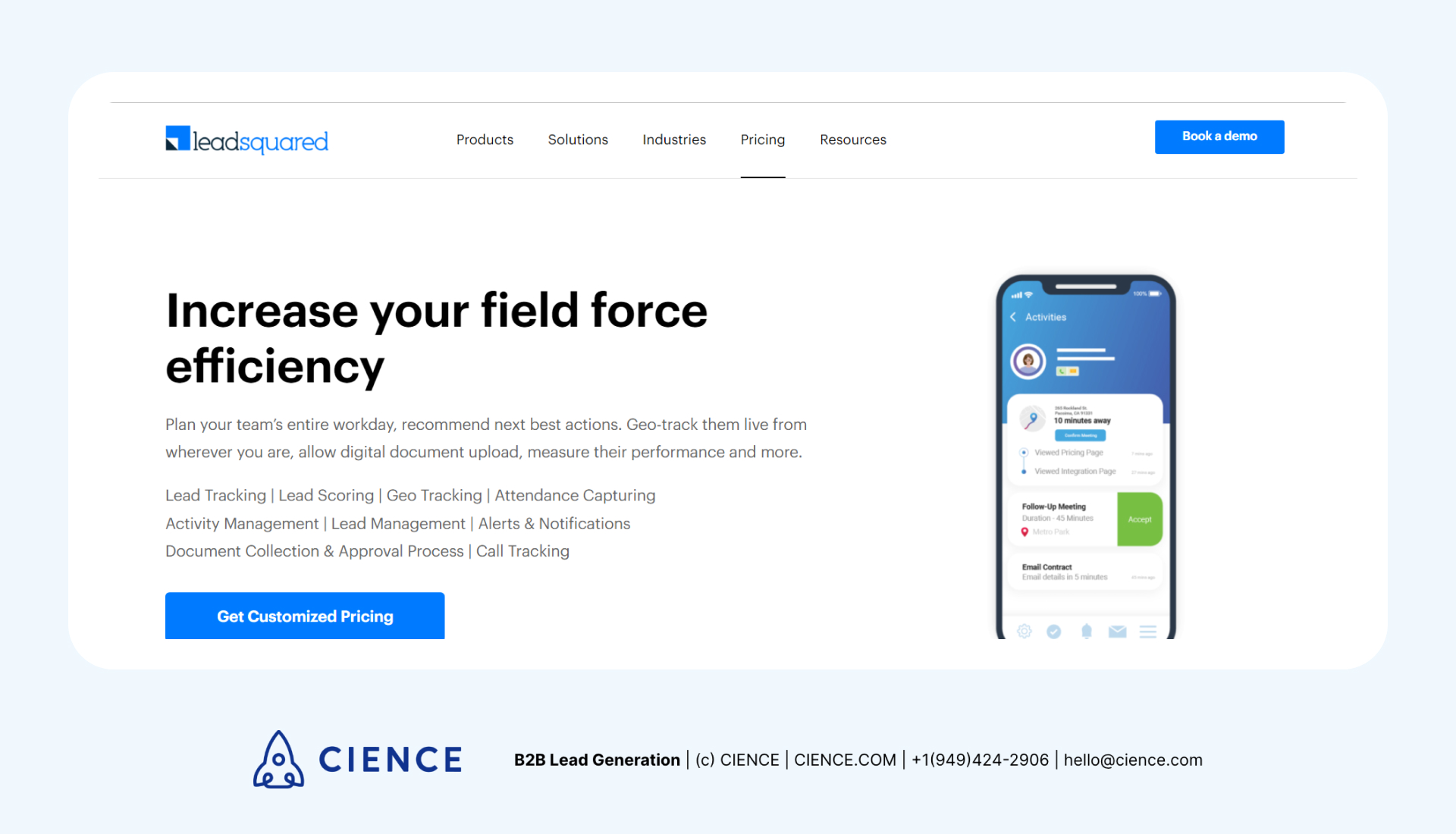 12. Keap
Keap is a leading lead management software that enables businesses to list, organize, and track their leads. Its automated lead capturing and scoring system prioritizes leads that are most likely to convert. Keap also offers customizable sales pipelines and reporting tools to help companies keep track of their leads' progress and identify areas for improvement. Its integration with other popular business tools, such as Gmail and Zapier, makes it a versatile solution for businesses of all sizes.
Features: 
Automated lead capture
Customizable lead scoring
Personalized email marketing
Centralized lead and customer management
Sales pipeline tracking and forecasting
Pricing: 
Pro: $149/month
Max: $199/month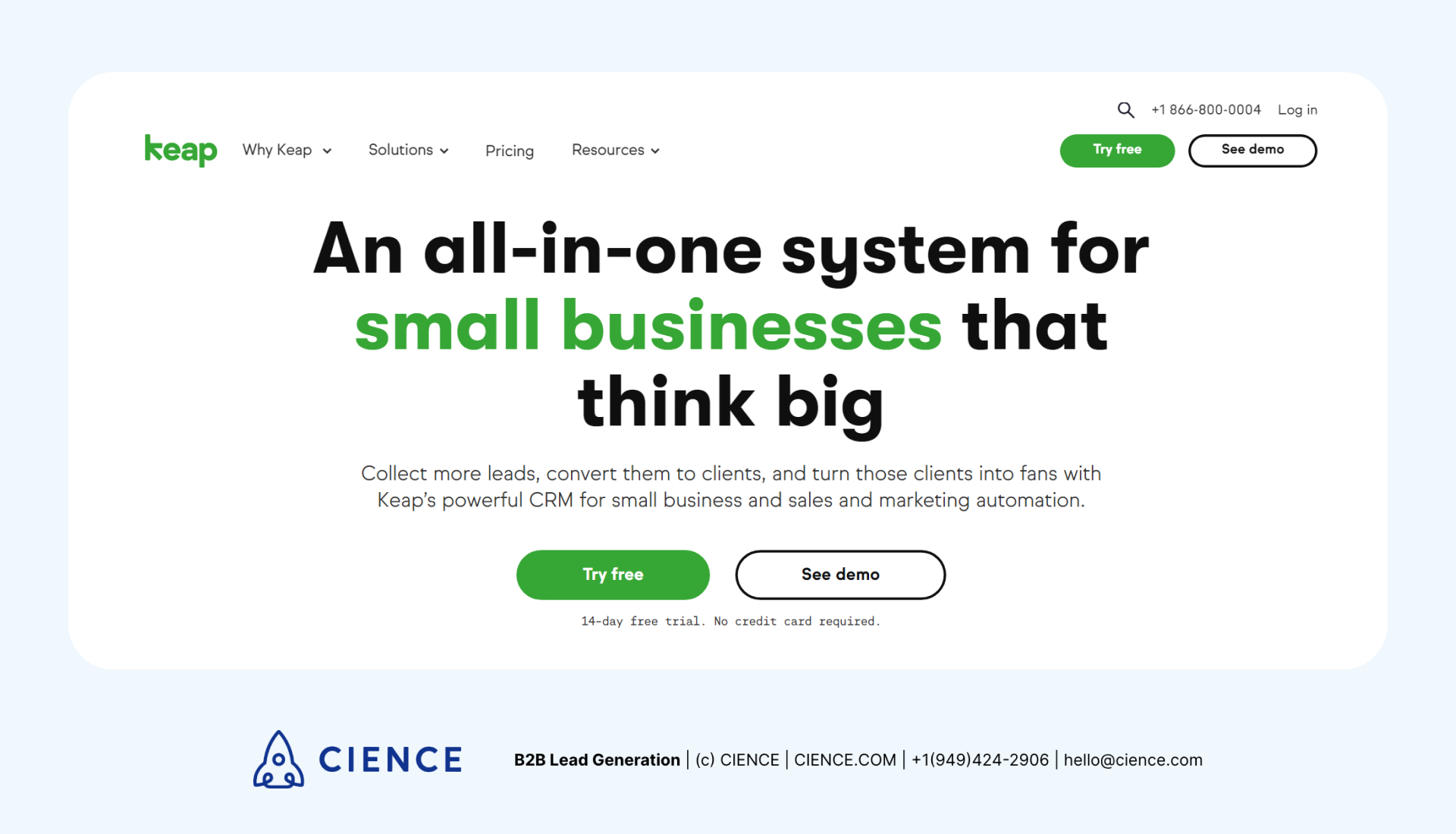 13. Quickbase
Quickbase is a popular platform for lead management, offering a range of features to help businesses track and manage their leads effectively. With its user-friendly interface and customizable workflows, Quickbase makes it easy for sales teams to manage their leads throughout the entire sales process, from initial contact to closing the deal. Users can automate tasks, track lead status, and create reports and dashboards to gain insights into their sales pipeline.
Features: 
Customizable lead management process
Centralized database
Real-time analytics
Integrations
Mobile app
Pricing: 
Free trial available
Team: $35/user/month
Business: $55/user/month
Enterprise: Available by request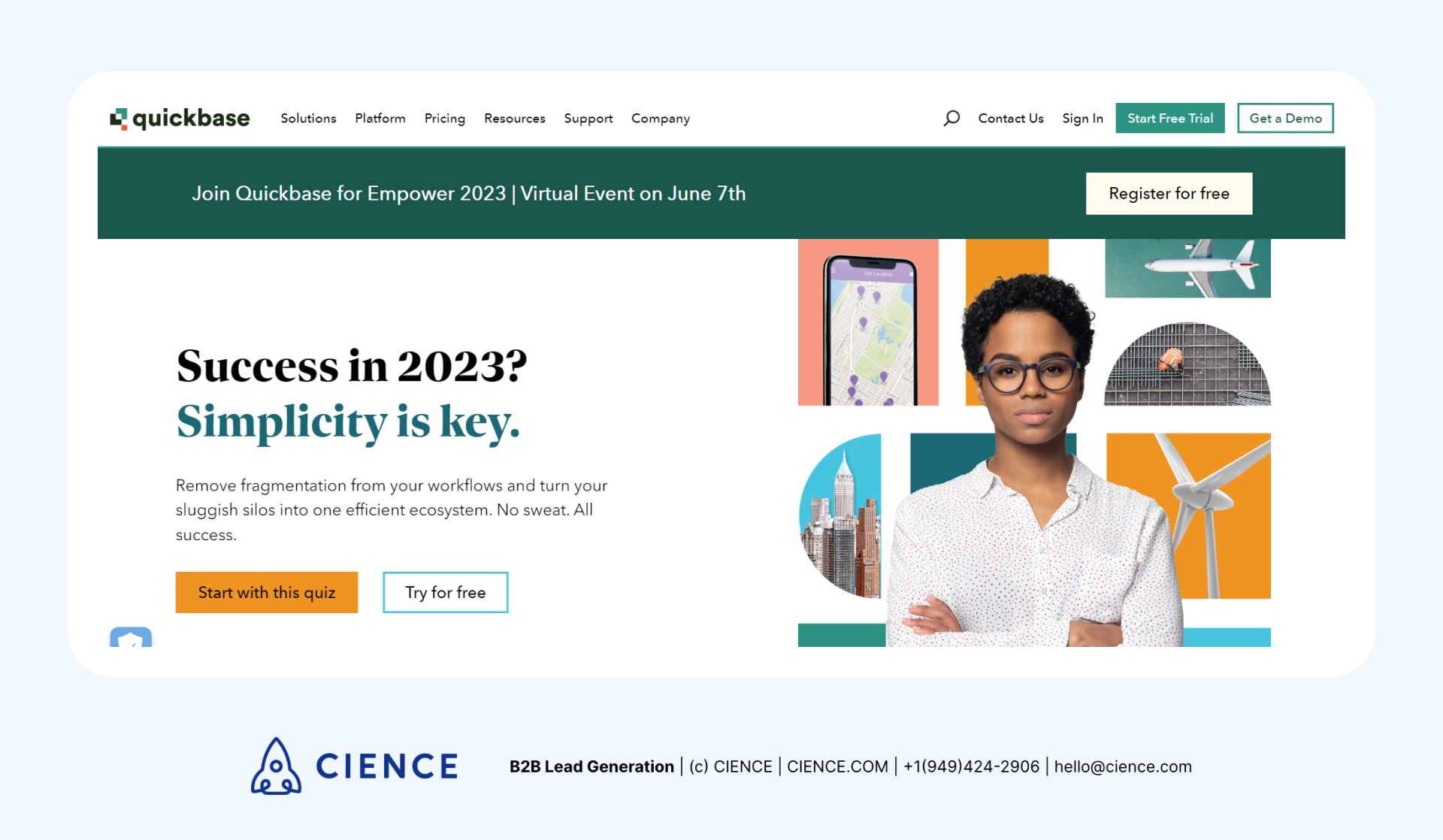 14. Leads Guerilla
Leads Gorilla is a lead management software that provides users with various helpful features. It enables businesses to quickly find and collect quality leads and track and efficiently manage them. The tool's intuitive interface makes it easy to use, and its customizable lead capture forms and automated follow-up options help to streamline the lead nurturing process.
Features: 
Lead prospecting
Contact database management
Automated email campaigns
Lead tracking
Integration
Pricing: 
Starter: $37/month
Advanced: $47/month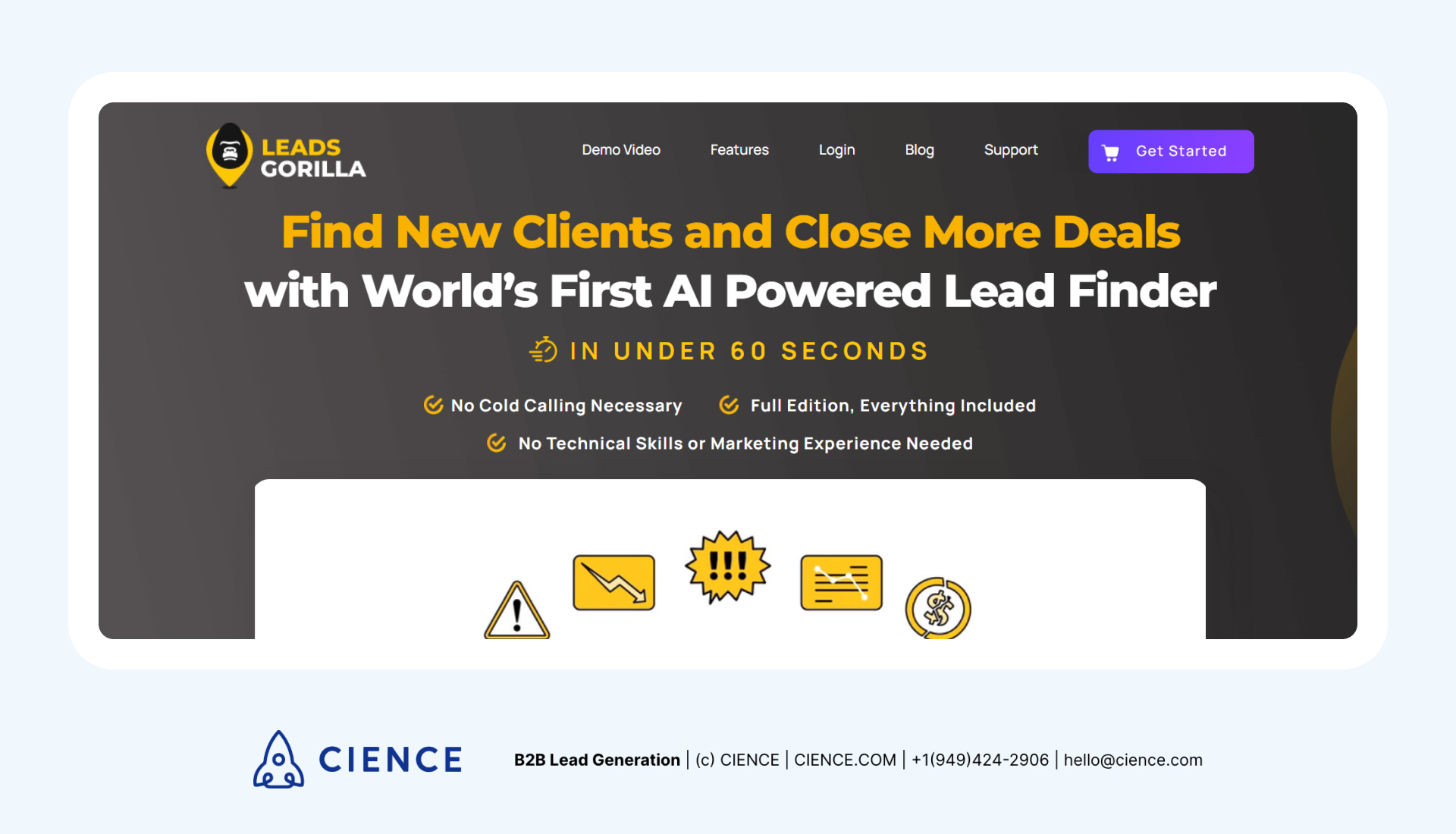 15. CloudTask
CloudTask is a top-rated lead management software that helps businesses streamline their sales processes. It offers a variety of features to manage leads, including lead qualification, lead nurturing, and lead scoring. With CloudTask, businesses can easily track and prioritize leads, ensuring they take advantage of every opportunity. The software also provides analytics and reporting tools to help measure lead management campaign performance.
Features: 
Lead generation
Sales enablement
Multichannel outreach
Personalized approach
Scalability
Pricing: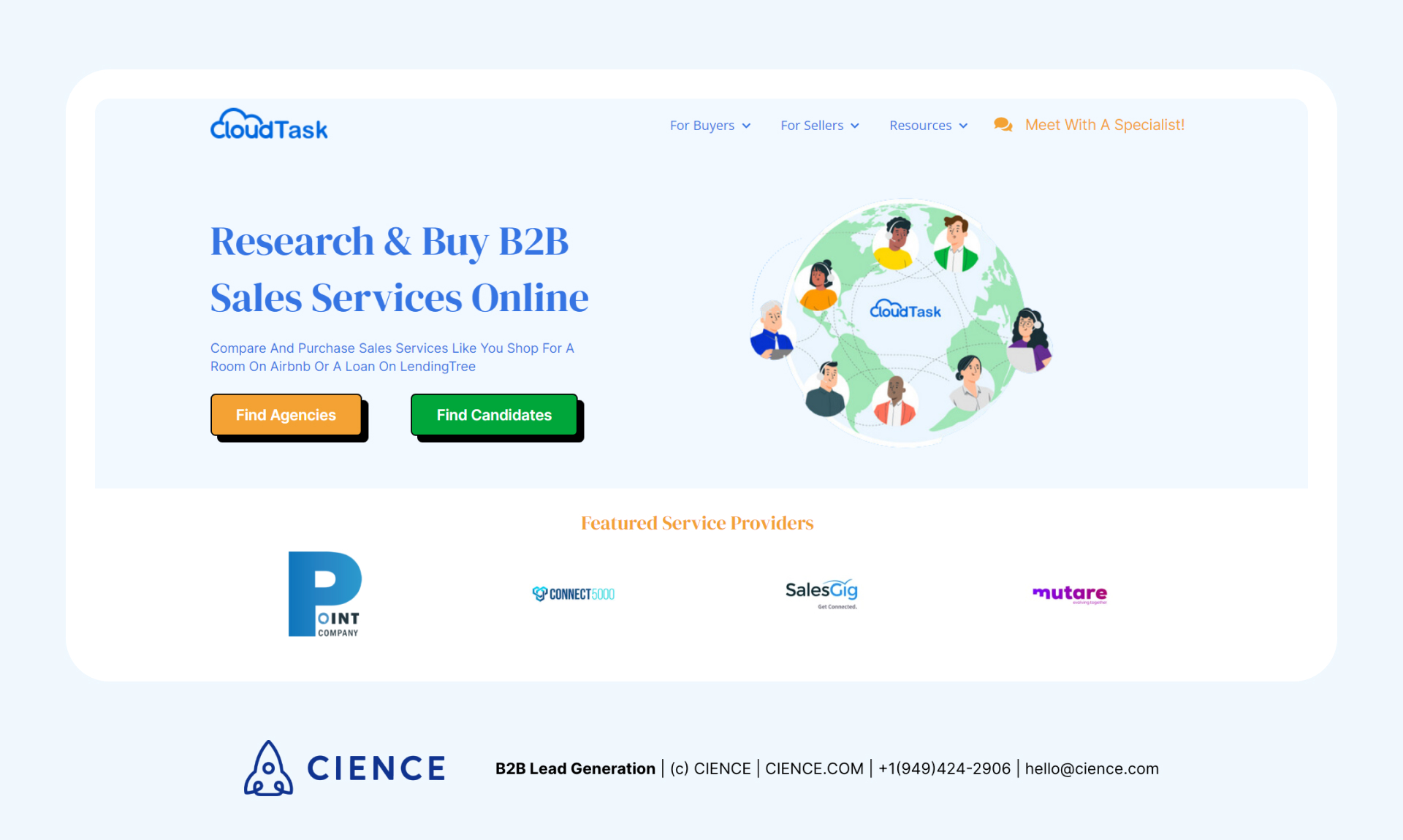 Build Your Lead Management System 
Choosing the best lead management software can significantly impact your company's success. With so many options, it is essential to research and understand the features that will best fit your business needs. Look for software that provides lead tracking, lead scoring, and automated actions based on lead behavior. Additionally, consider the user interface and overall usability of the software.
With the right tools in place, you can effectively nurture leads, increase conversion rates, and build your customer base. By making a strategic investment in sales lead management software, you'll be able to position your business for sustainable growth and success in the long run.