The B2B Insights Podcast Channel was created to help marketing and insights professionals navigate the rapidly-changing world of B2B markets and develop the strategies that will propel their brand to the top.
Subscribe today for your dose of exclusive insights from the B2B market experts.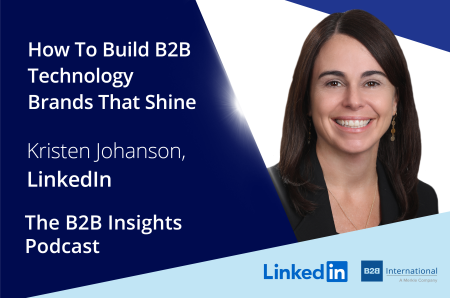 In this one-off special of the B2B Insights Podcast, B2B International's Head of Growth, Nick Hague, is joined by LinkedIn's Kristen Johanson, to discuss how to build B2B technology brands that shine.
Kristen has held the role of Senior Director of Marketing Solutions at LinkedIn for just over a year, having spent the previous 15 years at Google in various positions. Following the recent launch of LinkedIn's 8th Annual Technology Buying Report, Brand to Buyer, we invited Kristen onto the podcast to discuss the key learnings from the research which explores the current challenges facing tech buyers and the opportunities for tech brands to better connect with their target market.
Key discussion points include:
Why today's challenging business environment requires brands to adapt how they speak to their audience
The importance of strong employer brands in delivering superior brand and customer experiences
Getting creative with content strategies to achieve real impact
The need to influence the external influencers
Ensuring marketing messages get heard across the information sources customers use the most
Why brand building is a long-term investment…
…plus lots more! Listen to the podcast episode in full below.
To dig deeper into the 5 trends showing how B2B tech marketers can bring a better brand to buyers, read LinkedIn's Brand to Buyer report here.
To learn more about the 95/5 rule discussed in this episode, view LinkedIn's article on the subject here.