Hey! Let us introduce you to the Internet. Oh, wait…You've met before? This is awkward. 
Then again, the internet has changed a lot since yesterday. If 2022 stats are anything to go by, there's at least one new SaaS business elbowing its way onto the stage, which means things just got a little warmer, and a little more cramped. 
For any business, the internet is an essential platform to leverage for marketing and growth – but, for the SaaS industry, it's so much more than that. It's the ecosystem in which they, their products, and their customers exist. What's more, this ecosystem is constantly growing. As of 2020, the number of SaaS apps used by the average business is 10x higher than it was in 2015, according to insights from BetterCloud. 
It's not always easy to tell whether ever-increasing demand is the catalyst for so many new (and successful) SaaS companies exploding onto the marketplace, or whether that demand is created by shrewd SaaS start-ups identifying solutions to problems we didn't even know we had – or (most likely) whether it's a little of both.
Whatever the case, the SaaS industry is abuzz with activity each and every day, and SaaS businesses need to fight for dominance in this dog-eat-dog ecosystem. In fact, as of right now, there are some 30,000 SaaS businesses out there as we speak. 
On that note, here's how to use social media for SaaS – including everything you need to know about utilizing a strong social media marketing platform to build authority and market share through your channels.
Why do SaaS Businesses Need to Build Brand Authority? 
That little introduction we gave to this article wasn't exaggerating. In 2022 alone, 377 new SaaS businesses were formed – and countless existing SaaS brands diversified and improved the solutions they were offering – which makes for an average increase of 1.03 in any given 24-hour period. 
Sure, some of those businesses won't be direct competitors, but the SaaS industry isn't neatly divided up into subcategories. Customers don't have unlimited time and money to spend on every good SaaS product they come across, so reaching customers means cutting through all the noise and attracting as much attention from your target market as possible. 
But how do you cut through the noise without just taking a deep breath and bellowing at the top of your lungs? The answer is a lot more nuanced than that. The answer is by building brand authority.
Broadly speaking, brand authority refers to a business's prominence online – the extent to which customers trust it, and its ability to represent a strong and reliable resource. Just as trust signals fuel trust, social posting fuels authority (and, in turn, trust as well). 
But brand authority can also be represented through a range of concrete KPIs:
Share of voice

Sentiment

SEO ranking

Conversion rate

Engagement

Branded searches
There are plenty of different ways to build brand authority. You can publish quality content to your site in the form of blog posts and guides, attend relevant conferences and give talks on key issues within the industry – but by far the best (and most scalable) way to build authority is through a comprehensive social media strategy. 
The Benefits of Social Media for SaaS Businesses
It helps you reach your audience right where they are


Consistently working to improve your website with quality content is incredibly beneficial. You want to keep that blog active, and ensure you've always got enough fresh, insightful content to impress Google's algorithm, and boost your site's performance in the search engine's results page.




But it's also inherently limited. Your site is like a single island in a very, very big ocean, and if you stop your content creation efforts along the shoreline, you're only ever going to be able to reach the people who turn up at your island.




Social media takes you far beyond that island. It takes you to much bigger, more populated parts of the internet where you can talk directly to your market, without waiting around for them to wash up on your shores. 
It's the key to rising above the competition


The SaaS industry is a modern marvel. It has everything, does everything, and it's led by some of the business world's most innovative thinkers…including you.




Know what else is a modern marvel? Social media. Between LinkedIn, Facebook, Twitter, Instagram, YouTube, and TikTok – and any other industry-specific platforms – the ability for businesses to connect directly with a global audience.




There is nothing else on the internet – or out there in the world, for that matter – that can give you that level of reach and aid in

increasing brand visibility

like social media. Traditional marketing and SEO are still vital cornerstones, but a strong social media campaign is tantamount to the foundations themselves. 
Social media produces measurable results


Social media marketing requires a holistic approach, but that doesn't mean it can't provide clear insights, analytics, and an easily quantifiable ROI. All it takes is the right social media software…and, if there's one industry that knows all too well how pivotal the right software can be, it's the SaaS industry…
There's no shortage of SaaS influencer marketing opportunities


B2B influencers can transform your brand's online presence, giving credence to the products and services on offer, and allowing you to reach a much wider audience who are already engaged, open-minded, and trusting in the person communicating with them.




Finding the right influencer is key, of course, but it is possible. B2B influencer marketing remains underutilized in comparison with its B2C counterpart, so SaaS businesses looking to pull ahead would do well to devise

a good B2B influencer strategy

before the crowd. 
Market understanding and social listening go hand in hand


Social listening will always be an essential part of social media marketing for business. The information the right social listening software yields should inform your entire strategy, and how it evolves over any given day, week, month, or year.




But social listening isn't just applicable to social media management. The insights it provides into your customers, and the rest of your target market, can (and should) be used to inform your products and services, your customer experience, and your strengths and weaknesses. 
Screenshot for later or to share with a friend: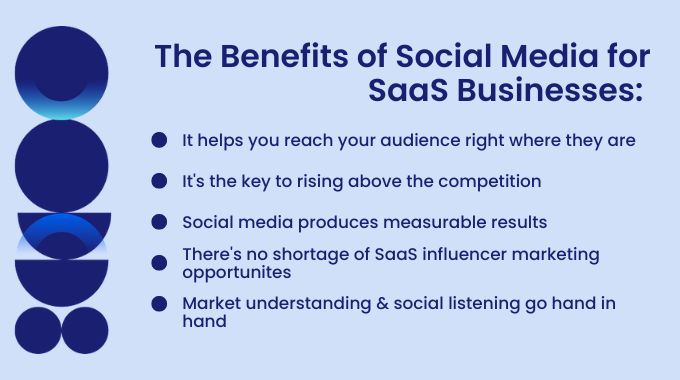 The Challenges of Social Media for SaaS Businesses
It's a competitive landscape


This is without a doubt the biggest challenge for any business looking to make waves on social media. It takes a strong investment of time, attention, and expertise to really get the highest possible ROI out of social media, and this is certainly true in the SaaS industry, where the (seemingly) simple act of

standing out

gets a little harder every day.




But the solution will never be to bury our heads in the sand and dodge all those busy digital spaces for the rest of time. The solution is to embrace the tried and tested tools of social media marketing, and reclaim some of that space for ourselves. 
Creating original and worthwhile content takes time


Social posting depends on you having content to post –

obviously

.




But good content doesn't grow on trees, and that means that any social media strategy is going to inevitably eat into your content team's capacity in any given week or month. 




Then again, there will always be ways to streamline your content creation. From curation to repurposing, content doesn't have to be brand new to offer quality to readers. 

Proactivity isn't an easy habit to get into


Social media is always changing. Conversations ebb and flow, trends come and go…it's a hive of activity, but those activities are constantly being replaced with different activities, led by new voices and new, emerging ideas.




To master it, you've got to be proactive – ready to jump on trends as and when they arise, not just after the fact. For that, it's all about utilizing all the tools you have at your disposal on your social media marketing platform so that you're prepared for those changes that can – and will – happen. 
How Can SaaS Brands Build Authority on Social Media? 
Offering SaaS is all about educating prospective (and existing) users. For most SaaS brands, a large part of their success stems from their ability to offer user-friendly solutions to some of the most common pain points in their industry – but, at times, those pain points are not always obvious. 
So, what do you do? You educate. That's a core part of marketing for SaaS brands, and social media is no exception.
On social media, the ability to truly educate = authority. It's what Google is looking for (and that's why content is king for SEO, as much as any other form of digital marketing) but, more importantly, it's exactly what real, human users are looking for. 
So, how does that look in practice? 
Start conversations
Jumping on trends and weighing in on topical conversations as and when they arise is pivotal, but that doesn't mean you've got to sit and wait for a chance to be proactive. 
Starting conversations and generating interest from your followers with really strong, shareable content is a big part of the game on social media. You can leverage your social listening insights to see which topics/areas of interest tend to generate the most interest from social media users, and look for new and innovative ways of approaching those topics as and when you're looking to augment your social posting strategy. 
Finding content ideas for SaaS that really appeal to followers is never too tricky. Brands find a lot of success with How To videos, comparisons, user reviews and other user-generated content (anything capable of bringing that all-important social proof to the table), or even just fun, interactive posts like contests and giveaways all help to maintain interest and start up new conversations. 
Focus on share of voice
Saying, 'We need to build authority on social media,' is a pretty open-ended statement. True, calculating a clear ROI from social media is more than possible, but, when it comes to goal setting, it's a lot better to have something concrete to work off. 
Share of voice is a great KPI to start with. When relevant posts and trends take place in your niche, you want to ensure that people are namedropping your brand and tagging you as much as possible. You can monitor all of this from your platform for social media marketing. 
Get consistent 
Content is king, but consistency is definitely queen. The more you can commit to a social posting schedule, the better (and, in turn, more consistent) you can expect results to be. 
Even the best piece of content will fail to live up to expectations if it's not posted as part of a comprehensive social posting strategy. Building authority isn't just about the content you post, but how and when you post it, too. 
The SaaS industry is fueled by companies who can push their solutions forward at the right moments. Social media is no different. And, in terms of offering those opportune moments, there's nowhere better suited to educating your audience on the solutions you can bring 
Repurpose the best content
Great content can do a lot more for you than you may think. While it's best to avoid duplicating content, which can fatigue your audience and lower engagement with your blog and social channels.
From presentations and seminars reproduced as brief clips or infographics to blog posts whittled down to a few Twitter-ready salient points, there are so many different ways to repurpose good content and maximize the value your social posting brings to followers. 
Utilize employee advocacy
Your employees are the fuel that keeps your business going. Their unique perspectives on key matters, pain points, and considerations that impact the wider industry – and your customers – are the expertise your social posts need if they're going to assert authority. 
Employee advocacy offers so many benefits, from social proof to furthering thought leadership and share of voice. It's a great strategy for any business looking to elevate their standing on social media, and reach a broader audience. 
Connect with influencers 
You don't need to aim for the most prominent voices in order to gain some serious ground with your audience. Micro B2B influencers attract very niche audiences who are much more likely to actively engage with your content. It doesn't matter that their audience is more limited; the bigger audiences held by the B2B industry's most prominent influencers are far less concentrated on a particular subject and, as a result, it's likely that a smaller percentage will find your brand relevant. 
That's not to say there's no value in B2B influencer marketing outside of those micro influencers, but that both offer very handy platforms for boosting your authority on social media. 
Utilize social listening
Building authority isn't just about the content you put out there – it's about listening to your audience and understanding what drives them, what interests them, and what they're not getting from you, or from your competitors. 
Social listening is a proactive exercise. It requires you to pay attention, in real-time, to the conversations taking place around you. It's not just a matter of social media brand monitoring – or, in other words, responding to direct mentions of your brand or comments on your channels. Instead, it's about 'putting your feelers out', and keeping your finger on the industry's pulse points in order to know where you stand, and how you can push yourself forward more. 
The SaaS industry certainly has a lot of pulse points. From the applications for (and limitations of) AI and machine learning to API, utilizing analytics, and the evolving customer experience – and those evergreen topics like low-code and security – there are so many triggers to keep your eye on.  
Wisdom isn't formed in a vacuum. If your company is going to be an authority in its market on social media (and beyond), it needs to be continuously informing itself on the hot topics, as and when the temperature starts to change. 
Where do you start?
A strong social posting strategy begins with the right social media management platform. It's not only the key to streamlining the process of managing multiple channels, but it's also essential for ensuring that your social media analytics are curated and used to underpin your strategy in the best way possible. 
This is what we do best at Oktopost – equipping businesses with the management tools they need to leverage social media's full potential, and claim that level of authority reserved for the very best businesses in their niche. With everything integrated into a single, central social media software, management becomes a truly rewarding and scalable venture for the business. 
In the SaaS industry, standing out isn't just a case of standing a little taller than your direct competitors. The average workplace system is around 8% SaaS-based solutions, which equates to around 39 pieces of SaaS software. So, yes, while your direct competitors pose a constant challenge, so does the rest of the industry.
Aiming for thought leadership and authority over the industry is the key to success.