An inspiration to any CMO, Aina Lemoen Lunde, Executive Vice President Group Brand at DNB, is investing heavily in data-driven marketing to create even higher customer satisfaction.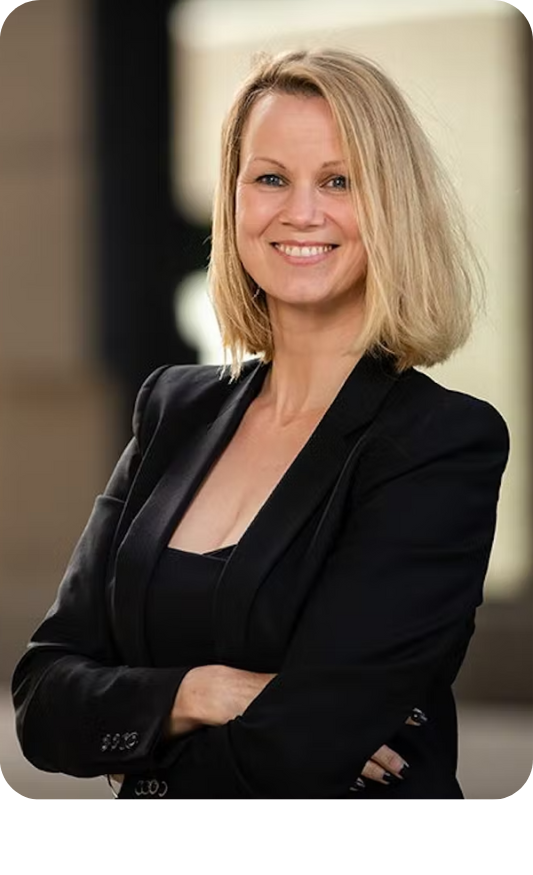 Aina Lemoen Lunde is a well-known face in the Norwegian marketing industry. She has a background from both the agency and advertiser side of the industry and is a favourite interviewee for the trade press in marketing. Lunde has been behind some of the country's most sensational marketing campaigns, has written several marketing communication textbooks, and has been named speaker of the year.
The love for the marketing profession runs through her veins. With her parents, who ran an advertising agency when she grew up in Ekeberg in Oslo, she became acquainted with the entire marketing value chain at a young age. Her career so far can be described as comet-like.
"I haven't had a specific career plan; there have only been exciting opportunities. I have been open to investigating new paths and tried to do my utmost in all the places I have been," says Lunde.
From 5 to 107 in seven years
Halfway through her career, this has led her to perhaps Norway's largest marketing department, as director of marketing and digital sales in DNB, where she is responsible for almost 110 subject matter experts. She joined the financial group as creative director in 2015. At that time, the marketing department consisted of five people.
"We have moved people to the department from other functions, hired new specialists and insourced tasks. Since much banking has gone digital, it makes sense to restructure and move people together so that those with similar and complementary expertise can collaborate more closely and boost each other", she says.
"Everyday life in the department should be about experimentation and learning. It's about enhancing each other's strengths and ensuring that we, as marketers build common expertise. We willingly share expertise internally and externally. Many of us in Norway compete against major international players. Therefore, it is essential that we marketers exchange experiences." says Lunde.
You must have the courage to stay put
It is easy to believe that DNB is spending significantly more money now than before, given the growth in the marketing department and the visibility achieved. That is incorrect.
"We have not invested more in external visibility, but found areas where we can work more efficiently, and the insourcing has made this possible," she explains.
"By bringing computer skills into the department, the level of precision in the communicative outlets is higher, and the messages better match the right recipient; This is especially important to maintain a steady course over time in communication to the market.
We find the positions suitable for us over time and try to stay with them. Many marketing departments find that they are assessed against their short-term goals, which means they risk fragmented communication because the focus shifts quickly and often. We have put much effort into finding our positions, and then we have to endure staying put – and investing in them – over time; This is the only way we will stand out in the market," she says.
See Also: The Courageous CMO: Marketing is forever
Data-driven marketing is the biggest change
Insourcing of important disciplines has been particularly important for gaining control of the company's data. Lunde is clear that data-driven marketing is the most significant change in the marketing profession in recent years, and the marketing department has had to enhance its computer skills significantly.
"To extract all the great value in the data, we need to take greater responsibility for the entire marketing mix," she says.
Lunde has used "learning by doing" as a learning principle in digital change, and she finds herself fortunate to work with so many talented people in her department.
"Our MarTech manager is an engineer with solid computer skills and said she didn't know anything about marketing before she started in the marketing department. Yet, that's precisely why she chose to move – to be where the data is transformed into customer value. Similarly, all of us in the marketing department had to develop further within data processing and technology, and we have had the pleasure of learning a lot from each other. We work a lot with this type of competence exchange," says Lunde.
Communication must affect people
Lunde thrives in a subject that now deals with everything from computer science and advanced law in the form of privacy legislation to psychology and good old-fashioned creativity. By combining many skills, DNB has succeeded in reaching out in new ways with exciting and engaging messages.
"It's about earning people's attention, and communication must be able to touch people. If we are to change attitudes and behaviours, we must remember that human beings are emotional first and rational second," she says.
The star example is the "#huninvesterer" campaign, which encourages more women to invest. It has generated much attention by focusing on an important societal message closely linked to the bank's basis of existence: Investment.
"If we had only used digital behavioural data, we would have continued to sell to the same segments all the time. To reach more people, we looked to see why so many women did not save and invest to the same extent as men. Despite increased gender equality in many areas, men owned 80 per cent of the private share values on the Oslo Stock Exchange. We saw that it was an opportunity to create an exciting and vital change," she says. She adds that they always strive to deliver on commercial goals in conjunction with taking social responsibility.
During the campaign's first two years, the number of female fund savers increased by 160 per cent and is now the majority in DNB. After the launch, there were as many new female shareholders, which previously had taken 20 years to achieve.
Building a culture of safety and curiosity
Lunde is concerned that her colleagues will be able to exploit their professional potential and experience mastery through good performance.
"People should feel safe in their job and be able to show more sides of themselves by trying things they haven't done before. At the same time, it should be a safe place to fail occasionally. The department has several meeting places where they share their experiences. By openly sharing learning points, it also becomes easier to highlight what they have learned – for better or for worse. It will build a culture of security, curiosity, willingness to learn – and courage.
The department is governed by 12 common professional principles underpinning everyone's work: these cover, among all, the degree of innovation, working methods and culture. We spend much time setting common goals. After that, the specialists should have great freedom to achieve their goals however they want. Fortunately, people here are very proactive and good at taking the initiative. The slogan 'good for the customer, good for society, good for DNB' gives us an extra boost." Lunde says.
See Also: The Courageous CMO: must be innovative
Creativity at the forefront
DNB's marketing department has a professional and methodological approach to creativity. They have professional days where the creatively responsible lectures on processes and methods for developing the best ideas.
"The method is strongly insight-driven. We start with insights across sources and then try to identify what insight sources engage people," says Lunde.
"Much research is conducted simultaneously. Numbers are analysed, and the goal is to find trends that no one else has seen. In the qualitative, we can also find the answer, something someone has said in a customer interview or a focus group. There are many sources of valuable information. Finding topics that spark conversations is gold. It is also often the gateway to creativity," says Lunde, who claims she likes to be involved in these processes.
The agency comes in with cutting-edge expertise
Although many functions are insourced, DNB still uses many agency services. A lot is done internally with our in-house creative department, "DNB Creative", while we connect the external agency forces to the big concepts. We bring in external forces after the insight and analysis work has been done and the rhetorical stem has been written. When it comes to dramatisation, we often distribute the tasks. The agencies are critical because of the expertise they can deliver," she says.
Lunde speaks warmly about the agency interaction and the essential external viewpoint that partners can provide. Her heart beats for the Norwegian agency industry, and she believes that curiosity is vital fuel for agencies that want to strengthen their competitiveness.
"Agencies must continue to explore the creative and at the same time be curious about the intersection between the communicative, the technology, distribution, and how they can use the data creatively. Experience from across industries gives the agencies a unique base of experience to play on the customers' strengths, regardless of industry." Lunde says.
Eureka moments can occur in the strangest places
Lunde believes the most important thing she has learned so far is to be extremely curious and always think she can learn something new.
It's about assembling the puzzle in ways that haven't been done before. It is equally essential for her to simultaneously have several thoughts in her head, where the right thing to do plays along with what is important; This is something most people can do, and it creates many exciting concepts and directions.
Lunde advises those who want to get up and running in the industry not to be overly strict with themselves.
"It is much more important to seek knowledge and have the will to learn from people around you while at the same time offering yourself and your expertise. You shouldn't try to copy a template, but be yourself," she says.
The courageous CMO paves the way
"The courageous CMO dares to do things that no one else has done before, knowing there is a great chance of failure but still choosing to proceed. If you don't, nothing will move forward," she says.
"It's easier to hide than to take a stand; This is especially true in innovation and the balance between profits and living up to the expectations of others. Then many have opinions, making staying in your position and believing in yourself even more important. When you succeed, the outcome is that your employer has made a difference in society," she says.
"Therefore, the marketing manager must control many things because communication affects the entire value chain. It's essential to keep an eye on everything that happens and preferably take a little more responsibility than the job description implies. This way, the marketing department will constitute a tremendous strength for the organisation. Most companies would have become much more customer-oriented if they gave more space to the expertise in the marketing department. That's why it's about using the range of your subject and being proactive," Lunde concludes.
For the record, DNB is not a customer of Iteo or BBN.
About the author

Andreas Thue is the founder and managing director of Iteo, Norway's leading B2B agency and one of four BBN partners in the Nordics. Iteo has been recognised as the best Communications-agency in Norway five years in a row (2017-2021) and as the best content & performance agency in 2021.