There are many misconceptions about content marketing.
We hear them all the time. "Writing content is easy". "Quantity is more important than quality". "Content marketing has no impact on the bottom line".
But in reality, content marketing is one of the most effective long-term strategies for driving traffic and generating leads in B2B. Here's how you can do it well.
Our top 15 content marketing tips
1. Define your ideal buyer persona
To write something that resonates, you must know who you're writing for. It's true for Hollywood scriptwriters and best-selling authors, it's true for B2B content marketers.
Before putting pen to paper – or fingers to keyboard – it's important to define your ideal buyer persona.
"A buyer persona is a semi-fictional representation of your ideal customer based on market research and real data."
The key to creating an accurate B2B buyer persona is to put yourself in your audience's shoes.
What challenges do they face?
What do they care about?
How do they interact with businesses?
What do they need to know before making a purchasing decision?
By answering these questions, you can create helpful content that addresses your ideal buyer's biggest challenges while showcasing your products and services.
"Don't fall into the trap of only talking about yourself. Use personas to keep your content focused on the needs and challenges of the people you're trying to reach."

– George Denison, Senior Content Writer
2. Set goals
What do you want your content to accomplish? Whether it's a product page, blog, podcast, or marketing email, every piece of content you create should support a specific business goal.
Use the SMART framework to develop goals that are specific, measurable, achievable, relevant, and timely. For example, your goal could be to generate 30 new leads over the next month or increase demo sign-ups by 10% over the next quarter.
"Don't create content for its own sake. Think about what you want it to accomplish."

– John Websell, Content Writer
3. Organise your content into topic clusters
The topic cluster model has become a cornerstone of successful content marketing strategies.
In the topic cluster model, you create a pillar page that covers a broad topic. The Complete Guide to B2B Website Design, for instance. Then, you create smaller pieces of content, such as blogs, that link to the umbrella topic. For example, How to Design a Product Page or The Best 10 B2B Websites in 2022.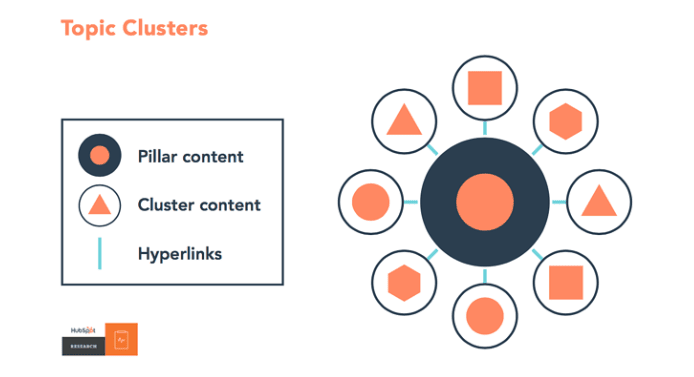 Image credit: HubSpot
This approach has two advantages.
User experience. The topic cluster model helps you organise content into a logical structure. This makes it easy for prospects to navigate your content and find the information they need.
SEO. Establishing internal links between your content shows Google that they're related. This improves your subject matter authority and helps you rank for your target keywords.
4. Set a content calendar
All too often, businesses create content on an ad hoc basis, with peaks and troughs of activity. You've probably seen it yourself. Company X might publish four articles one month and then nothing for the next three. The problem is, an inconsistent publishing schedule can negatively affect SEO.
The alternative is to create a content calendar.
A content calendar brings calm to the chaos. It makes it easier to scope and plan future campaigns, capitalise on seasonal events, and maintain a steady stream of content.
"Making a content plan is easy. Sticking to it is the hard part."

– Rob White, Senior Content Writer
5. Create content for every stage of the buyer's journey
Content has a crucial role to play in nurturing prospects through the buyer's journey. So, it's important to consider every stage in your content calendar.
The stages of the buyer's journey are:
Image credit: HubSpot
Awareness
The buyer is aware of a problem or challenge and is looking to define it. At this stage, you should focus on educational content that addresses common problems and entices prospects to learn more. Think blog posts, eBooks, or educational videos.
Consideration
The buyer's defined the problem. Now they're ready to start investigating solutions. Things like case studies and product comparison guides can help buyers narrow down the list of potential vendors.
Decision
At the decision stage, buyers are looking for the solution provider that best meets their needs. The content you produce at this stage should showcase the unique benefits of your solution and how those benefits can help buyers with their biggest pain points. Free product demos or consultations are effective here.
6. Write for the customer
Many businesses fall into the trap of talking exclusively about themselves in their content. It's important to highlight the USP of your products or services and guide people towards your solutions. But ultimately, content marketing is about the customer.
Take your ego out of the equation. Think about what matters to your buyers and create content that addresses those concerns. Remember, good content educates prospects and helps them find solutions to their business problems. It's not a soapbox to tell the world why you're better than your competitors.
"Don't just write about you and the things you want to write about – it's all about the customer."

– Rob White, Senior Content Writer
7. Optimise for SEO
Content only delivers value if it's discoverable. And while it's important to write for your ideal buyer and help them along their path to purchase, it's equally important to optimise your content for search.
B2B search engine optimisation (SEO) is all about increasing online visibility and attracting relevant, high-quality traffic with everything you publish. This begins with identifying the keywords you want to rank for in each piece and weaving them naturally into your content. Other crucial aspects of SEO you must consider are:
Include your target keyword in your metadata (title, description, and URL)
Ensure your target keyword appears in the H1 and at least one sub-heading
Link to relevant internal resources and content
Write alt text for any images that appear in your content
"When your prospective buyers search on Google, you want your content to come up. Include keywords to help search engines find, index, and rank your content."

– Sophie Branigan, Content Writer
8. Keep your tone of voice consistent
A consistent tone of voice raises brand awareness, enhances credibility, and inspires trust. But maintaining consistency can be a challenge. Especially if more than one person is responsible for producing content in your business.
You can avoid this problem by creating tone of voice guidelines for your business. This ensures that no matter which channels your customers use, every piece of content they interact with sounds like it was produced by one person.
"Every customer touchpoint is an opportunity to showcase your brand and build trust. Having a consistent tone of voice helps to make you more credible and recognisable."

– El Cook, Content Writer
9. Make it unique
Content marketing often feels like Groundhog Day. Everyone repeats the same information in the same way without adding anything new to the discussion. The good news is, this presents you with a golden opportunity to differentiate yourself from your competitors.
Share your opinion. Take a different approach. Give prospects the benefit of your knowledge and experience. On the rare occasion you can't think of a unique hook, consider how you can improve on the content that's already out there. Expand the conversation or provide new insights that add value to prospective customers.
"Share your brand's unique opinions and perspectives. Great content doesn't need to reinvent the wheel, but you want to stand out."

– Sophie Branigan, Content Writer
10. Focus on readability and structure
Using unnecessarily complex language and dense, jargon-heavy sentences doesn't inspire confidence or demonstrate expertise. In fact, studies suggest it can have the opposite effect on your readers.
When writing for a B2B audience, readability is key. Use simple and clear language to make your content accessible and easy to digest.
You should also pay careful attention to structure. Some people prefer to scan content rather than read it from top to bottom. Think about how you can use lists, sub-headers, line breaks, and bold/italicised text to make your content easy to scan. Your audience will thank you.
Things to consider when creating written content:
Word choice
Sentence structure and complexity
Sub-headings
Bullet and numbered lists
Visual elements
Active/passive voice
Consistency of spelling, capitalisation, punctuation etc.
Call-to-action (CTA) placement
"People rarely read content from beginning to end. Clear headings and structured paragraphs help readers absorb and scan text quickly."

– Sophie Branigan, Content Writer
11. Explore different content types
There are plenty of opportunities to do more with your content beyond blogs and eBooks.
Infographics
Videos
Podcasts
Webinars
Interactive tools, e.g. calculators
Experimenting with different content types allows you to breathe fresh life into subjects that may have been covered in more traditional formats.
Let's say you work for a company that specialises in transforming workspaces with digital technology. There are hundreds of blogs offering tips on ways to support hybrid employees. So why not mix things up with a podcast that buyers can enjoy on the go? Alternatively, you could turn the key takeaways into a series of social posts that are easier to digest.
12. Repurpose your content
Have you ever read an article and thought "that would make an interesting podcast"? Or made it halfway through a whitepaper and asked yourself "why isn't there a condensed version with only the key takeaways"? You're not alone and today, repurposing content has become a popular tactic among marketers.
It takes more than just creativity to create content. It takes time and effort. Repurposing or recycling existing resources allows you to operate at peak efficiency and maximise ROI. It also allows you to reach a wider audience. People consume content differently. Some prefer the written word; others favour visual formats. So, the more ways you can share your content, the more people you can reach.
"Yesterday's blog is tomorrow's podcast."

– Rob White, Senior Content Writer
13. Audit your content regularly
Keeping your content relevant and up to date is one of the most challenging aspects of content marketing. You need a way to systematically track your assets. And the best way to do that is with a content audit.
"A content audit describes the process of collecting and analysing assets on a website, such as landing pages or blog posts. Content audits keep an inventory of a website and provide insight into which content to create, update, re-write, or delete"
Regular content audits help you:
Identify your best and worst-performing content
Update resources with new insights to keep them fresh and relevant
Find opportunities to repurpose content
Discover what resonates with your audience and what doesn't
Measure performance over time
Remember, content audits are most powerful when you act on your findings. When you've identified something worth updating or repurposing, add it to your content plan.
14. Measure your results
Creating useful resources is just one piece of the content marketing puzzle. Releasing a steady stream of articles, videos, and guides is great. But to maximise ROI, you need to dig into your analytics and measure the success of your efforts.
Success means different things to different people. For some, it's about generating traffic and leads. While for others, it's something tangible like demo sign-ups. It all depends on the goals you set out to accomplish with each piece of content.
By regularly reviewing your data, you can identify what performs and what doesn't. This saves you time, effort, and money and lets you focus on what works. It also helps you refine your strategy and demonstrate ROI to stakeholders.
15. Have a plan to defend your plan
Like any opportunity, business leaders like to know the potential risks and rewards before they invest in content marketing.
Before bringing your content marketing strategy to the board, build a business case to support your arguments. This should cover all the key bases, including:
What are the commercial reasons for investing in content marketing?
How much will it cost to implement your strategy?
When can stakeholders expect to see a return on their investment?
Why content marketing is a sound investment
In today's digital-first environment, content is the quickest, easiest, and most cost-effective way to reach your ideal buyers.
68% of B2B customers conduct independent online research before making a purchase. Investing in a content marketing strategy builds connections between you and your ideal buyers and lays the foundation for future inbound success.
Related blog posts: