Digital B2B Marketing vs. Online Marketing, does the difference matter?
There is no difference in daily life. The different definitions are merely technical matters. What matters most is that you understand the impact of digital marketing, online marketing, and – yet another term – internet marketing.
All terms have one aspect in common: digital marketing, online marketing, and internet marketing use digital technology to market products or services.
This image summarizes the differences: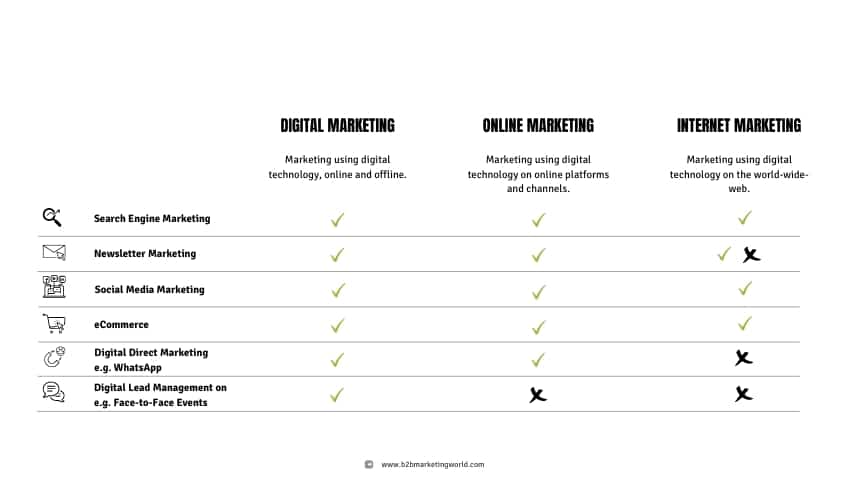 What can be seen at first glance that Digital Marketing is an umbrella term for both online and internet marketing. The difference between the latter is, is that online must only sometimes happen on the internet. The boundaries, however, become more and more blurry.
We use all three terms synonymously in this article for easy readability.
Definition of Digital Marketing in B2B
Digital marketing can be a great way to creatively engage with your customers and teach them who you are and what your product does. You can create your brand story by taking control of the conversation with your customer. This will form emotional bonds and build trust in your products and company.
This aspect is called inbound marketing via owned media. These two marketing strategies are the most significant advantage of modern digital marketing.
So, what exactly is digital marketing? It is pretty simple. At its core, digital marketing is about reaching consumers through the devices they spend time on every day.
It is marketing through digital channels instead of traditional means like print or TV ads. Instead of relying on paper mailings or commercials, digital marketers focus on their ideal customer personas and use technology to deliver the message digitally.
Online Marketing allows targeted communication as the opposite of mass communication.
So, what is the modern definition of Digital Marketing?
Digital B2B Marketing refers to all marketing efforts that use digital technology. Most commonly via the internet online. Businesses use digital channels such as search engines, social media, email, and websites to engage with current and prospective customers.
The value-add for customers is that digital marketing helps them find what they want when they want it. The ultimate goal is to drive more sales and leads for a business.
Digital B2B Marketing vs. Traditional Marketing in B2B
A glance at Traditional Marketing further helps you deepen your understanding of Digital Marketing. Let us have a look at the differences and similarities.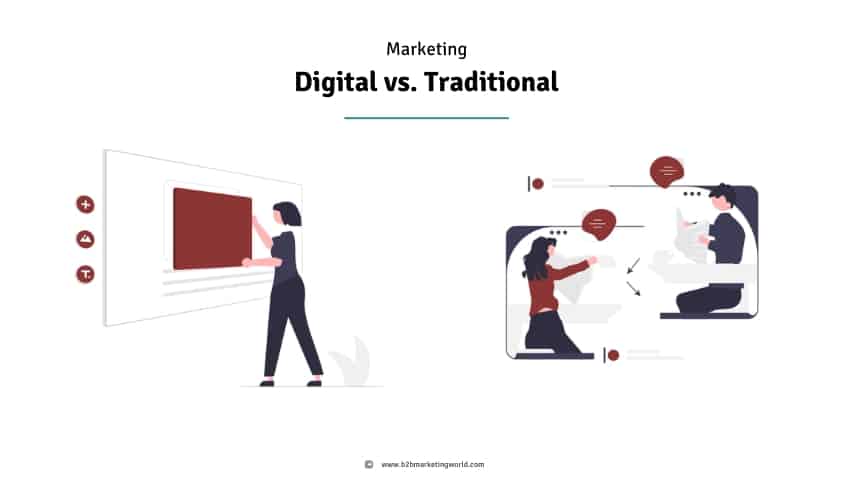 Traditional Marketing
Traditional marketing is what you think of as marketing: advertisements in newspapers and magazines, billboards, flyers, commercials on television and radio, etc. Traditional marketing relies heavily on what is known as outbound marketing: reaching customers through various forms of media.
There are a few benefits to traditional marketing. One advantage is that it allows marketers to reach many customers at once. Especially if they run a print ad or commercial on television or the radio. However, this is also the most significant disadvantage of traditional marketing. There is no easy way to segment your target group. It is like giving everybody a slice of the marketing budget. Whether this makes sense or not.
This type of marketing can still be useful for specific target groups. Traditional marketing appeals to customers who feel comfortable with more familiar forms of advertising, such as a newspaper in their driveway every morning or a commercial during their favorite TV show.
Digital B2B Marketing
Digital marketing relies on the internet and online-based digital technologies. As already discussed, digital or online marketing is also referred to as Inbound Marketing. The biggest advantage of digital marketing is to reach people 24/7 in a particular, targeted way. And best of all, online marketing can be easily measured.
When reaching a broader audience, digital marketing gives you more options than traditional marketing methods. Digital media has become a part of our daily lives; almost everyone uses their smartphone or tablet daily. We live in the age of social media and online purchases.
The needs of a modern customer are to be fulfilled by something other than traditional methods. Digital marketing is a vital part of every marketing mix, with an increasing budget share.
Differences between Digital Marketing and Traditional Marketing in B2B
The main difference between digital and traditional marketing is the media through which the information is exchanged. Traditional marketing relies on traditional media such as television, magazines, newspapers, and radio to reach consumers. Digital marketing uses digital media.
Secondly, traditional marketing is only sometimes measurable. Marketers may measure the effectiveness of conventional marketing by looking at the number of phone calls they get from a magazine ad or the number of people who walk into their store from a billboard. However, these methods are only sometimes accurate. On the other hand, digital marketing allows marketers to see how often a website has been visited, what time people visit, and where the traffic comes from. This allows marketers to measure their campaigns more accurately and more efficiently target their perfect audience.
Thirdly, traditional marketing is less interactive than digital marketing because it cannot track real-time consumer responses. Digital marketing can give marketers feedback instantly, so they can easily adjust their strategies based on consumers' behavior.
Similarities of Digital Marketing and Traditional Marketing
Let's keep things simple.
One key aspect that both types of marketing have in common is the focus on customer demand. Marketing has the aim of creating a customer centric company culture and to address the customer need.
Both digital and traditional marketing, therefore, have the customer at heart.
While this seems an obvious thing to say, it is still the most specific similarity there is. All other aspects are minor compared to the customer-centric nature of marketing.
Why is Digital Marketing important for B2B?
B2B Marketing might have some distinct differences compared to B2C Marketing.
But your target audience is online and uses digital means to find information, interact, and shop. Therefore, your company needs a digital presence to meet your customers where they are. There is no denying that every business, small or large, in every industry needs to have a customer-centric online marketing strategy.
Online Marketing helps in increasing visibility and enhancing brand awareness around the globe at a lower cost compared to traditional methods. It also allows you to analyze customer behavior and preferences to provide personalized services based on customer preferences. This is mainly because Digital Marketing allows you to reach customers directly.
If you are not convinced, here are the significant benefits of Digital Marketing: