Are you feeling overwhelmed by the numerous types of digital marketing available today?
Whether you're a startup or an established business, understanding the different digital marketing strategies can unlock unprecedented growth for your brand.
This comprehensive guide will explore various types of digital marketing, their importance, pros, and cons, and how to choose the right one for your business, putting you on a path to success.
1. Search Engine Optimization (SEO)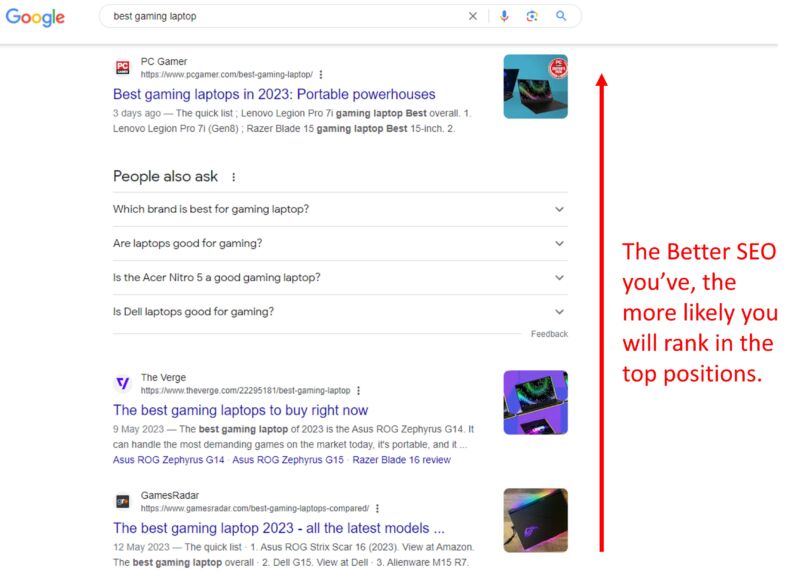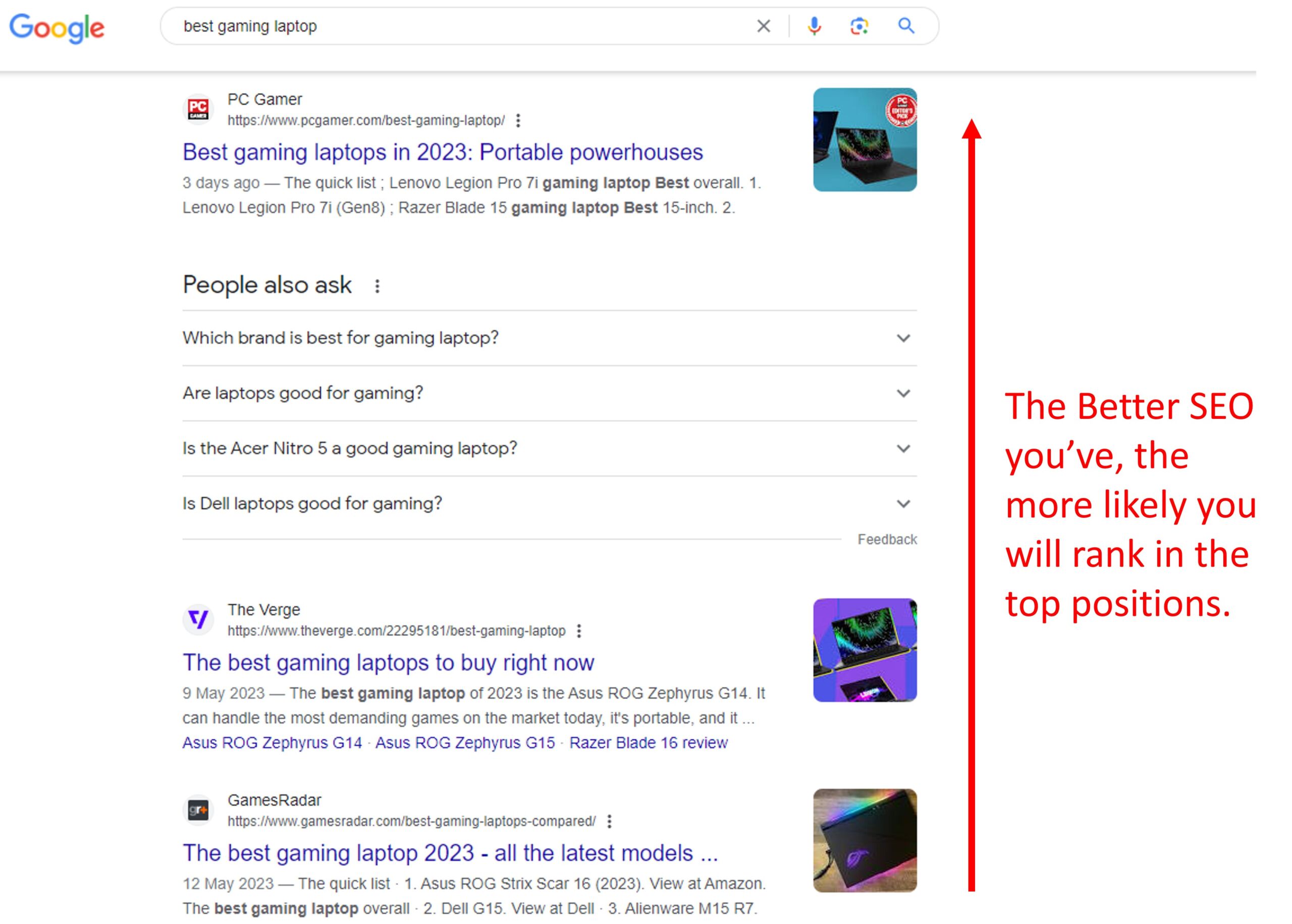 Search Engine Optimization, commonly referred to as SEO, is a digital marketing strategy that focuses on enhancing a website's visibility and ranking on search engine result pages (SERPs).
This involves optimizing website content and design, using relevant SEO keywords, optimizing for technical SEO and on-page SEO, creating high-quality backlinks, and ensuring a responsive website design.
SEO is a crucial part of content marketing as it helps search engines like Google understand what your content is about and how relevant it is to users' search queries, which enables you to rank in the top positions that drive the most organic traffic.
SEO plays a significant role in digital marketing because of its potential to drive quality traffic to your website.
Here are some compelling reasons why SEO is essential, backed by data:
According to a HubSpot report, 60% of marketers regard inbound practices (like SEO and blog content) as their highest quality source of leads. (source)
BrightEdge reports that 53.3% of all website traffic comes from organic searches. (source)
SEO drives over 1000% more traffic than organic social media. (source)
These statistics emphasize the value of SEO in enhancing a website's visibility, boosting organic traffic, and attracting high-quality leads.
Pros of SEO
Increased Organic Visibility and Credibility: Ranking high on search engines improves your business's online visibility and gives your site more credibility.
Cost-Effective: Unlike paid advertising, organic SEO is cost-effective in the long run as it does not require you to pay for every click.
Better User Experience: SEO involves optimizing your website for better usability and user experience, which can result in higher engagement rates and conversion rates.
Long-Term Strategy: The results from SEO can be long-lasting, making it a good long-term investment.
Cons of SEO
Time-Consuming: SEO is not a quick fix. It can take months to see significant results.
Constantly Evolving: Search engine algorithms are always changing, meaning SEO strategies must be regularly updated to stay effective.
Risk of Penalties: If SEO is not done correctly, for example by using Black Hat SEO tactics instead of white hat SEO, search engines may penalize your website by decreasing your ranking.
Competitive: With many websites competing for the top spot for popular keywords, SEO can be challenging, especially for new or smaller businesses.
Read more on Search Engine Optimization:
2. Content Marketing
Content marketing is a strategic digital marketing approach that involves creating, distributing, and promoting valuable, relevant, and consistent content to attract and engage a clearly defined target audience.
The goal is to drive profitable customer action. This content can take various forms, including blogs, videos, infographics, podcasts, social media posts, white papers, ebooks, and more.
Content marketing is vital in building brand awareness, establishing trust, and nurturing relationships with customers, and still one of the most important digital marketing strategies.
It provides value to your audience beyond traditional sales-focused ads, allowing businesses to connect on a deeper level with their customers, and with AI content marketing, marketers can engage with potential buyers at a much more personalized level.
These stats further highlight the importance of content marketing:
According to HubSpot, 83% of marketers believe it's more effective to create higher-quality content less often. (source)
A report from Content Marketing Institute shows that B2C marketers use content marketing to achieve the top three goals: creating brand awareness, building trust, and educating their target audience. (source)
Content marketing generates three times as many leads as traditional outbound marketing but costs 62% less. (source)
Pros of Content Marketing
Boosts SEO: High-quality, keyword-optimized content can improve your website's search engine rankings, leading to increased organic traffic.
Establishes Authority and Trust: Consistently producing insightful content can establish your business as a thought leader in your industry.
Nurtures Lead: By providing valuable content at each stage of the buyer's journey, you can nurture leads and move them down the sales funnel.
Cost-Effective: Compared to traditional marketing tactics, content marketing is more cost-effective and has a better ROI.
Cons of Content Marketing
Time-Consuming: Creating high-quality, original content regularly can be time-intensive.
Results Take Time: It may take months to see significant results from your content marketing efforts.
Consistent Creation and Promotion: To keep your audience engaged, you need to consistently create and promote fresh content, which requires resources and planning.
Difficult to Measure: While there are metrics you can track, it can be challenging to measure the direct impact of content marketing on sales.
Read more on Content Marketing:
3. Social Media Marketing (SMM)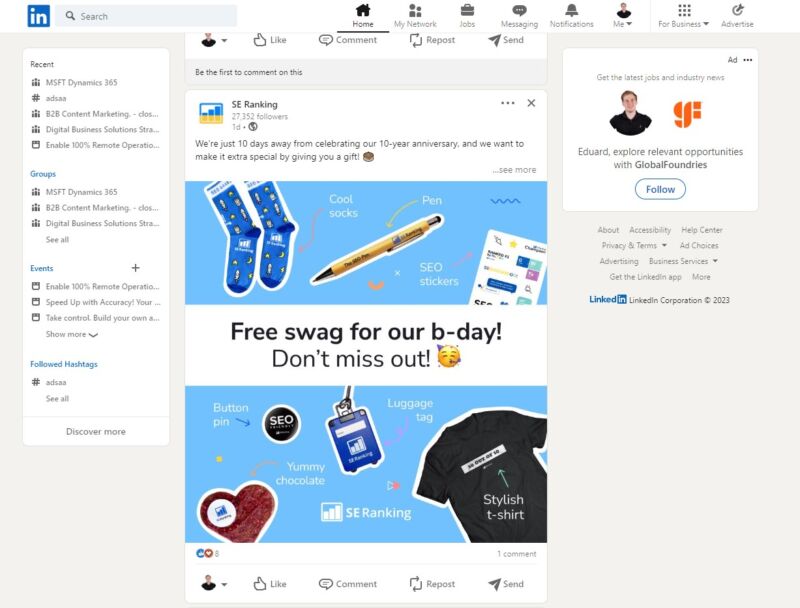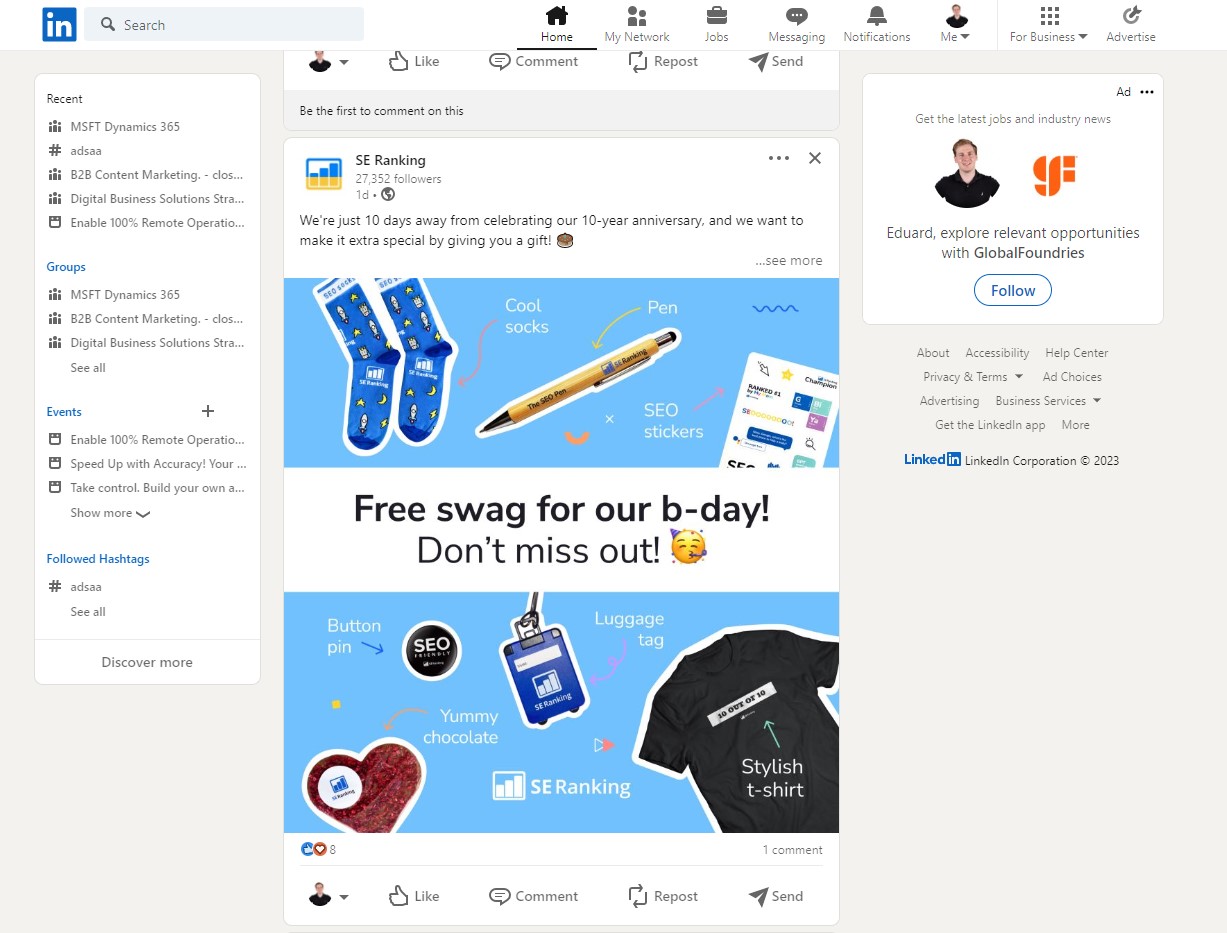 Social Media Marketing (SMM) is a digital marketing strategy that involves creating and sharing content on social media networks to achieve your marketing and branding goals. This includes posting text and image updates, videos, and other content that drives audience engagement, along with paid social media advertising.
In today's digital age, social media serves as a dynamic platform for businesses to connect with their audience, enhance brand visibility, increase website traffic, and generate leads. It enables businesses to have direct conversations with their customers, which helps foster brand loyalty.
Here are some statistics underlining the importance of SMM:
Pros of Social Media Marketing
Increased Brand Awareness: Social media platforms offer a broad reach, helping businesses increase their visibility and recognition.
Targeted Advertising: Social media advertising allows businesses to target specific demographics, leading to higher conversion rates.
Improved Customer Engagement: Social media provides a platform for direct interaction with customers, fostering stronger relationships.
Cost-Effective: Creating a social media profile is free, and paid promotions are relatively cheaper compared to other marketing strategies.
Cons of Social Media Marketing
Time-Consuming: Creating content, engaging with the audience, and maintaining a social media presence can be time-intensive.
Negative Feedback: Social media platforms are public spaces, and negative comments or reviews can potentially harm your brand's reputation.
Requires Constant Monitoring: Social media is a 24/7 medium, and businesses need to consistently monitor their profiles to respond to comments, messages and reviews timely.
Risk of Oversharing: It's essential to strike a balance with the frequency of posts. Too many posts may annoy your audience and lead to unfollows.
Learn more about social media marketing:
4. Video Marketing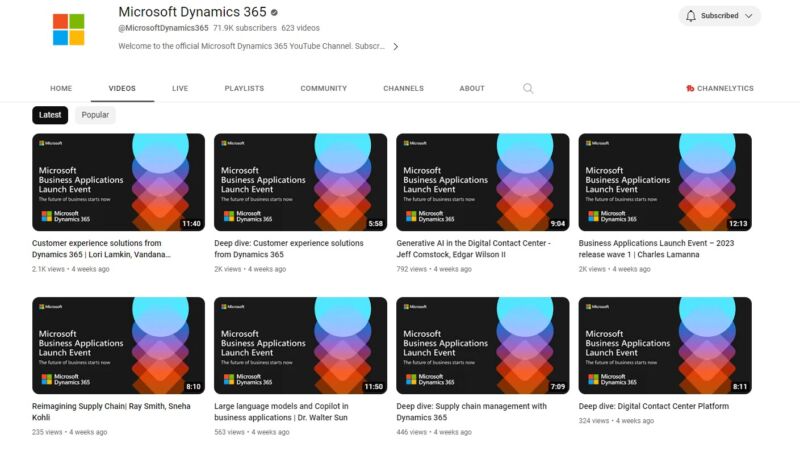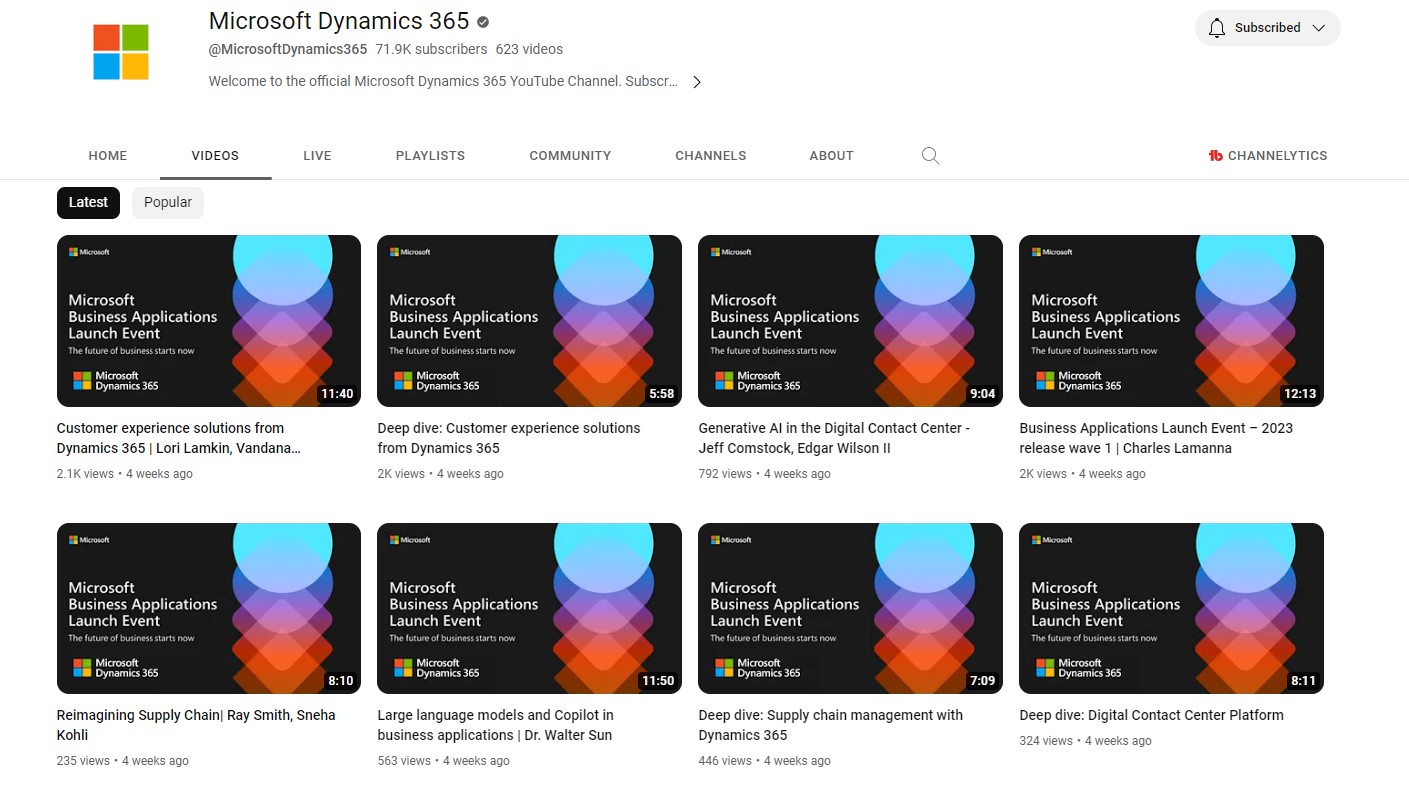 Video marketing is a digital marketing strategy that leverages the power of video to promote a company's products or services, build customer rapport, and increase brand awareness.
Video content can be shared across numerous platforms, including a company's website, social media platforms, or video-sharing platforms like YouTube and Vimeo.
With its ability to convey a vast amount of information in a short time, video is a highly engaging medium and is easily shared across digital platforms. It's versatile and appeals to the increasingly visual preferences of consumers, especially with the rise of mobile technology.
And in my opinion, it's essential for businesses to start shifting to video marketing from written content as most of the content can be written by AI, whereas good video still needs people. At least for now.
Here are some relevant statistics to underline the importance of video marketing:
A Wyzowl survey indicates that in 2023, a record 92% of video marketers said that video provides a good ROI.
The same survey shows that 87% of marketers report that video has helped them increase sales.
Further, an impressive 96% of marketers agree that videos have increased user understanding of their product or service.
Pros of Video Marketing
Highly Engaging: Videos can catch and hold the audience's attention more effectively than text or images alone.
Boosts Conversions and Sales: By providing a better understanding of the product or service, videos can effectively influence purchasing decisions, leading to increased conversions and sales.
Improves SEO: Google favors websites with video content. Properly optimized videos can boost your site's SEO.
Versatile and Shareable: Videos can be shared across many platforms and can be repurposed into different content forms, such as blogs, infographics, and social posts.
5. Influencer Marketing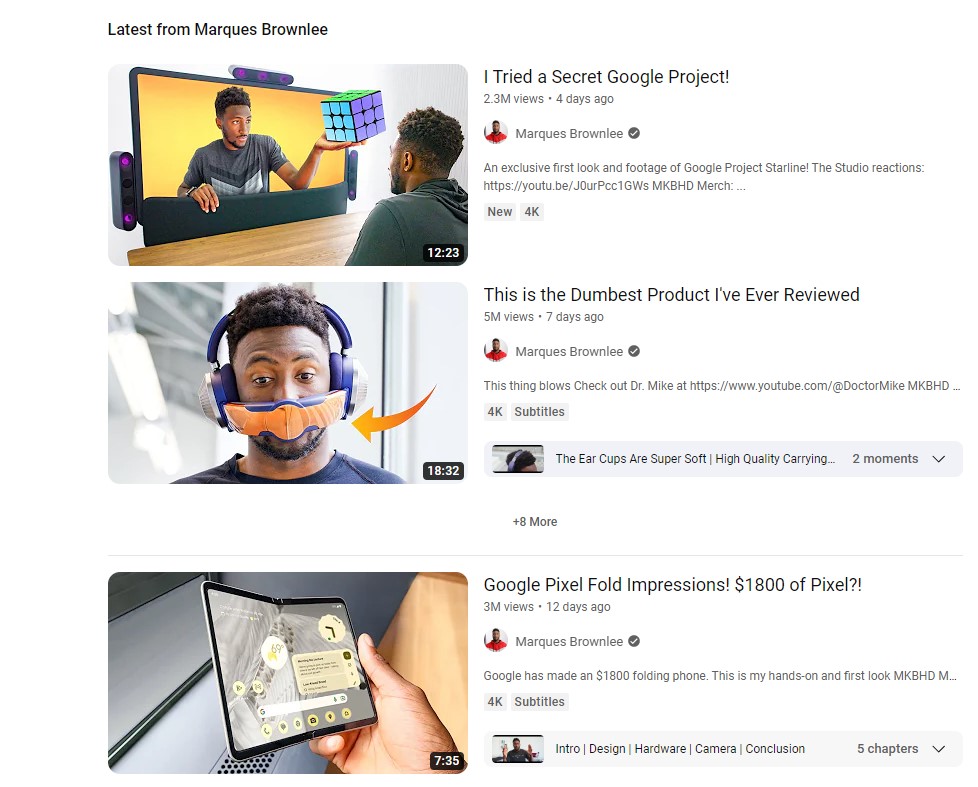 Influencer marketing is a form of social media marketing involving endorsements and product placements from individuals who possess a purported expert level of knowledge or social influence in their respective fields.
These influencers can range from celebrities and athletes to bloggers and content creators on social media platforms who have a certain level and engaged following.
Influencer marketing capitalizes on the trust and credibility that influencers have built with their followers. It allows brands to reach an engaged and relevant audience, often leading to increased brand awareness, conversions, and sales.
Here are some stats highlighting the significance of influencer marketing:
According to the Influencer Marketing Hub, 92% of marketers believe that influencer marketing is an effective form of marketing.
A Morning Consult study found that 50% of Millennials trust product recommendations from influencers, compared to just 38% trust recommendations from celebrities.
Market Splash reports that 17% of marketers plan to invest in influencer marketing for the first time.
Pros of Influencer Marketing
High Engagement: Influencers tend to have highly engaged followers who trust their recommendations.
Reach Target Audience: Brands can more easily reach their target audience by partnering with influencers in the same niche.
Authenticity: Influencer-generated content can come across as more authentic and trustworthy than traditional advertising.
Increases Brand Awareness: Working with influencers can boost a brand's visibility among potential customers.
Cons of Influencer Marketing
Can Be Expensive: Top influencers often charge a high fee for their services.
Risk of Fake Followers: Some influencers artificially inflate their follower numbers, which can lead to poor campaign results.
Negative Associations: If an influencer gets involved in a controversy, it could negatively impact your brand.
Tracking ROI: It can be challenging to accurately measure the return on investment from influencer marketing campaigns.
Learn more about Influencer Marketing:
6. Email Marketing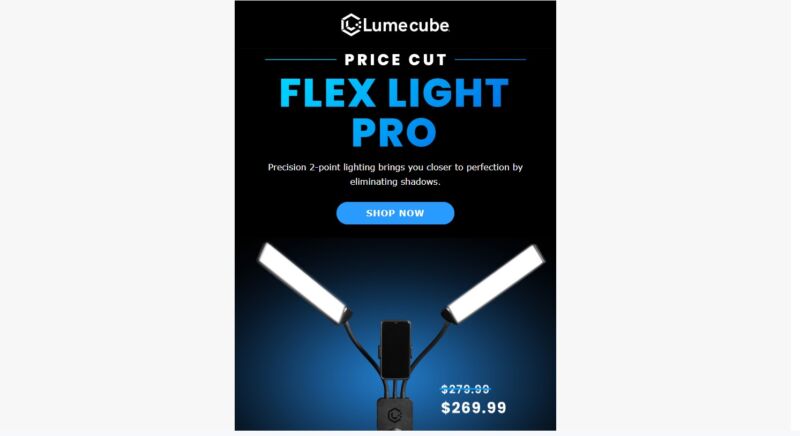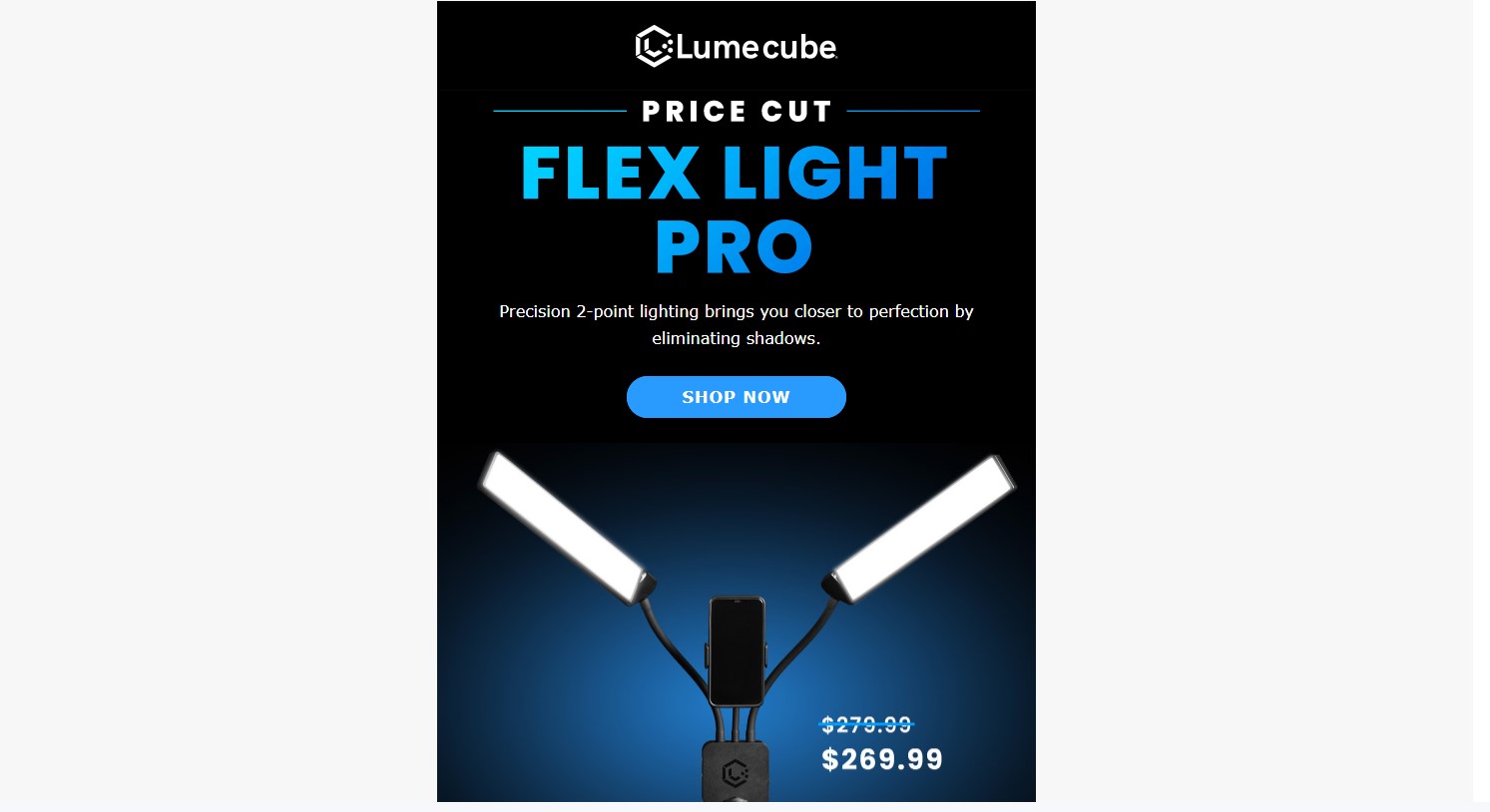 Email marketing is a digital marketing strategy based on sending emails to prospects and customers. The emails sent could be promotional, aimed at building loyalty, trust, or brand awareness. Effective marketing emails convert prospects into customers and turn one-time buyers into loyal, raving fans.
Email marketing is a cost-effective method that enables businesses to reach large numbers of potential customers in a short period. It's a direct and personalized way of communication that can help businesses build relationships with their audience.
Moreover, email marketing is easy to track and analyze, allowing businesses to optimize their strategies based on performance data.
Here are some statistics demonstrating the importance of email marketing:
A study by Litmus shows that email marketing generates an average ROI between $32-$45 for every $1 spent. This is significantly higher than other marketing channels, such as social media (ROI of $10 for every $1 spent) and paid search (ROI of $2 for every $1 spent).
The average open rate for email marketing campaigns is 21.3%. This means that for every 100 emails sent, approximately 21 people will open them.
Pros of Email Marketing
Cost-Effective: Email marketing can be done at a very low overhead cost.
Personalization and Segmentation: With email marketing, businesses can personalize messages for different groups of customers.
Easy to Measure: Most email marketing tools offer the ability to track what happens after emails are sent, including delivery, open, click, and conversion rates.
Wide Reach: Email has a large user base worldwide, providing a broad audience for businesses.
Cons of Email Marketing
Spam: Emails can often end up in the spam folder if they're not properly optimized, reducing their effectiveness.
Design Issues: Emails must be designed to be effective and look good on all device types and sizes, which can be challenging.
Delivery Issues: Deliverability can be an issue if your email list contains many inactive or fake addresses.
Requires Regular Updates: To remain relevant and engaging, your email list and content need to be regularly updated, which can be time-consuming.
Learn more about email marketing:
7. Mobile Marketing
Mobile marketing is a multi-channel, digital marketing strategy aimed at reaching a target audience on their smartphones, tablets, and/or other mobile devices, via websites, email, SMS and MMS, social media, and apps.
Mobile marketing is essential especially for B2C companies because of the sheer volume of users and the amount of time they spend on their devices. With mobile marketing, businesses can reach larger audiences and provide personalized, location- and time-sensitive information that promotes goods, services, and ideas.
Here are some statistics showcasing the significance of mobile marketing:
As of May 2023, over half (55%) of all website traffic is contributed by people using mobile devices. (Source)
According to recent data, the average person spends 3 hours and 15 minutes on their phone each day. (source)
A report by PYMNTS shows that 72% of consumers are using mobile devices to shop in stores.
Pros of Mobile Marketing
Wide Reach: Mobile devices are ubiquitous, providing businesses with a large audience.
Personalization: Mobile marketing enables businesses to tailor their content to the individual customer.
Real-Time Results: Businesses can get immediate feedback from their mobile marketing efforts.
Cost-Effective: Compared to traditional forms of marketing, mobile marketing often requires less financial investment.
Cons of Mobile Marketing
Privacy Issues: Businesses need to ensure they respect user privacy and comply with relevant regulations.
Platform Diversity: Creating campaigns that work on all types of devices and operating systems can be challenging.
Ad Blockers: The use of ad-blocking technologies can limit the effectiveness of certain mobile marketing strategies.
Small Screen Size: The small size of mobile screens limits the amount of information that can be displayed.
8. Affiliate Marketing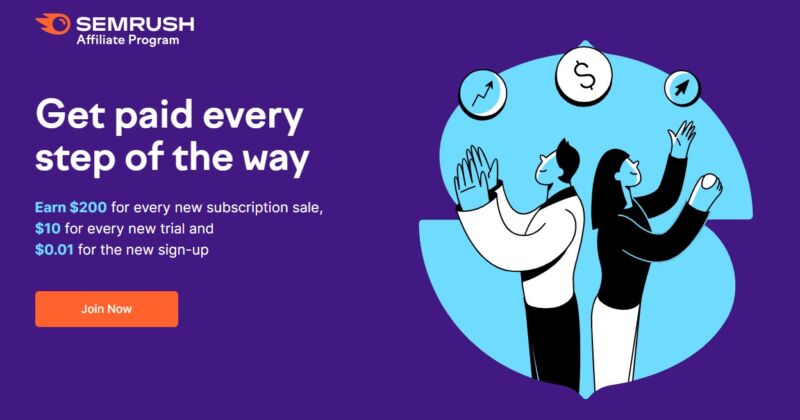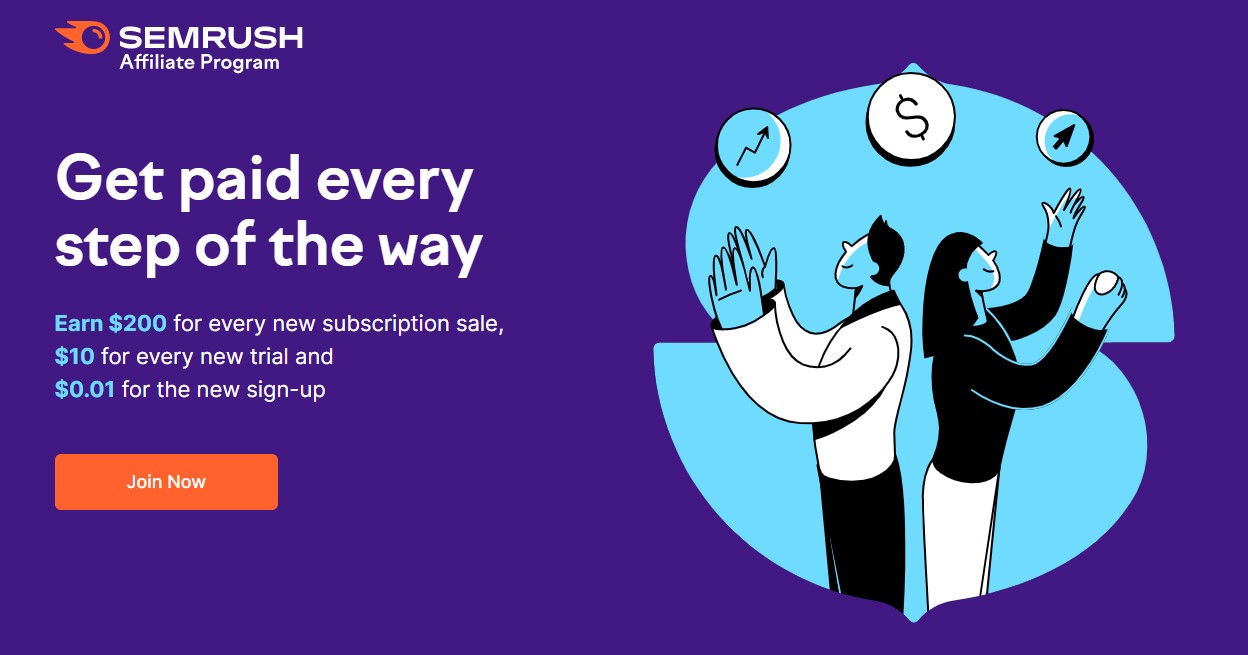 Affiliate marketing is a digital marketing strategy where a business partners with external websites (affiliates) to promote its products or services. Affiliates earn a commission for each customer they bring in through their own marketing efforts.
Affiliate marketing can be an effective way to boost sales, expand market reach, and increase brand awareness. It's performance-based, which means businesses only pay when desired actions (like a sale) occur, making it a cost-effective strategy.
Here are some statistics that emphasize the importance of affiliate marketing:
According to Pepperjam, affiliate marketing is the most important customer acquisition channel for 20% of brand marketers, and 54% rank it among their top three channels.
Aspire reports that 49% of brands work with affiliate marketers.
A Digiday x AWIN report shows that 80% of brands say affiliate marketing is an important source of revenue.
Pros of Affiliate Marketing
Cost-Effective: Businesses only pay for successful transactions, making it a low-risk, high-reward model.
Broad Reach: Affiliates can help a business reach new audiences it might not have accessed otherwise.
Performance-Based: Affiliates are incentivized to drive conversion, aligning their goals with those of the business.
Easy Tracking: Businesses can easily track sales, clicks, and overall performance of affiliate campaigns through affiliate programs.
Cons of Affiliate Marketing
Quality Control: It can be challenging to control the quality of content that affiliates produce.
Commission Costs: While cost-effective, businesses must provide a portion of the profit as a commission to affiliates.
Fraud Risks: There's a potential risk of fraudulent activities, such as false advertising or illegal methods used to drive traffic or sales.
Dependency: Overreliance on affiliates could lead to problems if they decide to end the partnership.
9. Pay-Per-Click Advertising (PPC)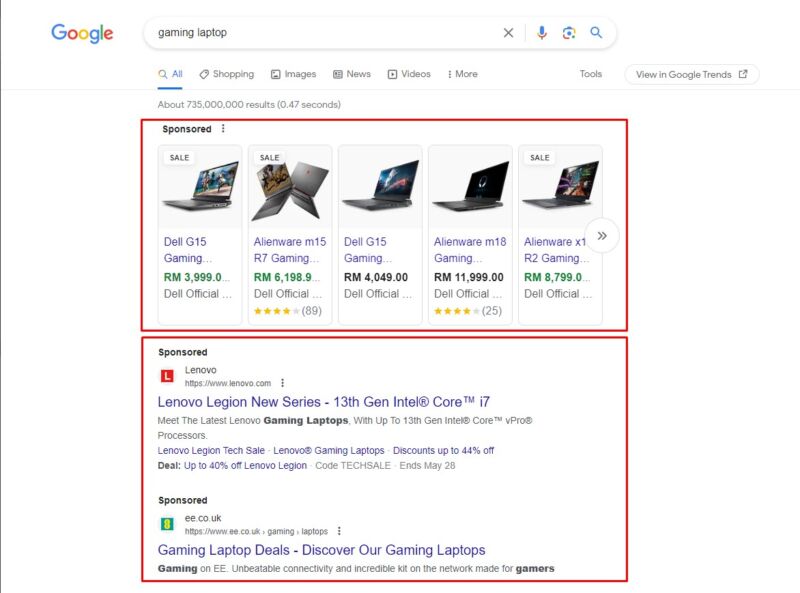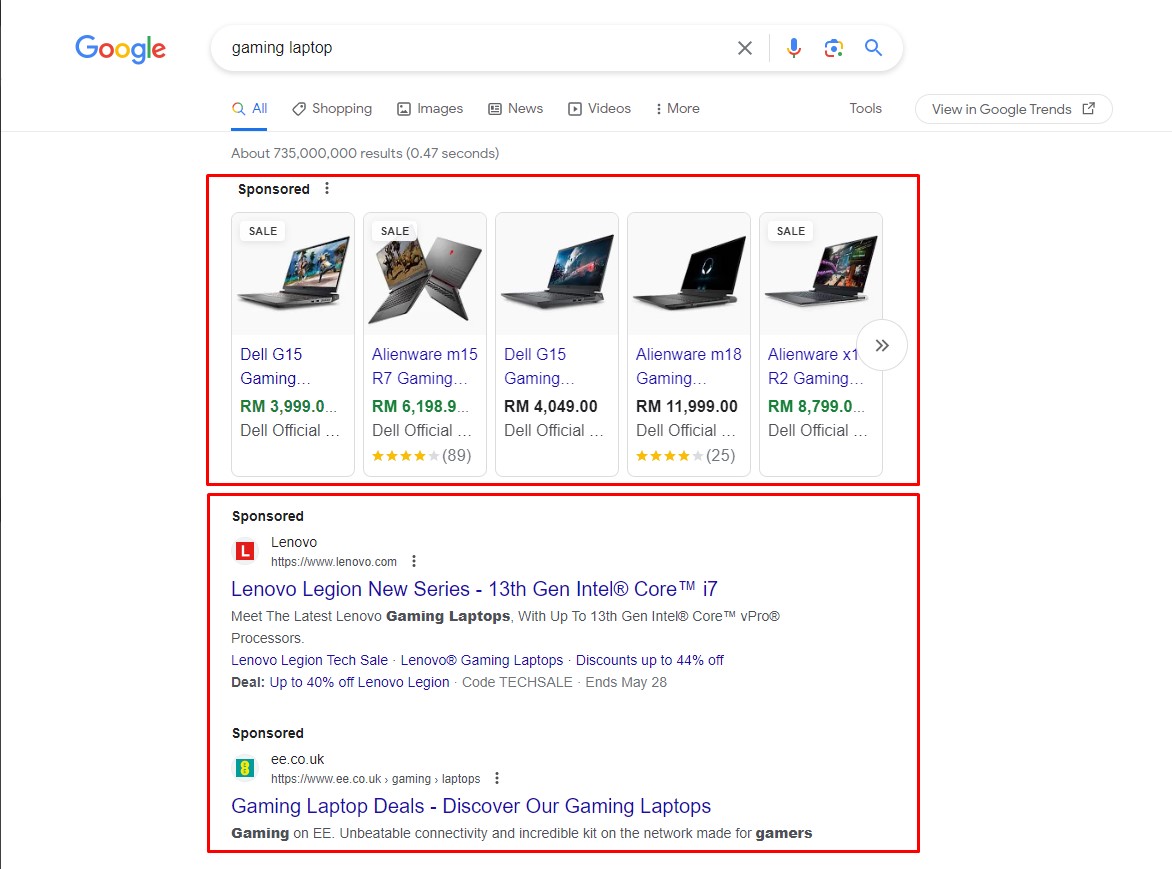 Pay-Per-Click (PPC) is a digital marketing model where advertisers pay a fee each time one of their ads is clicked. Essentially, it's a way of buying visits to your site, rather than attempting to "earn" those visits organically.
PPC advertising can be a cost-effective way to drive traffic to your website, as you only pay when your ad is actually clicked. It provides a method to appear on the search engine results page, thus improving visibility. PPC campaigns can be targeted to specific demographics, locations, and times, making them highly effective for targeted marketing.
Here are some statistics that underline the importance of PPC:
According to Lunio, 64% of brands are planning to increase their PPC budget in the next 12 months.
Valve+Meter notes that PPC visitors are 50% more likely to purchase something than organic visitors.
As per Lunio's report, 74% of brands say PPC is a huge driver for their business.
Pros of Pay-Per-Click Advertising (PPC)
Budget Control: Businesses can set their budget for PPC campaigns, making it adaptable to various budget sizes.
Targeting: PPC allows precise targeting, ensuring ads are only shown to a specific audience.
Instant Results: Unlike organic SEO, PPC ads can show results almost instantly.
Easy to Measure: With PPC, businesses can track the number of views, clicks, visits, and conversions to assess the effectiveness of their campaigns.
Cons of Pay-Per-Click Advertising (PPC)
Can Be Expensive: Without proper management, PPC costs can skyrocket.
Requires Ongoing Optimization: PPC campaigns need constant monitoring and adjustment for effectiveness.
Complexity: Managing PPC campaigns can be complex, especially on platforms like Google Ads.
Short-Term: While PPC can drive immediate results, it does not contribute to long-term SEO as content marketing does.
Types of Digital Marketing Infographic
Explore our Types of Digital Marketing Infographic for a clear, visual representation of the nine core digital marketing strategies. This concise graphic will help you understand and distinguish between the various marketing methods, aiding you in crafting an effective digital marketing plan.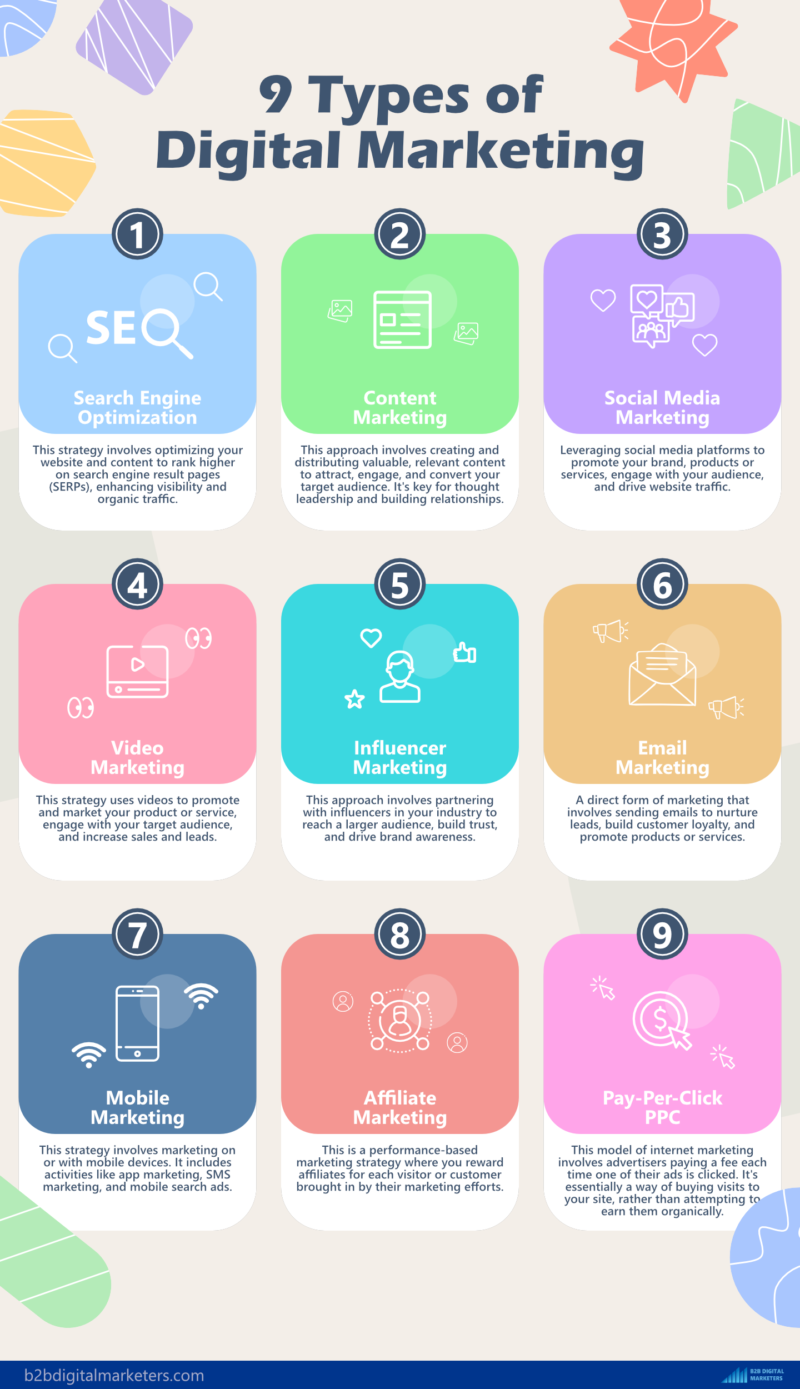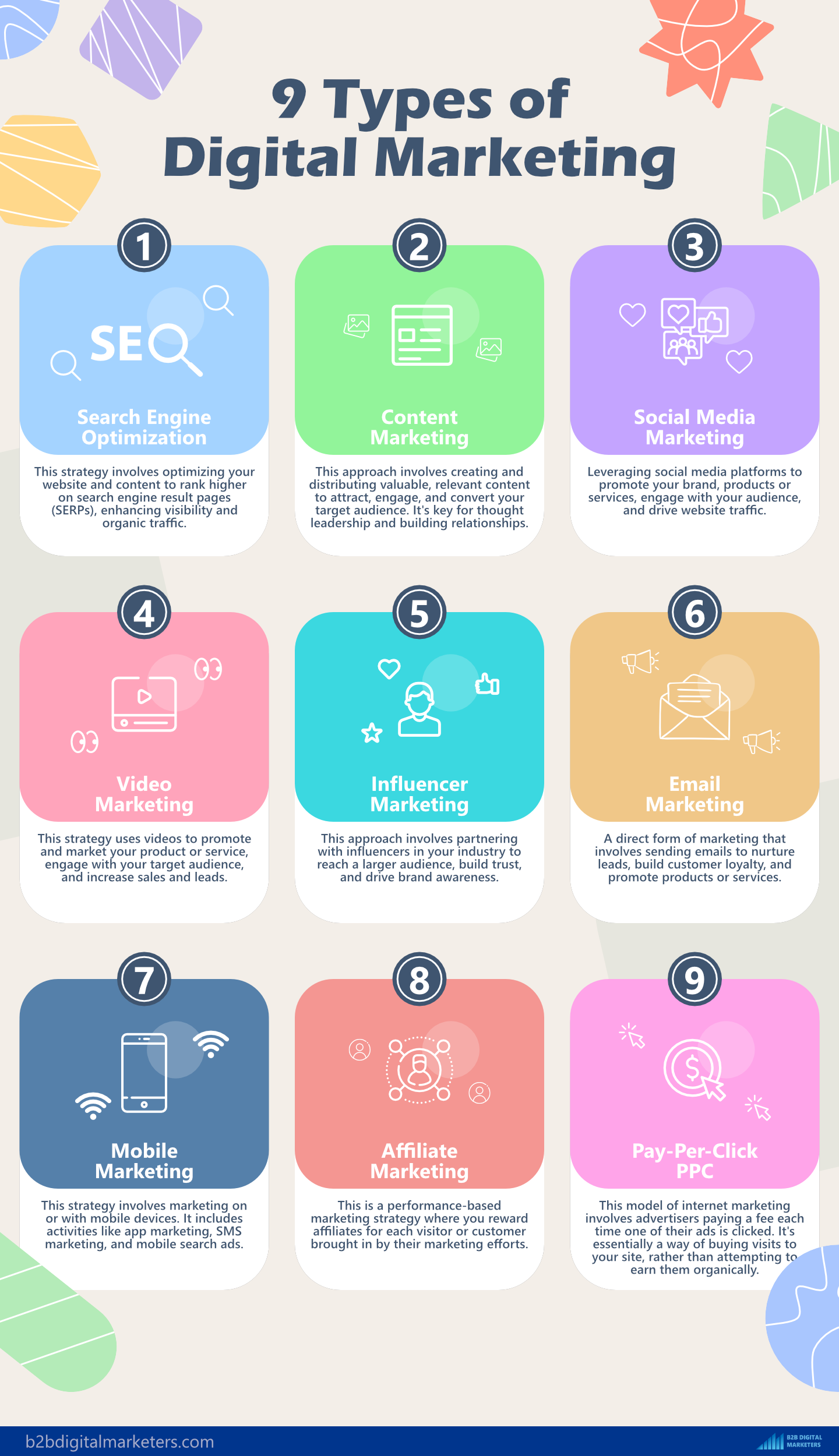 A Short Historical Perspective on Digital Marketing
Digital marketing has come a long way since its inception. In the early 1990s, the advent of the internet laid the foundation for digital marketing. Back then, digital marketing was quite simple, mainly consisting of website development and email marketing.
In 1994, Yahoo was launched, which popularized the use of search engines. It wasn't long before companies realized the potential of search engines for business promotion. This led to the birth of Search Engine Optimization (SEO) as a key component of digital marketing.
The launch of Google AdWords in 2000 introduced the concept of Pay-Per-Click (PPC) advertising, enabling businesses to reach targeted audiences quickly. In the same period, the use of emails for marketing took a new turn with personalized and segment-based emails.
In the mid-2000s, social media platforms like Facebook, YouTube, and Twitter emerged, leading to the growth of social media marketing. Brands started to create engaging content to interact with their audience, moving away from the traditional one-way communication model.
The year 2005 also saw the launch of Reddit, and 2009 witnessed the advent of Quora, these platforms have since provided unique avenues for brands to directly engage with their customers and answer their queries, often serving as a platform for content marketing and branding.
With the launch of the iPhone in 2007, mobile marketing got a huge boost. The shift towards mobile led to the development of mobile apps and mobile-specific advertising strategies.
A transformative shift occurred in 2021 when Artificial Intelligence (AI) became increasingly accessible to marketers. One of the most significant ways AI has impacted digital marketing is through content creation. Advanced AI algorithms could for the first time generate high-quality, SEO-friendly content tailored to target audiences, making marketing efforts more efficient and personalized.
Now, AI is used in various digital marketing strategies, from content creation, and customer service to analytics making marketing efforts more efficient and personalized than ever before.
Today, digital marketing involves a combination of various strategies like SEO, content marketing, social media marketing, email marketing, PPC, video marketing, influencer marketing, and more. The use of data analytics has made digital marketing more targeted, personalized, and effective.
How to Choose the Right Digital Marketing Type for Your Business?
Choosing the right digital marketing strategy for your business involves understanding your audience, defining your goals, knowing your budget, and measuring your results. Here is a step-by-step guide:
1. Define Your Goals
Before you begin, you need to know what you want to achieve with your digital marketing efforts. This could be driving more traffic to your website, increasing brand awareness, generating leads, or boosting sales. Your goals will guide your choice of digital marketing types.
2. Know Your Audience
Knowing your target audience is crucial. Understand their needs, preferences, online behaviors, and which platforms they use the most. For example, if your target audience is younger, they're more likely to be on platforms like Instagram or TikTok, so social media marketing might be a good fit. If your audience is professional or business-oriented, LinkedIn and email marketing might be more effective.
3. Consider Your Budget
Your budget is a significant factor in deciding which digital marketing types to choose. Some strategies, like SEO and content marketing, require more time investment but can be less expensive. In contrast, PPC campaigns or influencer marketing might require a more significant financial investment.
4. Analyze Your Competition
Look at what your competitors are doing and where they're finding success. You don't necessarily need to replicate their strategies, but you can learn from their experiences and find opportunities they may have missed.
5. Evaluate Your Resources
Do you have the necessary resources to manage and execute the digital marketing type you choose? For example, if you opt for content marketing, do you have skilled writers? If you choose video marketing, do you have the right equipment or personnel?
6. Test and Measure
Finally, whatever strategies you choose, remember to measure their performance. Use tools like Google Analytics or social media insights to track the success of your campaigns. If something isn't working as you expected, don't be afraid to make changes or try a new approach.
In conclusion, the right digital marketing type will vary from business to business, and often, a mix of several strategies is most effective. Be open to testing different strategies and adapting based on your results.
Final Advice on Types of Digital Marketing
In conclusion, digital marketing is a dynamic and diverse field with a range of strategies to suit different businesses and goals. It's crucial to choose strategies based on your objectives, target audience, budget, and resources.
From SEO to content marketing, social media to PPC, the right mix can propel your business toward significant growth. Staying updated with trends and being flexible to adapt is key in this rapidly evolving field.
Digital marketing presents an exciting opportunity to connect with your audience, build lasting relationships, and drive your business to new heights. Embrace the digital world to fuel your business's success.
FAQs to Types of Digital Marketing
In this section, we will explore the FAQs of types of digital marketing:
What are the 9 types of digital marketing?
2023-05-24T08:53:22+08:00
The nine types of digital marketing include Search Engine Optimization (SEO), Content Marketing, Social Media Marketing (SMM), Video Marketing, Influencer Marketing, Email Marketing, Mobile Marketing, Affiliate Marketing, and Pay-Per-Click Advertising (PPC).
What is the easiest type of digital marketing?
2023-05-24T08:52:59+08:00
Email marketing is often considered the easiest type of digital marketing to start with because of its user-friendly platforms and the familiarity most people have with emails. However, effectiveness varies depending on the business and audience.
What are the main types of digital marketing?
2023-05-24T08:52:45+08:00
The main types of digital marketing are Search Engine Optimization (SEO), Content Marketing, Social Media Marketing (SMM), Email Marketing, and Pay-Per-Click Advertising (PPC). These strategies help businesses connect with their audience, boost brand visibility, and drive conversions online.
What are the 7 main categories of digital marketing?
2023-05-24T08:52:25+08:00
The seven main categories of digital marketing are Search Engine Optimization (SEO), Content Marketing, Social Media Marketing (SMM), Email Marketing, Pay-Per-Click Advertising (PPC), Affiliate Marketing, and Mobile Marketing. These techniques help engage customers, drive traffic, and increase online visibility.
What are the 5 digital marketing includes?
2023-05-24T08:51:55+08:00
The five key elements of digital marketing include Search Engine Optimization (SEO), Content Marketing, Social Media Marketing (SMM), Email Marketing, and Pay-Per-Click Advertising (PPC). These methods enhance online presence, engage audiences, and promote products or services effectively.
What are the 4 keys of digital marketing?
2023-05-24T08:51:22+08:00
The four key elements of digital marketing are Search Engine Optimization (SEO), Email Marketing, Social Media Marketing (SMM), and Pay-Per-Click Advertising (PPC). These strategies help optimize online visibility, engage audiences, and boost business growth effectively.
Related Articles:
Also, check out our digital marketing hub page to find all our digital marketing resources.
Disclaimer
This article was created by Eduard Dziak and may contain affiliate links. The following were used to optimize the article for the best user and search engine experience include:
SE Ranking for keyword research and on-page SEO optimization
Surfer SEO for SEO-friendly content creation for users and search engines.
Jasper AI for grammar correction and information enhancement.
The article is based on the author's own experience and knowledge, drawn from both their own work and that of their clients, to provide the latest, proven methods.