When we talk about digital marketing for small business owners, the first topic that generally comes to mind is social media. But there are risks to building your business entirely on social. You can put effort into building a large following on social media only to have a platform close or disappear for any number of reasons – look at the current fears about TikTok being banned in some countries.
The hard truth is that you don't own your audience on social media, so that can be taken away from you at any time with no recourse.
What can be done to market your business online while protecting your efforts for the foreseeable future? In this article, we will discuss why you should create an email list, the benefits it will provide for your small pet business, and how to get started today!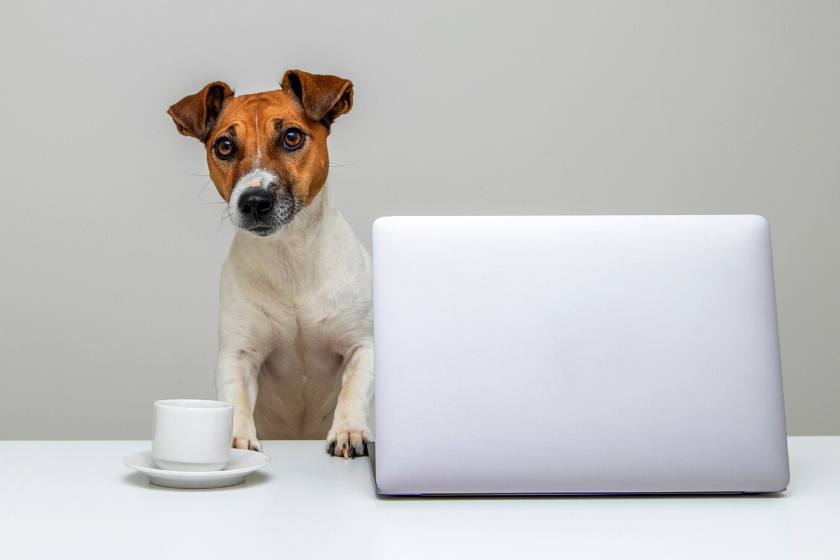 Why Should You Create an Email List?
While some business owners will come across this article searching for how to start an email list in clear, actionable steps, others may still wonder whether email marketing is worth the investment.
As small business owners or solopreneurs, we often work with limited time and money. This leaves us in a position where we must pick and choose which marketing efforts will offer the greatest potential for business growth, even if we see the benefits available in several options. But there are some clear reasons why building a mailing list should be near the top of your list.
The first reason email marketing is so valuable, as mentioned above, is that YOU own your email list.
Social media platforms may shut down or get banned, causing us to lose any connection with the audience we built in that space. Luckily, even if every major social platform ended tomorrow, our email list would still allow us to reach our potential customers and continue to build those relationships online.
If that safety net isn't reason enough to start an email list for marketing your business, here are a few other stats you may want to consider:
Email is 40x more effective at acquiring customers than Facebook and Twitter combined (

OptinMonster

)

Just over 50% of respondents to a study by

SaleCycle

reported buying from marketing emails at least once a month.

The average expected ROI is $40 for every $1 you spend on email marketing (

Oberlo

)
Many of these statements compare email marketing to social media marketing. We are not saying you must choose only one or the other. However, one thing that the BlogPaws Team all agrees on is that email is an integral part of any digital marketing plan.
How to Start an Email List Step by Step
Now that we have established why you should create an email list, we can get into the actionable details. This includes not only how to set up your email list but also how to build an email list for free. That's right, you can get started without any initial financial investments (it will still require some time and patience).
Here are the steps to start building a mailing list and kickstarting your email marketing efforts today.
1. Select an Email Marketing Tool
There are several great email marketing tools available, each with pros and cons to consider. Begin by asking yourself what exactly you are looking for in a tool. Are you searching for an easy-to-use tool that is beginner friendly? Do you have experience in coding or design and require more opportunities to personalize your email marketing efforts?
Most email marketing tools you will hear small business owners talking about offer free levels to start. As your list grows, you will eventually need to upgrade to a paid plan to cover the number of emails you need to send.
Some options you may want to consider include the following:
Take time to compare the different options for their free and paid plans. This will help you select a tool that will continue to support your needs without having to put the work into migrating later.
2. Determine what Information You Want to Collect
For this step, you will need to take a moment to think about your future plans. In addition to the basic information, like a name and email address, what other information will help you build connections and leverage your email marketing efforts moving forward.
For example, if you have a blog that speaks to both dog and cat owners, you may want to know whether your subscribers are dog parents, cat parents, or both. This will allow you to personalize your emails so that cat-related promotions are sent out specifically to cat parents and visa versa.
At a bare minimum, we recommend collecting a name and email address.
3. Create and Share Sign-Up Forms
Sign-up forms allow your website visitors and social media followers to opt-in to receive your emails. They can be created in your email marketing tool and then embedded into places where your audience will encounter them. Some examples of places you may wish to embed a sign-up form include your homepage, your sidebar, a pop-up, or the body of your blog content (where relevant).
For example, if you want to learn more from us here at BlogPaws, you can subscribe to our email here:
While some of these sign-up forms will be generic, you will want to adapt others to promote your offers and lead magnets.
4. Offer Value with Lead Magnets
When you ask someone to give you their email address, you are asking them to trust you and "pay" you in a sense. Their email address is personal information, and the average person isn't going to give up space in their inbox without getting anything in return.
You can overcome this by offering them something of value in exchange for this information.
There are many different types of lead magnets that you may offer to grow your email list. The secret to success is finding an offer that speaks to your ideal customer. Some examples include printables, checklists, coupons, or ebooks. Find a way to tie your lead magnet into your niche to connect it with your business to increase the likelihood that those signing up will be interested in your products or services.
But how are new puppy checklists and ebooks about homemade cat treats building a mailing list for your business? When sharing this lead magnet, connect it with an email sign-up form. To access the content they are interested in, they must first provide their information and consent to being on your email list.
So, You Have an Email List… Now What?
When working with email marketing lists, the most challenging part for many people is figuring out what to send to their subscribers. But this struggle is primarily because we overthink the process! When you're emailing your list, don't make it too complicated. The emails you send can be as simple as sharing a teaser about an upcoming product release, discussing your latest project, or directing their attention to a blog post you wrote.
Try approaching your email marketing with the idea of having a conversation with your community. What do you want to share with them? What would you talk about if you sat with them over a coffee?
Consider personalizing your emails to give that "conversation with friends" feeling. This can help you build trust and connection, creating long-term relationships that are more likely to convert into loyal customers.
Of course, the goal is to make money. So, don't forget to share your big sales, discuss how your business can help them, and hype up the products/services you offer. If you're a blogger or influencer and don't have your own product/service to sell, you may be interested in incorporating affiliate marketing into your email marketing plan for added income.
The most important thing you can do at this stage is, as Nike says, "JUST DO IT!"
Do you currently have an email list you are building, or are you new to the world of email marketing? We would love to hear about your experience as you create an email list and start connecting with your audience!