If you're visiting New York with your dogs along, you won't want to miss Central Park! Whether you choose to lounge on a bench, enjoy the conservatory gardens, or explore the wooded trails in the Ramble, your day will be even better with your furry travel buddy!
New York's Central Park With Dogs
A green gem lies in the middle of Manhattan. A respite from the chaos of the city, where locals and tourists alike connect with nature and feed their soul – it's call Central Park.
Stretching 2.5 miles from 59th street to 110th, and a half mile from Central Park West to 5th Avenue, this lush oasis covers a remarkable 843 acres in one of the most valuable real estate markets in the country. There's something for everyone here … from the fine gardens of the conservatory to fishing in Harlem Meer. And for dogs, New York's Central Park is an absolute dream.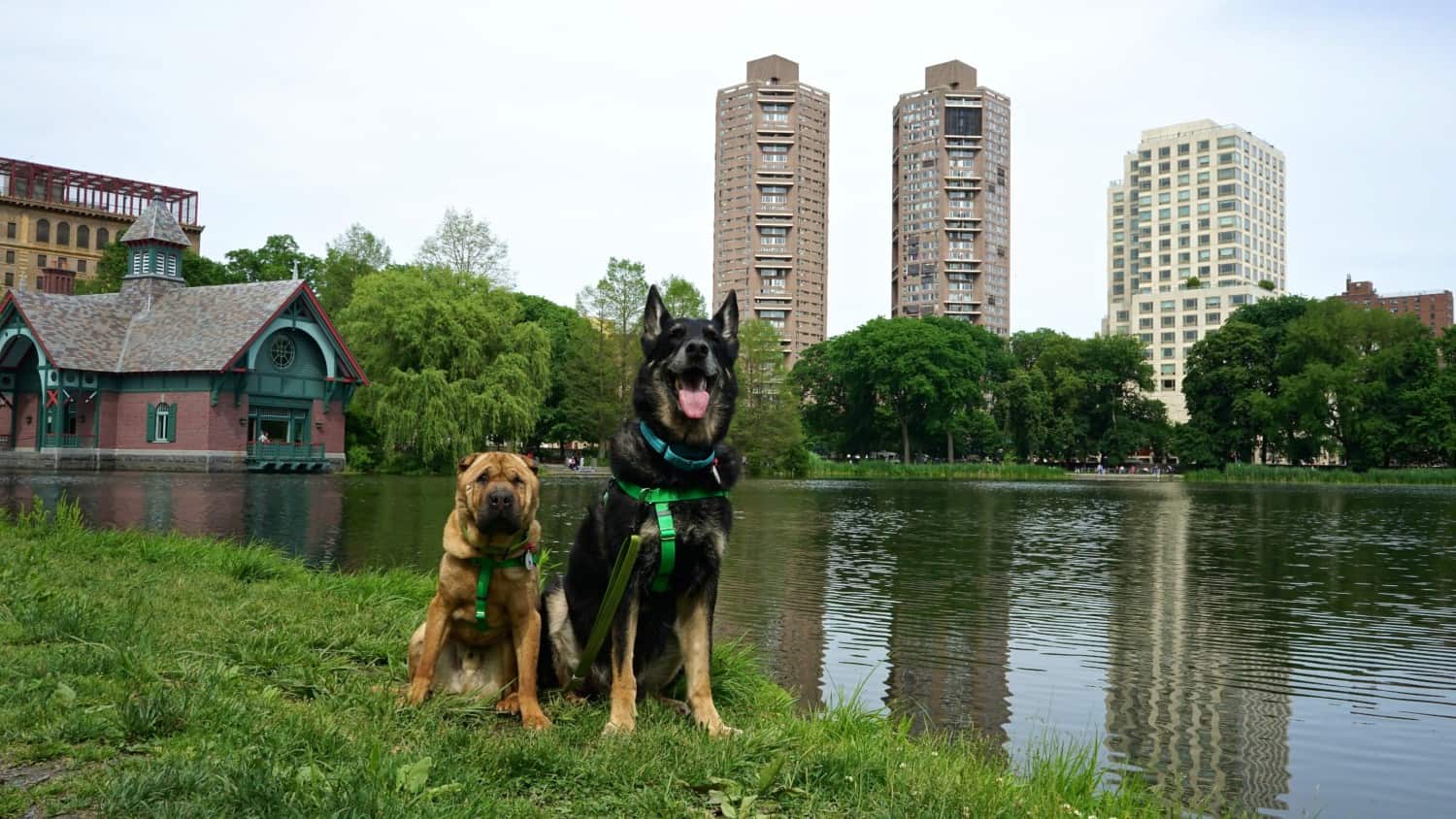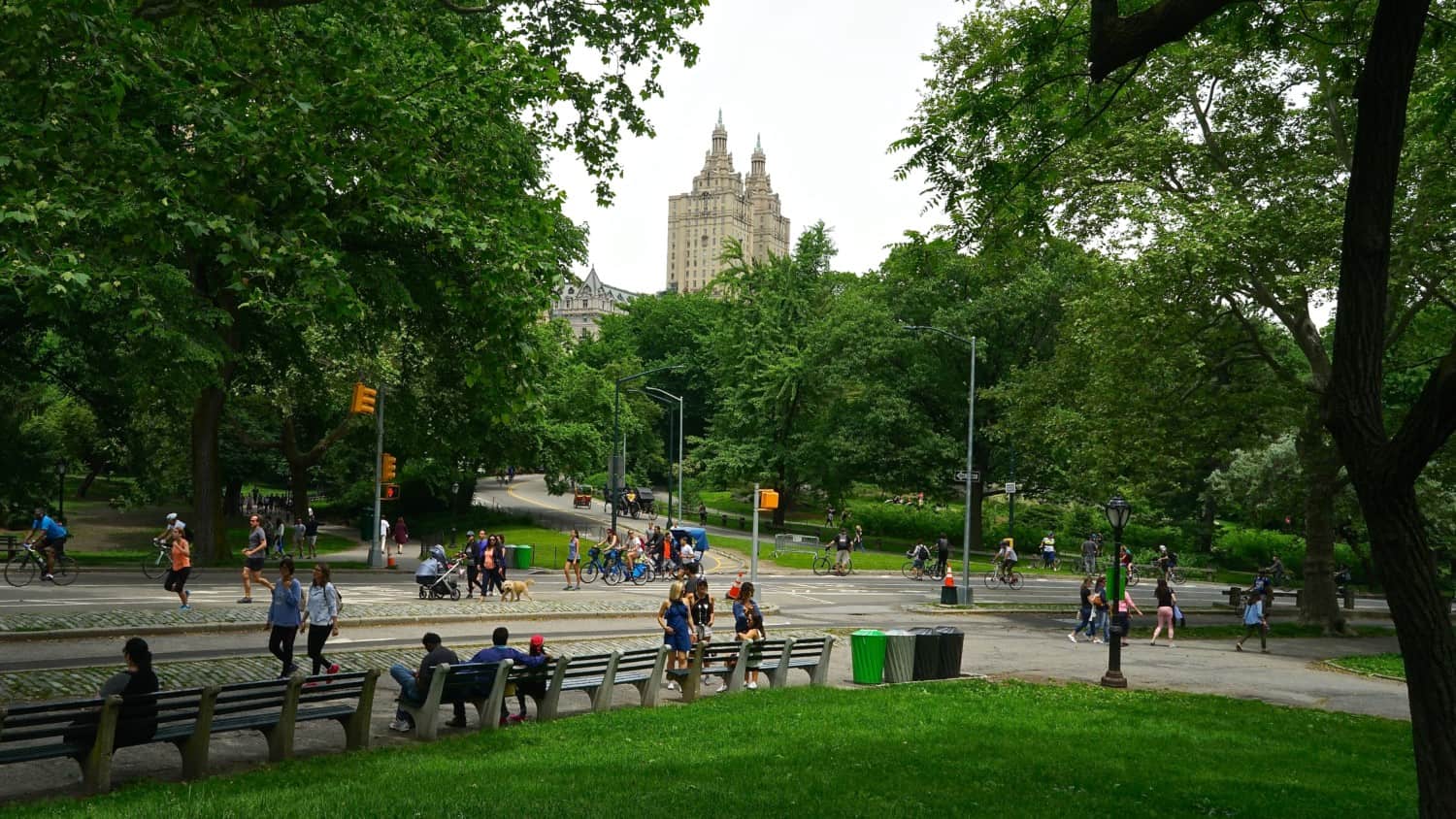 Designed by Frederick Law Olmsted and Calvert Vaux, Central Park is the third most visited attraction IN THE WORLD. There's so much to see and do here, you could never cover it all in a day.
The Central Park Conservancy offers guided tours of the park focusing on particular areas, or highlighting certain features. There are also self-guided tours if you'd rather set your own pace.
We prefer to treat Central Park like a gift to be unwrapped … wandering without a plan, being surprised and delighted by whichever sites we happen upon.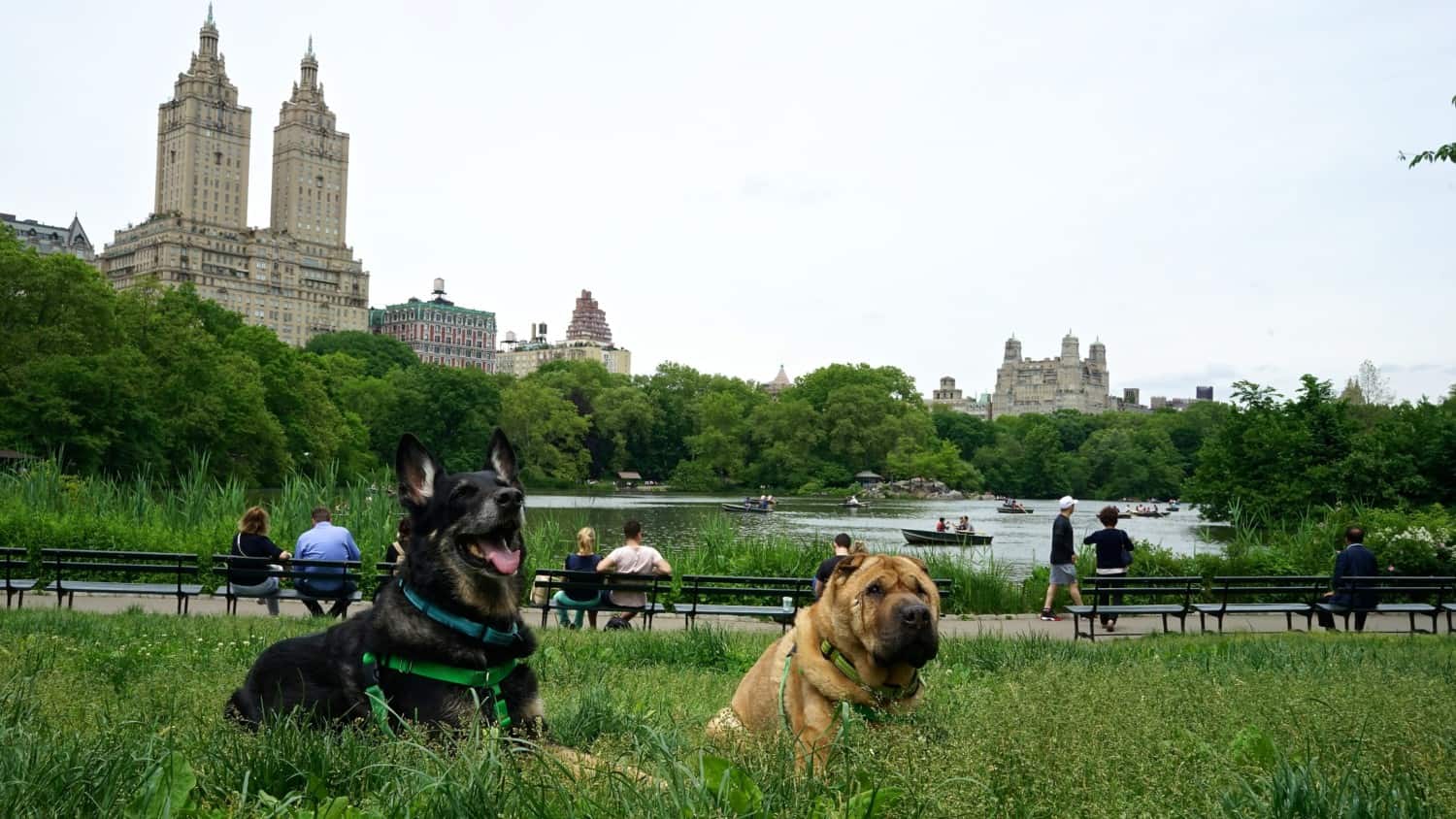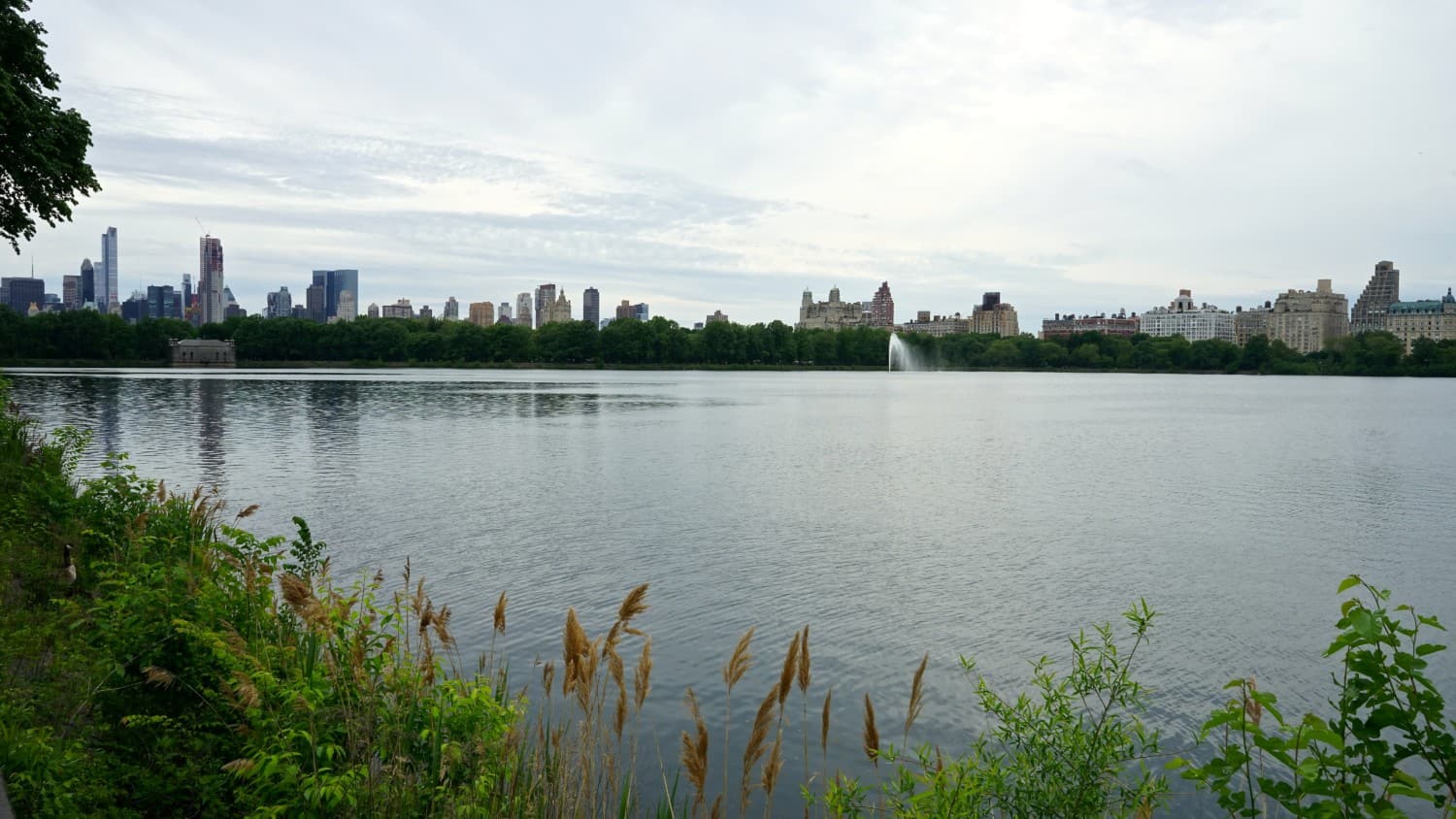 Central Park – Getting Your Bearings
Central Park Drive, which loops through the park, is car-free north of 72nd Street. South of 72nd the road is open to vehicular traffic only during certain hours and never on weekends.
On weekend days, most of the traffic in the park consists of walkers, runners, bikers, rollerbladers, rickshaws, and horses and carriages. However, the four crosstown streets that pass through the park at 66th, 72nd, 86th, and 96th are open to vehicles, so stay alert.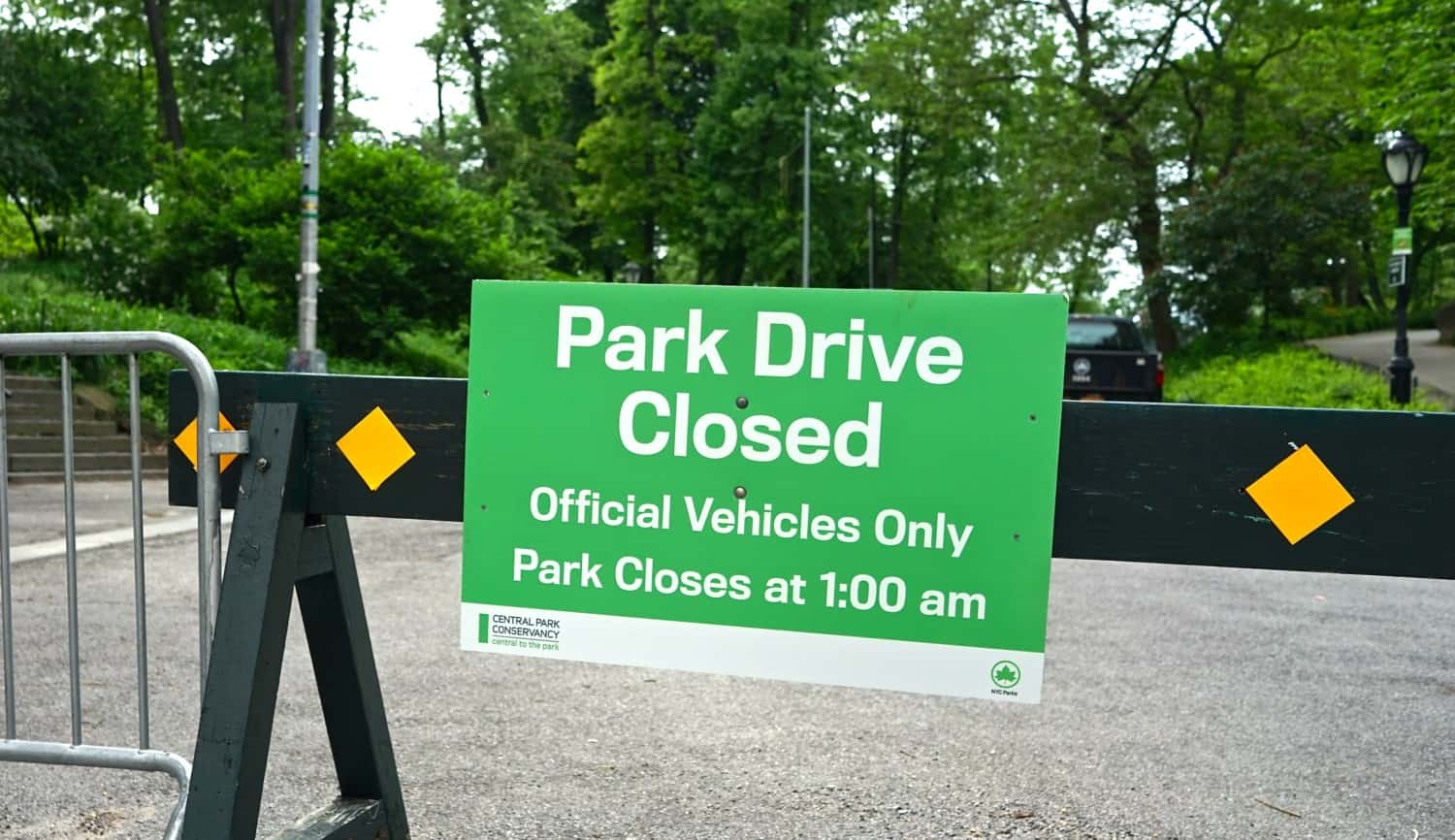 Dogs In Central Park
The best part of visiting New York's Central Park is that dogs are welcome most places! Keep in mind that dogs must be leashed from 9am to 9pm, but are allowed off-leash from 6am to 9am, and from 9pm to 1am.
Rules for Dogs in Central Park

Dogs must be leashed from 9am to 9pm, but are allowed off-leash from 6am to 9am and from 9pm to 1am

Dogs must be under the control of their owner at all times

Dogs must have a license tag and valid rabies tag

Dogs must not dig, chase or harm wildlife, damage park property, or interfere with other park users

Always clean up after your dog, including dog hair that you brush off in the park

Please respect signs, fences, and red flags that may indicate temporary closures due to restoration, maintenance, or weather conditions. 

Even during off-leash hours, dogs must always be on-leash in the following areas:

Arthur Ross Pinetum
The Bridle Path
Children's Glade (Great Hill area)
Conservatory Garden
East Green
East Meadow Oval
Kerbs Boathouse Plaza
North Woods
The Ramble
Shakespeare Garden
Strawberry Fields
Turtle Pond Lawn
West 86th-90th Street Lawn
Central Park Drives

Also, please respect signs, fences, and red flags that may indicate temporary closures due to restoration, maintenance, or weather conditions. 

Dogs are not allowed in the following areas:

Great Lawn Oval

Hallett Nature Sanctuary

Nell Singer Lilac Walk

Stephanie and Fred Shuman Reservoir Running Track

Sheep Meadow

All Ballfields and Recreational Courts

All Playgrounds

All Sand Volleyball Courts

All Water Bodies, Streams, and Ornamental Fountains

Around the Elm Trees at the Mall
Itinerary Idea: A Day In New York – Central Park With Dogs
On this visit, we parked at West 72nd Street and made our way into Central Park near Strawberry Fields. It was a gorgeous Sunday and the park was busy. So we tracked to the north, where it tends to be less congested.
Information kiosks are scattered throughout the park. So there are many places to pick up maps or get directions if you get turned around.
With so many options, what you choose to do could depend on your mood. For a leisurely day, watch the boats at Loeb Boathouse or enjoy people watching at one of the many fountains.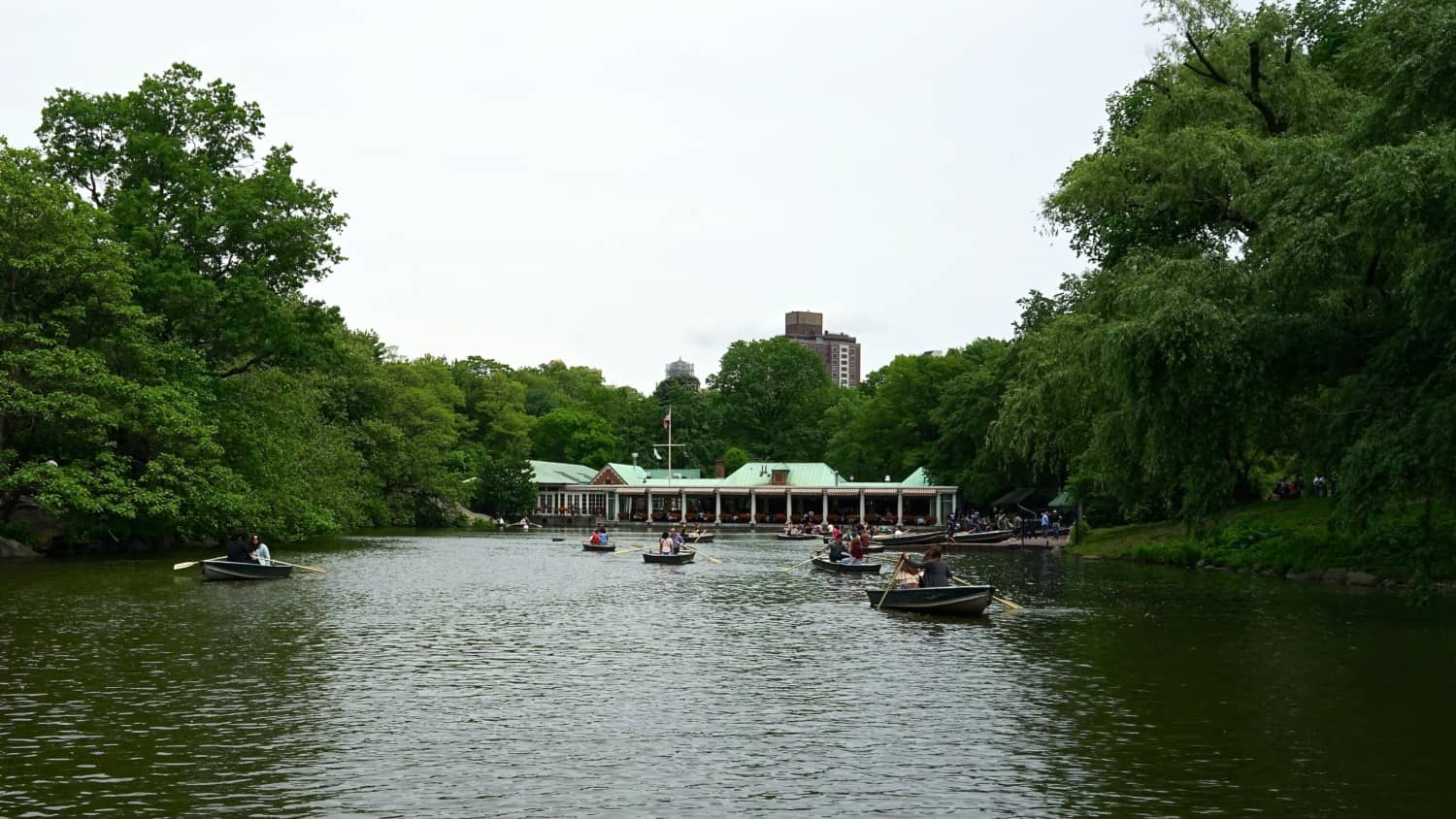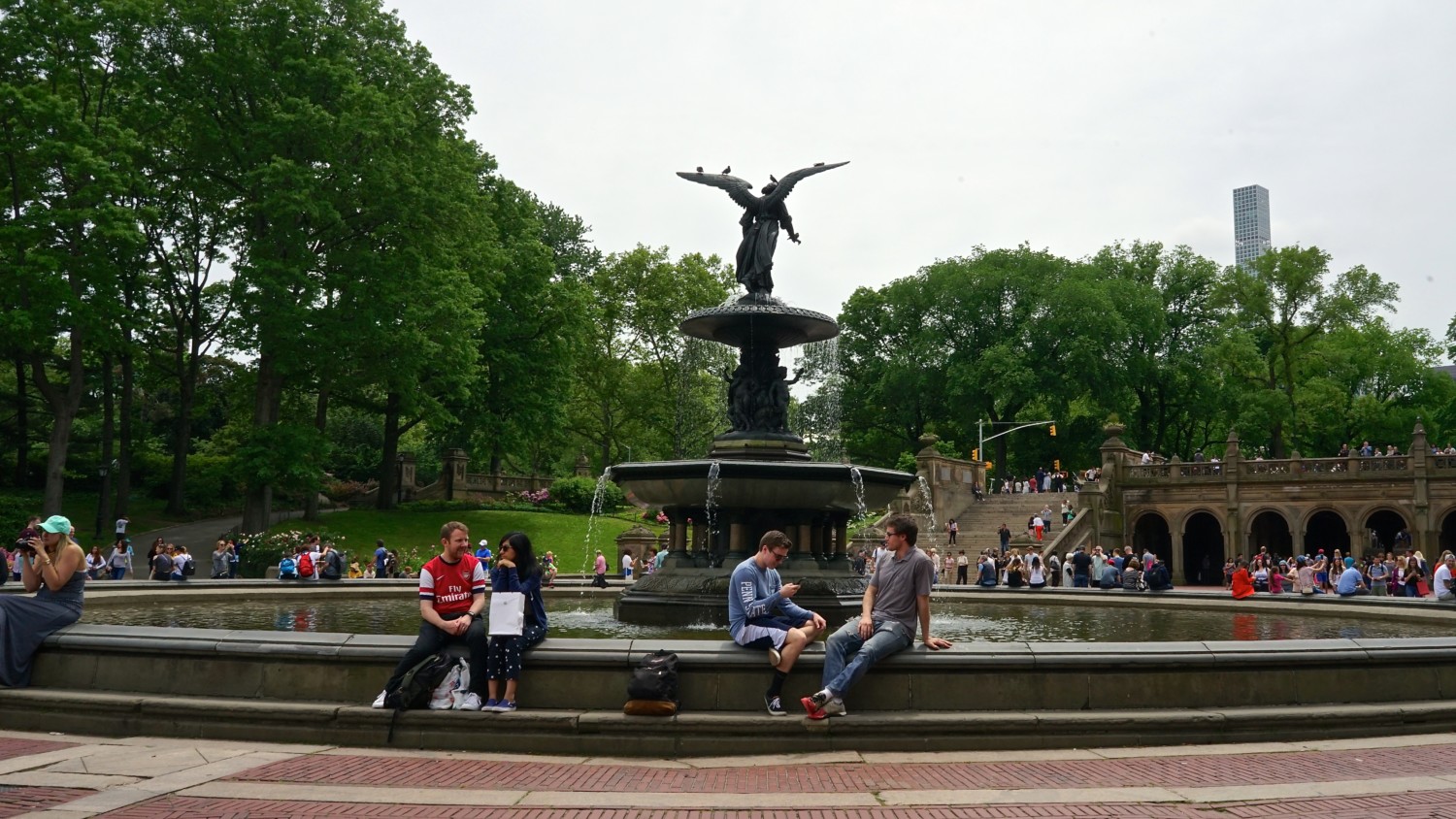 For more adventure set out find the park's 36 bridges – no two of which are alike. Or stroll a wooded path and listen to the birds chirping in The Ramble.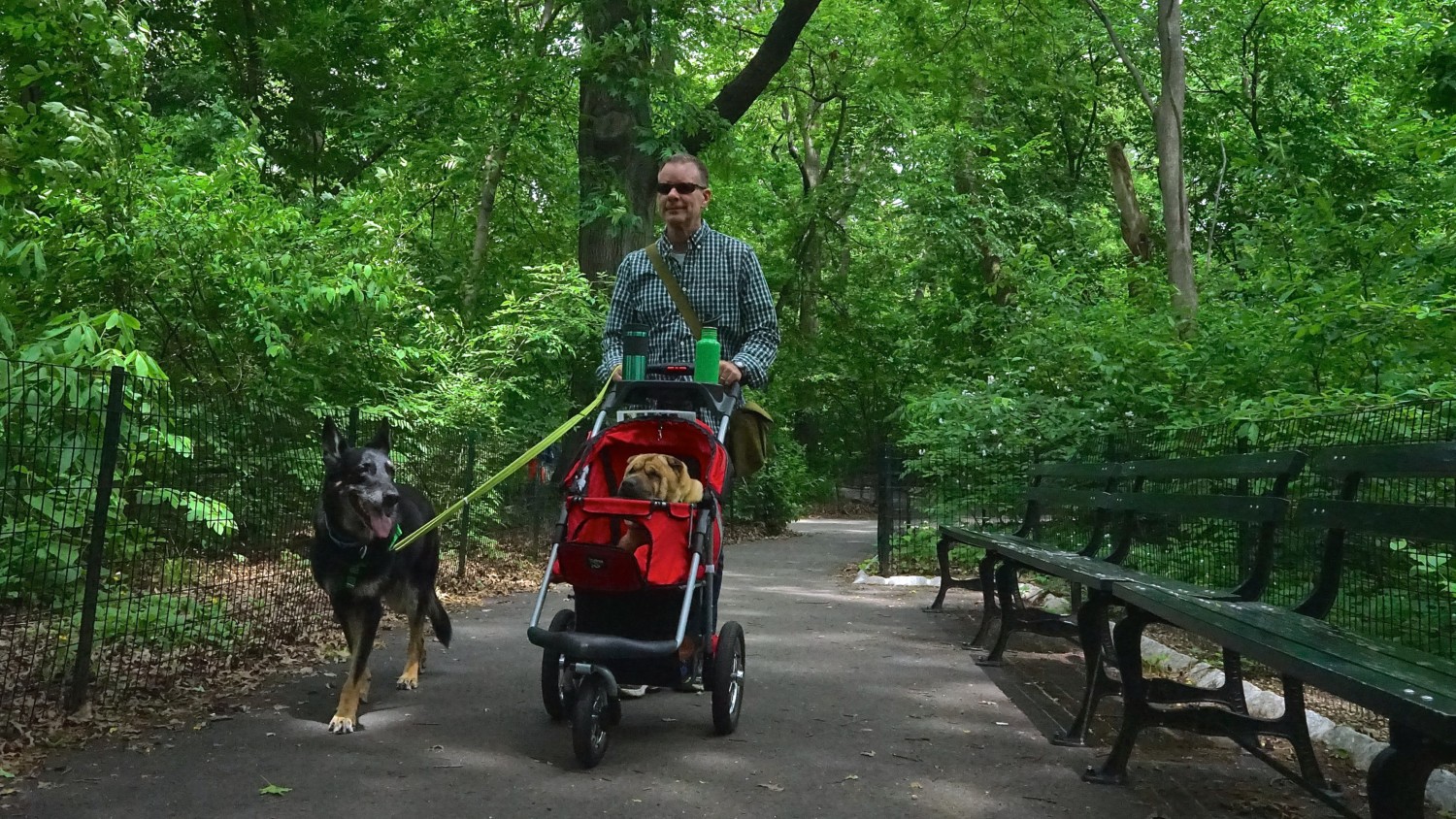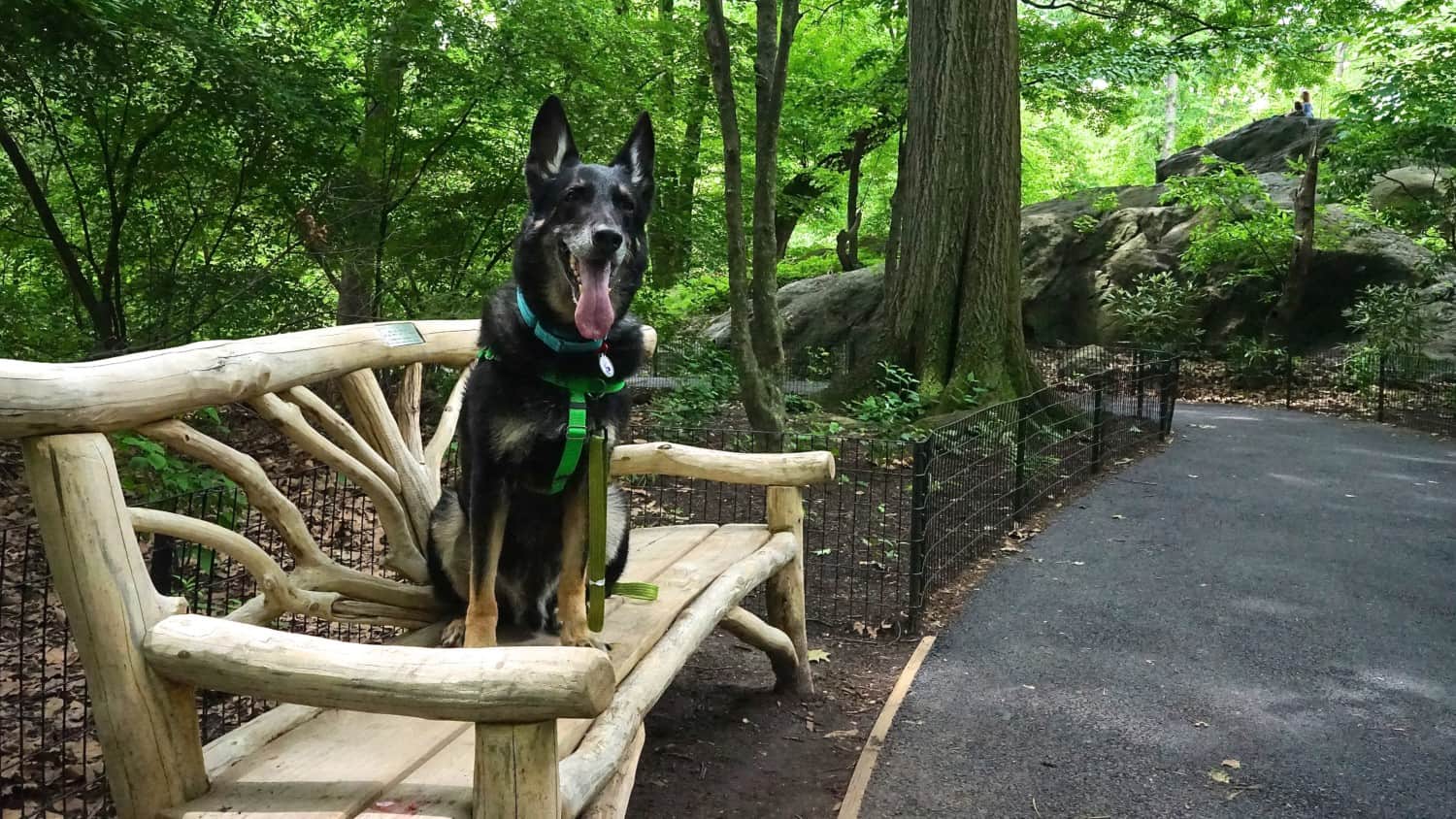 You might happen upon a ball game. Or find a quiet retreat under the oaks. Or you could sniff out the park's many sculptures and art installations!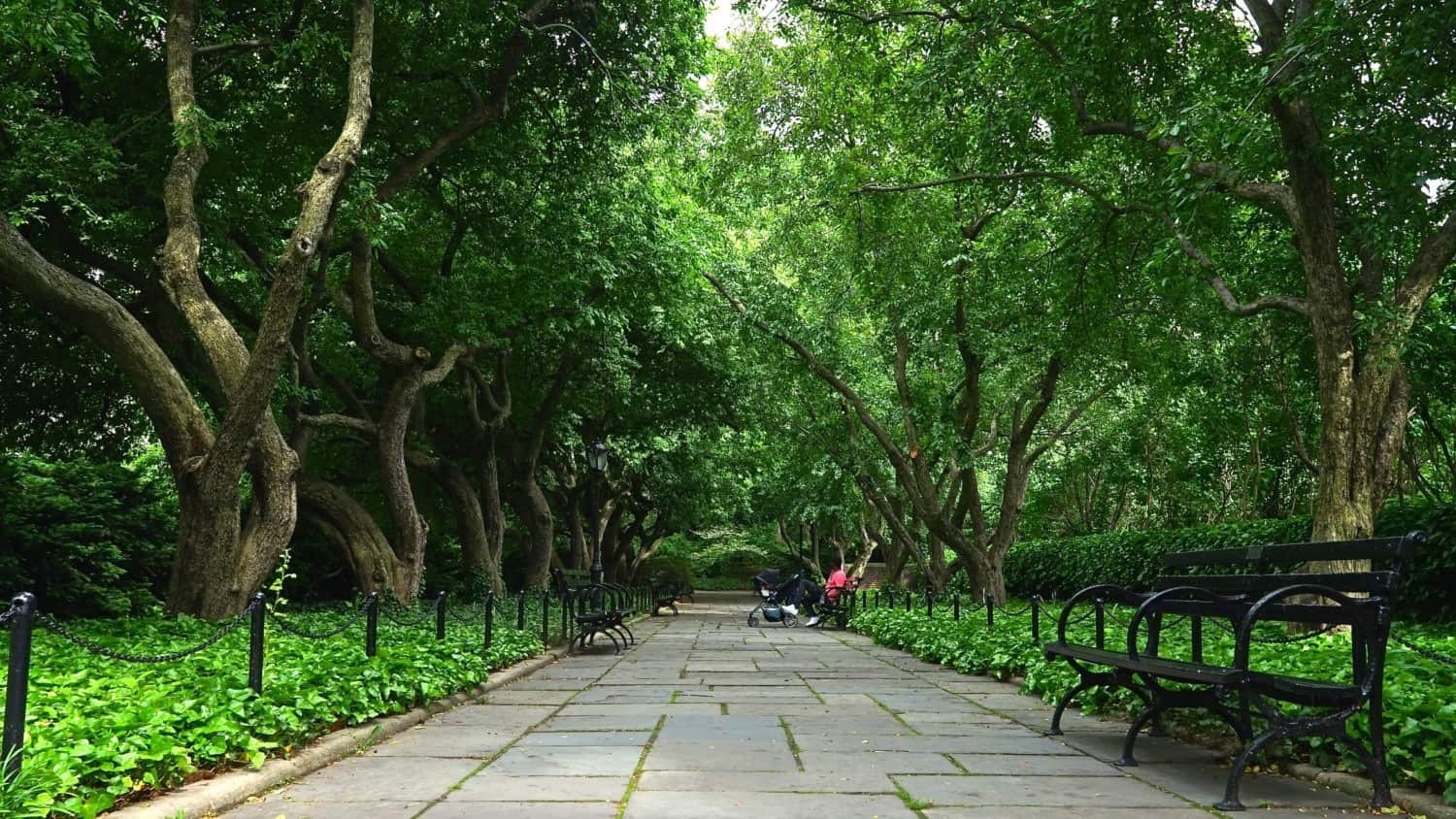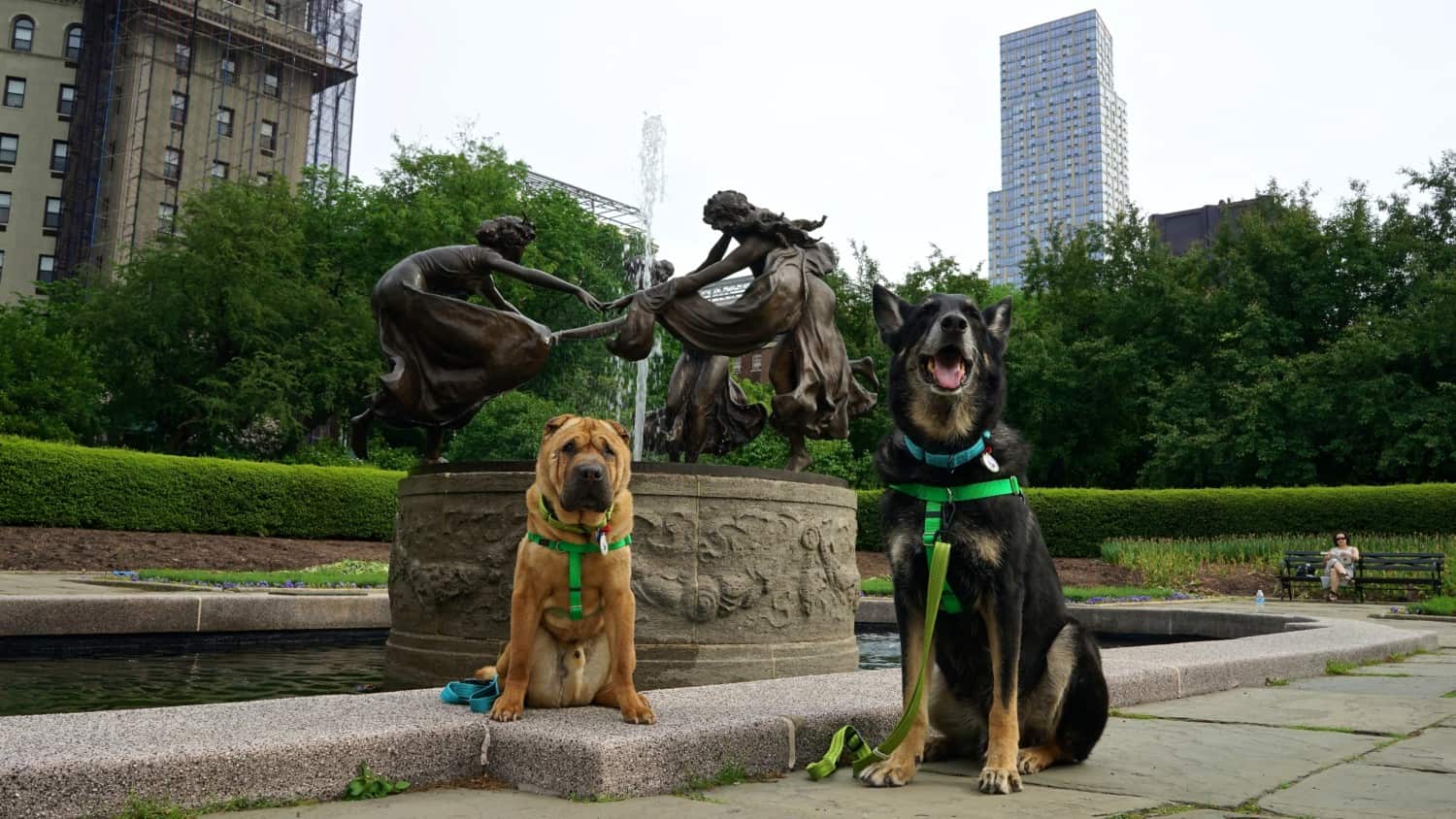 You might even plan your visit to admire the Spring bloom at the Conservatory Gardens!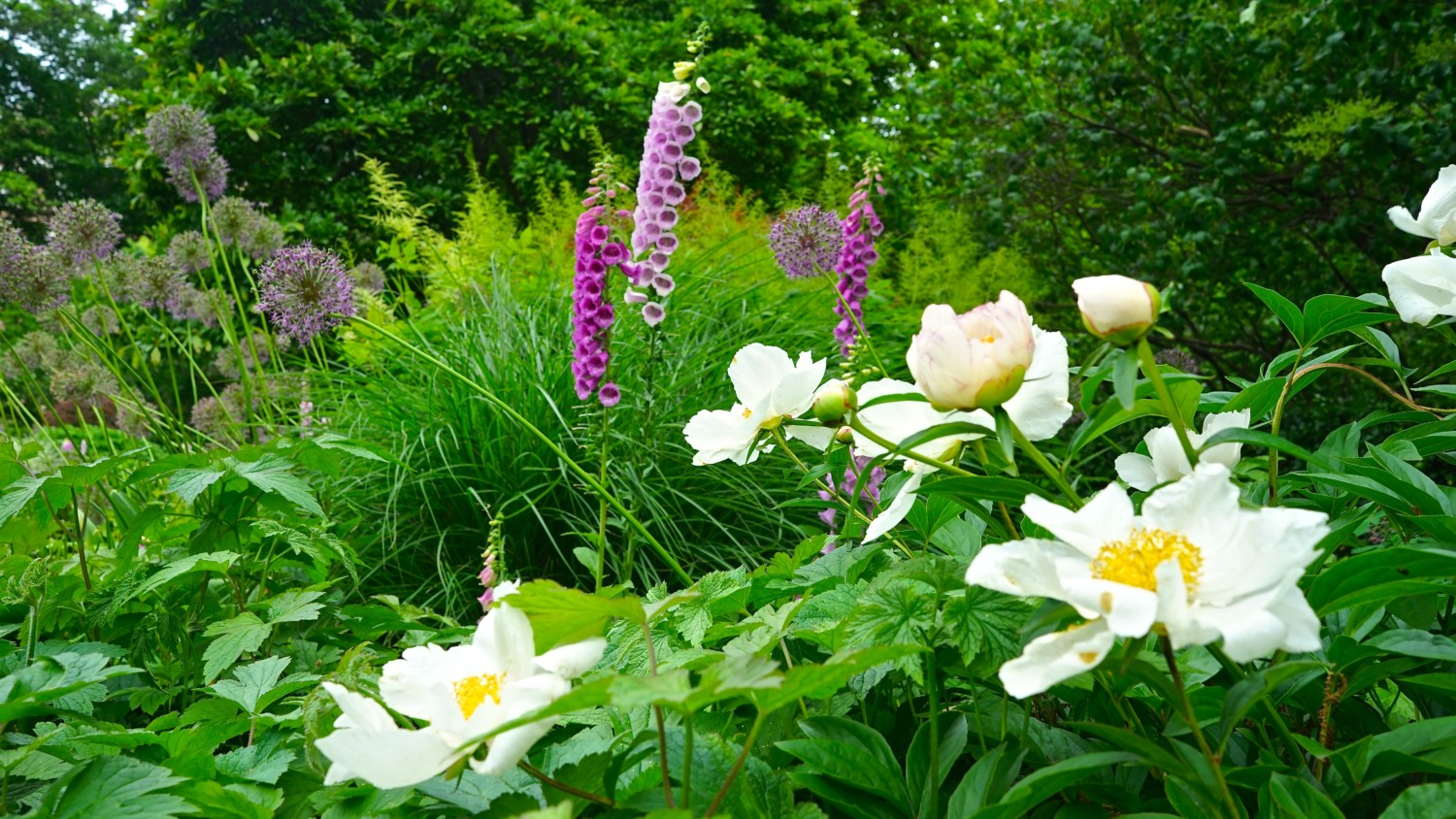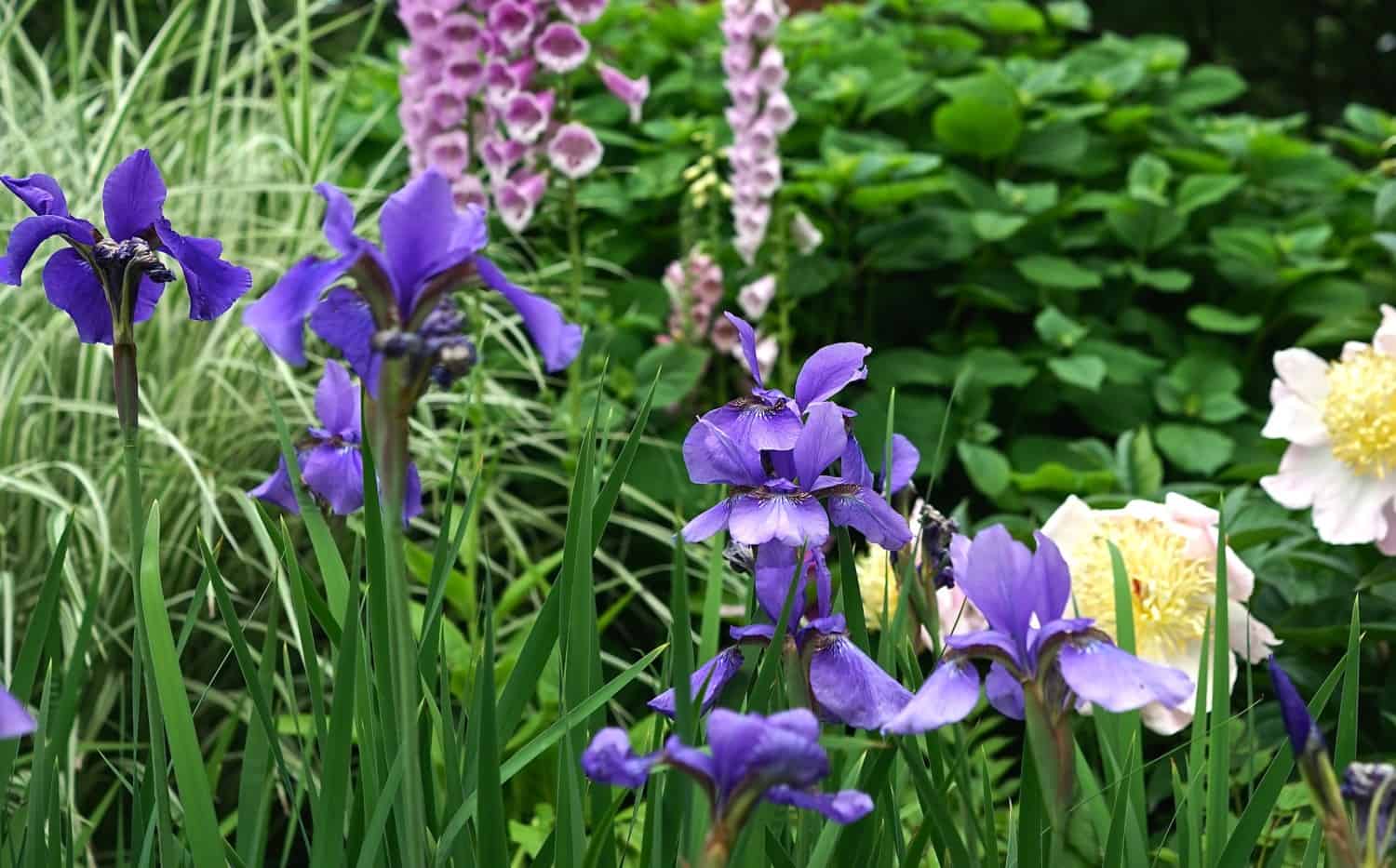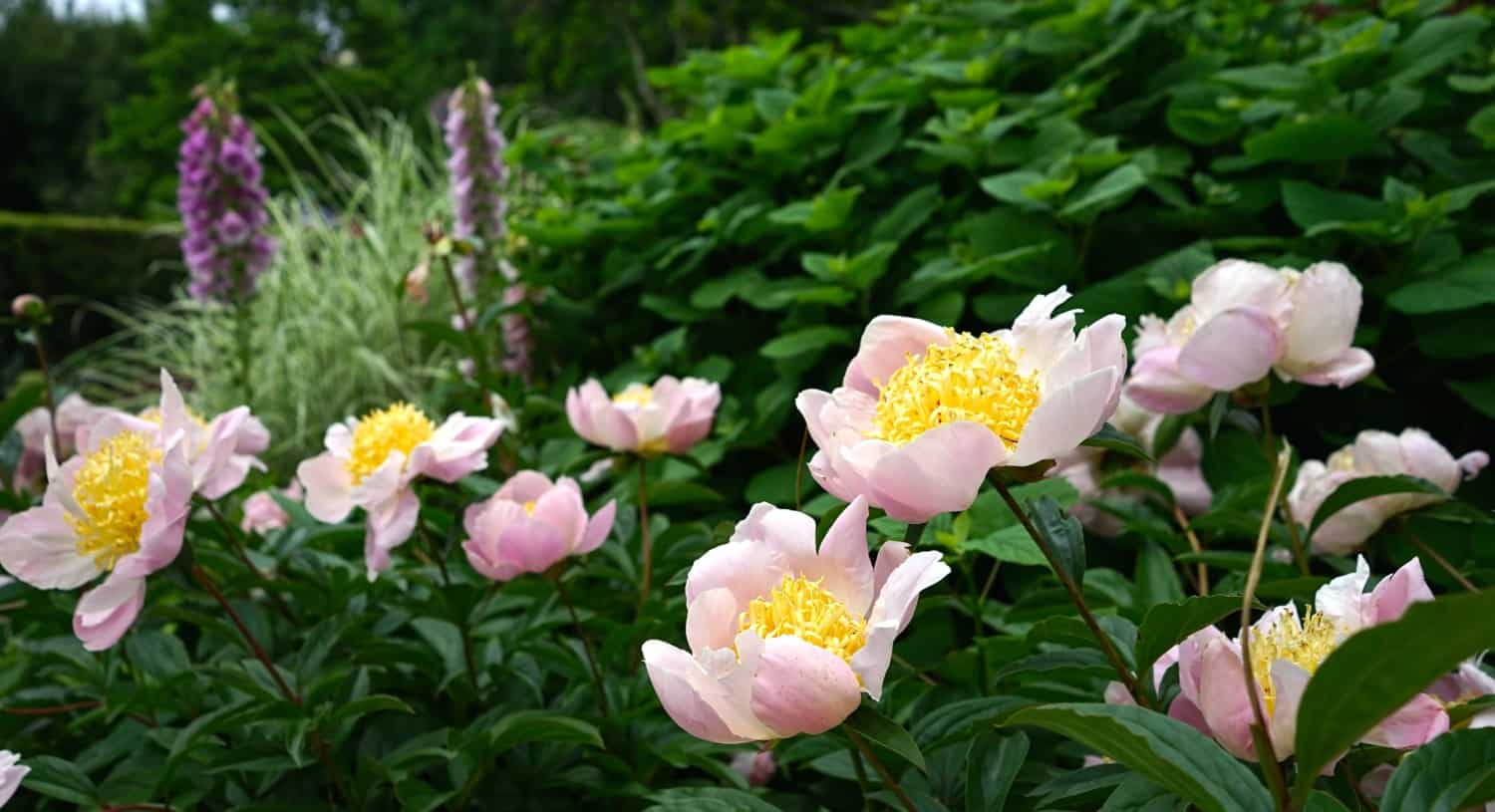 But one thing is for certain … you will not go hungry! New York has a law allowing dogs in the outdoor seating areas of restaurant. So finding a fantastic place to eat with your pup in the city is a cinch.
Even the restaurants in Central Park had dogs on the patios!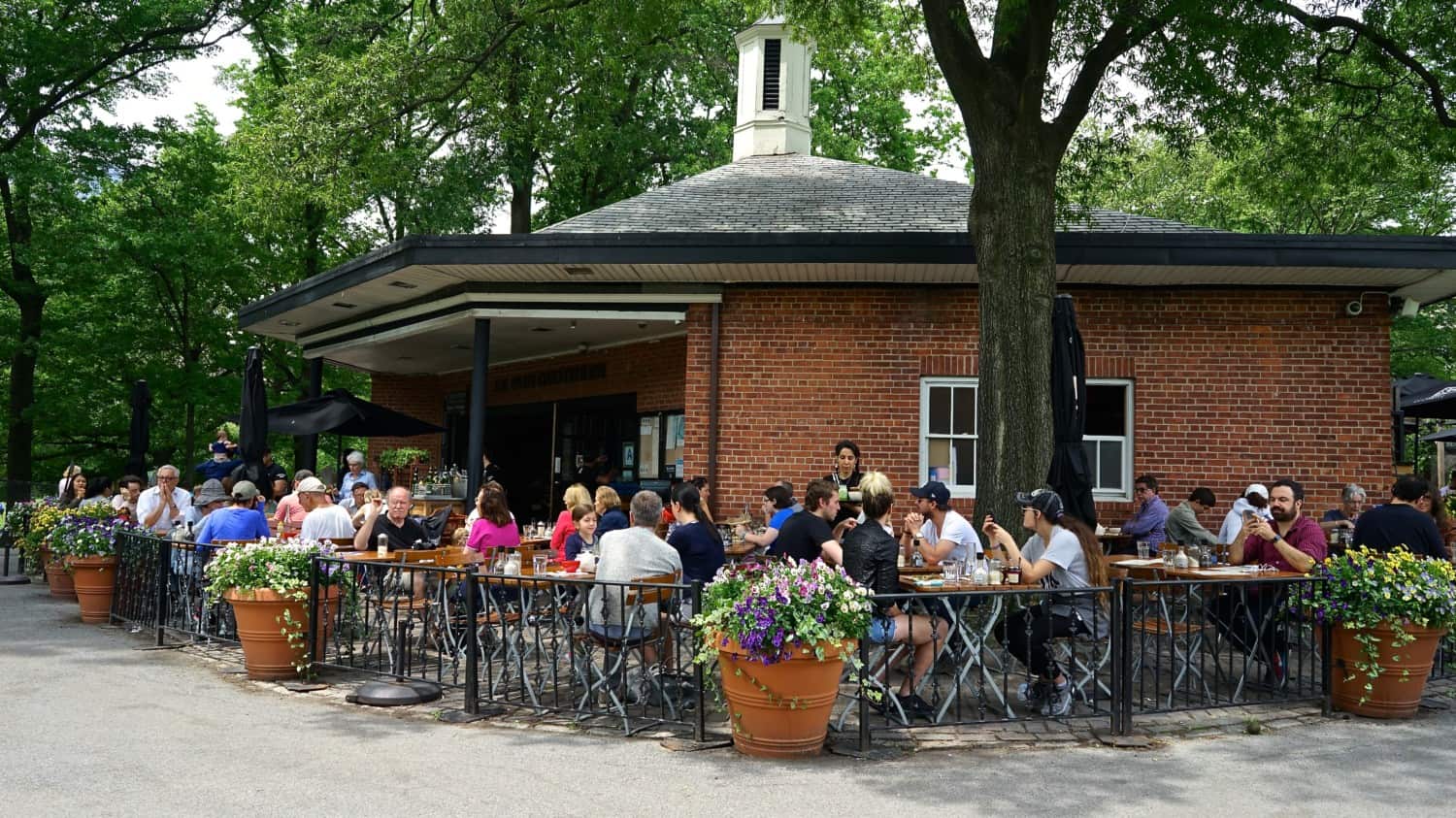 We hope this post inspires you to visit New York and see Central Park with your dogs! It's an amazing experience and one you won't want to miss.
(Visited 4,818 times, 1 visits today)