Suzanne's cat whisperer expertise was on display recently regarding a recent long-term resident named Alutia. "She needed help adjusting, so we started slowly with her," Suzanne recalled. "Her first touches from us were with a back scratcher and over time she allowed pets with fingers." Suzanne did not rush her,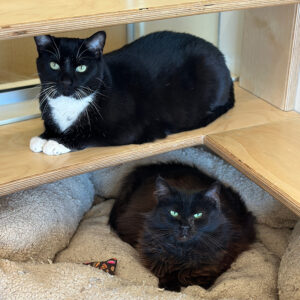 progressing gradually using treats and lots of patience. Finally, Alutia began seeking out humans for affection. She still didn't like other cats though, until Flux arrived. Suzanne watched how Alutia would swat him and he didn't care. Eventually they developed a relationship: "They'd walk around together, and she'd have her tail wrapped around him. He softened all her rough edges and since he was a shy cat, she helped him, too."
Though it was bittersweet the day they were adopted, Suzanne was thrilled for Alutia and Flux and the future they now have together. And thanks to Suzanne, there will be many more 'happy tails' in BFF, as she helps our cats become their best feline selves!