How to Segment Enterprise Customers: Step-by-Step Guide
Segmenting your enterprise customers isn't a complicated process. Once you've committed to creating segments, the most difficult task will be to gather and analyze the data. Once you know your customers, creating segments and using technology to make use of those segments will be the easy part. Here is a step-by-step overview of how to create enterprise customer segments.
Gather your data
How well do you know your customers? Gathering data is the first step in creating customer segments. Comb through your customer database and look for common characteristics. Do you have customers that only buy one particular product? Can you group your customers by their industry? Are customers clustered in certain geographic locations? Are all customers enterprise size or do you have customers in the SMB category?
While it may be tempting to look solely at firmographic data such as company size, sales, or the number of employees remember that while this data is helpful, it doesn't fully reflect the needs, behaviors, or expectations of your customers.
The more information you gather about your customers, the better you will understand their needs. This in-depth understanding is necessary to create meaningful customer segments.
Create segments
Now that you know your customer base, it is time to start sorting them out by common characteristics. It is okay for one customer to reside in multiple segments. For example, a single company might be found in a geographic location segment, an industry segment, and a product purchased segment.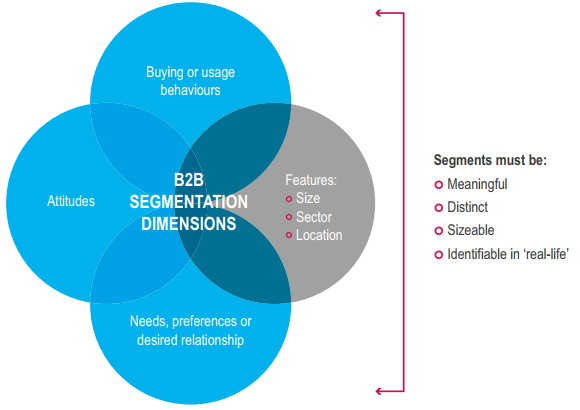 Make sure the segments you select are meaningful for marketing and sales purposes. These segments will be used to inform customer experiences and communications as well as offers, promotions, and other marketing collateral.
Employ technology
Make the most of technology like your eCommerce platform and CRM to put these segments to work. With the right digital tools, you can craft eCommerce customer experiences designed for each segment, and target marketing campaigns and materials directly relevant to that segment.
Leverage technology to the hilt. Digital technology makes it possible to further personalize messages for each segment. For example, your eCommerce website platform should allow you to localize content for language, currency, and shipping options. Create price lists by segment or even customer, to maximize the profit per sale.
If segmenting breaks customers into groups, personalizing is hyper-segmentation – breaking customers into a group of one.