As small pet business coaches, the BlogPaws Team always has our eyes and ears open for the latest trends and shifts in the marketing world. This includes monitoring the latest developments in the pet industry. While we continually watch for the most recent pet business-related news online, attending large industry events provides a unique opportunity to network with others in the pet industry and see the latest products and innovations first-hand.
Recently, two members of the BlogPaws Team (Jessica and Emily) attended Global Pet Expo 2023 in Orlando, Florida.
Presented by the American Pet Products Association (APPA) and the Pet Industry Distribution Association (PIDA), Global Pet Expo brings together brands (big and small), retailers, distributors, mass-market buyers, and members of the media from all over the world. This year's show featured over 1000 exhibiting companies, 300 of which were exhibiting at the show for the first time, and 1000+ product launches.
During the show's three days, Jessica and Emily scoured the tradeshow floor for the best of the best in our industry. They searched for the most innovative products, impressive booth displays, eye-catching packaging, and more. Meanwhile, the remaining members of the BlogPaws Team supported them from our home offices.
We had long conversations, shared many pictures, and analyzed websites, business blogs, and social media accounts. In the end, we awarded a total of 25 BlogPaws Best Awards to the brands that we felt were going above and beyond, making their mark in the pet industry. Keep reading for a summary of the winners and why we believe they deserve this recognition!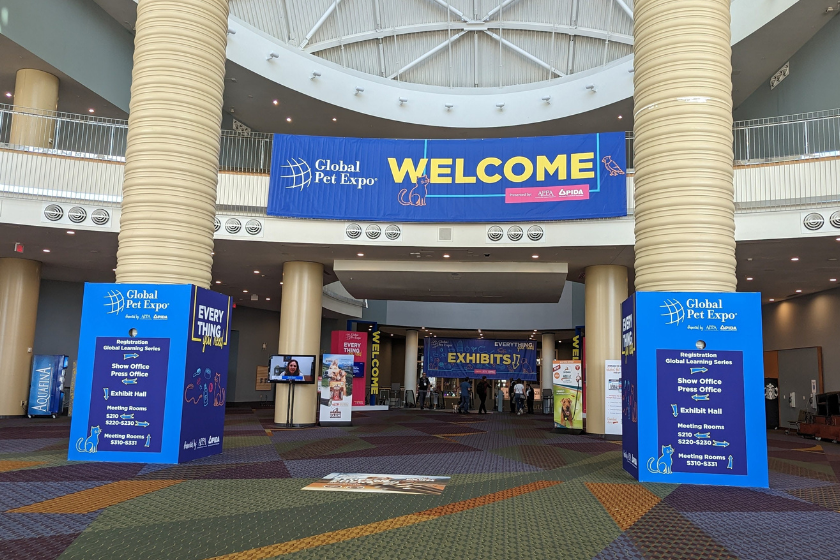 What are the BlogPaws Best Awards?
If you are newer to the BlogPaws community, this may be your first time hearing about the BlogPaws Best awards. The awards were first introduced in 2012 as an opportunity to recognize and highlight pet brands that were making a difference in the pet industry through innovation, education, and commitment to pets and the people who love them.
Last year, our current BlogPaws Team was excited to bring the awards back at the SuperZoo 2022 show, where we recognized 23 incredible brands.
The revival of the BlogPaws Best awards was met with enthusiasm and excitement among the brands we met and the members of our community. When we decided to have team members attend Global Pet Expo 2023, we knew that we needed to bring the awards there as well!
Note: BlogPaws is not affiliated with the Global Pet Expo, the American Pet Products Association (APPA), or the Pet Industry Distributors Association (PIDA). BlogPaws Best awards are presented solely by BlogPaws and are in no way endorsed, sponsored, administered, or associated with Global Pet Expo.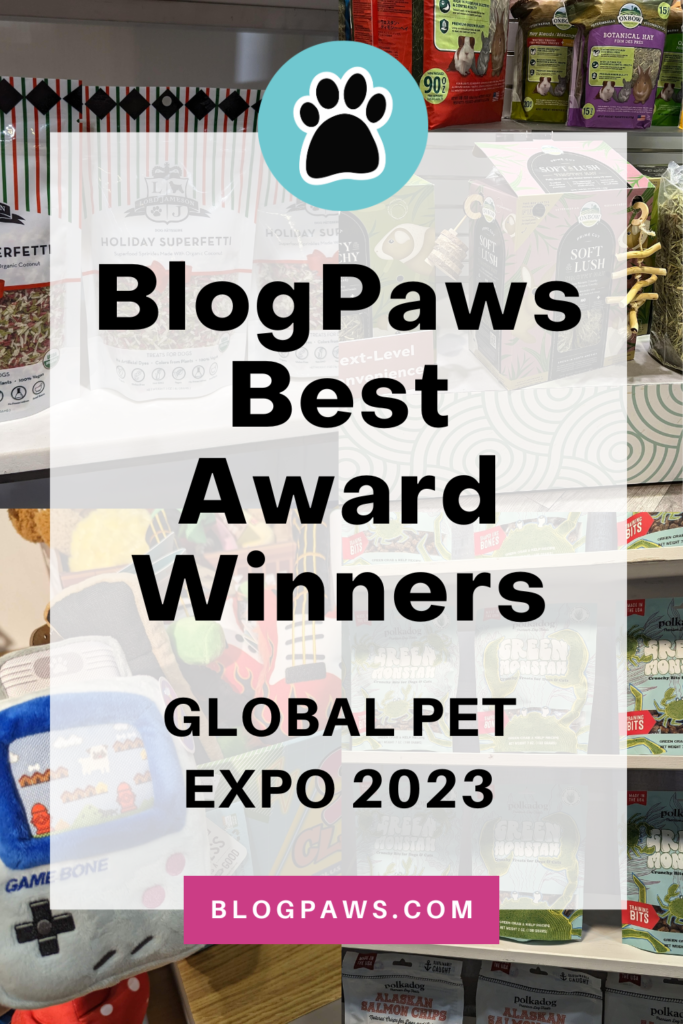 BlogPaws Best Award Winners at Global Pet Expo 2023
Best Health Product: DoggyBiome and KittyBiome Gut Health Test by AnimalBiome
One of the trends that we have seen emerging across the pet industry in recent years is the ability to prioritize the health and well-being of our pets at home. At-home healthcare goes beyond just offering healthy food and treats to fuel our pets. New innovations allow us to understand our pet's health better, empowering pet parents to be more knowledgeable when making critical medical decisions.
Of course, this doesn't replace proper veterinary care. The information provided by these products can help you take proactive steps at home and alert you when seeking veterinary care is necessary.
The DoggyBiome and KittyBiome Gut Health Test stood out to us due to the comprehensive yet easy-to-use test kit. Each kit includes the supplies necessary to collect a stool sample from your pet and send it to the company for a full assessment. Approximately 2-3 weeks after the sample arrives, you will be given a report identifying any concerns about your dog or cat's gut health. It also outlines actionable recommendations to improve their diet and support better health. The kit retails for $99.
Best Sustainable Brand:  Arch Pet Food
Sustainability is a "buzzword" you may notice across many industries, including in the pet space. As we learn more about our impact on the environment and the depletion of natural resources, society is actively looking for a solution. It's an essential consideration when looking forward to the future, allowing us to provide for our pets today while still maintaining the balance necessary for future generations of pet parents to do the same.
When speaking with Arch Pet Food, it was quickly apparent to both Emily and Jessica that this was a brand focused not only on talking about sustainability but putting it into practice.
They use protein from crickets in their current products, and their next products will feature Copi, an invasive fish. Not only are crickets a natural superfood for your pet, full of protein, nutrients, and fiber, but they are also a more sustainable protein source. This allows the company to produce their treats using less land and water and creating fewer greenhouse emissions, minimizing their environmental footprint. The treats retail for $16 to $18.
Best Branding: Hiddin
We often talk about the importance of branding both in the BlogPaws Community and our paid membership group, the PetBiz Collaborative. Creating a solid, recognizable, and memorable brand requires the consideration of many different working parts, including your choice of brand colors, fonts, imagery, and overall messaging.
The recipient of this award stood out instantly to anyone that came across their booth at the show. Hiddin brought unique products to the market – pet crates, raised feeders, and safety gates, all designed with clear acrylic. They promise to provide products that can be "hidden in plain sight," freeing pet parents from having to include bulky pet-related items in their homes that don't match their style or décor.
But Hiddin took this theme a step further, making them an easy choice for best branding. A look around their booth revealed clear bags, frisbees, folders, and business cards! It certainly left a memorable impression.
Best Travel Product: Doggy Dash Pack by Juno Dog Co.
When travelling with your dog, whether it's a casual walk around the block or a visit to your favorite pet-friendly brewery, there are many items that you need to have on hand. It's not uncommon for pet parents to reach into their pocket for their keys and find, instead, dog treats (or crumbs left behind) and poop bags by the dozens.
With Emily and Jessica having dogs at home and experiencing this challenge firsthand, the Doggy Dash Pack from Juno Dog Co. quickly caught their eye.
These bags prove that fanny packs are back in style and an item no pet parent should be without. The bag is a sleek, modern black nylon fanny pack that can be wiped clean and will go with any outfit. It features a poop bag dispenser for easy access and a silicone treat insert that is easy to clean when your pup is done with their goodies at the end of your trip. For the pet parents, it also offers an interior mesh pocket and key clip, front zip pocket, and back zip pockets to hold all your must-have items.
Best Enrichment Product: LickiMat for Small Dogs, Cats, and Kittens by LickiMat
Another trend that we have seen recently in the pet industry is a push to provide better mental and physical enrichment opportunities for our dogs and cats. Enrichment toys and products are a great solution to keep your pet busy when you're trying to get work done around the house, a beneficial way to burn a little extra energy, and even a soothing option for pets with anxiety.
The brand we chose for "Best Enrichment Product" is no stranger to pet parents and professionals interested in incorporating enrichment opportunities into our pets' lives. LickiMat offers a wide assortment of different lick mats, including various shapes, sizes, and textures. But the product that really grabbed Emily and Jessica's attention was the lick mats for small dogs, cats, and kittens.
Many popular food puzzles and enrichment toys are designed with larger dogs in mind, making it difficult for smaller pets to use them effectively. These smaller lick mats are not available yet, but keep an eye open!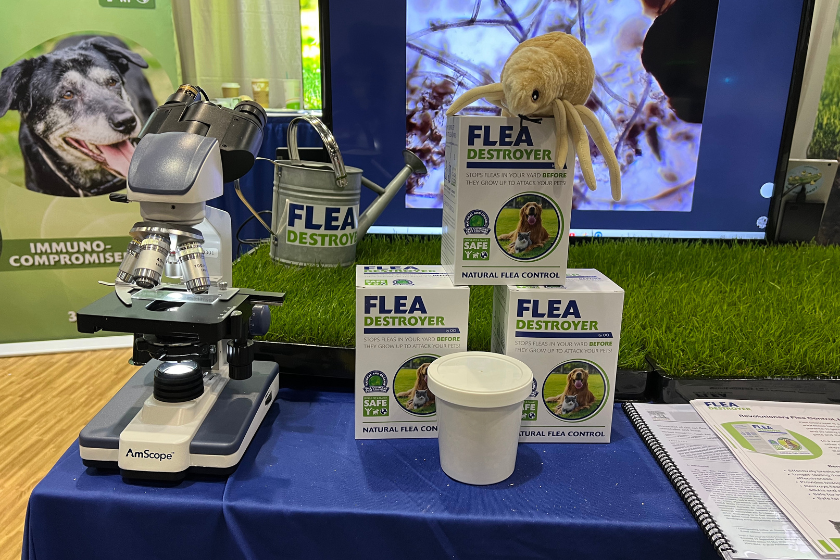 Best Home Care Product: Flea Destroyer Natural Pest Control by Flea Destroyer
A struggle faced by pet parents across the country and around the world, eliminating and preventing fleas in and around your house can be a lot of work. While many companies focus on treating your pet or cleaning your home to remove pests from your carpets and furniture, your yard is another crucial area to consider.
Flea Destroyer offers a natural solution to stopping the flea life cycle before these pests bite and irritate your pets. The product contains 10 million nematodes (microscopic worms) in each container. They naturally occur in soil and ground litter, allowing them to move easily through your yard to reach and kill flea larvae before they can grow into adult fleas.
Our team was impressed not only by the ability to proactively deal with fleas versus waiting for them to attack our pets first but also by the fact that the product is safe for people, pets, plants, and beneficial insects in our yards and gardens. The product retails for $59.99, and a single container will cover approximately 2,000 sq. ft.
Most Innovative Product: SuperFetti by Lord Jameson
While some of the brands and products awarded this year are focused on the health and more serious care of our pets, many fun products also caught the attention of our team. It was one of these products that the team knew had to be awarded Most Innovative Product immediately upon discovering it.
If you're planning a birthday party, Gotcha Day celebration, or simply celebrating a day that ends in 'y' with your dog by your side – Lord Jameson has you covered with their SuperFetti. These are the first-ever sprinkles designed specifically with dogs in mind.
The organic coconut sprinkles are a brightly colored addition to your dog's cake or pupcakes. They can also be sprinkled over your pup's meal for added flavor and a festive flair. Don't wait for a special holiday to celebrate. SuperFetti is handmade in Colorado. They aren't available for purchase yet, but they are coming soon!
Best Dog Product: 90s Classics Collection by P.L.A.Y.
Another fun and entertaining line of products that instantly stole Jessica's heart is the 90s Classics Collection from P.L.A.Y. After all, who doesn't want a fun dog toy that will bring a smile to your face and a wave of nostalgia every time it comes out of the toy box?
The toys are durable, made with a double-layer exterior and reinforced stitching. They are machine washable and dryer friendly for when they inevitably get dirty. There are a variety of different 90s-inspired designs to choose from, including a wearable guitar, Woofbuster Video with removable VHS tape, a skateboard, a block phone, and, Jessica's favorite, a Game Bone portable gaming system with a removable game.
The toys feature squeakers and crinkly areas to engage and entertain your dog. The complete 5 toy set retails for $58.10, or you can purchase each toy separately for $8.90 to $12.90 apiece.
Best Cat Product: Cat Harness with Clips and Light by Sleepypod
Finding a harness that fits a cat's unique body shape properly and is secure to keep your feline friend safe when you are on the move can be challenging. No one knows this better than our own resident adventure cat expert Emily. With approximately 10 years of experience adventuring with her cats, she has had the opportunity to learn the unique features needed for the best harness training and adventure experiences first-hand.
When searching for the Best Cat Product at Global this year, it was a cat harness that caught her attention. More specifically, it was the Martingale Cat Harness with Buckles and Light by Sleepypod.
Constructed from soft, breathable mesh, the harness is made to be comfortable for your cat even when harnessed for an extended period. The connection point on the back of the harness features a cinching feature like a traditional dog martingale collar, offering an added layer of security if your cat does try to escape. The harness is adjustable at the neck and chest to suit a wide range of cat sizes and body types. It retails for $39.59 and can be purchased in 5 colors.
Best Small Animal Product: Prime Cut Hay – Hearty & Crunchy + Soft & Lush by Oxbow Animal Health
Too often, our small animal friends are overlooked when discussing the latest and greatest products at a tradeshow like Global. But many amazing brands are focused on empowering pet parents to create the ideal habitat and lifestyle for their rabbits, guinea pigs, rats, mice, gerbils, hamsters, and other small animal pets. Among these, one brand that has stood out in the past to the BlogPaws Team has been Oxbow, and they didn't disappoint this time!
To choose a Best Small Animal Product, Emily and Jessica searched the show floor for products that would support a pet's health, improve their living space, and offer much-needed mental enrichment. Prime Cut Hearty & Crunchy and Soft & Lush Timothy Hay deliver all that and more!
The company works with a small family of farmers to grow only the highest quality, high-fiber hay. It is then hand-sorted to prioritize quality control in the product delivered to pet parents everywhere. When the hay's first cut is taken, the Hearty & Crunchy product line is created, while the second cut is sold as Soft & Lush. Timothy hay has been proven to support our smaller pets' dental, digestive, and overall health. It retails for $17.99+.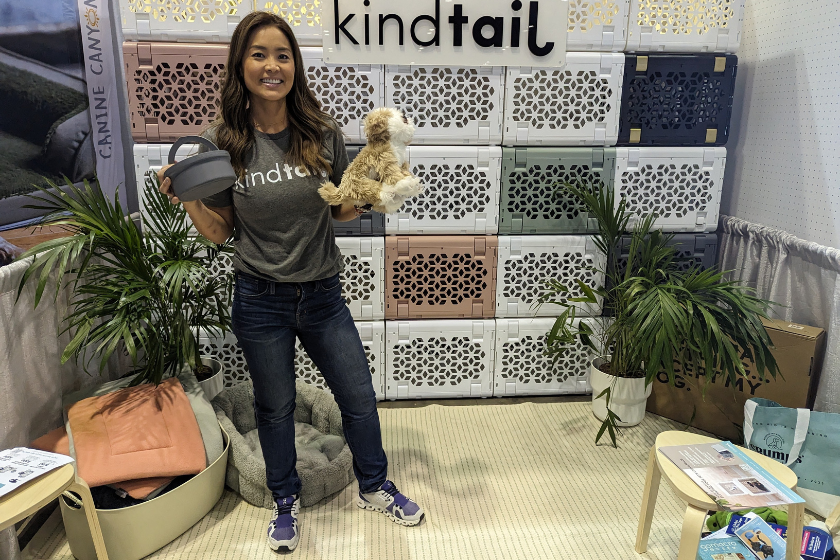 Best Emerging Brand: KindTail
Including a pet in every area of our lives means finding products that fit our lifestyle. This involves careful consideration of our daily routine, the space available in our home, how often we plan to travel, where those adventures may take us, and much more. The brands that break into the pet space and really make their mark are those that can meet these needs in a new and exciting way.
This is why the brand Kindtail really stood out at this year's Global Pet Expo. A woman-owned business (which is near and dear to our hearts), Kindtail offers foldable plastic crates and portable bowl systems.
Their products are collapsible, easy to clean, lightweight, and free from sharp edges or corners, creating a safe space for your dog wherever life may take you. They are also designed with a beautiful and modern appearance that can fit in with most home décor. Their portable bowl set retails for $39.99, while the crates start at $139.00.
Best New Product: Green Monstah (Green Crab + Kelp Dog Treats) by PolkaDog
When visiting the Polkadog booth on the show floor, our team was impressed by the quality of treats they bring to pet parents everywhere. Most specifically, they were blown away by the research and dedication that went into the development of Green Monstah. Made from green crab and kelp, the treats are packed with both protein and Omega-3s. But these local, ultra-rich protein sources do more than improve your dog's diet. They are also part of a bigger plan to prioritize environmental protection and restoration.
"Finding ways to manage the over-abundance of green crab populations in New England waters is the challenge," explained Polkadog's founder Deb Suchman. "The reward is restoration of biodiversity in coastal ecosystems and the creation of new economic opportunity for local fishers. High-protein kelp, one o the healthiest, richest sources of amino acids, faces increasing stress from warming waters and invasive crab species. New England kelp farming is restoring balance to the natural ecosystems."
Green Monstah will be available online and in brick & mortar stores across the country beginning on April 22nd (Earth Day).
Best Rebrand or Refresh: Vital Essentials
There is no doubt that the brand Vital Essentials offers incredible, high-value products to improve the health of our dogs and cats. They are a brand that our team has followed and supported for years. But it wasn't their quality products that really grabbed Jessica and Emily's attention at Global this time. Instead, it was the eye-catching new branding that they had introduced with the great products we already know and love.
As we already discussed, branding is a significant component of a company's marketing plan. This includes not only creating a solid brand to launch your business but also the decision to rebrand and inject some new life into a brand that has been around for several years (or more).
While we believe the old Vital Essentials branding was highly effective, the team was incredibly impressed with the work that went into their clean, modern look. The use of kraft paper packaging is a creative way to highlight their commitment to using only premium quality ingredients in their raw food and treats.
Best Technology Product: Smart Pet Bowl by Wagz
As technology grows and evolves, the BlogPaws Team is constantly amazed by how companies can use these developments to better care for our pets. We have seen innovative technology introduced in the form of wearables, GPS trackers, smart pet doors, and more. But one new product at Global Pet Expo that showed incredible promise was the Wagz Smart Pet Bowl.
This new smart bowl isn't available yet, but our team is excited about its upcoming launch. With a focus on helping pet parents better handle their pets' feeding and hydration, it leverages AI and proprietary algorithms in an innovative way that can be used both in single-pet and multi-pet homes.
The Wagz Smart Pet Bowl connects with either the Wagz Smart Collars or Wagz Pendant to allow the bowl to identify which pet is using it at any given time, collecting data specific to each pet and sending it to the corresponding app to provide you with insights into hydration goals, daily consumption, optimal serving size, and missed meals. It also sends you an alert to let you know when the bowl is empty. With a product like this available, pet parents will be empowered to give their pets the best care possible!
Best Household Cleaning Product: Be Gone by Wee Away Company
With so many dangerous chemicals displayed on the shelves of big box stores everywhere, pet parents must be vigilant in selecting the right cleaning products for their homes. At the same time, we need a product capable of tackling some of the most unpleasant stains and smells like "accidents" during the potty-training stage.
The recipient of the Best Household Cleaning Product is one that found the balance between being pet-safe and providing incredible cleaning power. That's why we are so happy to give Wee Away Be Gone this award.
Made with natural enzymes and d-limonene, this product lifts and eliminates stains, removes unpleasant odors, and leaves your carpet smelling clean. It's eco-friendly and green-certified, providing a safe and environmentally friendly solution to your pet's biggest messes. Wee Away Be Gone retails for $16.99.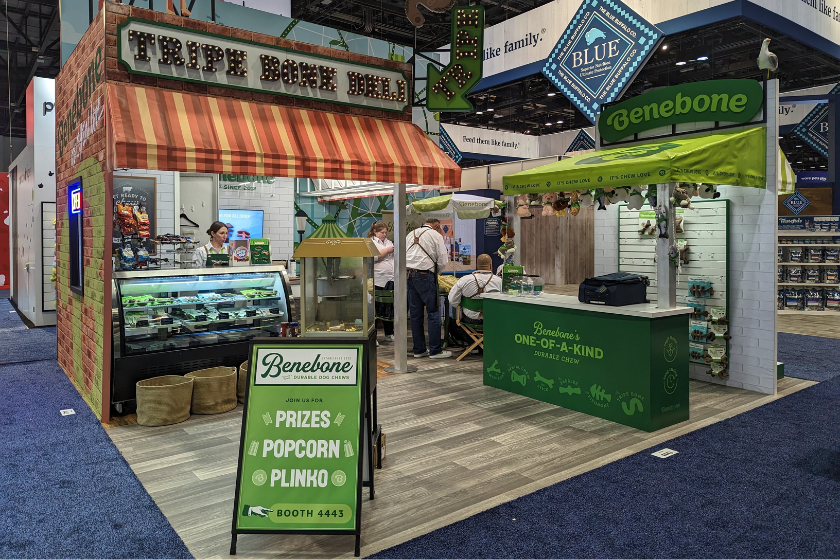 Best Booth Design: Benebone
When it comes to marketing and raising brand awareness at a large trade show like Global Pet Expo, the design and layout of your booth can make a significant difference. A boring booth with little to no branding will be easily looked over among the sea of different options, while an imaginative, eye-catching, or unique booth can attract a steady stream of interested buyers and members of the media.
For this reason, the team felt that Best Booth Design was an award we had to include when selecting our BlogPaws Best. There were many great booth designs across the show floor, but one stood out to both Jessica and Emily – the Benebone booth.
Rather than sticking to a traditional booth display, they designed their space to look like it was inspired by a NY Deli. The products were displayed in deli-style food display cases, and a large sign announced
"Tripe Bone Deli," highlighting their new Tripe Bone. The booth offered Plinko, prizes, and popcorn to add excitement. The amount of detail that went into their booth design made it incredibly memorable.
Most Engaging Booth: Zesty Paws/Solid Gold
In addition to selecting a booth for its overall design and appearance, Emily and Jessica were also tasked with finding the Most Engaging Booth. This is a booth that not only creatively displays their brand and products but also draws in tradeshow attendees by allowing them to interact with the booth in a fun and entertaining way.
There were several booths that they enjoyed, but one really stood out. When visiting the Zesty Paws/Solid Gold booth, there was a photo booth set up that would print out a small Polaroid image. Each image had a sticky back and a grid number corresponding to a large mosaic poster.
The pictures all came together to create a unique final image that showcases the Zesty Paws and Solid Gold branding. You can see the finished mosaic HERE. A copy of your pictures was also emailed to you as a keepsake from the show. It was an adorable way to bring show attendees together!
Best Business Blog: Jolly Pets
If you have spent much time around the BlogPaws team as part of our community or our membership group, then you know that we are big fans of the use of content marketing to build trust and brand recognition, drive organic traffic to your website, and position yourself as an authority in your niche. So, we couldn't give out awards related to marketing and not include an award for Best Business Blog.
Deciding on this award, our team spent some time visiting the websites of the Global exhibitors, identifying which brands had an established blog and then reading through some of their content to see what they are doing with that valuable tool in their marketing efforts.
The blog that stood out to us was the Your Dog's Happiness and Health blog on the Jolly Pets website. Here, the Jolly Pets team shared great information for dog parents of all experience levels, from solving common crate training problems to identifying seasonal allergies in dogs. They also include posts sharing the value their toys offer our pups and how to choose the best toys for their personalities and play styles. Overall, it's a great resource!
Best Product Launch Campaign: Urban 3.0 by K9 Sport Sack
One of the most exciting parts of attending Global for those working in the pet industry is seeing what new products are being launched. Some of these brands will put time and effort into a product launch that not only takes advantage of the tradeshow but also builds excitement among their clients and online followers.
Leading up to Global 2023, K9 Sport Sack started teasing their Urban 3.0 bag. This bag is a dual-use product that can be used as a backpack dog carrier or a standard city backpack with a padded laptop sleeve and a foldover style to make it more compact.
In the days leading up to the tradeshow, the company started to share fun "teaser" style pictures where they zoomed in close on parts of the bag, like the front zipper to the base storage pocket or the laptop pocket.  On the Friday of the show, the brand went live with their big announcement to an excited online viewing audience. We loved seeing the engagement on their posts and the curiosity of their followers.
Best Social Media Presence: Messy Mutts
Another important aspect of a successful online marketing plan is the use of social media.  After all, this is where most brands reach their target audience and start to build connections that will convert to sales and ongoing loyalty. Many pet brands are doing incredible things with their social media efforts, building large and engaged communities.
One brand that really impressed us with their use of Facebook and Instagram was Messy Mutts. Leveraging the bright, bold colors of their brand and their products, they are able to create an eye-catching feed that is sure to attract new eyes with each post. But they don't share solely with salesy content. Instead, they share a lot of valuable information with their followers, including recipes that can be used with their products and FAQ-style posts to answer the most common questions they receive.
In addition to creating and sharing their own content, Messy Mutts also does a great job leveraging user-generated content by sharing photos from their community. This is a great way to build relationships and acknowledge their loyal followers while reducing the work they need to put into creating new content to fill their social media calendar.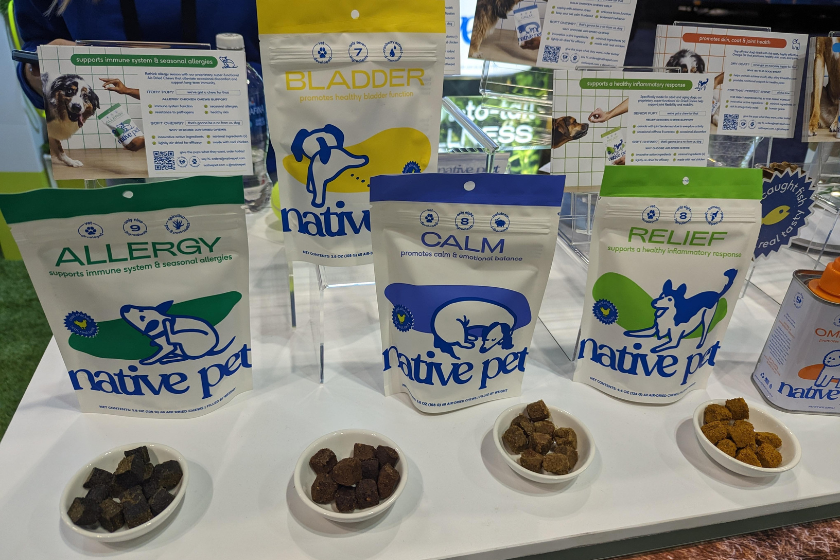 Best Packaging: Native Pet
A brand's packaging is a vital communication channel between the brand and their customers. This is their chance to stand out when displayed on store shelves, highlight their product's value, and share necessary information like ingredients or directions. Considering this piece of the puzzle's importance, Jessica and Emily had to take some time to check out the different examples of packaging at the show.
Many companies were doing a great job, but when they shared pictures of Native Pet's packaging with the rest of the team at home, we all fell in love! Each package features a clean yet colorful design with an adorable cartoon pet on the front.
The heading across the top (Allergy, Calm, Relief) makes it easy for customers to identify which product they are looking for quickly. Not only are they aesthetically pleasing on the front, but the back of each package lays out all the essential information that pet parents need. Across the top, it elaborates on the front heading, describing what the product will do for your pet, followed by all the relevant details.
Best Online Resources for Customers: University of Petcurean by Petcurean Pet Nutrition
When awarding Best Online Resource for Customers, we started by looking for companies creating resources that would be delivered directly to the consumer. However, when the details of the University of Petcurean were brought to our attention, our team quickly recognized how valuable this tool would be for retailers and consumers in the long run!
The University of Petcurean is an online training platform accessible both on computer and mobile, educating retailers about the different products that Petcurean Pet Nutrition offers and how they can benefit their target market.
A tool like this can help boost retailers' sales by providing them with the information necessary to help their customers better. But the retailers aren't the only ones seeing the benefit. Customers seeking a solution to their problems will be supported by retailers that are better informed about the products they offer, their formulations, nutritional benefits, and how they can improve the lives of the pets in question. This will make getting the right products in the right hands easier, which is a win/win for everyone!
Best Use of Video Content: Zoo Med Laboratories
Video marketing is on the rise, with more consumers preferring video content than ever before. This shift in how online users consume content has the BlogPaws Team interested in watching to see which brands are taking advantage of this powerful tool.
Zoo Med Laboratories is one brand that excels in their video marketing efforts and is the recipient of our Best Use of Video Content award. Most brands we looked into were getting started with video on at least one platform, posting their first few videos or beginning to build a following. But Zoo Med Laboratories proved to be far past that point. They are not only creating high-quality video content, but they are doing so across multiple platforms successfully.
They create engaging and entertaining short-form video content on both Instagram and TikTok. In addition to that, they have created over 180 highly informative long-form videos on YouTube. We are excited to continue following them to see what else they do with these platforms!
Jessica's Best-in-Show Pick: USDA Organic Mushroom Blend for Immune Support by Fera Pet Organics
Here on the BlogPaws Team, we are not only pet enthusiasts but also pet parents. This makes it easy for us to look at any of the products we encounter through the lens of a pet parent in need. For Jessica, this drew her attention to one brand and product when scouting out her Best in Show Award – a product she would trust with her own dogs and a brand that demonstrated quality and accountability in every choice they made.
Fera Pet Organic is a female-owned brand that produces and markets pet supplements and vitamins. In a market where many companies claim to have the latest and greatest, they ensure that their products stand out by using only the purest ingredients and formulas hand-developed by a veterinarian.
The specific product that Jessica chose to recognize for her Best in Show choice is the USDA Organic Mushroom Blend for Immune Support. Designed for cats and dogs, this single product will help improve 6 different systems for optimal health, including immunity, digestion, liver, metabolism, brain, and cardio. In doing so, it empowers pet parents to prevent many illnesses and ailments from occurring rather than focusing on treating these health problems later. The product retails for $34.95.
Emily's Best-in-Show Pick: Happy Ride Backpack by PetSafe
In addition to finding a great harness for walking your cat outdoors, Emily recognizes the importance of a comfortable, safe, and secure backpack. This is a crucial piece of gear for anyone with an adventure cat as it offers a safe place for your cat to escape to if there is too much going on and a comfortable place to rest when their little legs are tired on a longer trail. But not every backpack is created equally!
The Happy Ride Backpack by PetSafe offers your cat plenty of space to ride comfortably, making it ideal even for cats that are a little on the "larger" side. A large, zippered mesh front and mesh on the sides allow plenty of airflow to ensure your cat won't overheat.
For the pet parent, the backpack is well-structured, balanced, and easy to carry. It also has a zippered pocket to hold essential items like keys, a wallet, or (of course) cat treats. For an avid adventure cat enthusiast, it's no wonder that such a great design earned PetSafe Emily's Best in Show award.
We believe these brands are the movers and shakers – companies responsible for the innovation, imagination, and dedication that will move the pet industry forward in new and exciting ways. Congratulations to all the winners!
Do you have a favorite from our picks? Did you discover a new brand or product you want to learn more about? We'd love to hear your thoughts in the comments!
About the Author: Britt Kascjak is a freelance writer and content creator with a background in digital and social media marketing. In addition to being the BlogPaws Director of Content & SEO, she also runs her own personal blogs Shed Happens, The Kas Pack, and Lucifer the Rescue Pup. When she's not working, she can be found volunteering in the rescue space, camping, hiking, canoeing, or spending time with her 3 dogs and 2 cats.