Advantages and Disadvantages of 3PL eCommerce Fulfillment
Hiring a third-party logistics provider to manage eCommerce fulfillment can help you boost your bottom line. Here are some of the ways that 3PL can optimize your business:
Better service quality through greater expertise
3PL providers already specialize in warehousing, transportation, and fulfillment and will bring in all the required expertise that translates into a customer experience. Let the experts focus on logistics while you focus on your business.
Infrastructure and fulfillment cost savings
By outsourcing warehousing and delivery management to a 3PL provider, eCommerce businesses can cut down on infrastructure, labor, technology, and operating expenses.
Optimized inventories
Forget about overloaded warehouses, stock-outs, or obsolete inventory items. A 3PL eCommerce partner will maintain your inventory to meet actual product demand only.
Increased capabilities when expanding to new markets
Shipping certain products internationally may be too expensive. Hiring a 3PL to manage global shipping will help ensure faster deliveries to new geographies at competitive rates.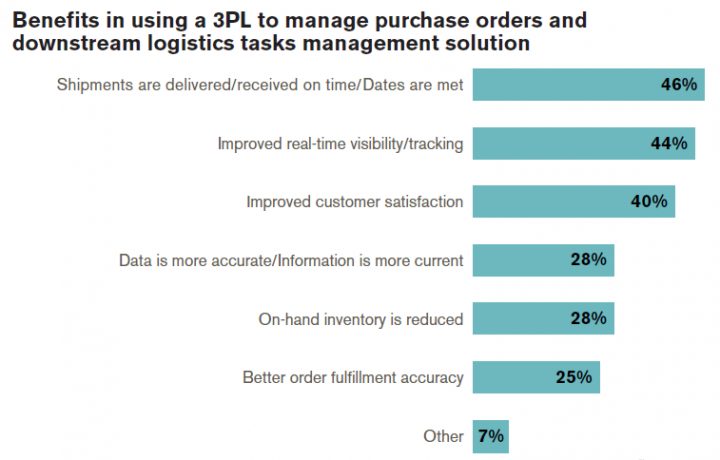 Downsides of Using 3PL for eCommerce
While there are many benefits to using 3PL, there are also some disadvantages. Here are the five major drawbacks of engaging with a 3PL service provider.
Finding the right partner
Finding a quality 3PL partner that understands your industry and will adapt to changing business needs takes time. When choosing a third-party logistics provider, evaluate your business volumes. Think whether a 3PL company can handle your current operations and scale in line with your growing or changing business needs. Evaluate the provider's past and ongoing performance and check whether they have long-term customers. Also, verify that a 3PL provider will support technologies your company uses.
Lack of control
A third party gets control over your business function(s). You'll have to deal with the lack of direct control over products and order fulfillment and will rely on how your 3PL partner delivers the promised services.
If a 3PL fails to perform its part of the contract, it will tarnish your reputation and impact your company's image. In this regard, the previous point no longer seems to be a disadvantage: take your time when choosing a reliable third-party logistics provider.
Communication
Communication can be a challenge when working with a 3PL provider. You must rely on them to inform you about your inventory levels, shipping updates, and other logistics-related information. If there is a communication breakdown, it can lead to delays and customer dissatisfaction.
Integration
Integrating your eCommerce platform with a 3PL provider can be complex and time-consuming. You must ensure that your systems are compatible and that data is transferred seamlessly. This can be a challenge for businesses that need more technical expertise or resources to manage the integration.