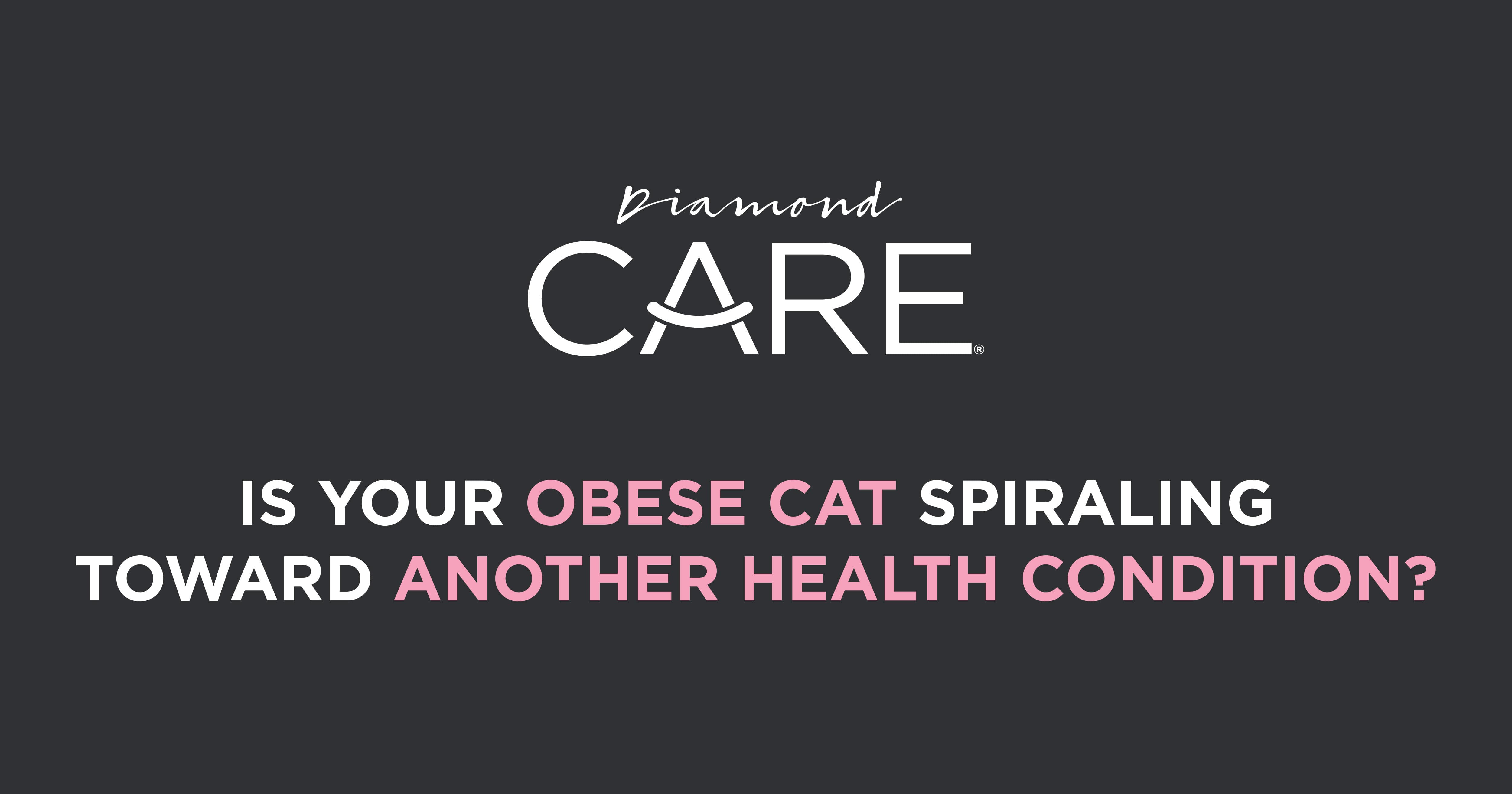 Cats that are on the chubby side (i.e., above their optimal weight) are more likely to develop health conditions like arthritis and diabetes. Learn about some of the conditions that your cat is at an increased risk of developing if they're overweight or obese.
RELATED POST: Nine Top Contributors to Obesity in Cats
The information in this blog has been developed with our veterinarian and is designed to help educate pet parents. If you have questions or concerns about your pet's health or nutrition, please talk with your veterinarian.
SIGN UP TODAY
 

TO GET THE LATEST FROM

 

DIAMOND PET FOODS

Where to Buy Diamond Pet Food Near Me

[gravityform id="22″ ajax="true"]
<div class="gf_browser_chrome gform_wrapper gravity-theme scoop-form_wrapper" id='gform_wrapper_22′ style="display:none"><div id='gf_22′ class="gform_anchor" tabindex='-1′></div>
<div class="gform_heading">
<h2 class="gform_title">The Scoop Newsletter</h2>
<span class="gform_description"></span>
<p class="gform_required_legend">&quot;<span class="gfield_required gfield_required_asterisk">*</span>&quot; indicates required fields</p>
</div><form method='post' enctype="multipart/form-data" target="gform_ajax_frame_22″ id='gform_22′ class="scoop-form" action='/blog/health/conditions/obesity-spiral-into-other-health-issues-for-cats/#gf_22′ >
<div class="gform_body gform-body"><div id='gform_fields_22′ class="gform_fields top_label form_sublabel_below description_below"><div id="field_22_8″ class="gfield gfield–width-full gfield_html gfield_html_formatted gfield_no_follows_desc field_sublabel_below field_description_below gfield_visibility_visible" data-js-reload="field_22_8″><p class="sign-up-text">Sign up to receive email communications, including our <span style="white-space:nowrap;">e-newsletter</span>, The Scoop, where you can be the first to know about social contests, new blog posts and more!</p></div><fieldset id="field_22_1″ class="gfield field_sublabel_above field_description_below hidden_label gfield_visibility_visible" data-js-reload="field_22_1″><legend class="gfield_label gfield_label_before_complex" >Name</legend><div class="ginput_complex ginput_container no_prefix has_first_name no_middle_name has_last_name no_suffix gf_name_has_2 ginput_container_name" id='input_22_1′>
<span id='input_22_1_3_container' class="name_first" >
<label for="input_22_1_3″ >First Name</label>
<input type="text" name="input_1.3″ id='input_22_1_3′ value="" aria-required='false' />
</span>
<span id='input_22_1_6_container' class="name_last" >
<label for="input_22_1_6″ >Last Name</label>
<input type="text" name="input_1.6″ id='input_22_1_6′ value="" aria-required='false' />
</span>
</div></fieldset></fieldset><div id="field_22_2″ class="gfield gfield–width-full gfield_contains_required field_sublabel_below field_description_below gfield_visibility_visible" data-js-reload="field_22_2″><label class="gfield_label" for="input_22_2″ >Email<span class="gfield_required"><span class="gfield_required gfield_required_asterisk"> * <span class="sr-only"> Required</span></span></span></label><div class="ginput_container ginput_container_email">
<input name="input_2″ id='input_22_2′ type="text" value="" class="large" placeholder="EMAIL ADDRESS" aria-required="true" aria-invalid="false" />
</div></div><fieldset id="field_22_3″ class="gfield gfield–width-full pet-parent-radio gfield_contains_required field_sublabel_below field_description_above gfield_visibility_visible" data-js-reload="field_22_3″><legend class="gfield_label" >PROUD PARENT OF A<span class="gfield_required"><span class="gfield_required gfield_required_asterisk"> * <span class="sr-only"> Required</span></span></span></legend><div class="ginput_container ginput_container_radio"><div class="gfield_radio" id='input_22_3′>
<div class="gchoice gchoice_22_3_0″>
<input class="gfield-choice-input" name="input_3″ type="radio" value="DOG" id='choice_22_3_0′ onchange="gformToggleRadioOther( this )" />
<label for="choice_22_3_0″ id='label_22_3_0′>DOG</label>
</div>
<div class="gchoice gchoice_22_3_1″>
<input class="gfield-choice-input" name="input_3″ type="radio" value="CAT" id='choice_22_3_1′ onchange="gformToggleRadioOther( this )" />
<label for="choice_22_3_1″ id='label_22_3_1′>CAT</label>
</div>
<div class="gchoice gchoice_22_3_2″>
<input class="gfield-choice-input" name="input_3″ type="radio" value="BOTH" id='choice_22_3_2′ onchange="gformToggleRadioOther( this )" />
<label for="choice_22_3_2″ id='label_22_3_2′>BOTH</label>
</div></div></div></fieldset></fieldset><div id="field_22_7″ class="gfield gfield–width-full gfield_html gfield_html_formatted gfield_no_follows_desc field_sublabel_below field_description_below gfield_visibility_visible" data-js-reload="field_22_7″><button class="dropdown-toggle" type="button" id="puppy-drop" data-toggle="dropdown" aria-haspopup="true" aria-expanded="false">DO YOU HAVE A PUPPY? *</button></div><fieldset id="field_22_6″ class="gfield gfield–width-full scoop-puppy-radios field_sublabel_below field_description_above gfield_visibility_visible" data-js-reload="field_22_6″><legend class="gfield_label" >Do you have a Puppy?</legend><div class="gfield_description" id='gfield_description_22_6′>*By answering "Yes" to this question, you agree to receive the <i>Puppy Love</i> email series</div><div class="ginput_container ginput_container_radio"><div class="gfield_radio" id='input_22_6′>
<div class="gchoice gchoice_22_6_0″>
<input class="gfield-choice-input" name="input_6″ type="radio" value="NO" id='choice_22_6_0′ onchange="gformToggleRadioOther( this )" aria-describedby="gfield_description_22_6″ />
<label for="choice_22_6_0″ id='label_22_6_0′>NO</label>
</div>
<div class="gchoice gchoice_22_6_1″>
<input class="gfield-choice-input" name="input_6″ type="radio" value="Yes – 1 month old (or younger)" id='choice_22_6_1′ onchange="gformToggleRadioOther( this )" />
<label for="choice_22_6_1″ id='label_22_6_1′>Yes, they're 1 month old</label>
</div>
<div class="gchoice gchoice_22_6_2″>
<input class="gfield-choice-input" name="input_6″ type="radio" value="Yes – 2 months old" id='choice_22_6_2′ onchange="gformToggleRadioOther( this )" />
<label for="choice_22_6_2″ id='label_22_6_2′>Yes, they're 2 months old</label>
</div>
<div class="gchoice gchoice_22_6_3″>
<input class="gfield-choice-input" name="input_6″ type="radio" value="Yes – 3 months old" id='choice_22_6_3′ onchange="gformToggleRadioOther( this )" />
<label for="choice_22_6_3″ id='label_22_6_3′>Yes, they're 3 months old</label>
</div>
<div class="gchoice gchoice_22_6_4″>
<input class="gfield-choice-input" name="input_6″ type="radio" value="Yes – 4 months old" id='choice_22_6_4′ onchange="gformToggleRadioOther( this )" />
<label for="choice_22_6_4″ id='label_22_6_4′>Yes, they're 4 months old</label>
</div>
<div class="gchoice gchoice_22_6_5″>
<input class="gfield-choice-input" name="input_6″ type="radio" value="Yes – 5 months old" id='choice_22_6_5′ onchange="gformToggleRadioOther( this )" />
<label for="choice_22_6_5″ id='label_22_6_5′>Yes, they're 5 months old</label>
</div>
<div class="gchoice gchoice_22_6_6″>
<input class="gfield-choice-input" name="input_6″ type="radio" value="Yes – 6 months old" id='choice_22_6_6′ onchange="gformToggleRadioOther( this )" />
<label for="choice_22_6_6″ id='label_22_6_6′>Yes, they're 6 months old</label>
</div>
<div class="gchoice gchoice_22_6_7″>
<input class="gfield-choice-input" name="input_6″ type="radio" value="Yes – 7 months old" id='choice_22_6_7′ onchange="gformToggleRadioOther( this )" />
<label for="choice_22_6_7″ id='label_22_6_7′>Yes, they're 7 months old</label>
</div>
<div class="gchoice gchoice_22_6_8″>
<input class="gfield-choice-input" name="input_6″ type="radio" value="Yes – 8 months old" id='choice_22_6_8′ onchange="gformToggleRadioOther( this )" />
<label for="choice_22_6_8″ id='label_22_6_8′>Yes, they're 8 months old</label>
</div>
<div class="gchoice gchoice_22_6_9″>
<input class="gfield-choice-input" name="input_6″ type="radio" value="Yes – 9 months old" id='choice_22_6_9′ onchange="gformToggleRadioOther( this )" />
<label for="choice_22_6_9″ id='label_22_6_9′>Yes, they're 9 months old</label>
</div>
<div class="gchoice gchoice_22_6_10″>
<input class="gfield-choice-input" name="input_6″ type="radio" value="Yes – 10 months old" id='choice_22_6_10′ onchange="gformToggleRadioOther( this )" />
<label for="choice_22_6_10″ id='label_22_6_10′>Yes, they're 10 months old</label>
</div>
<div class="gchoice gchoice_22_6_11″>
<input class="gfield-choice-input" name="input_6″ type="radio" value="Yes – 11 months old" id='choice_22_6_11′ onchange="gformToggleRadioOther( this )" />
<label for="choice_22_6_11″ id='label_22_6_11′>Yes, they're 11 months old</label>
</div>
<div class="gchoice gchoice_22_6_12″>
<input class="gfield-choice-input" name="input_6″ type="radio" value="Yes – 12 months old" id='choice_22_6_12′ onchange="gformToggleRadioOther( this )" />
<label for="choice_22_6_12″ id='label_22_6_12′>Yes, they're 12 months old</label>
</div></div></div></fieldset></fieldset><fieldset id="field_22_9″ class="gfield gfield–width-full field_sublabel_below field_description_below hidden_label gfield_visibility_hidden" data-js-reload="field_22_9″><div class="admin-hidden-markup"><i class="gform-icon gform-icon–hidden"></i><span>Hidden</span></div><legend class="gfield_label gfield_label_before_complex" >Newsletter Subscribe</legend><div class="ginput_container ginput_container_checkbox"><div class="gfield_checkbox" id='input_22_9′><div class="gchoice gchoice_22_9_1″>
<input class="gfield-choice-input" name="input_9.1″ type="checkbox" value="Company Newsletters, Contests &amp; More" checked='checked' id='choice_22_9_1′ />
<label for="choice_22_9_1″ id='label_22_9_1′>Company Newsletters, Contests & More</label>
</div><div class="gchoice gchoice_22_9_2″>
<input class="gfield-choice-input" name="input_9.2″ type="checkbox" value="Puppy Love for your pup&#039;s first year?" checked='checked' id='choice_22_9_2′ />
<label for="choice_22_9_2″ id='label_22_9_2′>Puppy Love for your pup's first year?</label>
</div></div></div></fieldset></fieldset><div id="field_22_10″ class="gfield gfield–width-full field_sublabel_below field_description_below hidden_label gfield_visibility_hidden" data-js-reload="field_22_10″><div class="admin-hidden-markup"><i class="gform-icon gform-icon–hidden"></i><span>Hidden</span></div><label class="gfield_label" for="input_22_10″ >No Puppy subscribe</label><div class="ginput_container ginput_container_text"><input name="input_10″ id='input_22_10′ type="text" value="Company Newsletters, Contests &amp; More" class="large" aria-invalid="false" /> </div></div><div id="field_22_11″ class="gfield gfield–width-full gform_hidden field_sublabel_below field_description_below gfield_visibility_visible" data-js-reload="field_22_11″><div class="ginput_container ginput_container_text"><input name="input_11″ id='input_22_11′ type="hidden" class="gform_hidden" aria-invalid="false" value="The Scoop PopUp" /></div></div></div></div>
<div class="gform_footer top_label"> <input type="submit" id="gform_submit_button_22″ class="gform_button button om-trigger-conversion scoop-pupout-submit-btn" value="I WANT THE SCOOP!" onclick='if(window["gf_submitting_22"]){return false;} window["gf_submitting_22"]=true; ' onkeypress="if( event.keyCode == 13 ){ if(window["gf_submitting_22"]){return false;} window["gf_submitting_22"]=true; jQuery("#gform_22").trigger("submit",[true]); }"> <input type="hidden" name="gform_ajax" value="form_id=22&amp;title=1&amp;description=1&amp;tabindex=0″ />
<input type="hidden" class="gform_hidden" name="is_submit_22″ value="1″ />
<input type="hidden" class="gform_hidden" name="gform_submit" value="22″ />
<input type="hidden" class="gform_hidden" name="gform_unique_id" value="" />
<input type="hidden" class="gform_hidden" name="state_22″ value="WyJbXSIsImMyNGQ4YmRhNTdlODFiZTdmMDZjOGZkNWQzMDc1YTc1Il0=" />
<input type="hidden" class="gform_hidden" name="gform_target_page_number_22″ id='gform_target_page_number_22′ value="0″ />
<input type="hidden" class="gform_hidden" name="gform_source_page_number_22″ id='gform_source_page_number_22′ value="1″ />
<input type="hidden" name="gform_field_values" value="" />
</div>
</form>
</div>
<iframe style="display:none;width:0px;height:0px;" src="https://www.diamondpet.com/blog/health/conditions/obesity-spiral-into-other-health-issues-for-cats/about:blank" name="gform_ajax_frame_22″ id='gform_ajax_frame_22' title="This iframe contains the logic required to handle Ajax powered Gravity Forms."></iframe>
<script type="text/javascript">
gform.initializeOnLoaded( function() {gformInitSpinner( 22, 'https://www.diamondpet.com/wp-content/plugins/gravityforms/images/spinner.svg' );jQuery('#gform_ajax_frame_22').on('load',function(){var contents = jQuery(this).contents().find('*').html();var is_postback = contents.indexOf('GF_AJAX_POSTBACK') >= 0;if(!is_postback){return;}var form_content = jQuery(this).contents().find('#gform_wrapper_22');var is_confirmation = jQuery(this).contents().find('#gform_confirmation_wrapper_22').length > 0;var is_redirect = contents.indexOf('gformRedirect(){') >= 0;var is_form = form_content.length > 0 && ! is_redirect && ! is_confirmation;var mt = parseInt(jQuery('html').css('margin-top'), 10) + parseInt(jQuery('body').css('margin-top'), 10) + 100;if(is_form){jQuery('#gform_wrapper_22').html(form_content.html());if(form_content.hasClass('gform_validation_error')){jQuery('#gform_wrapper_22').addClass('gform_validation_error');} else {jQuery('#gform_wrapper_22').removeClass('gform_validation_error');}setTimeout( function() { /* delay the scroll by 50 milliseconds to fix a bug in chrome */ jQuery(document).scrollTop(jQuery('#gform_wrapper_22').offset().top – mt); }, 50 );if(window['gformInitDatepicker']) {gformInitDatepicker();}if(window['gformInitPriceFields']) {gformInitPriceFields();}var current_page = jQuery('#gform_source_page_number_22').val();gformInitSpinner( 22, 'https://www.diamondpet.com/wp-content/plugins/gravityforms/images/spinner.svg' );jQuery(document).trigger('gform_page_loaded', [22, current_page]);window['gf_submitting_22'] = false;}else if(!is_redirect){var confirmation_content = jQuery(this).contents().find('.GF_AJAX_POSTBACK').html();if(!confirmation_content){confirmation_content = contents;}setTimeout(function(){jQuery('#gform_wrapper_22').replaceWith(confirmation_content);jQuery(document).scrollTop(jQuery('#gf_22').offset().top – mt);jQuery(document).trigger('gform_confirmation_loaded', [22]);window['gf_submitting_22'] = false;wp.a11y.speak(jQuery('#gform_confirmation_message_22').text());}, 50);}else{jQuery('#gform_22').append(contents);if(window['gformRedirect']) {gformRedirect();}}jQuery(document).trigger('gform_post_render', [22, current_page]);} );} );
</script>