Social media is a necessary pillar in any small business marketing plan. But with so many social media platforms available, it can be overwhelming to decide which ones will help you reach your ideal customer. You are likely familiar with the most popular platforms, such as Facebook, Instagram, Pinterest, and TikTok. But these aren't the only platforms being used regularly by the pet community.
Many lesser-known social media platforms offer unique advantages and benefits when building communities, connecting with your audience, and building your small pet business online.
Recent events in the world of social media have led most users to re-evaluate their use of the more common platforms. From Facebook's many privacy issues to security concerns with the Elon Musk Twitter takeover, there are many valid reasons to take a step back and reassess where you want to position your brand online.  For those still struggling to decide on the best steps moving forward for their small pet business, we're here to help.
Benefits of Using Alternative Social Media Platforms for Your Small Business
There are many reasons you may consider branching out and including a lesser-known or underrated social media app in your marketing plan. Here are a few benefits these platforms may provide your small pet business:  
More Focused Audience:

Often, smaller social media platforms focus their growth on a smaller, niche audience. If you find a platform that appeals to your ideal customer, you are more likely to find other potential customers in that space. This increases the chance of your business being seen by the "right" people.

Follow Your Community:

If you have recently noticed a sharp drop in engagement on one of the larger social platforms, there is a chance your community has moved on. For example, if your ideal customer isn't comfortable with Twitter's current direction, they may be moving to a Twitter alternative. Recognizing this will allow you to focus your efforts where your community spends most of their time.

 

Lower Competition:

Not only does a smaller platform increase your chances of finding a more relevant audience, but they also offer a less competitive environment. Large businesses often dominate popular platforms, making it difficult for small business owners to be heard. These smaller platforms still operate with a much smaller user base, including the number of businesses leveraging them.

Cost-Effective Marketing:

This builds upon the last point. If you are facing lower competition, the cost to stand out will be lower. Small business owners trying to stick to a smaller marketing budget may see a greater return on investment.

Unique Features and Functionalities:

These emerging social media platforms are growing because they meet a need in the online space or do something new and different. If you feel that your current social media marketing is missing "something," this may be an opportunity to find that missing piece.
Top 6 Lesser-Known Social Media Platforms for Small Businesses in the Pet Industry
Tumblr
This microblogging website isn't new. Tumblr was founded in 2007, allowing users to share short-form blogging posts (or microblogging), images, and other content. In recent years, many users have returned to the platform as a solution to sharing still photos in the face of Instagram's video push. This makes it a popular choice for photographers. It also offers a paywall option, allowing you to create content only visible to those with an active subscription. This provides content creators with another monetization opportunity. 
Mastodon
Launched in 2017, Mastodon offers users access to an open-source Twitter alternative. Traditional social media platforms are owned and controlled by a single company. On the other hand, Mastodon is decentralized, meaning anyone can host their own servers within the platform and manage their own data. The platform operates very similarly to Twitter, with shorter messages (up to 500 characters) displayed chronologically. No ads are on the platform, and no data is collected or tracked. 
BeReal
Another social media platform that gained popularity as a photography-focused Instagram alternative, BeReal was launched at the end of 2019 but saw significant growth in the US market in 2022. The primary focus of this platform is to share real, authentic, and unfiltered insight into your life. Users will receive a prompt each day encouraging them to share a photo of their day during a randomly-selected two-minute window. If they log in to post, the app will take two pictures from both the front and back cameras simultaneously, sharing what they see and look like at that moment. For businesses, this can help to build trust through authenticity.
MeWe
Created as a Facebook alternative, MeWe was a response to the Facebook privacy scandals. To do this, they heavily focused on building privacy factors into their platform, including a published "Privacy Bill of Rights."  The appearance and function of the platform are very similar to Facebook, with one significant difference – no ads.
Supernova
For those looking for an "ethical alternative" to traditional social media, Supernova markets itself as "the social network that gives back." The platform looks very similar to Instagram, allowing users to share photos and videos. Whenever a post is liked, a portion of the "Supernova Action Fund" will be donated to a charity of their choice. With this focus in mind, they have pledged to donate 60% of their advertising revenue to charity. This platform is an excellent option for small business owners looking to better align their business values with their online activity. 
Discord
Often associated with the gaming community, Discord is now being adopted by a larger spectrum of industries. Unlike most social media platforms, users must be invited to join your brand's discord server. Once in, users will be presented with a forum-like experience with different channels to chat and communicate with your community and private messaging. Within your service, you can create chats based on topics or events. This is a great option for building a connected and engaged community.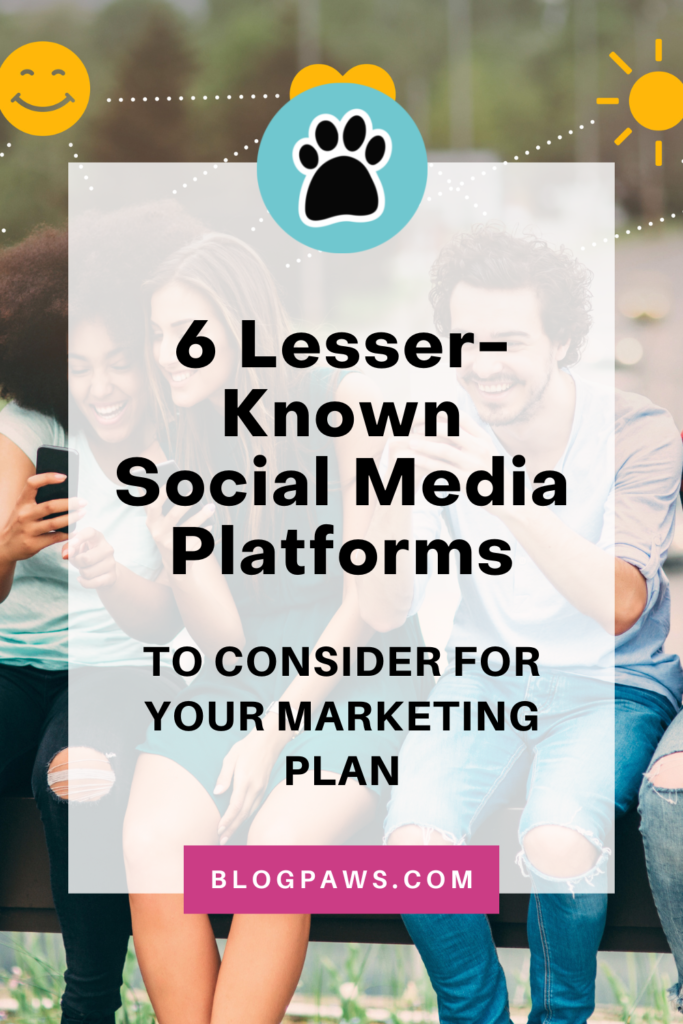 How to Effectively Use These Social Media Alternatives
If you are currently seeing success on a popular social media platform like Facebook, we aren't suggesting that you have to give it up. In fact, we would argue that you should set up an account on each of the biggest platforms so that people can find your business, even if you aren't active on the account. A single post with your basic business information and where they can find you will help to direct people to your website or the social platforms where you ARE active. I personally don't use Instagram for my freelance writing business, but I have set my Instagram account up with a grid of posts to function as a landing page. 
Consider these social media alternatives as an added tool in your marketing tool belt.
Take the time to assess where your community is active. This will help you identify which platforms are worth your time and effort. You can create the best possible content, but it will not propel your business forward if the right people never see it. The goal of your social media marketing plan should be to create content that builds a connection between your business and your potential customers. Anything else is just busy work.
Do you use any of these lesser-known social media platforms in your small business marketing? If so, we'd love to hear about your experiences in the comments!
About the Author: Britt Kascjak is a freelance writer and content creator with a background in digital and social media marketing. In addition to being the BlogPaws Director of Content & SEO, she also runs her own personal blogs Shed Happens, The Kas Pack, and Lucifer the Rescue Pup. When she's not working, she can be found volunteering in the rescue space, camping, hiking, canoeing, or spending time with her 3 dogs and 2 cats.