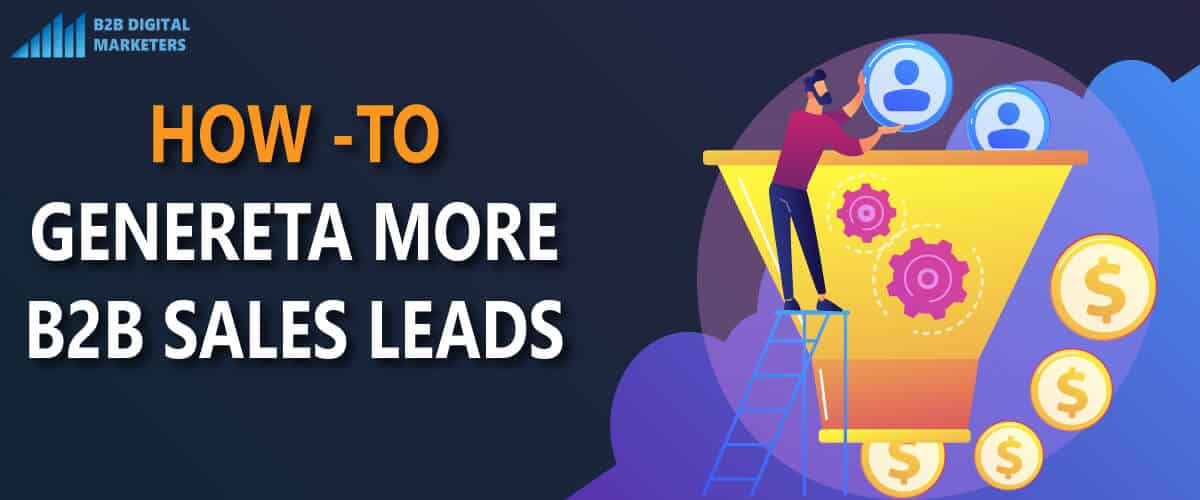 In this article, I am going to share with you how you can generate more B2B sales leads for your business in an easy-to-follow step-by-step process.
Getting consistently leads from your B2B Marketing is getting harder every single day and marketers need to be more resourceful to generate leads day after day. Without leads, the company cannot survive and if you are one of the companies that struggle with lead generation then keep reading!
Certainly, there are many reasons why it is getting harder to generate leads for your businesses, however, what you need to know is what Brent Adamson from Gartner said.


Shifting your marketing mindset from figuring out the best marketing strategies to sell to the best marketing strategies to help your buyers buy, will ultimately help you drive more B2B sales leads every single day.
So, let's have a look at how you can do that.
1. Create Your High-Converting Marketing Funnel
The first step to effectively generate more B2B sales leads for your business is to create your own high-converting marketing funnel to visualize how you will generate more leads for your business.
What is Marketing Funnel?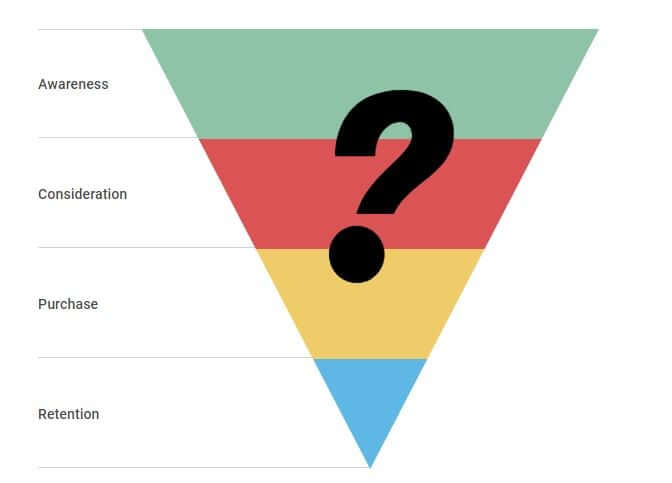 (Source)
Marketing Funnel is a graphic visualization of marketing strategies that represent different stages that illustrate the theoretical customer journey toward the purchase of a good or service.
Or simply said, you need to have an idea of what marketing strategies you should include within your marketing mix to attract B2B sales leads at every stage of the buyer journey.
As you can see, there are typically three stages of the marketing funnel which are:
TOFU: Top of the funnel (Awareness Stage)
MOFU: Middle of the funnel (Consideration Stage)
BOFU: Bottom of the funnel (Purchase Stage)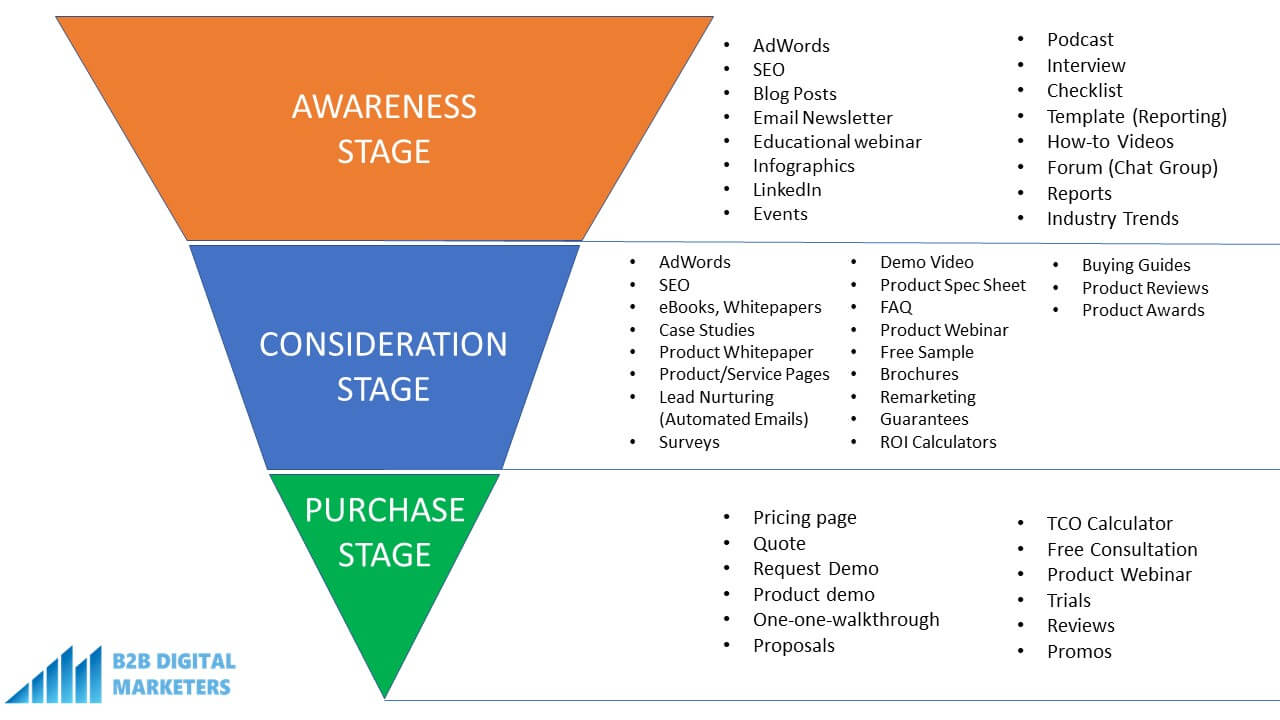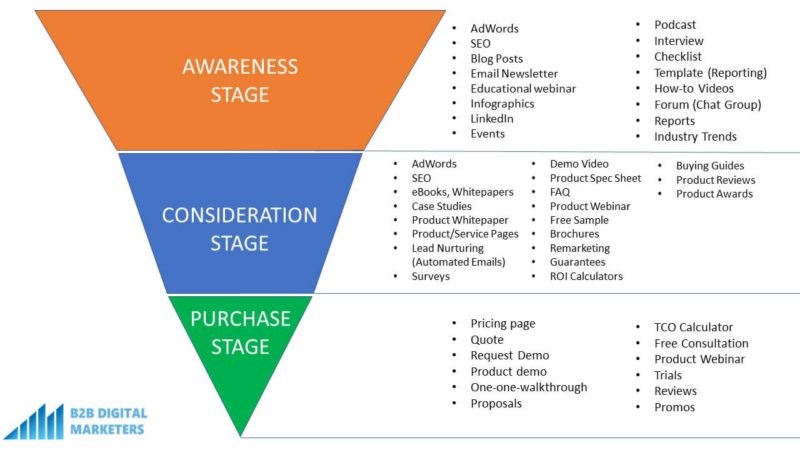 In this example, you can see different marketing and sales strategies that can be used to generate more B2B sales leads for your organizations.
And every stage has different goals and set of metrics you should track to better understand how your marketing is performing and what you should focus on when you are implementing the strategy:
Awareness Stage: Here you are focusing on creating awareness and therefore your metrics should be around that. For example, your blog posts should be focused on generating relevant organic traffic that later can convert.
Consideration Stage: At this stage, you are focusing on generating leads, which are not ready to be MQL (marketing qualify leads) or SQL (sales qualified leads) yet. Often your goal is mini conversions which mean to get a piece of information like email addresses from your users and send them to lead nurturing sequence.
Purchase Stage: Lastly is the purchase stage when the prospect is ready to make a purchase and wants to get the best deal. This is often a crucial time, and the strategies are often handled by sales such as demo, quote, trials, etc. But that depends on your business.
So, creating a marketing funnel is crucial for you to effectively generate B2B sales leads because you need to have a roadmap that helps you to better visualize how you will drive demand for your products or services.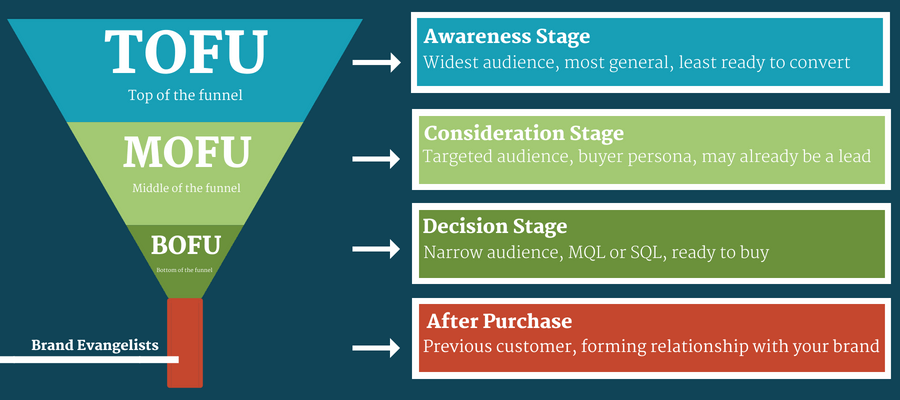 However, you must remember, that the B2B buyer journey is complicated and B2B buyers can move from one stage to another stage, therefore you should always think about how you can connect your strategies together to maximize your marketing results.
2. Plan Your Marketing Strategies You Want to use
The second step is to actually plan your marketing strategies to generate more B2B sales leads once you understand the marketing funnel and what are the goals of each stage.
Planning your marketing strategies really depends on your marketing resources and your budget. However, it is important to have at least a few strategies from each stage to effectively generate demand for your products or services from each stage.
So, let's have a look at every stage of the marketing funnel and discuss the most common strategies used by B2B organizations to get more B2B sales leads. Of course, remember these are just examples and ultimately it will depend on your marketing budget and resources like I said.
Marketing Strategies for Awareness Stage (TOFU)
At this stage, your main goal is to create awareness for your products and services and there are plenty of marketing strategies you can use to generate awareness.
The most common and effective marketing strategies for the awareness stage are:
Blogging
Social Media
Display and Video Advertising
Webinars
Reports

At this stage, you want to attract buyers that are researching how to solve their pains and needs.
That's when content marketing plays a vital role in your marketing as by creating content around your solutions and the problems you solve you will be able to attract potential prospects that are searching for solutions for their needs.
According to B2B marketers, content marketing is best for creating brand awareness, educate audiences and build credibility and trust with your users.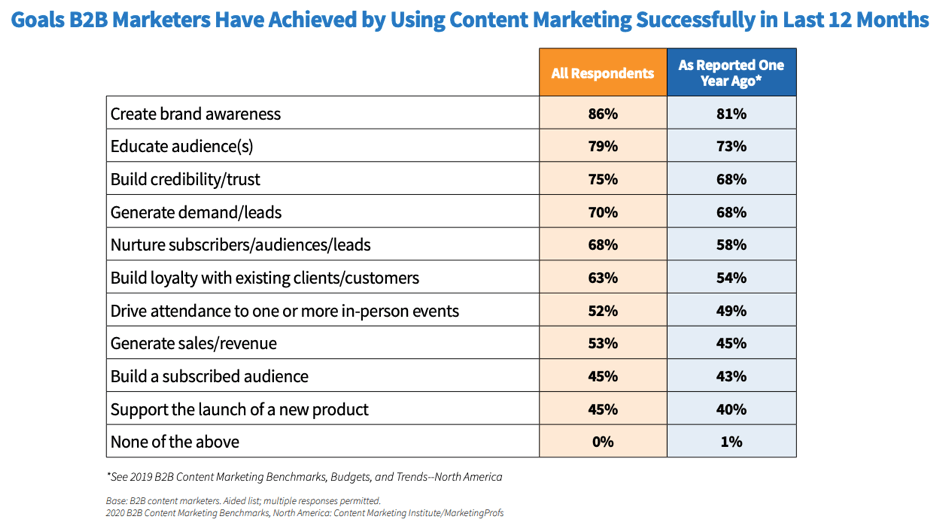 (Source)
Also later I will explain why is content is important for them and how you can use this to your advantage.
Marketing Strategies for Consideration Stage
The consideration stage or middle of the funnel  (MOFU) is rather focused on getting your users to take the desired action and learn more about your solutions.
Typically, at this stage, your prospects already understand their problems and what solutions are there. They want to learn more about the solutions themselves, such as features and capabilities.
Here you want to separate those people who are in the awareness stage or are not in the market from those who are considering solutions like yours to solve their problems. This is when you already want to generate leads and collect email addresses, names, and company names.
Therefore, the typical marketing strategies at the consideration stage are:
Ebooks
Whitepapers
SEO
Case Studies
Email Nurturing
Webinars
Content Upgrades


Collecting pieces of personal information from your users like email addresses and names is vital in this stage as you can further build trust and credibility by sending nurturing and relevant emails to satisfy their educational needs.
This is when your users trust you enough to share with you some of their information in exchange to get more in-depth information and are willing to learn more about your solutions and your company.
Marketing Strategies for Purchase Stage
At the purchase stage, your prospects shortlisted your solutions among the top selected and will want to see a more personalized approach from you.
At this stage, the leads you have collected and qualify from the previous stage are usually handed over to your sales department when further qualification is carried on such as their budget, timeline, decision-maker, etc.
Although at this stage most of the hard work is done by sales, there are some marketing strategies that you must have in place. The most common marketing strategies for the purchase stage used by organizations are:
Landing pages
Demo request
Pricing or Quote request
Proposal request
ROI Calculator
Product webinars
Free trials


Typically, any lead that you generate at this point is directed to the sales right away as they showed their interest in the purchase of your solution.
Although some might be just curious and request a demo even though they don't want to actually buy your solution.
Marketing Funnel Conversion Rates
The last thing I want to mention about marketing funnels is the conversion rate.
While the conversion rates can vary across industries here we're talking about the B2B industry where the average conversion rate for the B2B industry is 2.23%.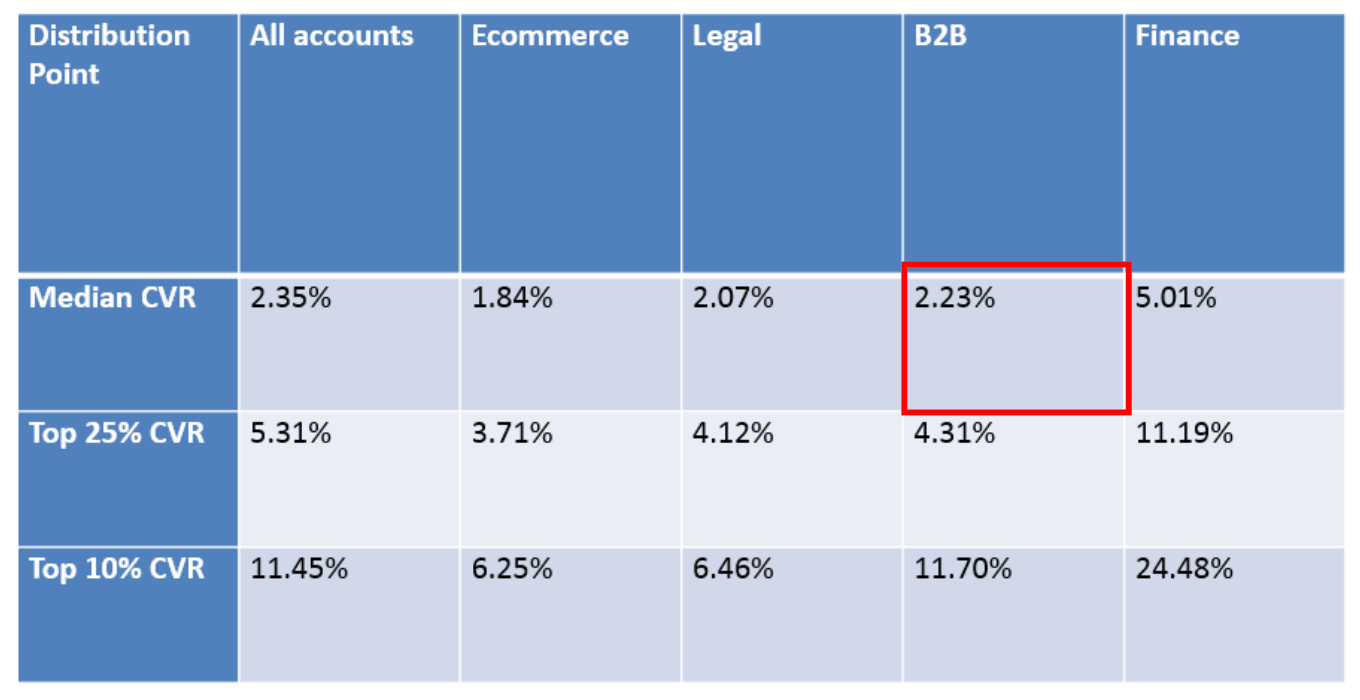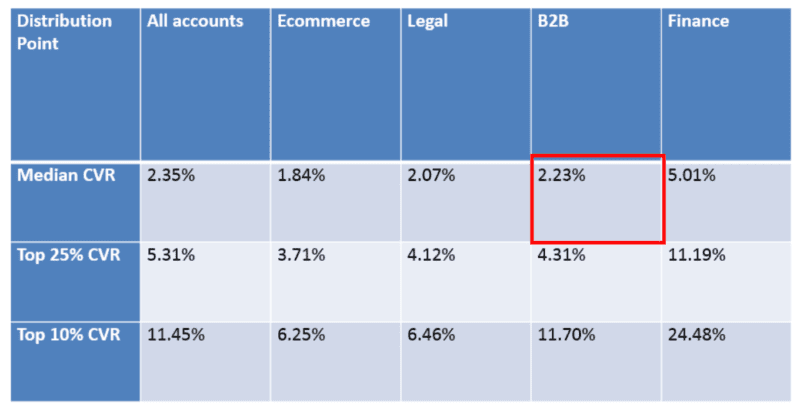 Like I said, each stage of the marketing funnel has a different purpose, and to maximize your marketing results and generate the best leads you must help your website visitors to advance in the marketing funnel.
Of course, at every stage, you will generate b2b leads for your organizations. However, each stage of the marketing funnel brings a different lead quality.
As you can see here on the graph, from the total website visitors that land on your website only around 2% of them are ready to buy and will convert on your website. The rest of your website visitors are not ready at this moment.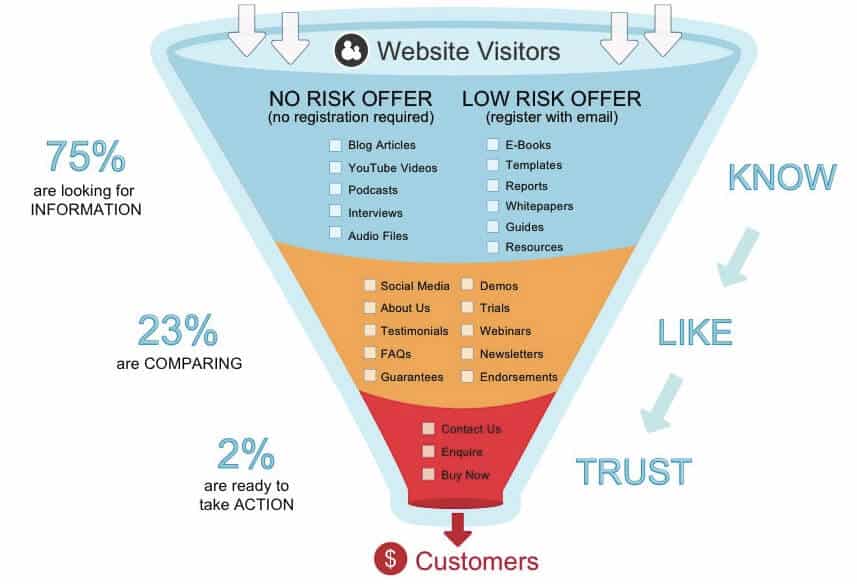 But that's why is so important to get the email addresses from the rest of 98% of website visitors because you can stay in touch with them and satisfy their information needs to help them take the action. Like this you can speed up their research, thus, they will be more willing to come back to you for your solution.
3. Start Working on Your Strategies
The third step is to start working on the marketing strategies that you have selected to fill up your marketing funnel with potential buyers of your solutions.
So, after you have decided on the marketing strategies for each stage of the marketing funnel, then you must execute them.
I recommend you start with marketing strategies from the bottom of the funnel as you can start generating B2B sales leads as soon as possible.
Because if you start with the top-of-the-funnel marketing strategies, then you will be driving relevant organic traffic to your website, but you have no way to convert it.
And by starting with the purchase stage and consideration stage, you will build the website foundation that you need to generate more leads for your business through your website.
Therefore, I recommend you start building the most important pages on your website such as:
Homepage
Product and Service Pages
Solution Pages
About Us Page
Contact Page
Pricing Page
And relevant landing pages for your product, service, and solution pages
This is very important because these pages are the money pages that will help you to convert your organic or paid traffic into leads. Without these, hardly anybody can become your lead.
So to not waste your effort, make sure your foundation is strong and your web pages optimize with SEO and conversion rate strategies to maximize your results.
Want to learn how to optimize your landing pages with conversion rate strategies? Then watch my video here.
4. Optimize Your Funnels Around Buyer Journey
The fourth step is to optimize your funnel around your buyer journey so that people will use it.
One of the biggest challenges of today's marketing is to form a customer journey that will improve the overall user experience (UX) and generates more B2B sales leads for your business.
The typical buying group for a complex B2B solution involves six to 10 decision-makers, each armed with four or five pieces of information they've gathered independently during their research. This makes the customer's buying journey very hard and 77% of B2B buyers state that their latest purchase was very complex or difficult.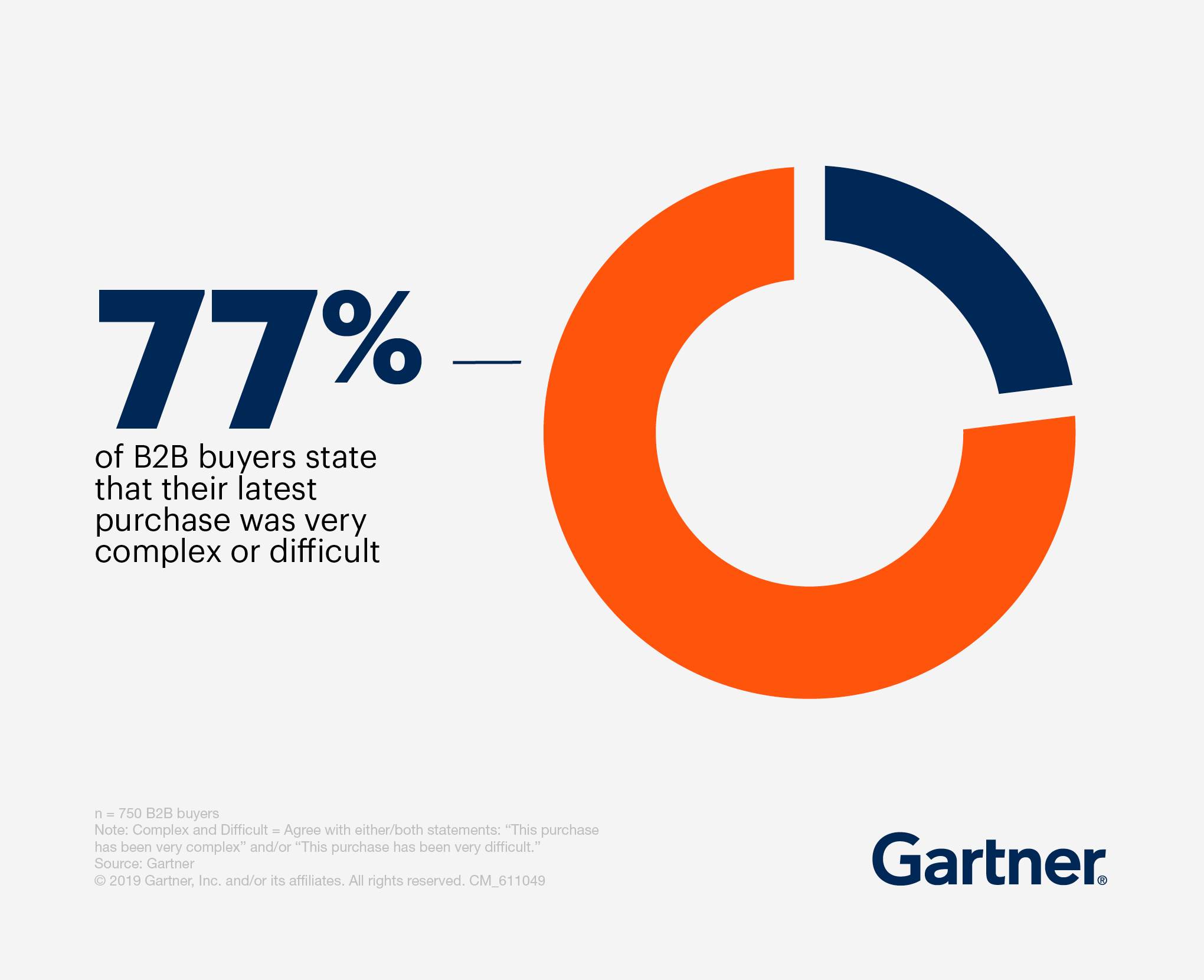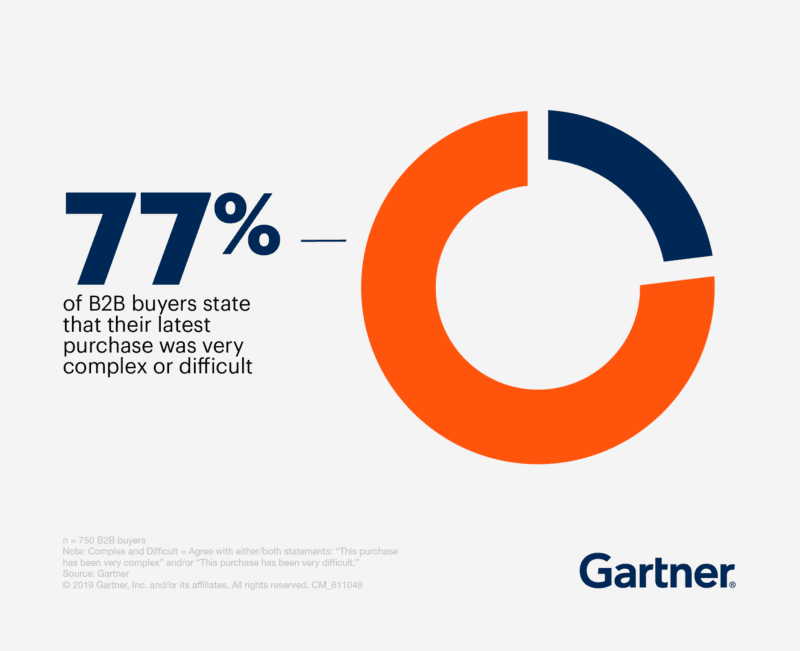 Therefore, it is essential to align your marketing funnel with the actual buying process of your customers to ease B2B buyer jobs. The companies that help buyers to advance in their jobs are driving purchase ease and high-quality sales.
B2B Buyers Jobs
So, to optimize your marketing funnel around the buyer journey, first, we need to understand B2B buyer's jobs that they need to complete to make a purchase. This will help you understand how your customers are moving through the complex purchasing process.
According to Gartner, there are six B2B buying "jobs" that customers must complete to their satisfaction in order to successfully finalize a purchase:
Problem identification: That's when a company realizes there something not working very well and needs to fix.
Solution exploration: Company is searching for potential solutions that can help them to solve their problems.
Requirements building: That's when the company specifies what they need from the solution to do to fix their problems and improve their business results.
Supplier selection: At this stage, the company is searching for potential vendors or suppliers, that can fit their requirements.
Validation: Prospects understand what they need,and they are checking to make sure they are right.
Consensus creation: Prospects are making a final decision, where everyone agrees with the selected solution.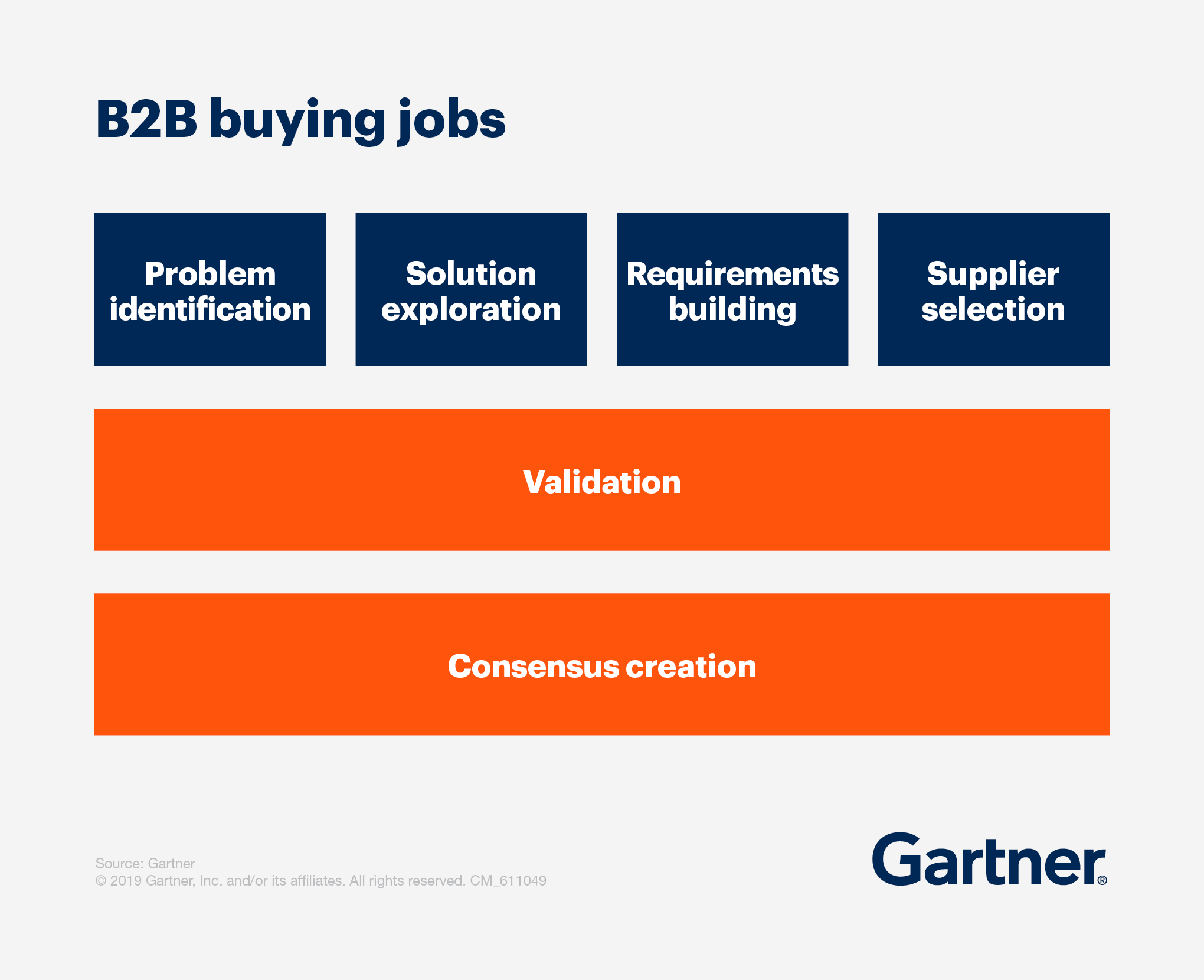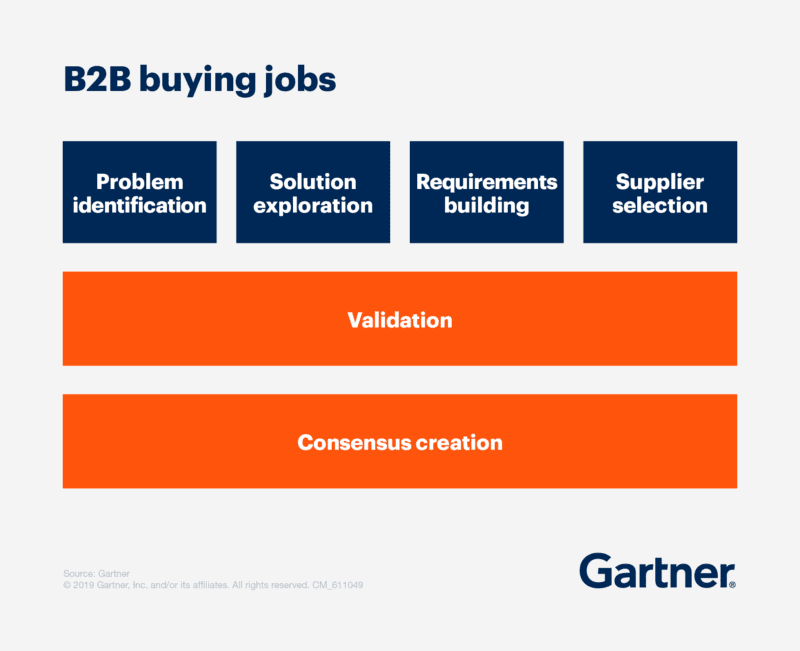 Understanding B2B buying jobs is very important as you need to create content to ease their jobs because this will generate more B2B sales leads for your business.
Create Content to Ease B2B Buyers Jobs
The B2B buyer journey is becoming very complex and difficult and as you could see from the buyer's jobs, they require a lot of information to advance to the next stage.
Therefore, for companies to effectively generate more B2B sales leads, they must enable buyers to complete their buying jobs.
This means to win more deals for your organizations and drive purchase ease, you must create specific information that is designed to help B2B buyers to complete their buying jobs. "
Gartner calls this "buyer enablement" — the provisioning of information to customers in a way that enables them to complete critical buying jobs.
Therefore, your content creation plays a vital role in aligning your buyer journey across the three different stages in the marketing funnel to allow your prospects to advance in the buyer journey.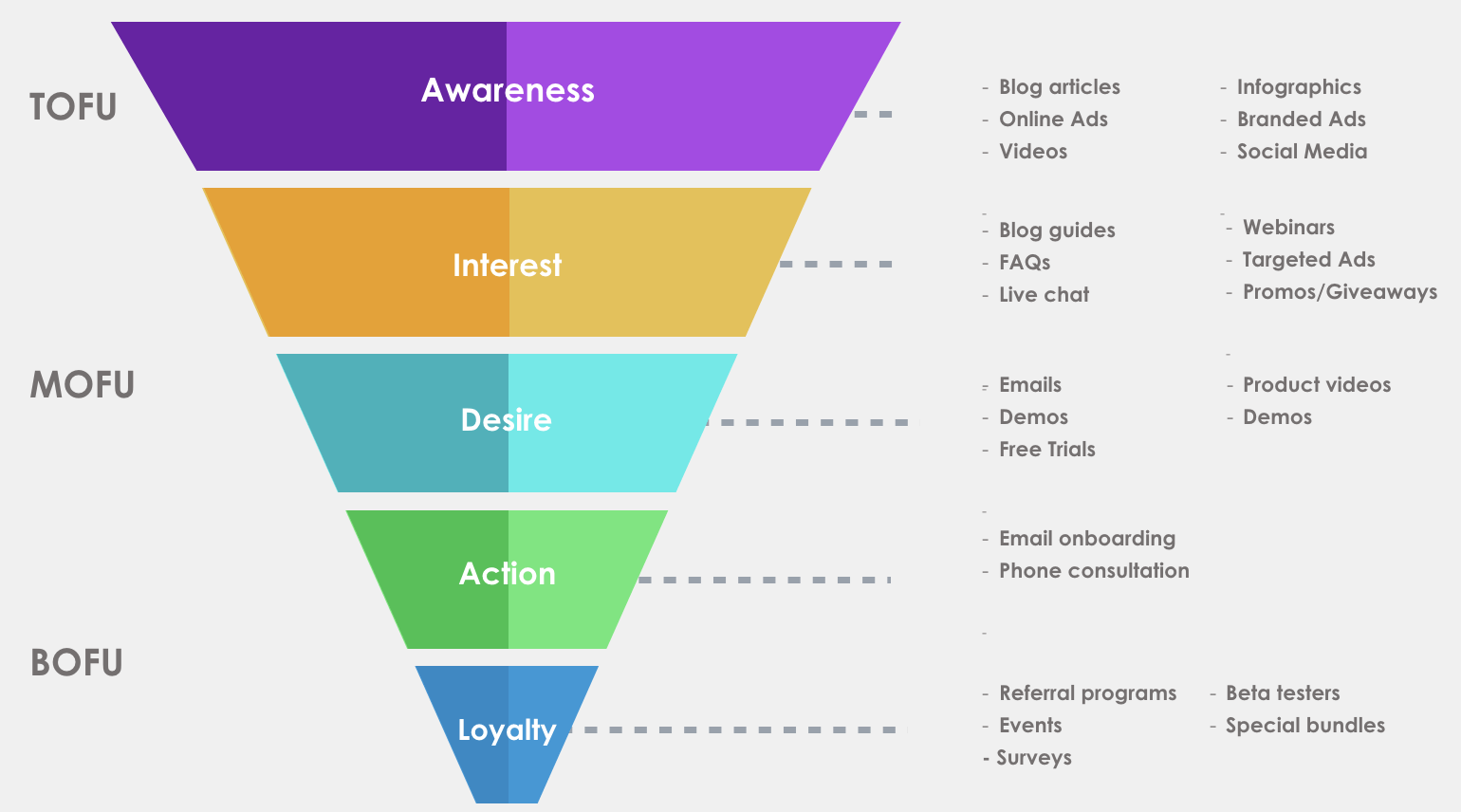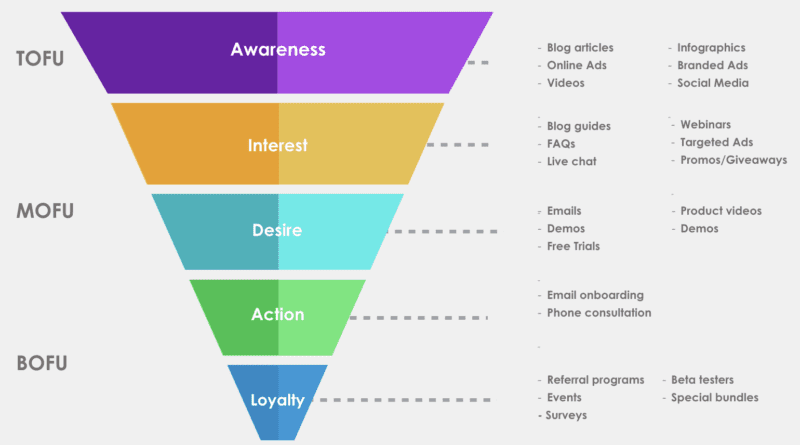 (Source)
So, look at the marketing funnel and the buyer jobs and create strategies and content that works together. This will help you form a roadmap that will help you generate more high-quality sales leads for your business.
5. Refine Your Marketing Strategies
The fifth and last step is to refine your marketing strategies to generate more B2B sales leads once you have researched how to help with your buyer's information needs so they can advance in the journey.
Of course, you cannot exactly know what your prospects will search for and what exact information they need to advance to the next job. You can only create theories based on past customer interactions and your own experiences.
However, that is good enough to start as you can always refine your marketing strategies. When you take the information and data you have gathered after implementing your strategies and content you have created, you can take the next step to improve your buyer journey and marketing strategies.
For example:
You have created blog posts on a few topics around the problem identification that your customers typically faced and one of the topics is doing extremely well as it drives a lot of organic traffic and most importantly, many users downloaded a content upgrade (ebook, guide, etc.) that you have promoted on that blog posts.
And along the way, those users are advancing in the buyer journey and some even already asked for a demo or pricing.
This shows that content around this topic has a high potential to drive you more B2B sales leads for your business, thus, you should update your marketing strategies, especially your content marketing around the high performers.
This is just an example, but you should always make sure, that you track all conversions, and customer touchpoints. This information will guide your marketing effort to generate more leads for your business.
At least once a month spend some time analyzing your top and low-performing strategies and why it is like that. Remember that your users and customers should lead the way of your marketing as they know better what's working for and on them.
Summary
To summarize, if you want to drive a lot of high-quality sales leads for your organizations you need to have a clear vision of what strategies work the best at each stage.
This will help you to focus on the right strategies from the beginning as you can quickly form a marketing plan that helps you drive leads at every stage of the marketing funnel.
The reason why each marketing strategy works typically best at different stages of the marketing funnel is because of the B2B buyers' jobs.
Each job requires different types of information that are collected in different ways. To gather needed information for the solution exploration job you can easily find it online via blog posts, videos, and social media. Unlike gathering information for the validation job, prospects need to request proposals, quotes, or visit the pricing page.
That is why content marketing for B2B is an irreplicable and vital marketing strategy to generate B2B sales leads and close those leads. Every single department, especially sales, marketing, and customer service should start creating content regularly as this will help your company provide a better customer experience and drive more revenue.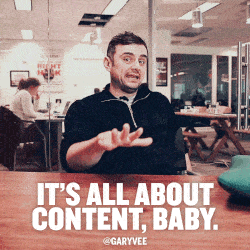 And I could not say it better than Gary Vee, content creation is the way how you can generate more B2B sales leads day after day.
Related Articles:
Also, check out our Lead Generation hub page to learn more.
Disclaimer
This article was created by Eduard Dziak and may contain affiliate links. The following were used to optimize the article for the best user and search engine experience include:
SE Ranking for keyword research and on-page SEO optimization
Surfer SEO for SEO-friendly content creation for users and search engines.
Jasper AI for grammar correction and information enhancement.
The article is based on the author's own experience and knowledge, drawn from both their own work and that of their clients, to provide the latest, proven methods.