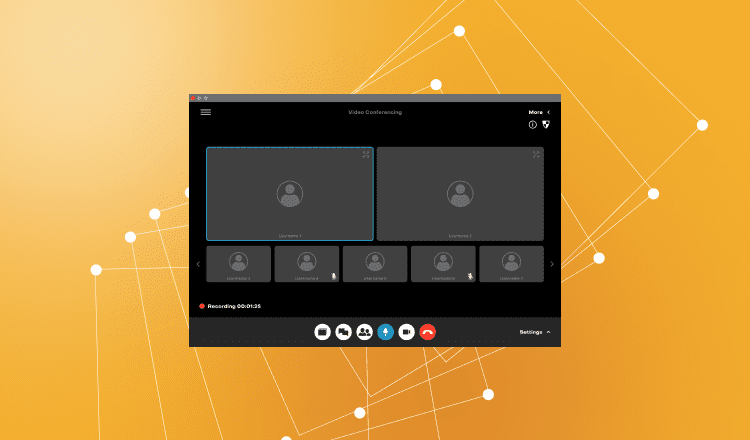 The Best Webinar Types for Building B2B Customer Relationships
If you opt for webinar software (which we recommend), you will most likely be faced with a number of webinar types to choose from. Your topics will often semi-dictate which variation will be relevant to your needs. Below are the best options for building customer relationships.
Onboarding webinars
If you offer a product or service that is somewhat complicated, an onboarding webinar can be of great interest to those who want to ensure they are using it effectively.
When people fail to understand a product or service properly, they can become frustrated with it or decide it is not worth the price tag attached; this frustration can be purely due to a misunderstanding as things are not being used to their full capacity. This misunderstanding can lead to a loss of clients, so avoid this situation with an onboarding webinar. 
The goal of this session is to help the audience learn more about your products and services, and in the process, you'll be able to establish a healthy relationship with your clients or consumers. By showcasing the key features of the products or services you offer, you can teach the audience to get the most value while working to create new fans of your brand.
Training webinars
After the introductory focus of an onboarding webinar, training webinars can become more niche, or tackle increasingly complicated topics, focusing on specific productstasks or their features, depending on what is most relevant for your subject matter. Training webinars should have a direct focus on any issues your customers have. Once you solve these, people will be more satisfied and dive deeper into your products and services.
Q&A webinars
We've mentioned how important it is to have a Q&A section as part of your webinar, but you can also dedicate a session entirely to answering customer questions. While these sessions can be a little harder to plan, they can be a great way to open up the floor to people so they can ask questions and receive responses.
Make no mistake about it, your presenters will need to know their stuff to help establish trust — if they don't, it could have a drastically negative effect. If your presenters are well-prepared, however, participants will be satisfied, and your company will benefit. This process can also be an informative exercise for you, as you will be able to speak directly to your consumers, design new product features based on their needs, and generally learn more about how customers perceive your brand.
If you do opt for this format, have some discussion points and questions to kick things off, as people can sometimes be shy to ask questions early in the session.
Product and service announcements or updates
You can set up regular webinars for existing customers to keep them updated with your products and services or company happenings as a whole. This approach is a great way to build hype for new features or secure a range of potential pre-orders for new releases. This type of session can be considered a VIP event that offers a sneak peek of a new product or service update, helping your loyal audience to feel more special.
Facilitating great relationships is made easier when you continually communicate and share new information with your customers. This engagement shows you have their interests at heart.
Online workshops and networking events
Online workshops or networking events are a great way to take your customer relationships up a notch by offering advanced training or sessions with external industry leaders. You can discuss learnings or trends and share entrepreneurial and inspirational stories to entertain your audience. The access to quality training and interesting speakers you provide for your customers will help drive customer retention and advocacy.