Recognizing the marketing power of Instagram, many online businesses are exploring ways to use Instagram to promote their products or services. One struggle that many small pet business owners share with us is the challenge of trying to come up with Instagram posts for business. How do you fill your content calendar?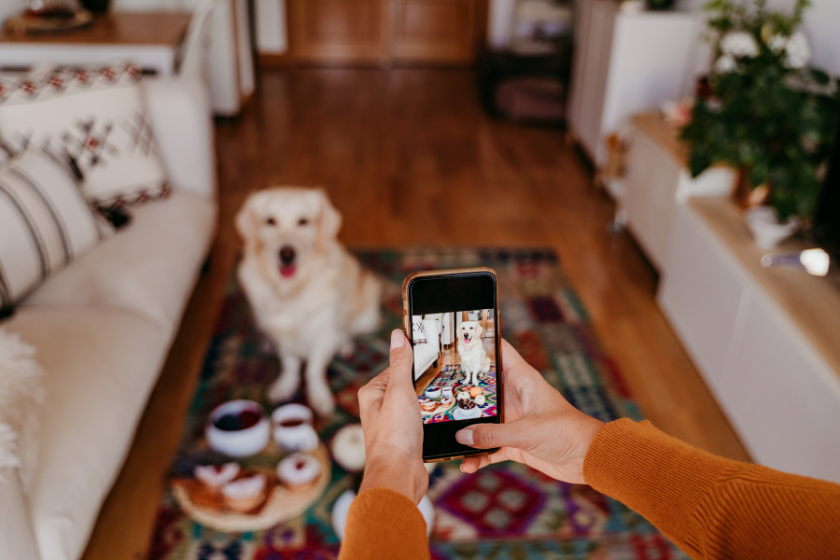 Why Promote Your Business on Instagram?
Surveys show that approximately 50% of users are discovering new businesses on the platform. This makes it a powerful option for reaching new potential customers, building your brand recognition, and sharing what you have to offer the pet-loving community.
Instagram also allows you to really connect with your community through comments, messages, and sharing user-generated content (UGC).
Unless your Instagram account is 100% UGC, content creation will be an important part of your Instagram strategy for business growth. This content can come in several different forms including traditional image posts, carousel posts, or short form video with Instagram reels. A well-rounded Instagram marketing plan will include a variety of different content types.
Whether you're new to using Instagram for business or a long-time user struggling to come up with ideas, it can be difficult at times to come up with what to post. Especially if you are trying to stay consistent with your posting schedule (which is recommended). But don't worry – we've got you covered! We have put together a list of content ideas to help you decide what to post on Instagram for your business.
Check Out These 8 Different Instagram Posts for Business:
#1 – Share Your Products or Services
This is one of the most obvious ways to use Instagram, but it still deserves to be mentioned. If you're looking for a content idea for your Instagram account, why not start by sharing pictures of your products and services?
If someone is browsing your company's social media pages, they are interested in learning more about your business. Take some high-quality photos and videos that showcase what your brand has to offer. Don't forget to share how your product or service can benefit them.
Get creative with your product (or service) photos. Try changing up the location, adding different props, experimenting with action shots, or including models (human and/or pet). While you can hire a commercial photographer to take your photos, you can also stick to a budget by taking photos yourself. With the impressive quality of smartphone cameras today, you can even take your pictures right from your phone without compromising on quality.
#2 – Invite Customers to Submit Their Photos and Videos
This is a great option for anyone that is feeling overwhelmed with content creation. Rather than trying to create all of the content that you need yourself, you can take the opportunity to share photos and videos made by your customers showcasing their love of your business.
To collect this content, make it known that you are looking for submissions. You can do this by creating a post asking for submissions or adding a line to your bio welcoming customers to share their pictures and videos for the chance to be featured. Many brands will create a specific hashtag just for this purpose, making it even easier for people to reach out to you.
User generated content will work for you in two important ways.
First, you are collecting content to share without having to invest your valuable time and money in its creation. This is a great way to leverage the creativity, talent, and loyalty of your previous customers. Second, this will help you spread the word about your business. People love to see their content featured and will often share posts where a brand is giving them a shout out. This will help your content reach their family, friends, and beyond.
#3 – Run a Contest or Giveaway
Everyone loves a good contest or giveaway, so why not leverage that excitement to boost your online presence? This is a great way to increase your follower count (as you can include the stipulation that they must follow you to be entered) as well as an effective tool to improve your engagement rate.
Consider asking people to answer a question specific to your company such as their favorite product. You can also ask them to tag a friend or family member as a way to reach even more people.
Before launching a contest or giveaway, take the time to consider the cost versus benefit. Remember, this is a marketing tool and should be evaluated for return on investment in the same way. Look at the cost to your business to run the giveaway (cost of the prize and shipping) and the potential for return in the form of new customers or sales. You want to make sure that it makes sense financially.
After you have run a giveaway, analyze the resulting traffic and the measurable profit that you gained. Some examples of stats you may wish to measure include sales numbers, the number of new followers, or traffic referred to your website. Did it meet your expectations? If not, you may want to reconsider running another giveaway in the future.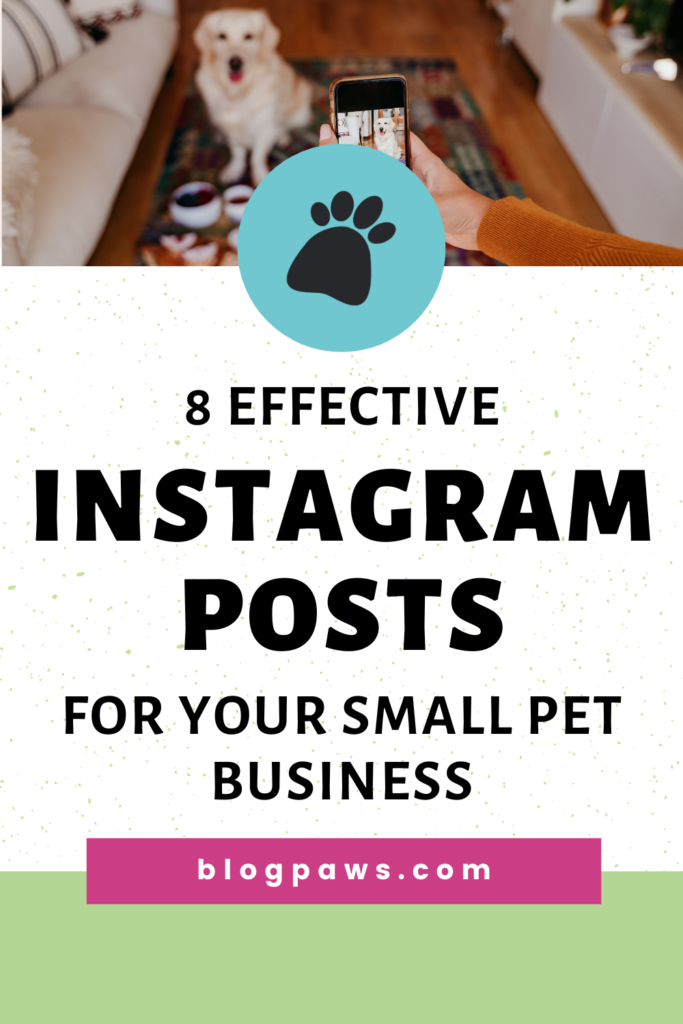 #4 – Behind the Scenes
Social media is designed to provide for a sense of connection. It's also a great opportunity to personalize your brand in the eyes of your community, allowing them to feel like they "know" you and your business better.
One great way to create this sense of connection is by providing your followers with a glimpse of what's happening behind the scenes at your business. Some ways that you can do this is by sharing employee spotlights (yes, your pets count), a tour of your office, or a look at the manufacturing process. If your company is taking part in a special event within your industry, share that too! For example, here at BlogPaws we shared some fun behind the scenes photos and videos while attending SuperZoo.
By connecting with your customers, you will allow them to develop an emotional connection to your business. This can then be nurtured to build trust and loyalty. Allow your personality to come through as well as the personalities of your employees and make sure to have fun with it!
#5 – Highlight Your Work in the Community
Another great way to use your instagram posts for business is to share the work that you are doing in the community. This helps to build on that emotional connection and reveal the "heart" behind your business.
Often businesses face a negative stigma, one that says they are focused solely on the bottom line without care for the people they are selling their products to (or their pets). However, if they see you making donations to local charitable organizations or getting involved in community events, your business becomes more personal.
Of course, in order to highlight your involvement, you must first get involved!
This is an important piece of the puzzle when it comes to your brand image, one that we find the pet industry understands better than most! Consider your brand's target audience and the causes that matter to them. For example, if you sell a product that is specifically designed for cats, you may want to focus your charitable efforts on charitable organizations that help cats.
#6 – Tutorial and Demonstrations
How-to-videos perform incredibly well on social media, so why not make some that highlight your products or services? This could be sharing information specific to your brand, answering 'how-to' style questions from your followers, or walking through a DIY step-by-step.
For example, if you are a dog toy company that sells interactive dog toys and food puzzles, you could share a recipe that would work to put into your toys for pups everywhere. Two pet companies that have really mastered this concept are KONG and WestPaw.
Consider your ideal customer and the opportunities that you have to bring value to their lives. This type of content often takes a little longer to make, however it is more likely to be shared with friends and family if it is well-executed.
#7 – Highlight Holidays and Festivities
Have you ever noticed how excited people get on social media when a holiday is on the horizon? You can harness this excitement to help boost your online presence by including seasonal posts.
Whether you are sharing pictures of your products as gifts under the Christmas tree or highlighting passion and commitment before Valentine's Day, you can have a lot of fun with your holiday posting. Don't forget that most holidays offer specific hashtags to help your content reach a wider audience. These range from the highly generic #merrychristmas to the more specific #thanksgiving2022 or the creative #spookyseason.
Major holidays aren't the only special days worth mentioning. There are countless 'national holidays' for every topic, industry, and passion. Check out the National Day Calendar, an online resource dedicated to sharing the many National Days, Weeks, and Months that exist. Search out days that fit into your specific industry and leverage them for posting inspiration. For example, National Rescue Dog Day on May 20th could be a great source of traffic to help you reach the rescue dog owners in your area, if that's your ideal audience.
#8 – Announce a Sale or Upcoming Event
Do you have a big sale or event coming up that you would like to advertise? Don't forget to leverage your social media accounts to get the announcement out. Posting leading up to a sale or event is a great way to build excitement as you 'count down to the big day' with your followers.
For sales, offer a sneak peek of what your customers can expect. Not only will this draw people to your social media as they eagerly await more information, but it will also build anticipation for the sale itself. This means that it will likely drive more traffic to the sale when that time does come. Ultimately, more traffic means more opportunity to convert your followers to paying customers!
 
Remember, at the end of the day no two small pet businesses are the same. You want your social media accounts to reflect your brand image and personality, so get creative.
Whatever you decide to try, make sure that you are tracking your results so that you can analyze what is or isn't working with your audience. Social media marketing is more than just deciding on and creating the best instagram posts for business. You should also take time to analyze your results to find out what's working with your audience, what's not, and what changes can be made to improve your effort moving forward.
Do you currently use Instagram for your business? If so, what posts do you find perform really well for you? Which post ideas are you excited to try? Let us know in the comments!
 
About the Author: Britt Kascjak is a freelance writer and content creator with a background in digital and social media marketing. In addition to being the BlogPaws Director of Content & SEO, she also runs her own personal blogs Shed Happens, The Kas Pack, and Lucifer the Rescue Pup. When she's not working, she can be found volunteering in the rescue space, camping, hiking, canoeing, or spending time with her 3 dogs and 2 cats.