Do you ever find yourself stressing over how often you should post on Facebook or what the right time to post may be? If so, you're not alone! Many small pet business owners are searching for the secret to Facebook success. While there is no magical key to instantly unlocking Facebook growth, there are ways that you can improve your Facebook organic reach.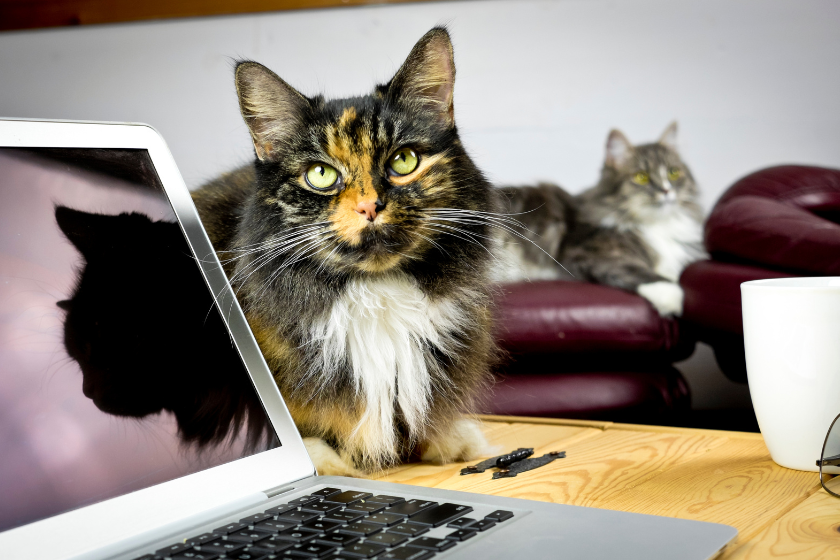 What is Post Reach on Facebook?
The phrase "reach" or "post reach" on Facebook refers to the number of people who see your content after it has been posted. This includes people who view a picture, read a text post, or watch a video. Your Facebook reach can come from people who see your posts by visiting your page directly or (more likely) because your content showed up in their newsfeed.
This doesn't mean they engaged with your content, clicked through to your website, or even liked your post. It simply means that they saw it.
"Organic reach" is the portion of that number that you have reached for free. This means that you didn't help your content reach new people through paid advertising. Instead, you leveraged the algorithm to help your content reach your target audience. Organic reach is harder to obtain; however, this is a great way to take advantage of free marketing opportunities.
To improve your organic reach, you need to show the algorithm that your content is valuable and should be shared with a larger number of people. To do this, you need to understand the different factors that the algorithm is checking for, including your rate of engagement as well as the quality and type of content you share.
Why is Organic Facebook Marketing Important?
Often when small pet business owners or entrepreneurs with no previous experience marketing on Facebook decide to create a Facebook page for their business, they make one fundamental mistake. They believe that all they have to do is post as often as possible, regardless of what it is. Unfortunately, all that will do is waste your valuable time and energy.
Have you ever heard the phrase "work smarter, not harder?" This is a perfect example of that concept at work!
By understanding how the Facebook algorithm prioritizes which posts will appear on our newsfeed, we can target our posts to perform better. The more often our posts show up on various newsfeeds, the greater our reach. The greater our reach, the higher the likelihood we will reach a potential customer. Plus, by leveraging organic Facebook page reach, you are reaching these potential customers without investing any money in advertising.
Facebook organic reach used to be easier to achieve before they announced a significant update in 2018. The goal was to prioritize personal moments, connections with friends and family, and meaningful interactions.
For small business owners (like yourself), it meant learning a new set of rules to grow a Facebook page organically. Here are a few ways to leverage the algorithm and boost your organic reach by being intentional with your published posts.
Improve Facebook Organic Reach for Your Small Pet Business with These 6 Tips
#1 – Understand Your Audience
The most important consideration when learning how to increase Facebook reach for your business page is first to understand who you want to reach with your posts. This means identifying your ideal customer or "buyer persona." If your audience is made up of cat and dog owners, publishing content that shares a product for small animals like rabbits and hamsters isn't going to be effective.
Before publishing a new post, take some time to consider whether or not your message speaks effectively to your audience. If it doesn't, or if you're unclear of what message it may be sharing, don't post just for the sake of posting. To improve your Facebook organic reach, you need to step back and rework your post with a focus on creating both value and interest for your ideal audience.
#2 – Share A Mix of Evergreen Content and the Latest Trends
The best social media marketing plans don't rely solely on evergreen content (content that is always relevant). They also won't focus 100% on current trends. Instead, they include a mixture of the two. This allows small pet business owners to leverage the 'buzz' surrounding trends for a quick boost while also including evergreen content that will continue to perform as you move forward.
Have you ever scrolled through your News Feed to find that a friend or family member is sharing a post initially published a year or two ago? This is more common than you may realize and a great way to reach new people long after publishing your content. High-performing evergreen content often circulates in waves. The initial success is seen when the post is first published, followed by a second (or third, fourth, etc.) wave after someone rediscovers and engages with your content at a later date. In this way, a single post could lead to new traffic years after it was originally published.
However, this isn't to say that there is no room in your marketing plan for the latest trends and "fads." Current trends are a great way to leverage the buzz currently drawn to a specific story, image, dance, celebrity gossip, or sound clip. These posts can draw in a large volume of traffic quickly, but they have a much shorter lifespan.
#3 – Share Sales, Coupons and Exclusive Offers
When your target audience views your content, whether it's on Facebook or another platform, they have one question in mind – What's in it for me? This may sound selfish, but the reality is that human beings are wired to consider, first, how something will benefit their own lives. It's wired into us as a basic survival technique, allowing you to focus first on the things that will help to keep you safe and healthy.
Understanding this will help you to create content that speaks to this thought process. With each post you publish, consider what value you are offering your audience. Are you clearly communicating that value?
One great way to offer value while encouraging sales of your product or service is to offer some form of savings. This could come in the form of a big sale, printable online coupons or exclusive offers available only to your Facebook community. If your current audience sees these offers as valuable, they are more likely to share them with friends and family.
Exclusive offers and limited-time products are a great way to create a sense of urgency. Not wanting to miss out, your customers may feel more inclined to make a purchase now rather than waiting. A great example of this at work is the marketing of West Paw's limited-edition Ruby Red Toppl just in time for the holidays.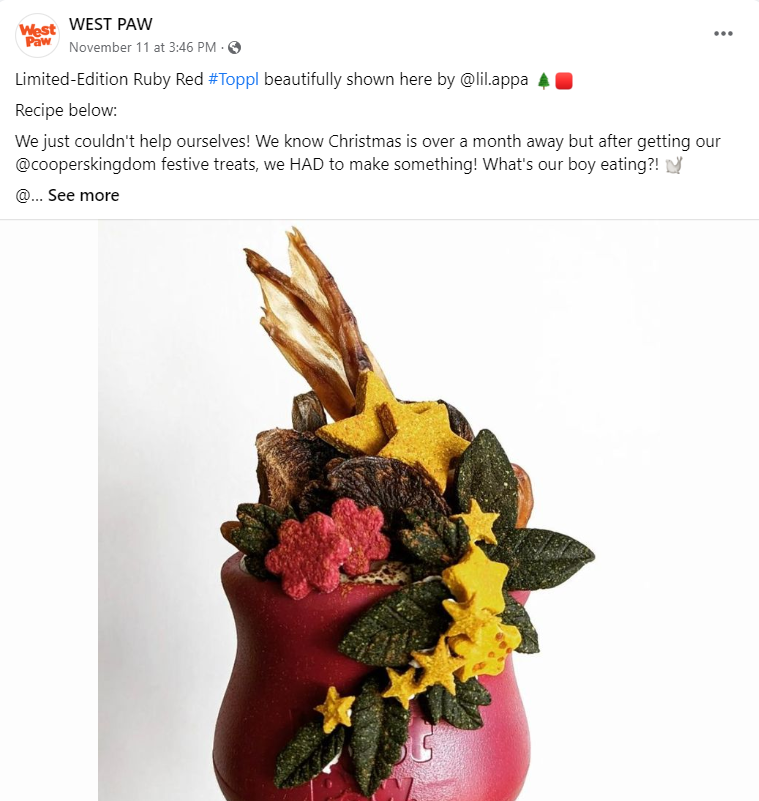 #4 – Encourage Discussion and Engagement
One of the prominent driving factors of the current Facebook algorithm is "meaningful interactions." This means that content that is engaged with will be prioritized over content that isn't. But it doesn't stop there – some forms of engagement are viewed as more important by the algorithm than others. To better understand this, Facebook engagement can be divided into "active interactions" and "passive interactions."
Active interactions are those that encourage conversation and meaningful connection on the platform. This includes:
Genuine comments
Genuine comment replies
Sharing to your personal Facebook feed
Sharing through Facebook messenger
Reactions such as "Love," "Haha," "Wow," "Sad," and "Angry."
Saving content
This does NOT include the 'Like' option. Each of these reactions requires a little more intention and time, showing that those engaging are genuinely interested in the content you are sharing.
Passive interactions are responses that can be done with little to no effort. For example, many people scroll through Facebook, clicking "like" on every post without even reading the photo caption or article. Comments that include a simple "nice" or just emojis are also seen as passive interactions.
When creating new content for your Facebook page, the goal is to create content that encourages active interactions. Try asking a question to spark a conversation, asking your audience to vote using the various reactions, or encouraging your audience to share your content with friends and family. Your call to action is crucial as it directs your audience on best interacting with your published content. So, don't be afraid to ask for the response that you would prefer.
#5 – Appeal to the Emotions of Your Audience
Human beings are emotional creatures. While we understand the concept of logic and common sense, nearly every decision we make will ultimately come down to an emotional reaction. This is especially true when it comes to discussing our pets!
One of the cardinal rules that marketers use when creating advertising campaigns is to appeal to the target audience's emotions to encourage sales. But to do this effectively, you don't want to wait for the final buying decision. Instead, it would be best if you made an effort to appeal to your target audience's emotions with every post you share. Doing so will encourage higher engagement levels, attract more followers, optimize your organic reach and improve your conversion rate.
Consider sharing content that connects with your audience in some way. This includes a broad spectrum of emotions such as humorous content to make them laugh, inspirational content that gives that 'warm fuzzy feeling' or deep, vulnerable content that may make your audience angry or sad while inspiring them to take action.
For example, in this recent post from Earth Animal, they included the idea of giving to a worthwhile charity in the buying decision. If a potential customer was on the fence, the emotions associated with giving back could help them decide to click "Buy."
#6 – Create and Share High-Quality Visual Content
While text content can still perform well on Facebook, visual content, including high-quality pictures and videos, has been found to be more effective in capturing your audience's attention. Remember, as we stated before, most people are exposed to your content while scrolling through their News Feed. Does your content capture their attention and draw them in? Does it stand out from all the other 'noise'? Get creative!
Once seen as a 'nice addition' to your marketing efforts, today, visual content is recognized as essential by those in the marketing industry. This includes photos (both original and stock photos), infographics and video content. Many great photo and video tools are available that can help you take your visual elements to the next level.
It's also important to note that most videos on Facebook are viewed initially with no volume due to the way that the app auto-plays videos when scrolling through the News Feed. For this reason, you want to create video content that will still catch your potential viewer's attention without the additional sound element. This can be done by creating videos where the sound is just a bonus (like background music) or by incorporating captions.
 
What strategies are you using to optimize your Facebook organic reach? Is Facebook an important part of your overall online marketing strategy? We'd love to know your thoughts!
 
About the Author: Britt Kascjak is a freelance writer and content creator with a background in digital and social media marketing. In addition to being the BlogPaws Director of Content & SEO, she also runs her own personal blogs Shed Happens, The Kas Pack, and Lucifer the Rescue Pup. When she's not working, she can be found volunteering in the rescue space, camping, hiking, canoeing, or spending time with her 3 dogs and 2 cats.