2022 was the first post-pandemic era year, but that didn't necessarily signal a return to business as usual. Russia invaded Ukraine in February sending markets and economies into turmoil. 
As the year closed out, the business focus had clearly shifted from infection rates to interest rates. And despite the increased cost of borrowing, B2B markets continue to grow,  B2B buyers continue to evolve, and B2B sellers are finding success online selling everything from off-highway tires to last-mile shipping.
The only constant is change, and in an ever-changing environment here are the top numbers, trends, strategies, predictions, and success stories you need to know going into 2023. 
Financial News
The threat of recession and rising interest rates to tame inflation dominated financial news in December. 
Main Street remains optimistic
Small business owners and entrepreneurs expect an economic recession, but they aren't expecting it soon. The quarterly NBC|SurveyMonkey Small Business Survey was the first to find fears of recession and economic downturn muted. Respondents are still expecting a recession, but they think it will happen later in the year. 
Read the results and complete analysis of the 4th Quarter Survey
Fed slows but doesn't stop rate hikes
At the Federal Reserve meeting in December, the Federal Open Market Committee (FOMC) announced that it was continuing with rate hikes, but on a deaccelerated basis. The latest hike was 50 points compared to previous hikes of 75 points. 
The FOMC indicated further rate hikes should be expected in 2023 with some easing in 2024. 2022 saw an increase of 425 basis points, the fastest increase since the 1980s when the Fed was also attempting to slay the inflation dragon. 
Fed moving at historic pace
2022 interest rate increases that totaled 425 basis points marked the fastest movement by the Fed in over 40 years.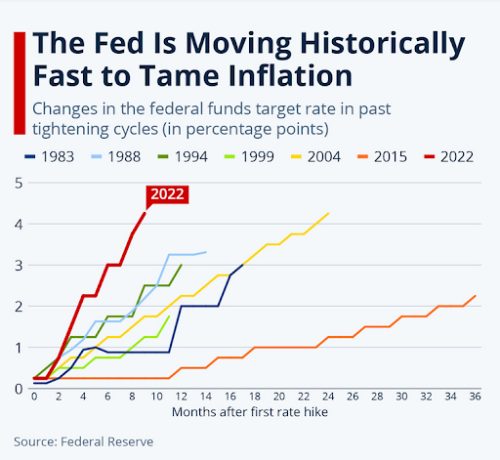 Historic inflation requires historic action. The Fed raised rates by 425 basis points between 2004 and 2006. This time around, they accomplished in 9 months what it previously took 2 years to do.  According to Federal Reserve Chair, Jerome Powell, the action was completely warranted. "My colleagues and I are acutely aware that high inflation imposes significant hardship as it erodes purchasing power, especially for those least able to meet the higher costs of essentials like food, housing, and transportation."
Rates will continue to rise in 2023, albeit at a lesser rate.
Read more analysis of historic Fed moves
B2B eCommerce News
B2B eCommerce trends
Buyers continue to prefer digital channels over more traditional buying experiences. Customers want a self-service experience and more and more sellers are meeting these rising expectations. In 2023, B2B sellers will invest heavily in eCommerce and are seeking out-of-the-box functionality to meet their needs. Of course, all of this new technology brings up the age-old challenge of integration.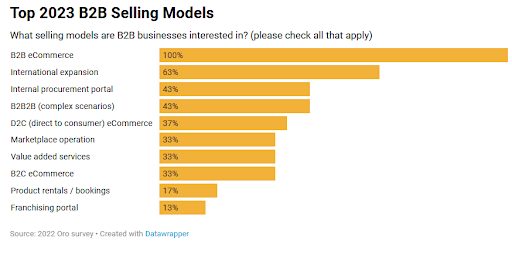 Read the complete article forecasting  2023 B2B eCommerce trends
How big is the B2B eCommerce market?
China and the US continue to dominate the global B2B eCommerce market. And as large as the US market may be, China's B2B eCommerce market is 1.7 times the size of the US market. According to Trellis CEO and co-founder Isiah Bollinger, "China is the world's biggest eCommerce market, led by eCommerce subsidiaries of the Alibaba group – Taobao, Alibaba.com, and Tmall". Rising internet penetration and great smartphone availability and adoption are fueling the rise of B2B eCommerce across the Asian Pacific area.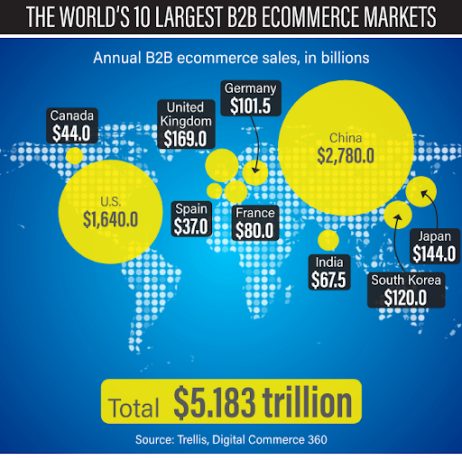 Changing B2B buyer behavior expected in 2023
B2B buyers have been looking for self-serve options for some time now. That's no big news. But what is big is this trend is now spilling over into purchases surrounding high-value tech purchases such as software.  Free trials, product demos, and transparency in pricing are more important than ever.  
Read more about changing B2B buyer behavior 
Strategies to respond to B2B buying journey changes
Everyone's team is working remotely. Your potential customer's purchase decision is being made by a team that may rarely meet in person. Your internal teams are working remotely too. How can you adapt to the modern B2B buying journey when everyone wants to self-serve and no one meets in person?
You must align your teams and communications with the client team. This may look a bit different for each client.  Scott Webb breaks it down in his recent contribution to Entrepreneur magazine. 
Read about 3 strategies to respond to changes in the B2B buyer journey 
Manufacturing B2B eCommerce News
Manufacturing technology predictions for 2023
IndustryWeek took a wide-ranging look at how manufacturing technology will continue to evolve in 2023. What's coming beyond industry 4.0 and IOT? Will the change rate be glacial or rapid? While some manufacturing is completely digitized, connected, automated, and powered by next-gen technology, that's not the reality for every manufacturer today. Find out how modern factories will move ever closer to the fully automated, high-tech factories of the future in this informative 3-part series. 
Part 2: Sustainability & Automation
Part 3: Additive Manufacturing
Choosing the right ERP for an industrial business
An ERP is essential for any business. From managing procurement and sales to creating financial statements, you need a solution that eliminates data silos. Cost versus value calculations should include variables such as availability and quality of self-help and support, the ability to grow and adapt with your company, and flexibility to meet your business needs.
If you are starting to consider upgrading or replacing your ERP, Thomas Insights published a helpful guide in December. 
How to choose the right ERP for your industrial business
Top EHS trends in 2022
In the face of a pandemic, workplace safety took on a new meaning. While COVID variants are still with us, the top EHS trends in 2022 focused more on mental health than physical health. From DEI to workplace violence and employee burnout the top trends identified by EHS today may surprise you. 
B2B Marketplace News
B2B marketplaces capitalize on eCommerce expansion
The number of vertical B2B marketplaces has tripled since 2019.  Marketing and sales teams must be prepared to engage these new marketplace shoppers where they are shopping – B2B marketplaces! Standing out when the competition surrounds you requires new strategies and approaches. Whether you are picking the right marketplace to enter or creating your own marketplace you must consider many factors. 
Read Why You Need to Be on a B2B Marketplace 
Digital export trends for 2023
Coming off the highs of 2021, export trade in 2022 lost momentum. Between high inflation, the war between Russia and Ukraine, interest rate hikes, and COVID-related factory shutdowns in Asia the headwinds were strong. Yet global merchandise trade volumes should still increase by 1% in 2023. It's a small increase, but it is an increase. Alibaba shares its take on export trends digital sellers will likely see in 2023.
7 Digital Export Trends for 2023 
Success stories
2022 saw B2B successes in a variety of industries. Get inspired by these winners.
Zoro B2B eCommerce sales set a big record by targeting small customers
Zoro, Grainger's eCommerce offering that targets smaller customers with less complex operations, saw its number of SKUs and registered users skyrocket in the third quarter of 2022. Their sales reached $1 billion for the first time in a calendar year and they attribute it to catering to serving customers nobody else targets. 
 Read how they did it in the DigitalCommerce360 article
Yokohama launches B2B eCommerce portal
Yokohama Off-Highway Tires America launched a B2B portal to support their US tire distributors and dealers. Features tailored to management, purchasing, sales, logistics, warehousing, marketing, and accounts payable staff make self-service easier than ever. From real-time inventory insights to automatic freight estimates, distributors and dealers have the tools they need to fuel their own success. 
Learn more about the Yokohama portal for dealers and distributors
OneRail gets $33 million to transform last-mile logistics
Shippers that continue to struggle to contain costs for last-mile deliveries have a new arrow in their quiver. OneRail, a last-mile logistics software solution provider, just completed a series B round of funding in the amount of $33 million.
OneRail's delivery fulfillment platform is directly connected in real time to a network of nearly 10 million drivers. This funding round will be leveraged to develop new data-driven platform capabilities focused on improving the dependability, affordability, and sustainability of last mile logistics.