With each new year, we find it meaningful to reflect over the previous 12 months and the many milestones we're so grateful for. There's something valuable about understanding where we've been that better equips us for what's to come. As Steve Jobs perhaps said best, "You can't connect the dots looking forward; you can only connect them looking backward."
Looking back at 2022, we can't help but marvel at the many paths we've crossed with such remarkable people. These thought leaders work across a myriad of industries, bringing their unique insights and expertise to the table. Many of them have even become friends—for which the honor will always be ours. As we've continued on our mission to share actionable insights that help clients increase their revenue and drive sustainable growth, we're proud that these professionals have come alongside us, sharing their expert advice on our podcast, or graciously inviting us to share our ideas on theirs.
If we're being honest, we consider each and every podcast a favorite. But in the interest of time—we know a busy executive like you doesn't have the time to read about them all within this one post—we've narrowed them down to a list of ten must-listen podcasts for revenue-driving insights straight from some of the most influential leaders in the industry.
---
Technology that pleases IT typically doesn't equate to the same level of happiness with the sales team. Oftentimes that leads to technology tools that no one within the organization uses. So how then can the value of a platform be proven to the sales force? By ensuring the user experience. On "How a Data-Driven View and Integrated Toolset Impacts the Full Sales Cycle" (parts 1 and 2), Sean talked with HubSpot's Jordan Benjamin about how to best balance both so that your company can maximize the power of technology. Hint: HubSpot has evolved to offer a CRM platform that has all of the tools and integrations to provide a user-friendly yet powerfully productive experience for every silo of the organization.
"If nobody uses the technology, it doesn't matter how many millions of dollars you invest in it. It doesn't help you move your business forward or drive better or more effective growth." – Jordan Benjamin
About the guest: As Principal Partner Sales Manager and Top 15 Global Sales Rep at HubSpot, Jordan Benjamin is at the top of his game when it comes to understanding and implementing technology that helps every silo of the company work smarter, not harder. He's worked with a number of enterprise systems and helped leaders across a wide gamut—from scalable startups to manufacturing—find software solutions that meet the needs of everyone on the team. Jordan is also the host of his own podcast, Peak Performance Selling.
---
As a business scales and grows, outsourcing and hiring new talent is inevitable. But what's not inevitable is doing so while also maintaining a full sales funnel. To balance the best of both requires hiring at the proper time, identifying your value, utilizing the trust and relationships you've already built, mapping connections and doing it at scale. On "When to Outsource: Prospecting Alignment for Sales and Marketing," Sean was joined by Dan Englander, CEO and Founder of Sales Schema, to talk through these steps and how they lead to success.
"There's so much competition for digital services for a business. … The stuff that used to work isn't working anymore. Throwing more case studies and portfolio work at people isn't going to get the meeting. What is…is relationship sales at scale." – Dan Englander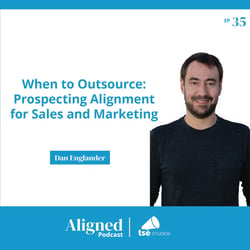 About the guest: Dan Englander is the CEO and founder of Sales Schema, a New York-based consultancy firm that helps marketing agencies and B2B companies overcome prospecting obstacles for clients to develop a robust sales and marketing strategy through a proprietary approach called Relationship Sales at Scale. Since starting the company in 2014, Dan and his team have secured more than 10,000 prospect relationships for clients, generating millions in lifetime revenue.
---
At some point, even the best salespeople will hit a wall when it comes to closing deals. There will be a time when it seems that absolutely nothing works, every sale is getting stuck in the funnel and there's no way to drive more growth. However, there is a solution: understanding the application of behavioral science behind the sale. In doing so, salespeople can identify the gaps and problems within the sales process and better determine how to guide prospects through the buyer's journey in a way that leads to happy customers and increased revenue. On "Helping Buyers Change for Good," Sean talked with host Darrell Amy about the specific strategies of the science.
"I'm a firm believer that buyers don't buy products and services. Never have. They buy the outcomes." – Darrell Amy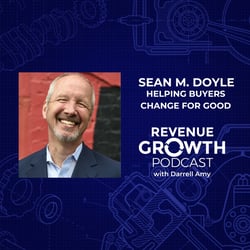 About the host: Growth strategist, author and speaker Darrell Amy hosts the Revenue Growth Podcast, a podcast all about sharing revenue growth ideas through insightful conversations with a variety of sales and marketing thought leaders.
---
Consumers today have access to more knowledge and information than ever before, and that can make selling to them harder than ever—unless your sales and marketing teams are centered around Centricity, the trans-theoretical theorem of behavioral change. Utilizing its nine best practices, salespeople can more efficiently and accurately pinpoint where the prospect is on the buyer's journey and guide them through the decision and into the deal. Sean joined Anthony Garcia on "Selling and Marketing for Today's Consumers" to talk about how this framework not only helps clients move the needle, but also helps the seller maximize their performance and catapult profitability.
"We call it centricity because it's centered not on sales' need, not on marketing's need—it's centered on the buyer. Sales and marketing should never align to each other–they should align to the customer." – Sean Doyle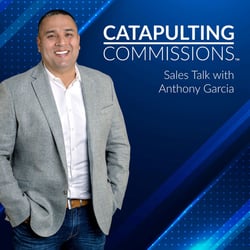 About the host: Speaker, author and business coach Anthony Garcia is the host of the Catapulting Commissions podcast. Anthony shares his vast knowledge and unique experience to help sales organizations elevate their approach to selling to better grow revenue.
---
Even the most successful companies tend to eventually hit a plateau. The question is, how does a company move past them? By utilizing marketing properly. Oftentimes that means using one specific marketing tool: testimonials. There are many different forms of testimonials and they all work best at different times of the sales journey, but they all build to one important piece of the selling puzzle: building trust with the buyer. On "The Forensics of Company Plateaus and How to Move Past Them," Sean chatted with hosts Eli Libby and Kyle Nelson about the common barriers to growth and the role absence of trust plays in lost revenue.
"I want you to reevaluate whether marketing has been properly leveraged. Have you taken it as seriously as you take your accounting, your supply chain—whatever you're manufacturing or whatever your services are–do you take your marketing function as seriously as those other functions? Ninety percent of people can't say yes to that." – Sean Doyle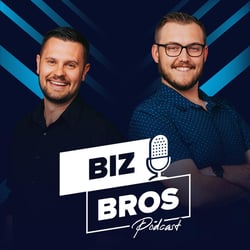 About the hosts: Eli Libby is the president and co-founder and Kyle Nelson is the CEO and CCO of Results Imagery, a leader in helping online businesses achieve higher site conversions through high-quality photography and videography. Together they co-host Biz Bros Podcast, a podcast dedicated to promoting leadership and management skills, culture, business growth and so much more.
---
Closing deals requires so much more than simply offering the best product or service. Consistent selling requires a salesperson to understand the psychology behind marketing and sales. Sean joined Stacy Jones for "The Psychology of Marketing" to discuss the nine best practices that will help salespeople better understand consumer behavior and when rewards should come into play on the sales journey.
"You make mistakes and learn from them, and then you don't make that same mistake. You find a new mistake to make and you keep on bundling that and make another and another and another. And somehow along the way, you forge a way to find success. And those are the building blocks. Failure is actually your building blocks to find success." – Stacy Jones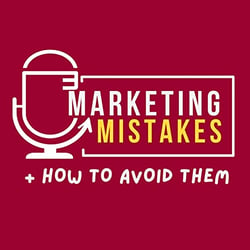 About the host: Stacy Jones is a writer, a speaker and the founder and CEO of Hollywood Branded, a Los Angeles-based company that specializes in developing branded partnership campaigns to increase the cool factor of a brand. She's also the host of Marketing Mistakes (And How to Avoid Them), a podcast dedicated to helping branding marketers and business owners improve their strategies to positively impact the bottom line and, of course, avoid mistakes along the way.
---
A common mistake many salespeople make is keeping the focus too much on what they think and not on the needs of the buyer. In reality, the prospect's needs should be at the center of the entire sales journey, and with Centricity, the buyer's behavior is easier to figure out than you may think. Sean joined Jeff Gibbard on "The Essential Science of Centricity in Marketing & Sales" to talk about the science behind the strategy that makes predicting buyer behavior much more efficient.
"It's not about you, it's about them. When you focus on your buyer and let that be the center guiding your marketing, sales can be predictable and scientific." – Jeff Gibbard
About the host: Strategy consultant, business coach and speaker are just three of the titles that can be used to reference Jeff Gibbard. Another is founder and host of Shareable.FM, a podcast that aims to share practical and insightful content that's worthy of being shared.
---
8.
Price Anchoring:
Part 1
and
Part 2
There's power in customer psychology, and that theory holds true when it comes to price anchoring. The cost of a product or service—whether it's "cheap" or "expensive"—is subjective. It's based around the perception of the buyer, and that's where price anchoring comes into play. Price anchoring gives customers a number to refer to when making those types of decisions, and often businesses aren't utilizing the price anchoring strategy effectively. Sean joined Estie Rand on "Price Anchoring" to discuss the mistakes companies tend to make and how to implement price anchoring successfully.
"The purpose of marketing is to get the attention for the thing people want to buy, but you have to have a flow that you put them through to purchase." – Estie Rand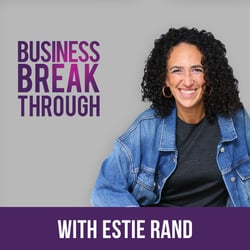 About the host: Estie Rand is the founder of as well as a consultant and coach at Strand Consulting, a Los Angeles-based company that seeks to help business owners increase profit and productivity. She's also the host of the Business Breakthrough podcast, where she continues her mission to provide clarity and solutions to businesses.
---
Successful marketing often starts with making technology decisions. But how do you pick the perfect tech when there are so many options on the market? By keeping your customers' needs top of mind. Sean joined Seth Greene on "Shift Your Marketing Thinking" to talk about why the basis of every marketing decision must be made around the needs of the buyer and how the science of Centricity makes that easier for marketers to do. 
"We see selling as helping. We're helping people from before they even contemplate buying your product or service all the way through to being an advocate." – Sean Doyle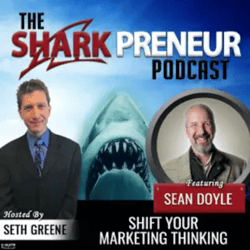 About the host: Best-selling author and three-time Marketer of the Year nominee Seth Greene is the CEO of Market Domination, a direct response marketing agency, and co-host of The SharkPreneur Podcast, a straight-to-the-point podcast that focuses on how business owners can grow their businesses.
---
What's the easiest way to please no one? By trying to please everyone. Truly successful thought leaders realize the failure in trying to cast their net for a wide audience and instead focus in on the defined (and much smaller) audience that wants and needs their content. Getting over the hurdle of trying to please the masses leads to true magic for thought leaders. Sean joined Peter Winick and Bill Sherman on "Raising the Consciousness of Thought Leadership" to discuss what thought leaders can do when their ideas seem to go unnoticed and how they can connect with their target audience.
"A challenge that thought leaders have far too often: They try to speak to everyone. When you're trying to please everyone, you please no one, right? 99.99% of the world couldn't care if we existed or not." – Peter Winick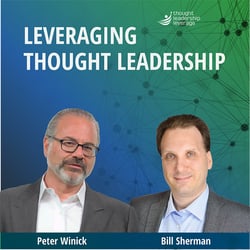 About the hosts: Peter Winick serves as the founder and CEO and Bill Sherman serves as COO of Thought Leadership Leverage, a company at the intersection of public relations, branding and marketing. Together, they also co-host Leveraging Thought Leadership, a podcast devoted to the business of thought leadership.
---
These ten podcasts are just a glimpse into the many great conversations we've had with some incredibly talented professionals in the last year alone. Though we limited the list to our top ten favorites, we couldn't help but include just one more, one of our best-loved podcasts for 2021. Consider this bonus episode a special gift from us to you this holiday season!
Bonus: Why Frameworks Are Necessary for the Creative Mind
A common misconception is that creativity is stunted by structure. But in reality, that couldn't be further from the truth. Providing a framework actually provides needed boundaries, whether that's physical, mental, or another type, for creativity to excel in. Michael Allosso joined Sean on "Why Frameworks Are Necessary for the Creative Mind" to talk in depth about how structure liberates creativity and why it's wrong to say you must "think outside the box."
"Why are you on this earth? You've got to find out your objective. That's your structure. It liberates you to a creative use of tactics on any given day." – Michael Allosso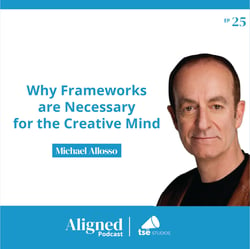 About the guest: In addition to being an actor, writer, producer and coach, Michael Allosso is also a motivational speaker and master communications expert. He received four Speaker of the Year Awards, two Members Choice Awards, and much more for Vistage International, the world's largest executive coaching and peer advisory organization.
---
We have thoroughly enjoyed revisiting these 11 podcasts and we hope you have as well. If these leave you craving more, we invite you to check out the many other excellent podcasts from the year that are just as insightful.
As we bring this list to a close, we're left with so much excitement for the many more conversations to come. We look forward to the next year with eager anticipation as we will, of course, be continuing these great podcasts in 2023. Be sure to check our podcast page for the latest episodes for even more insights and tips to drive new growth and improve your sales and marketing.