The popularity of ChatGPT has sparked a surge of interest in artificial intelligence.
From predictive sales enablement to hyper-personalized customer service, B2B businesses are becoming increasingly open to integrating AI models into their operations.
The question is – do customers trust AI-generated recommendations and advice?
In a survey conducted by KMPG Australia and the University of Queensland, respondents in India, China, South Africa, and Brazil displayed a lower level of skepticism towards AI than previously thought. In fact, nearly 75 percent of Indians said they would trust AI-generated advice.
The survey found that AI is most trustworthy when it comes to certain situations, namely security and healthcare.
April 2023 B2B eCommerce News
B2B eCommerce leads the way as the most effective sales channel
According to a recent survey conducted by McKinsey, the consumerization of B2B buying is almost complete. McKinsey surveyed more than 3,800 B2B executives across 13 countries, including the US, and found that B2B eCommerce is the top-selling channel and the most effective one at that.
The "rule of thirds" still remains – customers want the same mix of traditional in-person, remote, and digital self-service selling channels. 

Customers (including decision-makers) are increasingly willing to spend big on eCommerce transactions. 

The most successful teams deploy hybrid selling systems – allocating both in-person and remote time with customers.

Being at the cutting edge of personalization is critical. Winning companies don't shy away from investing in sophisticated technologies and marketing tactics.
Read more on the McKinsey article.
Manufacturers are upping their eCommerce game
The data is in. Over 2022, US manufacturers made a whopping $5.56 trillion, according to US Department of Commerce data.
What's remarkable is that they achieved this growth despite major challenges like supply chain disruptions, labor shortages, inflation, and economic slowdowns. All that goes to just how innovative and resilient the industry really is.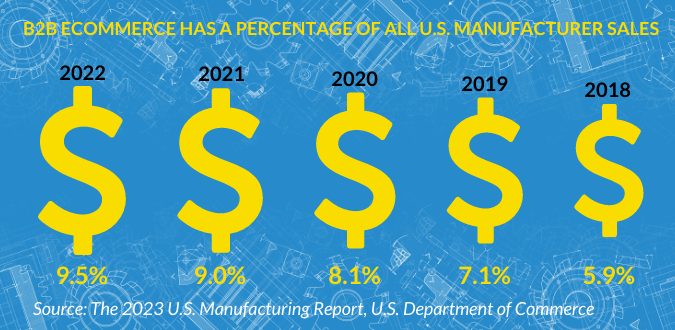 Discover more by heading to Digital Commerce 360.
For B2B leaders, empathy is key to digital transformation
This feature article from Yoav Kutner, Oro's CEO, explores the subject of empathy and its role in successful digital transformation. The biggest hurdle of any digital transformation isn't the technology itself – it's the people. That's why it's crucial to approach company culture and the human factors of your digital transformation the right way.
Discover more on the article in Industrial Distribution.
The new OroCommerce 5.1 helps B2B businesses build resilience
OroCommerce 5.1 is the latest iteration of OroCommerce. Designed specifically for B2B businesses, OroCommerce helps manufacturers and distributors keep up with changing customer expectations and future-proof their operations. Teams can boost productivity and the customer experience with new selling capabilities, time-saving features, and performance improvements.
Discover what OroCommerce has to offer here.
Manufacturing and Distribution News
B2B electronic sales grow to more than $9 trillion
Last year, both manufacturers and distributors made sizeable progress online. Distributors, in particular, made remarkable gains relative to their manufacturing counterparts. The biggest news is that B2B eCommerce continues outpacing overall B2B sales – with online accounting for 13% of all manufacturing sales.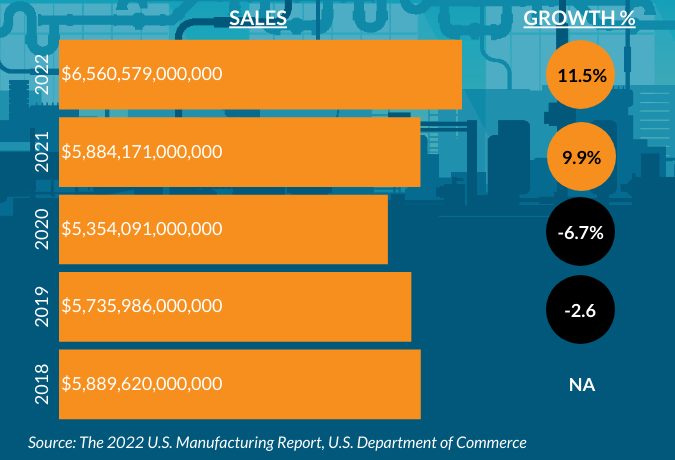 Learn how industrial brands are growing their sales numbers.
Orders for big-ticket items rise in March 2023
After a two-month slump, orders of high-priced products are on the upswing. According to the latest US government data, there's been a 3.2% increase in orders of high-priced manufactured goods for a total of $276.4 billion. The rise exceeded analyst expectations, who predicted a mere 0.5% increase.
Read more in the IndustryWeek article.
How to attract, retain, and engage the workforce of the future?
High inflation means compensation is a primary concern for young workers as they embark on their careers.
By 2025, Gen Z is set to make up 31% of the US workforce. Research by the Conference Board stressed the importance of understanding what drives and influences these young workers. This includes everything from competitive compensation and benefits packages to career growth down to identifying what drives and influences them.
Learn more in this article by EHSToday.
Warehouse safety: focus on augmentation before automation
According to the US Bureau of Labor Statistics, 2021 saw nearly 3 million employer-reported injuries in the workplace. Wearables are crucial to keeping workers safe, engaged, and productive. 
When workers are wearing these devices, they can collaborate more safely with machines and avoid accidents caused by repetitive tasks. And that's important because workplace injuries can cause delays and lost productivity. 
Find out about the benefits of augmentation on EHSToday.
Success Stories in B2B eCommerce and B2B Marketplace
eCommerce uncovers new opportunities for mining manufacturer
Normet makes large mining machines that extract minerals underground. To launch their eCommerce site, they started with a pilot project in Australia. A year later, they rolled it out to the United states and Canada. The reason – to make it easier for customers to customize and place their orders. The result was a 75% reduction in calls to customer service, according to Pekka Jaarinen, Normet's director of digital services.
Modern data platform Crstl enables B2B eCommerce
The no-code platform facilitates compliance testing, certification services, and onboarding amenities for food and beverage brands and their partners. According to the CEO, the critical feature of Crstl is a no-code EDI allowing an automated, electronic communication system for sending order information. The data connectivity layer ensures reliable and compliant communication with retailers.
JSW's B2B eCommerce arm raises Series A funding
India-based JSW Group's B2B eCommerce arm, JSW One Platforms, has raised Rs 205 crore (around $25 million) in Series A funding. JSW One Platforms is able to leverage the JSW Group's expertise in manufacturing and building materials, as well as their tech-enabled logistics and credit offerings for their eCommerce solution.
Floodlight Raises $6.4 million for 'Smart Business Account for eCommerce'
Floodlight, a UK-based financial services company for eCommerce brands, has raised $6.4 million in a seed round to expand its "smart business account for eCommerce."
With a Floodlight account, businesses can manage all of their finances and get financial insights in one place, through a single dashboard. That means no juggling between multiple platforms and accounts to keep track of finances.