Outbound sales is a crucial aspect of any sales process. ​​It involves reaching directly out to potential customers and clients to generate valuable leads and revenue. As more than 85% of companies consider lead generation a top priority, outbound has remained the critical backbone of the overall sales strategy. 
The key to successful outbound sales strategy is to have a clear understanding of your target audience and their needs, as well as to communicate your value proposition to your ideal customers. By implementing a well-rounded outbound sales strategy, businesses can increase their customer base and ultimately achieve their sales goals. So how do you initiate outbound sales effectively? 
To find the answers, let's explore how to do outbound sales, the differences between outbound and inbound, the best practices for effective outreach, and the tools and techniques that can help drive your success.
What Is Outbound Sales?
Outbound sales by definition is a proactive approach to sales that involves direct outreach to potential customers through various channels, meaning by email, phone, social media, or direct mail, for the purpose of generating high-quality leads and closing deals. 
Unlike inbound sales, which rely heavily on marketing efforts and relevant content to attract leads, outbound sales require a more personalized and direct approach to seeking out and connecting with potential customers. In fact, 83% of salespeople still think it's absolutely critical to connect with customers over the phone—a classic outbound tactic that still works.
With outbound sales, your sales team has the freedom to choose who they reach out to and how they approach them, whereas inbound sales rely on leads who have already shown interest in the product or service being offered, and then nurture that interest to close the deal.
Outbound sales can be a highly effective strategy for prospecting because it allows businesses to connect proactively with potential customers who may not be aware of their product or service. 
By using personalized outreach methods and targeted sales messaging, outbound sales teams can establish a direct connection with potential customers—your first line for building trust and establishing that relationship. 
This engagement can also help qualify leads, ensuring that sales teams spend their time and resources on leads that are most likely to convert. In fact, the Rain Group reports that 82% of potential buyers accept meetings if a salesperson initiates contact first.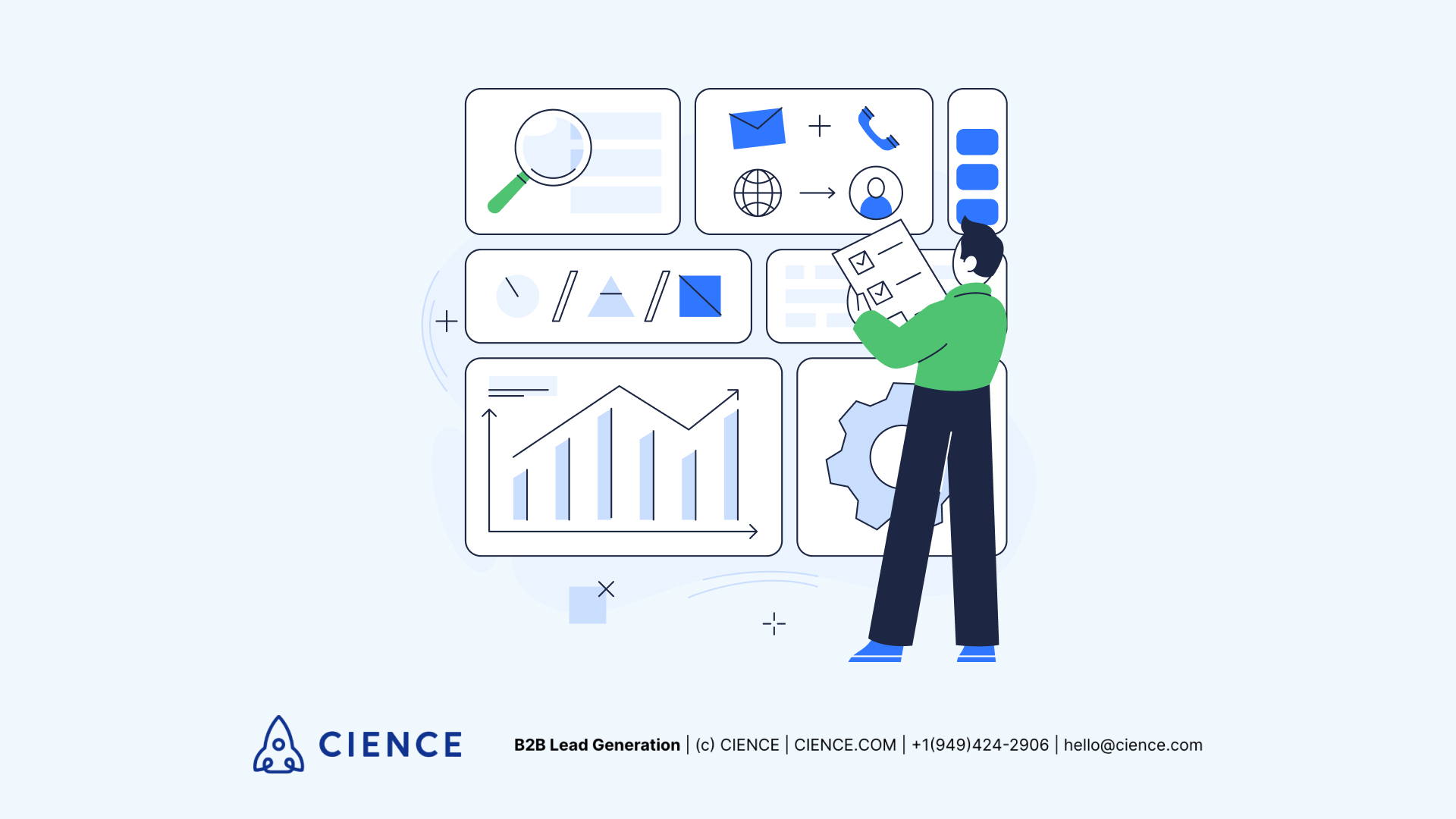 Outbound Sales vs. Inbound Sales
Both outbound and inbound sales strategies are equally important to the growth and success of a business, yet each use their own unique approach. Here's how they work:
Outbound sales
An outbound sales strategy typically includes a set of tactics aimed at reaching out to potential prospects or customers. The key elements of an outbound campaign include: 
Proactive approach

Email marketing

,

cold calls

, direct mail,

events

, digital and print ads
Sales team seeking out and contacts potential customers
Direct connection to build trust and establish a relationship
Qualifying leads to focus on those most likely to convert
Generating leads and closing the deal

Inbound sales
An inbound strategy focuses on creating valuable content and experiences that attract potential customers to your brand. The main components of an inbound campaign include:
Reactive approach

Content marketing

,

SEO

,

programmatic ads

, and social media
Attracting leads through content marketing efforts 
Engaging leads already interested in the product or service 
Helping to build

brand awareness

and credibility
Building long-term customer relationships
Nurturing those leads and closing the deal
In short, outbound sales is a more direct and proactive approach that involves seeking out and contacting potential clients, while inbound sales is a more reactive approach that attracts leads through marketing efforts and relevant content. 
However, companies that choose to utilize inbound and outbound methods in their marketing strategies achieve a 64% higher conversion rate in their sales efforts. Using inbound-led outbound methods can be particularly effective. 
Outbound Sales Process: 6-Step Guide
The modern B2B outbound sales process varies by industry, target market, and company, but there are some recommended steps you can follow. By using the best outbound sales strategy for your business, you can create an outbound sales plan to achieve better results.
1. Identify and research your target market.
Identifying your ideal customer helps you focus on the right prospects who will most likely be interested in your product or service. By understanding your target audience's demographics, interests, pain points, and purchasing behavior, you can adapt your messaging and outreach to resonate with their needs and interests. 
You can use a range of data analytics, market research, and customer feedback to build buyer personas to customize your approach accordingly.
2. Generate potential leads.
Once you have identified your target audience, the next step in the outbound sales process is to generate your potential leads. There are several tools that you can use to build a comprehensive targeted lead list, including customer relationship management (CRM) software, account-based marketing (ABM) tools, and customer data platforms (CDPs). 
This ensures your inventory is tailored to your target audience and includes relevant contact information for each potential lead.
3. Qualify your leads before outreach.
Lead qualification allows you to focus your efforts on the most promising prospects and avoid those leads that are unlikely to convert. This step involves assessing the potential fit between your product or service, as well as evaluating their level of interest and engagement with your sales outreach efforts. 
By qualifying leads effectively, you can prioritize your sales activities and allocate your resources more efficiently, ultimately driving better results for your outbound sales program.
4. Develop personalized outbound messaging.
By tailoring your messaging, such as cold calling scripts and emails, you can demonstrate that you understand their pain points and are committed to helping them solve their problems. Personalized messaging can also help you stand out from competitors and position yourself as the ideal solution for their needs.
5. Connect with decision-makers.
Once you have qualified leads, start reaching out to the decision-makers in those companies. This can be done via email, phone, or social media, depending on the preferred communication method of the prospect.
Once you have established contact, you should conduct a discovery call to better understand their desires and challenges. This is an opportunity to ask open-ended questions to learn about their goals, priorities, and decision-making process.
It's essential to be persistent but respectful in your outreach efforts, following up with prospects who express interest and providing value-added content that demonstrates your expertise and credibility.
6. Close the deal.
This step involves using your outbound sales skills and expertise to persuade your prospects to buy, demonstrating the value and benefits of your service and product, and addressing any objections or concerns. 
Effective closing techniques can help you overcome objections and common sales barriers, such as price, timing, or competition, and convert leads into loyal customers eager to do business with you again.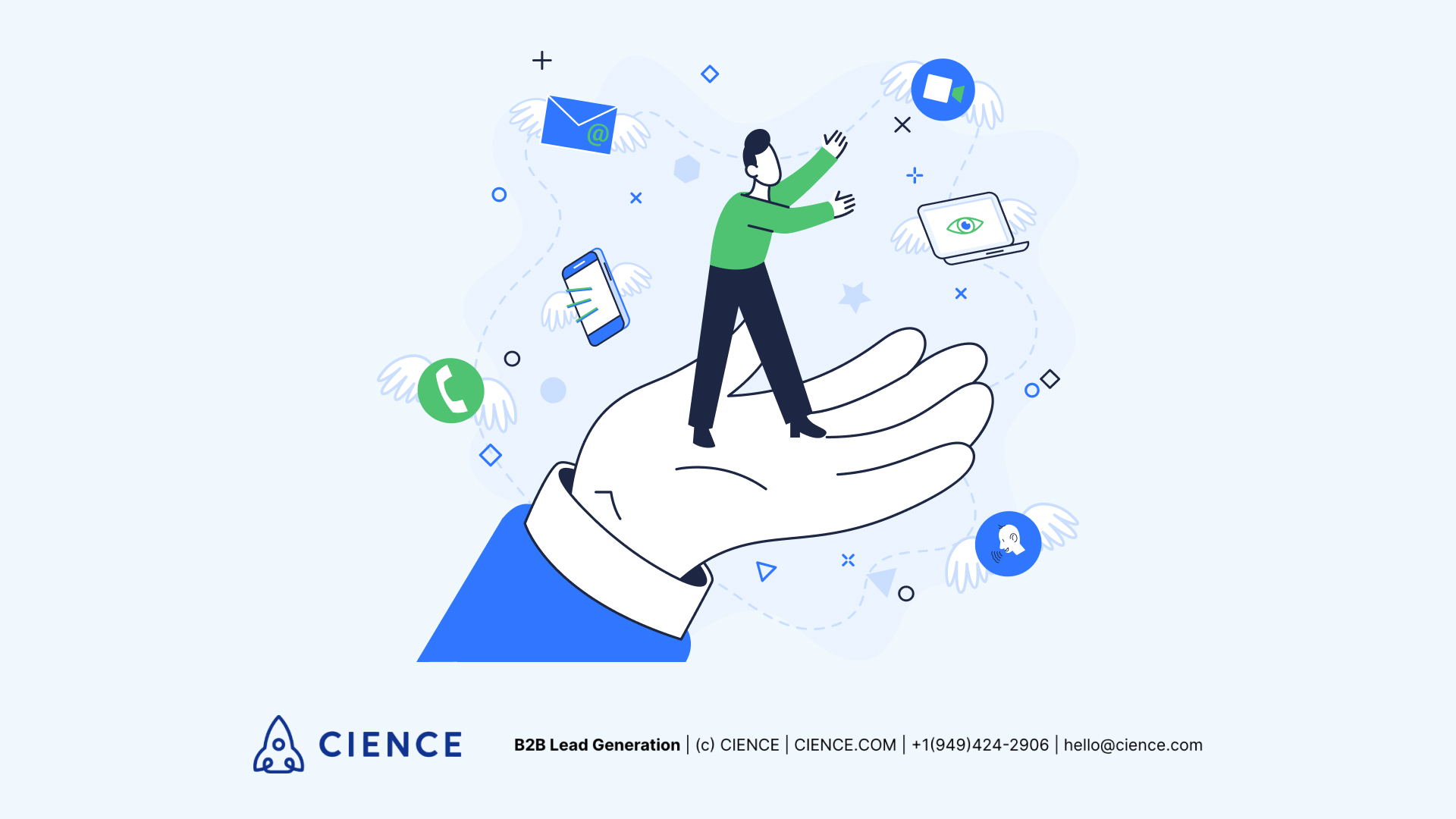 Outbound Sales Strategy: Best Practices
Outbound sales can be a powerful strategy for driving business growth and expanding your customer base. However, success requires a well-executed plan and commitment to best practices. Use these outbound sales techniques to execute your campaign effectively:
1. Build credibility.
Prospects are more likely to engage with sales development representatives (SDRs) they perceive as knowledgeable, trustworthy, and authoritative. To establish credibility, demonstrate your expertise and industry knowledge, and provide valuable insights and solutions tailored to the prospect's needs. 
Use case studies, testimonials, and other social proof to showcase your past successes with real customers and build trust in your brand. Additionally, be responsive and communicative throughout the sales process, and follow through on any commitments or promises you make.
2. Offer incredible value.
In today's market, customers are constantly bombarded with sales pitches and marketing messages, meaning more than simply reaching out to prospects is needed. With the rise of AI-generated content, it is projected that 80% of marketers will face challenges related to content authenticity by 2027. 
Therefore, businesses need to offer something unique and valuable to stand out and capture their attention. This could range from educational content or podcasts that assist them in resolving a problem to a personalized product demo that showcases how it can enhance their business operations.
3. Ask for referrals.
Referrals come from satisfied customers willing to recommend your product or service to others in their network. By asking for referrals, you expand your potential customer base and benefit from the trust that comes with a personal recommendation. In fact, 56% of sales reps get leads from existing customers.
To ask for referrals, start by identifying your most satisfied customers and asking if they know anyone who could also benefit from your business. You can also offer incentives, such as discounts or exclusive access to new features. 
4. Be adaptable to changes.
It is essential to be flexible and willing to adapt to changing circumstances, including market conditions, customer preferences, and buying behaviors. Adjusting your approach to fit the needs of your potential buyer can make a significant difference in your ability to close deals and build lasting relationships. 
5 Best Outbound Sales Tools for B2B
​​Using the right outbound sales technology can save you time and effort, making it easier to connect with potential leads. Let's look at the top five outbound sales tools available and how they can benefit your team:
1. CIENCE GO Platform
CIENCE GO Platform is an all-in-one sales automation platform for B2B sales teams. This tool utilizes a proprietary data engine that uses artificial intelligence (AI) to help identify high-quality leads. 
The GO Platform can help sales teams pinpoint leads most likely to convert into customers, allowing them to focus their efforts on those prospects. Additionally, it includes various automation features, such as a massive sales prospecting database (GO Data) and appointment scheduling (GO Schedule), which can help sales teams optimize their outbound efforts. 
In addition, GO Outbound features multichannel outreach and lead qualification services, using a customized approach and technology to help businesses connect with potential customers. 
Key features:
Personalized outbound targeting 
Multichannel outreach
Automated workflows
Scalability
Data analytics and metrics
Pricing: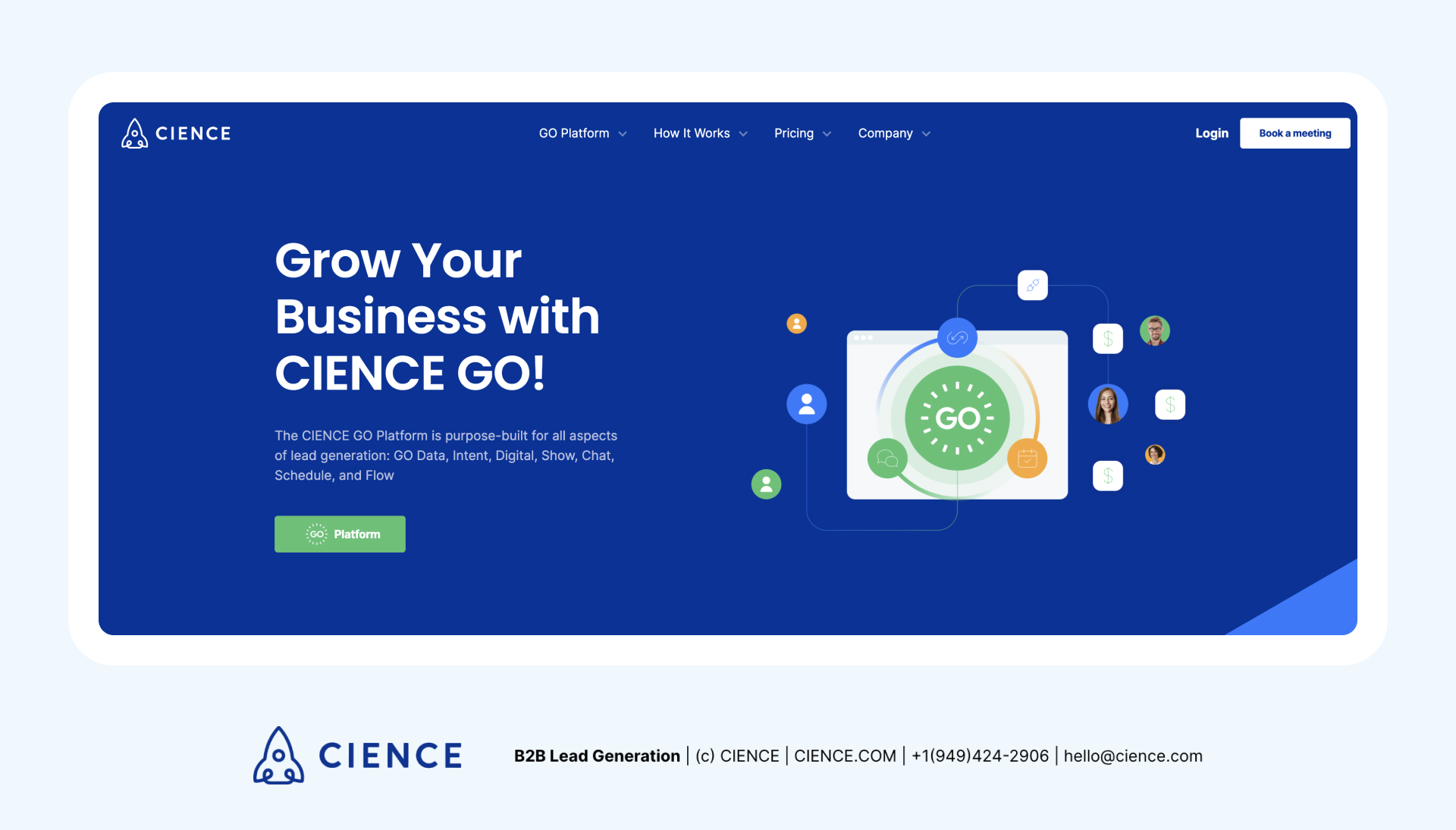 2. Salesforce Sales Cloud
Salesforce Sales Cloud is a leading cloud-based CRM platform that provides tools and functionalities for managing customer relationships and automating sales processes. The platform integrates with other applications, including email marketing platforms, social media, and customer service software. 
This integration allows sales teams to streamline workflows and store customer data. In addition, with its advanced reporting and analytics capabilities, Salesforce Sales Cloud enables sales teams to track their performance and identify areas for improvement.
Key features:
CRM solutions
Customizable dashboards
Automated lead routing
Integration with a wide range of apps
Mobile app for sales reps
Pricing:
Starter plan: $25/month
Professional plan: $75/month
Enterprise plan: $150/month
Unlimited plan: $300/month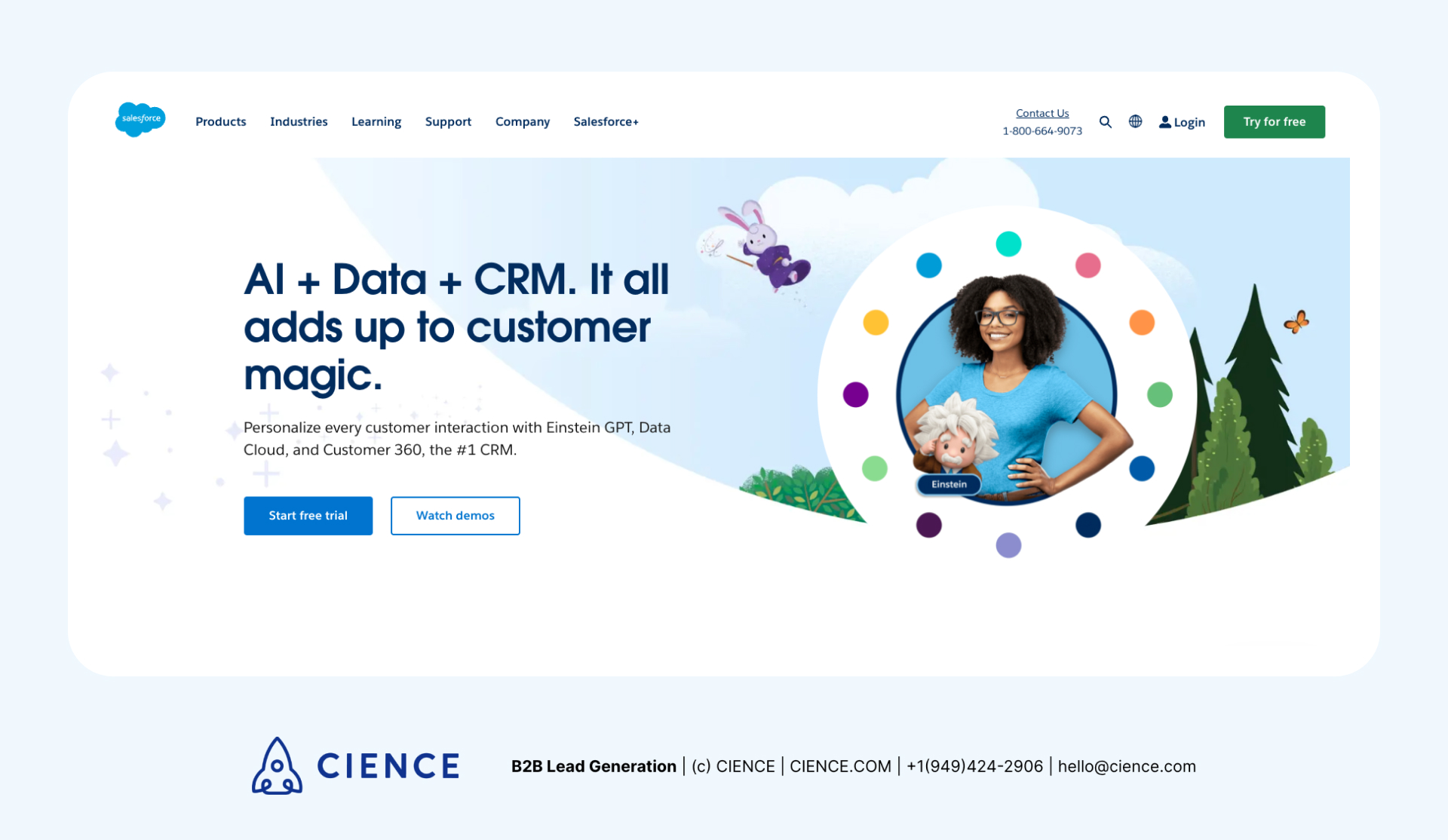 3. PandaDoc
PandaDoc is a powerful document automation software that helps sales teams refine their outbound sales process by allowing them to create, send, and track sales documents. 
With PandaDoc, sales reps can create proposals, quotes, and contracts quickly and easily, which can be customized to meet the prospect's specific requirements. PandaDoc also integrates with CRM and other sales tools to make the selling process even more efficient. 
Key features
Customizable document templates
Electronic signature capabilities
Analytics and tracking
Collaboration tools 
Integration with other sales tools like Salesforce and

HubSpot
Pricing
Business plan: $49/month
Enterprise plan: $150/month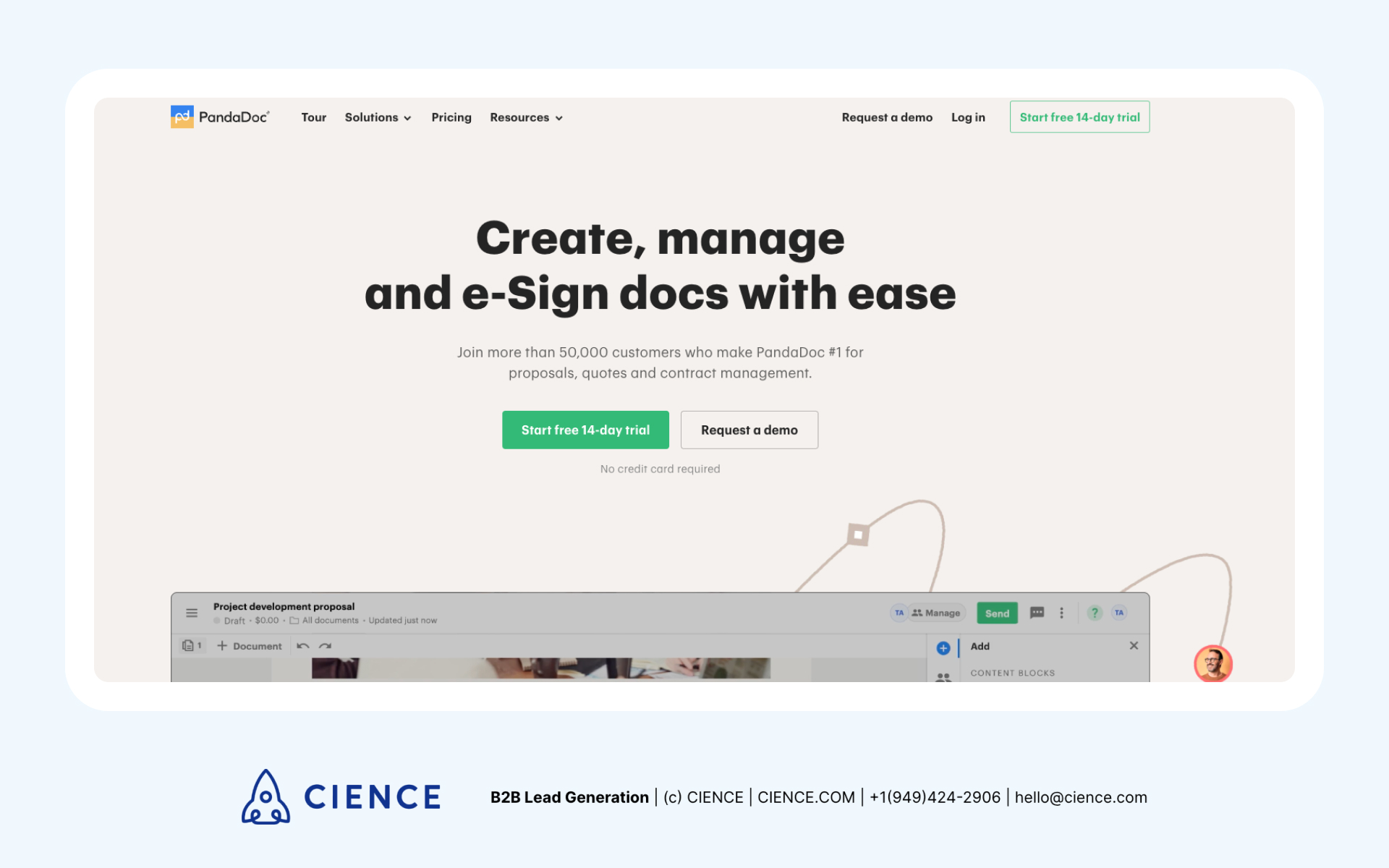 4. Zoho CRM
Zoho CRM is a cloud-based CRM software that provides a wide range of tools for businesses of all sizes. It helps companies manage their sales pipeline by automating their sales process, lead tracking, and analytics. 
With Zoho CRM, businesses can easily create and manage their sales team and monitor their performance. It also integrates with third-party tools like Mailchimp and social media platforms such as Facebook and Twitter, making it easier for businesses to follow customer interactions across multiple channels.
Key features:
Sales automation
Multichannel support
Analytics and reporting
Customization
Mobile app
Pricing
Standard plan: $14/month
Professional plan: $23/month
Enterprise plan: $40/month
Unlimited plan: $52/month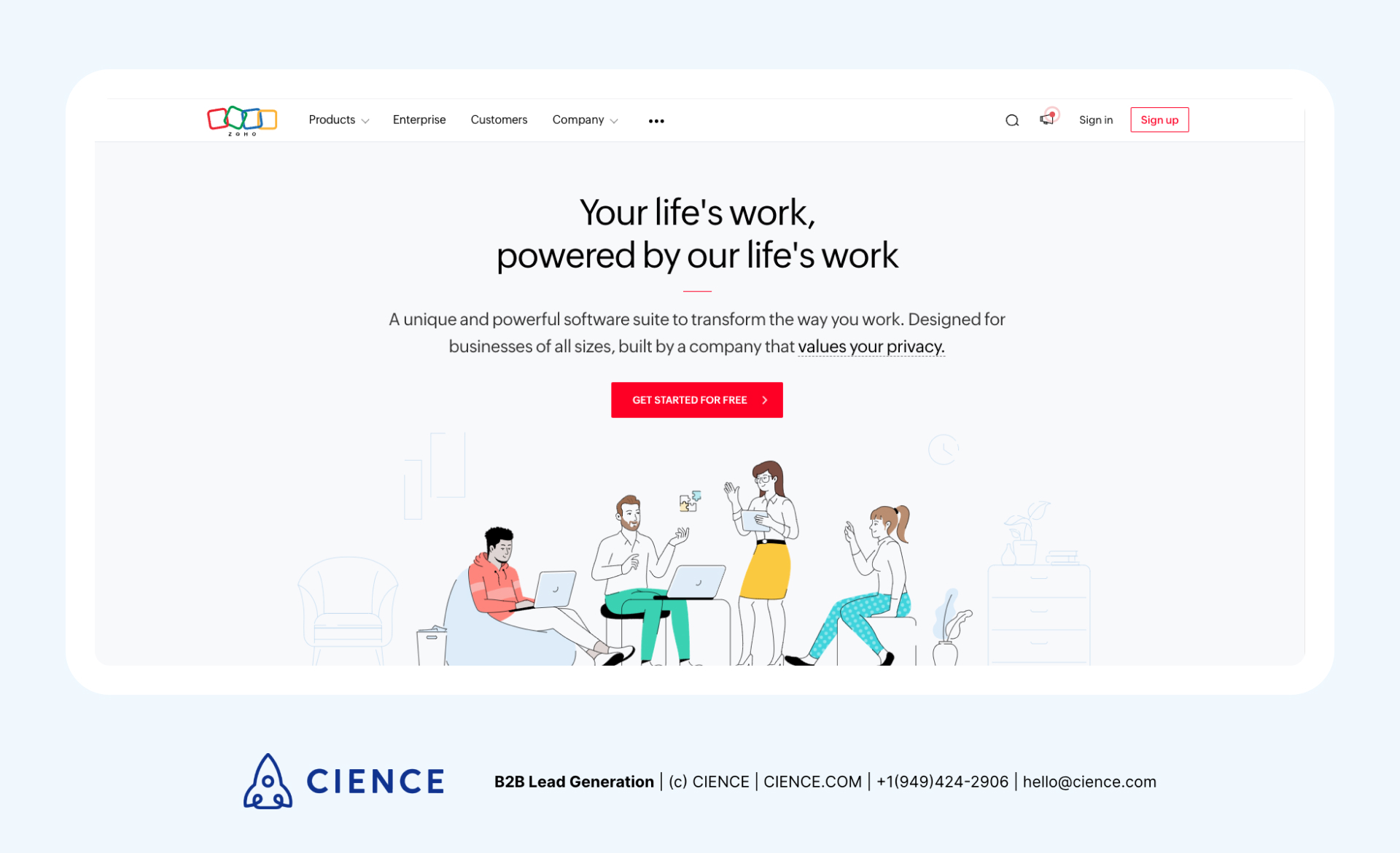 5. Highspot 
Highspot is a sales enablement platform that provides a comprehensive set of tools for creating, organizing, and sharing sales content with prospects and customers. With Highspot, sales reps can easily find the most relevant content for each stage of the sales cycle, share it with prospects in a personalized way, and track engagement to optimize their outreach.
Highspot also includes tools for creating interactive sales content, such as videos and presentations, which can help sales reps to stand out from the competition and engage prospects more effectively.
Key features
Content management
Sales enablement
Analytics
Artificial intelligence
Integration
Pricing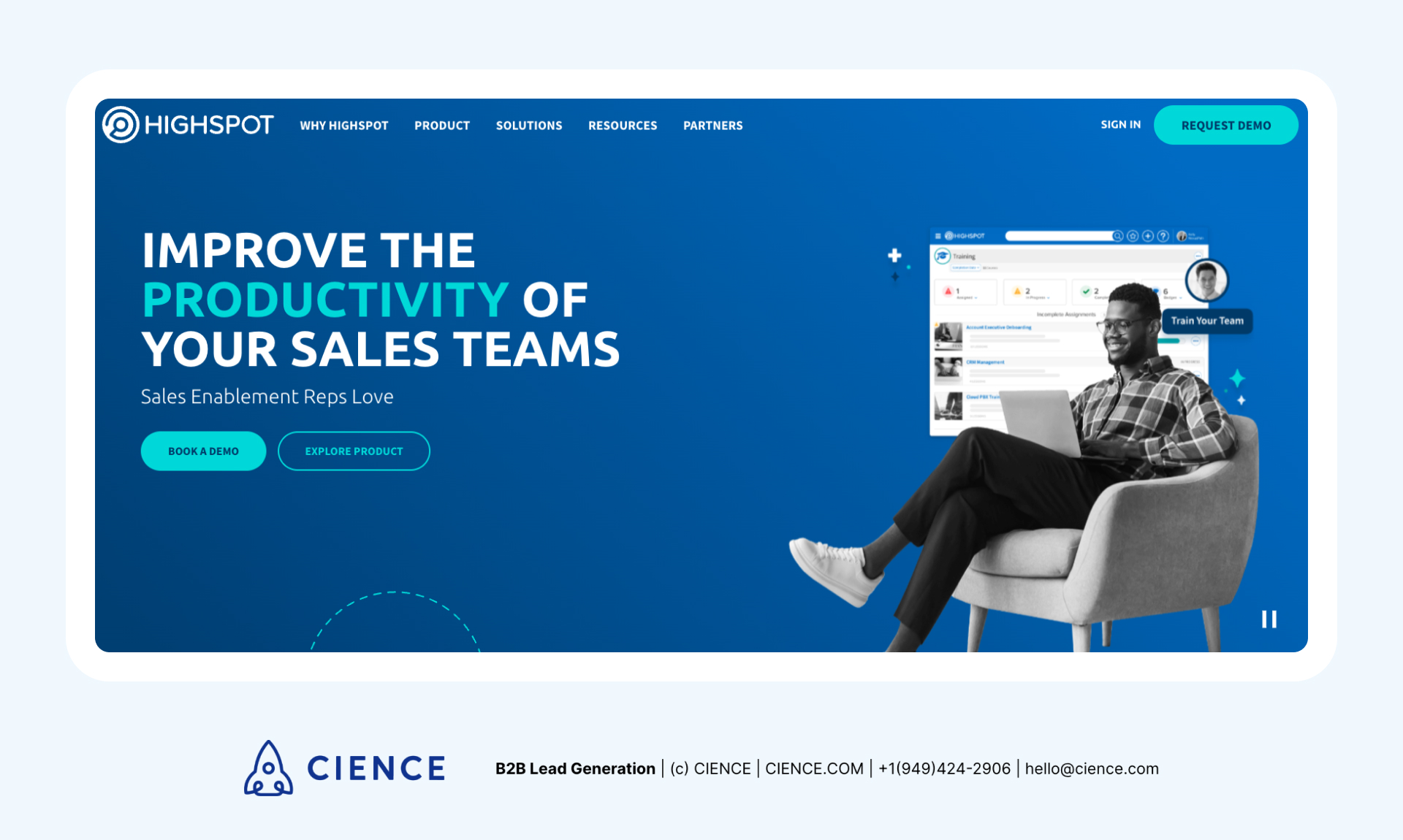 Implement an Outbound Sales Strategy Today
Outbound sales is an essential aspect for any business looking to expand its customer base and increase revenue. By identifying your target market, generating leads, qualifying prospects, and building a relationship with decision-makers, your sales team can then effectively promote your brand and sell more. 
While outbound sales may vary depending on the industry and company, having a well-crafted process and the right tools can lead to increased customer acquisition and higher conversion rates. By continuing to refine your outbound sales strategies and adapting to changing market conditions, you'll be able to surpass the competition and achieve long-term growth.