The new Elfsight extension makes it easy for Oro administrators to enhance their storefronts with a variety of design elements. It's one of the ways we're improving the back-office experience in OroCommerce, giving you more capabilities to achieve your goals.
By simply setting up an Elfsight account and integrating it with OroCommerce, you'll gain access to a range of powerful marketing widgets that you can install on your eCommerce website.
What is Elfsight?
Did you know that a whopping 94% of first impressions are design-related? And that's not all, over 60% of customers abandon their carts simply because of poor website design, including inadequate information to complete a purchase. There's no doubt about it: when it comes to eComemrce websites, a small design change can lead to huge wins.
Elfsight is an intuitive website builder that allows you to add a range of amazing website elements that can greatly enhance the user experience and ultimately lead to increased sales. From product carousels to embedded social media pages, call-to-action buttons, Google Maps, reviews, chats, and more, the possibilities are truly endless.
And the best part? There's absolutely no coding involved, which means it's just as easy to implement for the store administrator as it is for the store manager.
Elfsight widgets allow you to:
Direct users straight to your social media pages

Showcase the best, high-converting products

Embed files to your product pages

Add popups to share promotions and sales

Gather targeted information with forms

Chat with users using popular messenger apps

And more
OroCommerce Elfsight Bundle

The OroCommerce Elfsight Bundle extension makes adding Elsfisght widgets a breeze. You can easily add them anywhere you would add content widgets – whether it's your product pages, promotional landing pages, or product descriptions.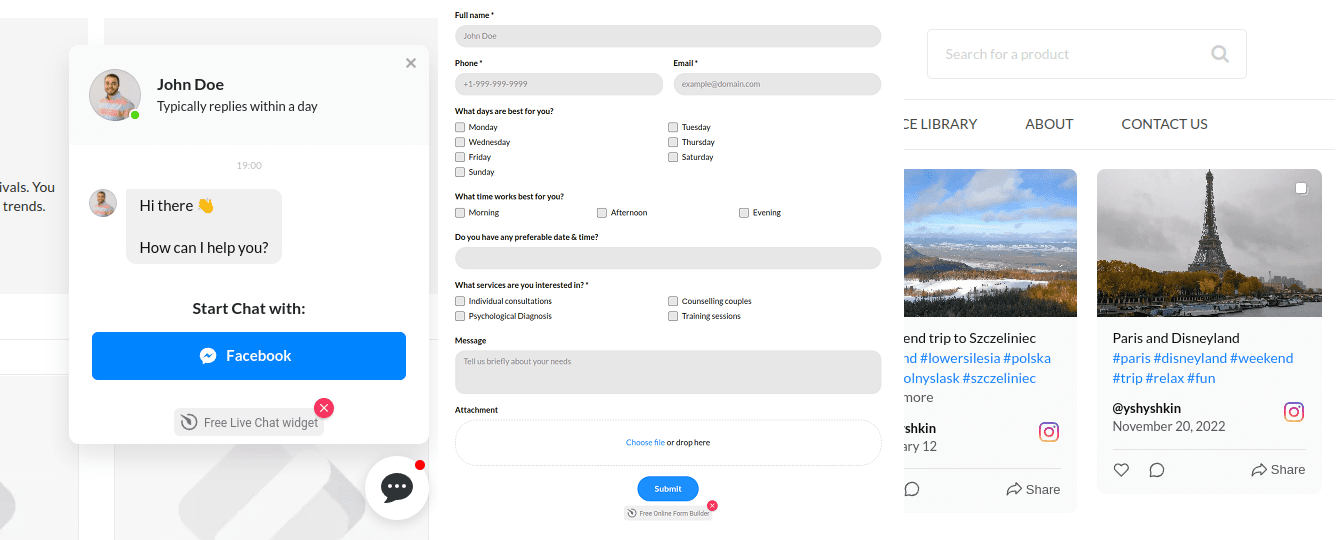 To get started, simply sign in to your Elfsight account.

On OroCommerce, head to the Marketing/Content Widget section. 

From there, select "Create Content Widget" and specify a name for your new widget.

Next, set Elfsight widget as your widget type, and you'll be taken to the Elfsight app interface.

Here, you'll find a wide range of widgets to choose from, including popups, live chat windows, product banners, reviews, forms, and social media feeds.
Widgets like popups and live chat windows always appear on the screen and can be added to any block. However, widgets such as product banners, reviews, forms, and social media feeds need to be added to content blocks to appear in the right place on your page.
For more information, you can refer to the extension page.
Elfsight offers a free plan allowing you to evaluate their services without commitment. Their paid plans come with excellent reporting and customer support to help you optimize your marketing efforts. You can easily upgrade your plan based on the traffic and widget usage you require.
We want to give a big thanks to Yevhen Shyskin for creating this amazing extension. It's just one example of how our collective ecosystem continuously enhances our offerings to help take your digital commerce business to new heights.
At the end of the day, our ultimate goal is to help you and your team succeed. Feel free to explore other OroCommerce extensions submitted by our ecosystem. We're certain you'll discover something that piques your interest.