As a solopreneur or small pet business, you are probably doing your best to juggle a million different things and wear a million different hats. Maybe you're wondering how you're going to manage all of the things and be in all of the places (particularly the social media places). Should you be on Instagram? And what about TikTok?!
Here at BlogPaws, we are all about easing that burden and making things easier for ourselves, and one way you can do that is to repurpose your content so you can get more mileage out of your work. In regards to social media, specifically Instagram and TikTok, you can easily repurpose video content from one platform to the other, which will increase your reach and business growth without much extra work on your part.
Sound good to you? Then keep reading, because we're going to dive deeper into what it means to repurpose content and how you can do it with video on Instagram, TikTok, and even YouTube!
What is Content Repurposing?
Ever heard the phrase, "Work smarter, not harder?" When applied to content creation, whether it's for a website or social media, one way you can work smarter rather than harder is by repurposing your content. Simply put, content repurposing is when you take a piece of content and reuse it in other ways to get the most bang for your buck. After all, if you've spent hours creating something, you might as well leverage it as much and in as many ways as you can!
For example, you could take a blog post you've written and then break it into smaller sections to share as informational posts on social media. If you follow us on Instagram, you might have noticed we do this all the time. All those informational carousel posts we have? They are all made from content repurposed from blog posts on this website. 
In the case of repurposing video content, you can take a Reel you've created on Instagram and repost it to TikTok and YouTube Shorts, or vice versa. You could also take longer videos and break them down into shorter Reels or TikToks to create a series. 
Should I Post the Same Content on Instagram and TikTok
?
One of the easiest ways to repurpose video content is by creating a video that can be used on both Instagram and TikTok. When doing this, there are a few things to consider, though. Instagram Reels and TikToks are similar, but it's not always as straightforward as just posting the same video at the same time in both places. After all, they both have different algorithms and different user demographics. 
For one, the trends on each platform might be different. For example, a particular audio clip might be trending on Instagram, but it isn't trending on TikTok (or vice versa). This means that if you make a Reel using that audio, it might do well on Instagram but not so well on TikTok. That doesn't necessarily mean you can't post it on both, but a better strategy would be to post your trending audio Reel to Instagram and find a different trend to jump on for TikTok.
Another thing to consider is user expectations on each platform. While Instagram users generally expect and prefer more polished photos and videos, TikTok users love more unedited, behind-the-scenes type video content. A simple video of you snuggling with your dog on the couch might be great for TikTok, but not so much on Instagram. Of course, there are exceptions to these statements, but this is a general example of how one type of content might do well on one platform but not the other. 
In general, cross-posting (which is posting the same content on multiple platforms) isn't the best strategy. If you're just posting the same exact content on both Instagram and TikTok, what incentive would someone have to follow you on both platforms? Some duplicate content is okay, but you want to vary things up too to give your followers something new and different on each platform. 
That being said, if you're currently on Instagram and considering starting a TikTok account (or vice versa) but don't feel like you have the time to manage creating unique content for a new platform, cross-posting on Instagram and TikTok is an easy way to at least get on the platform, get your account going, and get more bang for your video-creating buck. 
How to Repurpose Video Content for Instagram and TikTok
If you have a video clip or idea you think would be great for both Instagram and TikTok, then you might be wondering how to repurpose Reels to Tiktok or the other way around. Don't worry, it's pretty easy!
1. Create your video in an editing program or directly on Instagram
.
When you publish a Reel or a TikTok and then have it automatically download to your phone, the videos will have their respective platform watermarks placed on them. If you're going to repurpose video content on both Instagram and TikTok, you want to make sure you're posting videos that don't have any watermarks. Instagram doesn't like TikTok videos on Instagram, and TikTok feels the same way about having Reels posted to TikTok. 
To avoid the watermarks, you can do one of two things:
Create and edit your video in a third party

video editing program

.

Create and edit your video on the Instagram Reels interface, and then download BEFORE you publish. 
With either or both of these strategies, the end result will be a video without any watermarks. 
During this editing process, wait to add any text overlay or captions. At this point, you want to have a clean, edited video without any watermarks or text. (You'll find out why in Step 4.)
2. Upload your video to your platform of choice.
Now that your video is edited, it's time to upload to TikTok and/or Instagram! Open the platform and go into the Reels or TikTok creation interface, and upload your video. 
3. Add audio. 
If you plan to add any audio clips to your video, you can do that now. 
4. Add text overlay and/or captions. 
NOW you can add your text overlay and/or captions. You want to wait to do this step until you're in the native video editor on the platform because the platforms like it when you use their native functions. Also, TikTok and Instagram can more easily recognize the text in your video if you use their text features, which helps your videos become more searchable within the platform.  For these reasons, we recommend adding your text overlays and captions within the platform interface you're uploading to rather than through a third-party editing program. 
5. Save as Draft or Post!
Once you've added your text overlays and/or captions and whatever other features you'd like to add, you can go ahead and post that video! Or if you're planning to post it later, you can save it as a draft for now.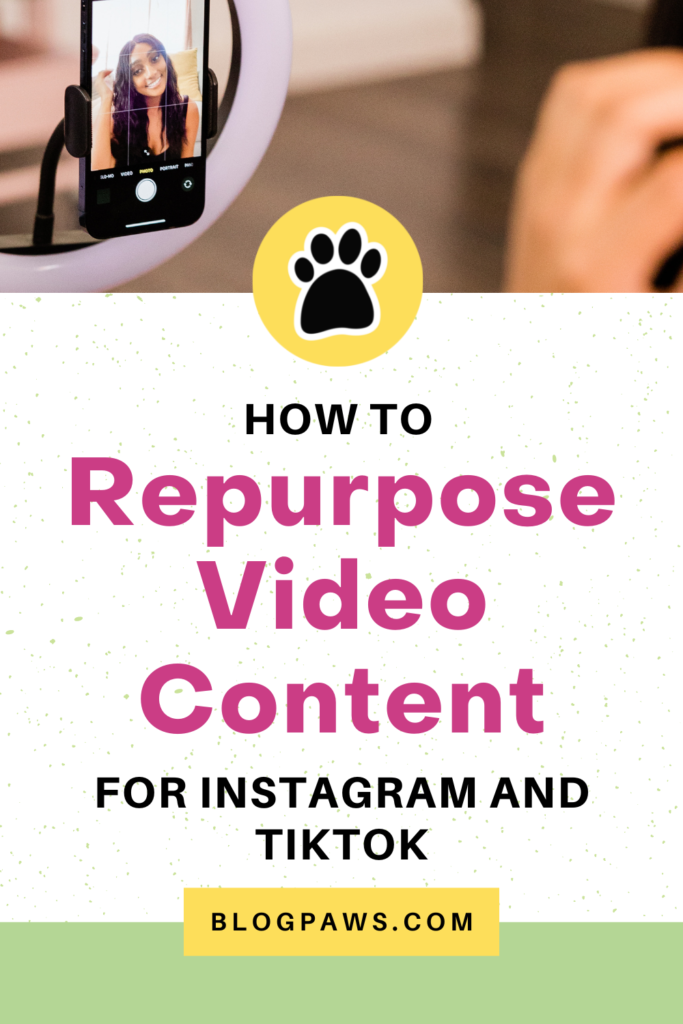 Can You Repurpose TikToks for YouTube Shorts?
If we're talking about getting more mileage out of the work we put into video creation, you might be wondering if TikToks or Reels can be used for YouTube Shorts. It's another vertical video format after all, right? Yes, it is, and yes, your TikToks can be repurposed into YouTube Shorts. 
If you're unfamiliar with YouTube Shorts, they are similar to Reels or TikToks in that they are a short-form, vertical video content type. YouTube announced this feature back in 2020 as their answer to Reels and TikToks, and like the other platforms, YouTube has a dedicated Shorts feed you can scroll through on your phone. 
YouTube Shorts can be up to 60 seconds in length, so as long as your Reels or TikToks are 60 seconds or less, they can be reposted to YouTube as Shorts. YouTube does not have the ability to add text overlay or captions within their Shorts editing interface though, so if you want those in your video, you'll need to add them through a third-party editing program before uploading to YouTube. 
Why Am I Getting More Views on Instagram than TikTok?
There are so many factors that influence the TikTok and Instagram algorithms, which affect the number of views you get on your videos. If you're getting more views on one platform than the other, it could be for a few different reasons:
You have more followers on one platform than the other

You spend more time engaging on one platform

The audios you're using on your videos might be trending on one platform but not the other

Your videos appeal more to the demographics of that specific platform than the other
The bottom line is that it's not always Instagram that performs better or vice versa. Depending on your current social media strategy and your specific marketing plan for each platform, you might see more success on one than the other. If that's the case for you and you'd like to see a change, we'd suggest revisiting your marketing plan and making some adjustments to see what works best for you to increase your views and engagement. 
As you can see, there's more to consider than you might think when talking about posting a TikTok to Instagram Reels or the other way around. When it comes down to it, if you're looking for a very easy way to repurpose your vertical videos, sharing to Instagram Reels, TikTok, and even YouTube Shorts is a great way to do that. 
Do you enjoy short-form video content? If so, which is your favorite platform – Instagram Reels, TikTok, or YouTube Shorts? Let us know in the comments!
About the Author: Emily is the Director of Marketing and Community here at BlogPaws. She is also an online content creator and writer for her own site, KittyCatGO, as well as for Cat School. Emily is "mom" to 7 cats, 1 dog, and 2 sugar gliders. When she isn't writing, playing music, or crocheting, Emily and her husband enjoy hiking, road-tripping, camping, and canoeing together with their 3 cat adventurers.