Top 6 Demand Generation Marketing Strategies
Demand generation marketing is an approach that helps your organization generate more leads, convert more visitors into customers, and improve customer retention rates. By using best practices for demand generation, you can streamline the process of attracting and converting prospects into customers.
If you're looking for ways to improve your demand generation efforts, here are the top 7 demand generation strategies to consider: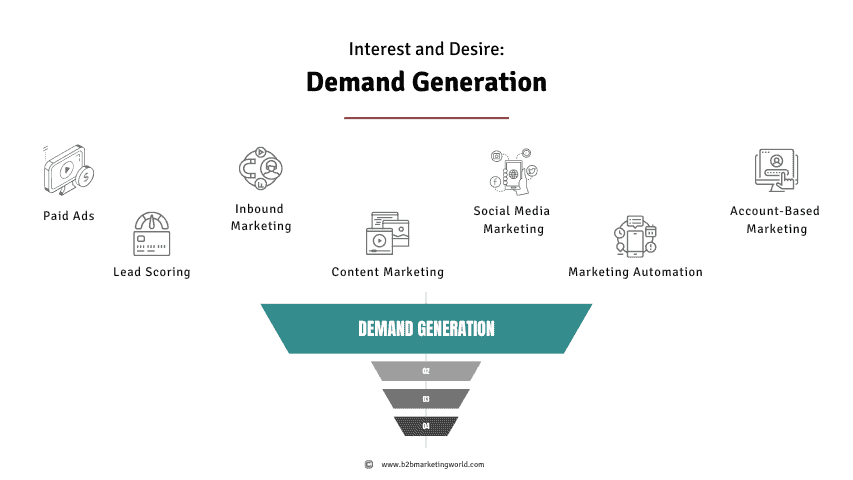 Demand Generation Marketing © B2B Marketing World
Content marketing
As a marketer or business owner, you've undoubtedly heard of content marketing. It is a marketing strategy that uses content in a variety of forms – written or visual –  distributed via channels such as social media, blogs, or YouTube.
The ultimate goal behind content marketing strategies is to generate brand awareness, credibility, and trust by delivering relevant and valuable information to your audience – which, in turn, creates demand for your products and services.
When creating content, think about where your prospects are down the sales funnel. If you're trying to generate demand, you should focus on top-of-the-funnel (TOFU) content, such as blog posts, infographics, and social media posts, that aims to increase brand awareness.
However, when you're focusing on converting your leads into buying customers, your focus should be on middle-of-the-funnel (MOFU) and bottom-of-the-funnel (BOFU) content that aims to help your potential customers make the purchase decision.
Account-based marketing (ABM)
Account-based marketing is a strategy that focuses on targeting specific accounts with the goal of increasing sales and revenue. ABM req
uires marketers to identify which groups of people are most likely to have the greatest impact on the decision-making process within their organization and then develop strategies to target those groups with high-quality sales funnels.
ABM is an effective strategy for demand generation because it's about targeting the right people at the right time to increase sales efficiency and generate more revenue. This approach differs from traditional lead generation techniques that rely on cold calling or emailing thousands of potential leads who may not even be interested in the company's products or services.
Inbound marketing
Inbound marketing is another popular demand generation strategy that focuses on attracting visitors to your website through content. Inbound marketing includes content in the form of email newsletters, social media content, blog articles, infographics, and more.
Inbound strategies help build awareness about your brand or products without having to spend money on advertising like traditional outbound strategies do and without cold calling or emailing potential prospects. Instead, the idea behind inbound marketing is to generate demand for your products or services with your content so that people come looking for you when they're ready to buy.
Social media marketing
Social media marketing is probably the most popular form of demand generation. By posting content on your social media platforms that's valuable to your audience, you can easily spike their interest in your brand and create demand for your products or services.
In addition, your social media presence is not only a great way to attract new leads but also to connect with them on a more personal level. Social media platforms such as Facebook, Instagram, and LinkedIn allow you to engage with your audience on a deeper level through posts, comments, and direct messages. What's more, the data collected through these platforms can help improve your targeting and messaging efforts.
Paid advertising
Paid advertising is a staple of many demand generation programs, and for a good reason: it can be very effective at generating leads. That's because paid search or social media ads allow you to target specific audiences with relevant messaging and get results quickly. With paid ads, you can also track ROI in real time, making it easier to optimize your campaigns based on performance data.
The best way to use paid advertising to generate demand is to drive traffic to landing pages where users can sign up for free trials or receive a free gift. This will help you create more interest for your products or services without pushing directly for the sale.
Marketing automation
Marketing automation is an essential tool for driving demand generation. It enables you to engage your audience with personalized messages that are delivered at scale, enabling you to achieve greater results faster.
You can use marketing automation to create lead nurturing programs that automate personalized communications with every prospect based on their behavior, past activity, and other factors. These nurturing programs can increase the likelihood of a positive outcome from the initial touch point while reducing costs by focusing only on prospects most likely to close a deal or become active customers.